Light, sweet, and bursting with creamy coconut curry vibes. Can soup have vibes? I think this soup can…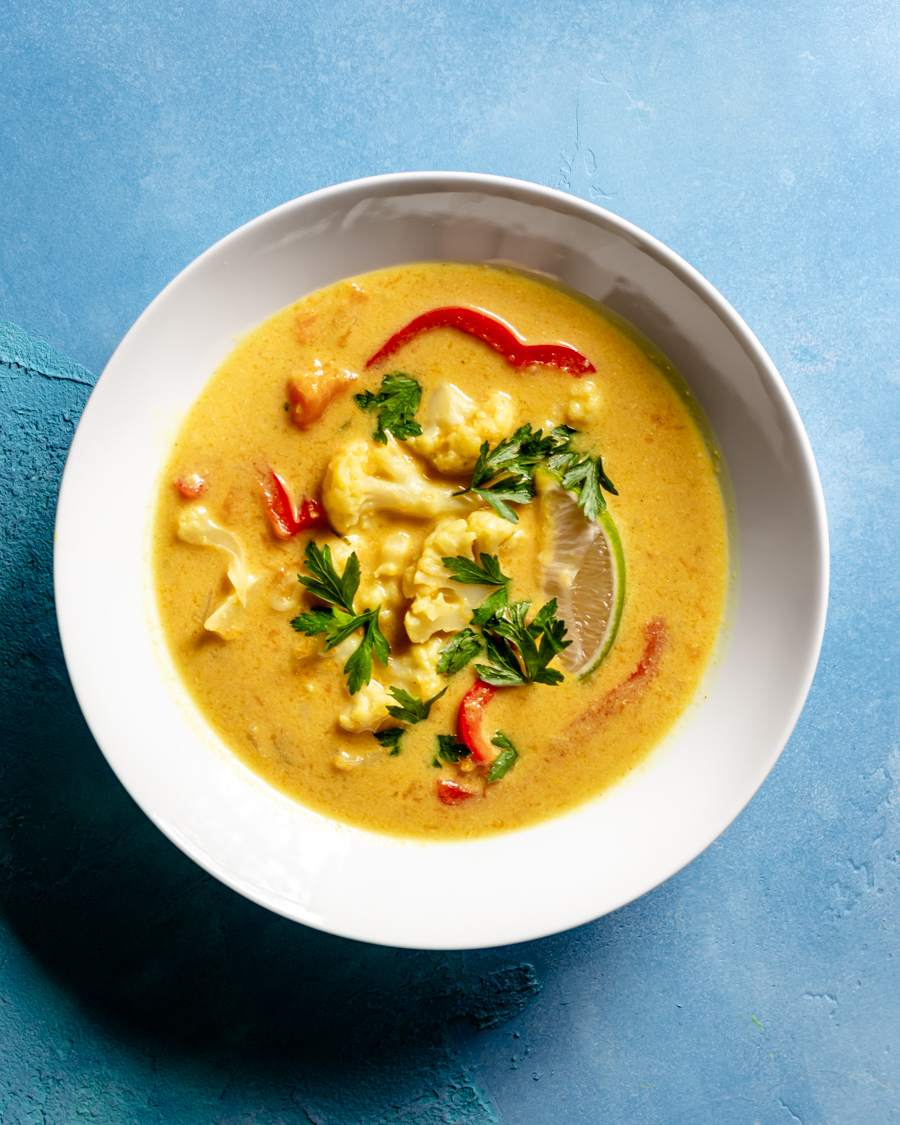 Soup Mood
You know how there are just those foods that you could eat anytime, no questions asked? Ask me if I'm up for a slice of pizza or a fudge stripe cookie and it could be Christmas morning or the Fourth of July and I'd be like SURE!
Pizza and cookies let's gooooo!
Soup's not that thing for me. Maybe it is for you and if so, cool. But I have to be in a soupy kind of mood and there definitely needs to be some sort of bread-like element involved.
This soup is the same way. It is VERY good. Extra delish. Flavor level expert. SO when I'm into spoonin' a bowl of hot hot soup, I definitely default to this super creamy, slightly sweet, not-that-difficult, powerhouse veggie soup.
Long story short (because it's a soup recipe, not a novel) you're gonna love it. Enjoy!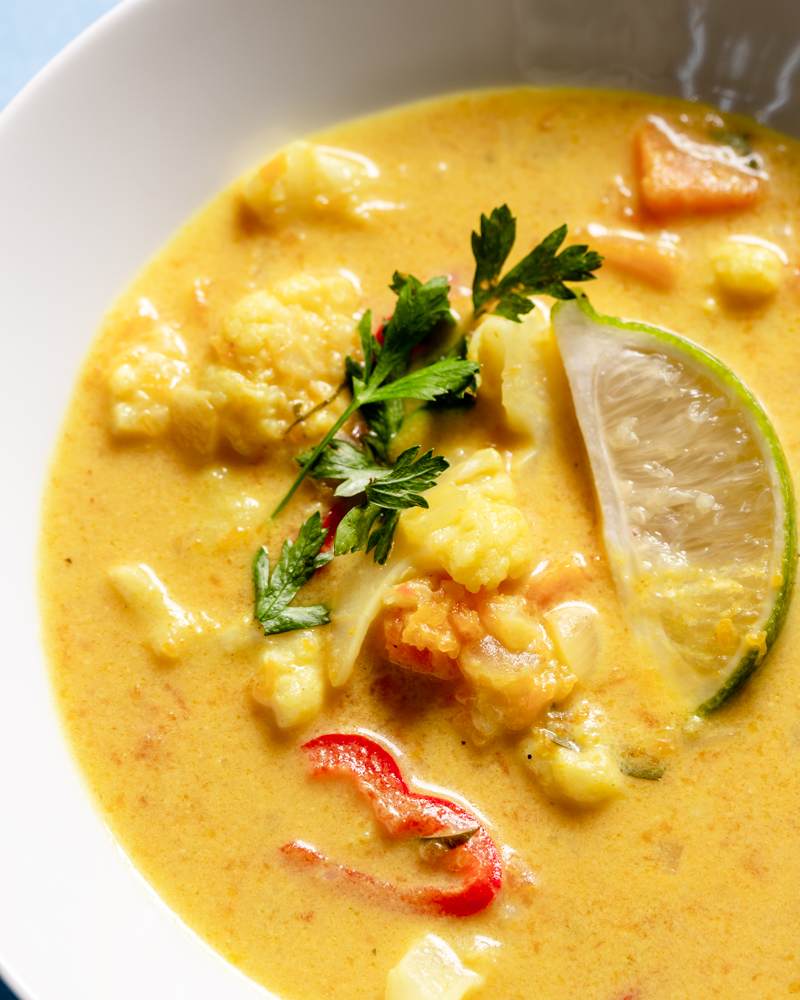 Want More Gluten-Free Treats? Try These!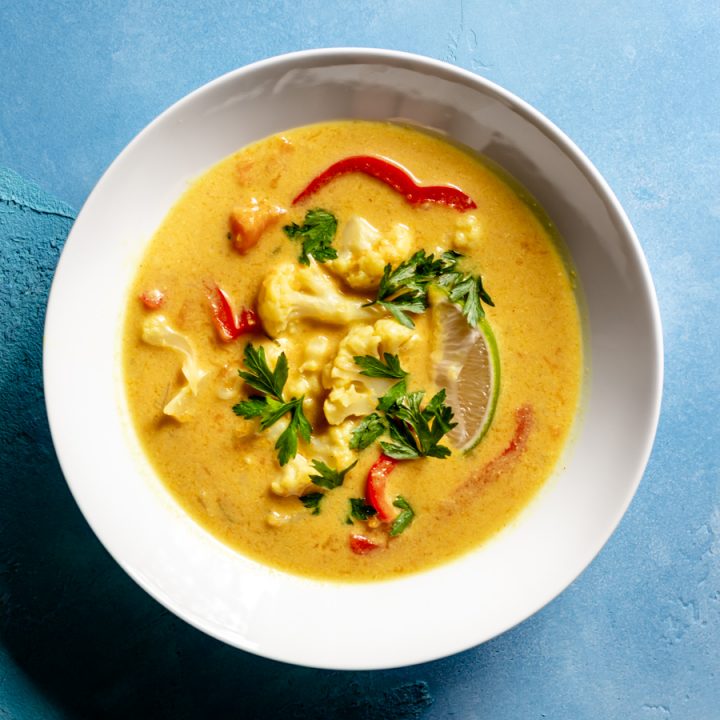 Cauliflower Curry Soup
Light, sweet, coconutty cauliflower soup with a hint of lime! Dairy-free, vegetarian, low carb
Ingredients
1 cup Butternut squash, cubed, can sub potato as well!
1 large head of Cauliflower, cut into florets and rough stems removed
1 tbsp Avocado Oil
1/2 medium Yellow Onion, chopped
2 cloves Garlic, chopped
1/2 tsp Ground Ginger
1/2 tsp Turmeric
1 1/2 tsp Ground Curry Powder
2 tsp Sweetener, granulated no-calorie sweetener of choice
1/2 Red Bell Pepper, sliced in thin strips
1 cup Vegetable Broth
1-14oz can Coconut Milk
1 tsp Salt, adjusted to taste
Cilantro, to garnish
Fresh Lime Wedges, to garnish
Instructions
This is a small batch of soup but can easily be doubled or even tripled!
Heat oven to 425°F and line a large baking sheet with foil. Coat with non-stick spray or olive oil.
Arrange the cauliflower and squash on the baking sheet and roast for 20-30 minutes, turning halfway through, or until the veggies are still firm but can be pierces with a fork. Remove from the oven and set aside.
In a large pot or dutch oven, add avocado oil, onion, red bell pepper, and garlic; saute over medium heat for 3 minutes.
Add the roasted veggies, coconut milk, vegetable broth, ginger, turmeric, curry powder, and sweetener and stir to combine. Bring to a simmer over medium heat, then loosely cover with a lid and reduce heat to medium-low. Cook until the cauliflower is tender, season with salt to taste.
Serve hot with fresh chopped cilantro (or parsley!) and a squeeze of lime juice to garnish.