Looking for a small-batch gluten-free cinnamon roll that's easier than the original but not quite a microwaved mug cake? Let me introduce you to your new favorite cinn…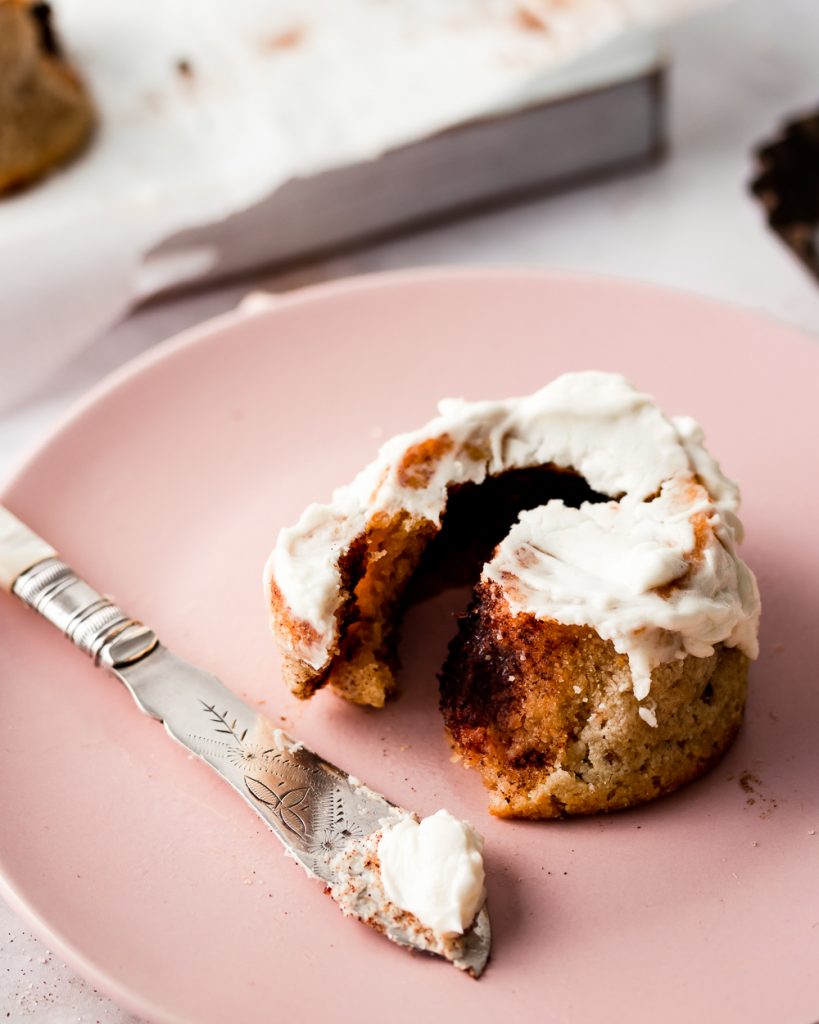 No Yeast, But Roll With It
Because we are making a SMALL batch (count em, two!) of keto cinnamon rolls for those days when you don't feel like having to find the yeast, beat the eggs, roll the rolls, and portion control, etc.
So basically, most days!
Not A mug cake,
but not a smug cake either.
And by that I mean it's not quick and easy but it's also not fancy and pantsy. You can't just pop this recipe in a mug and microwave it.
But that's okay! This goes into a small dish (ramekin) and bakes for a hot 15 minutes.
–No, it's not as easy as a mug cake.
–Yes, it is BETTER than a mug cake.
–But also, it's not *exactly* like my super good full-batch rolls either.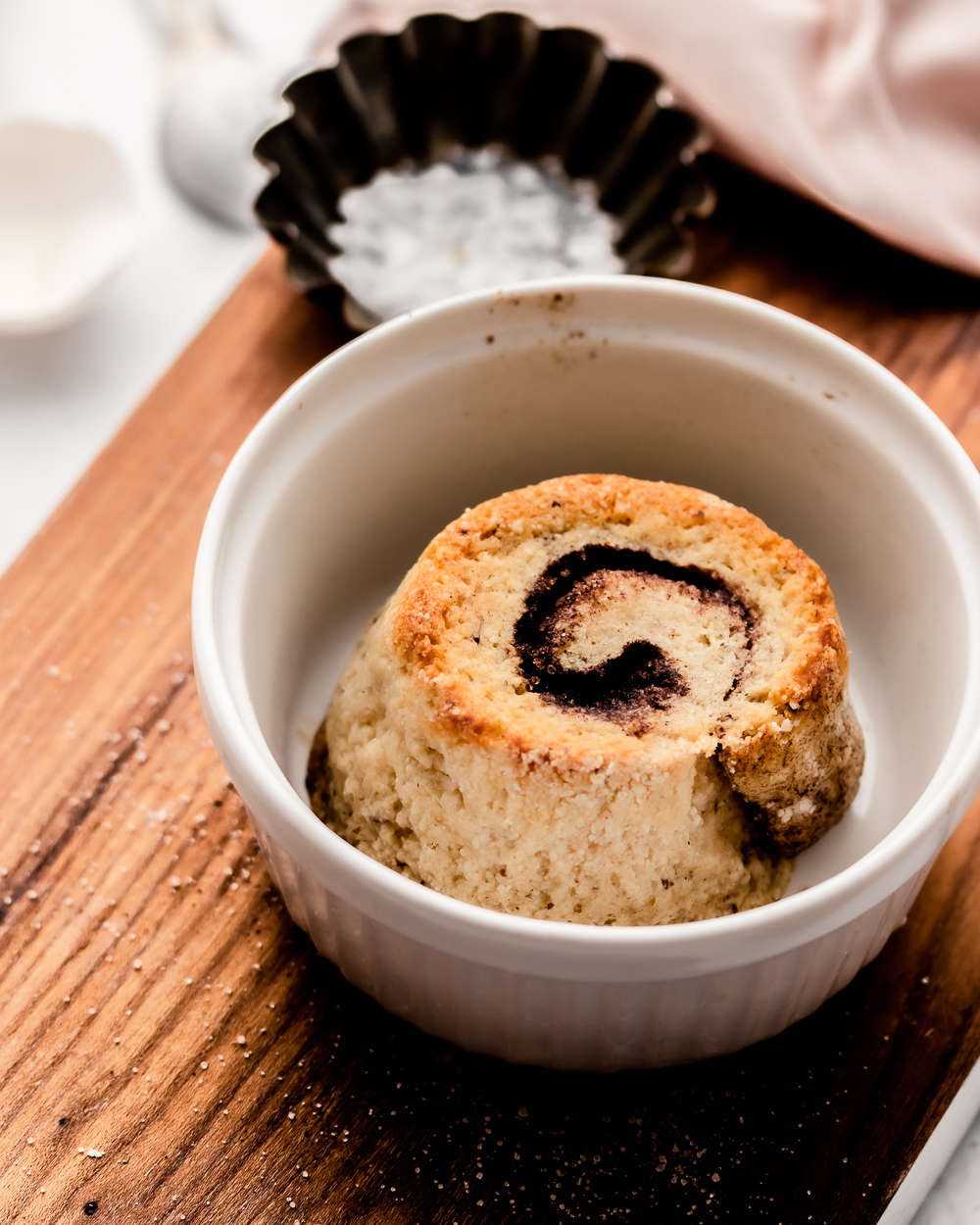 Look at the swirls on these! I mean, can you believe it?!
THANKS to a tiny amount of dough and a lot of filling, these rolls are way easier to perfect than my original yeast cinnamon roll recipe.
Then, obviously, load it up with sweet cream cheese frosting so that even if you screw them up…they still gooooood.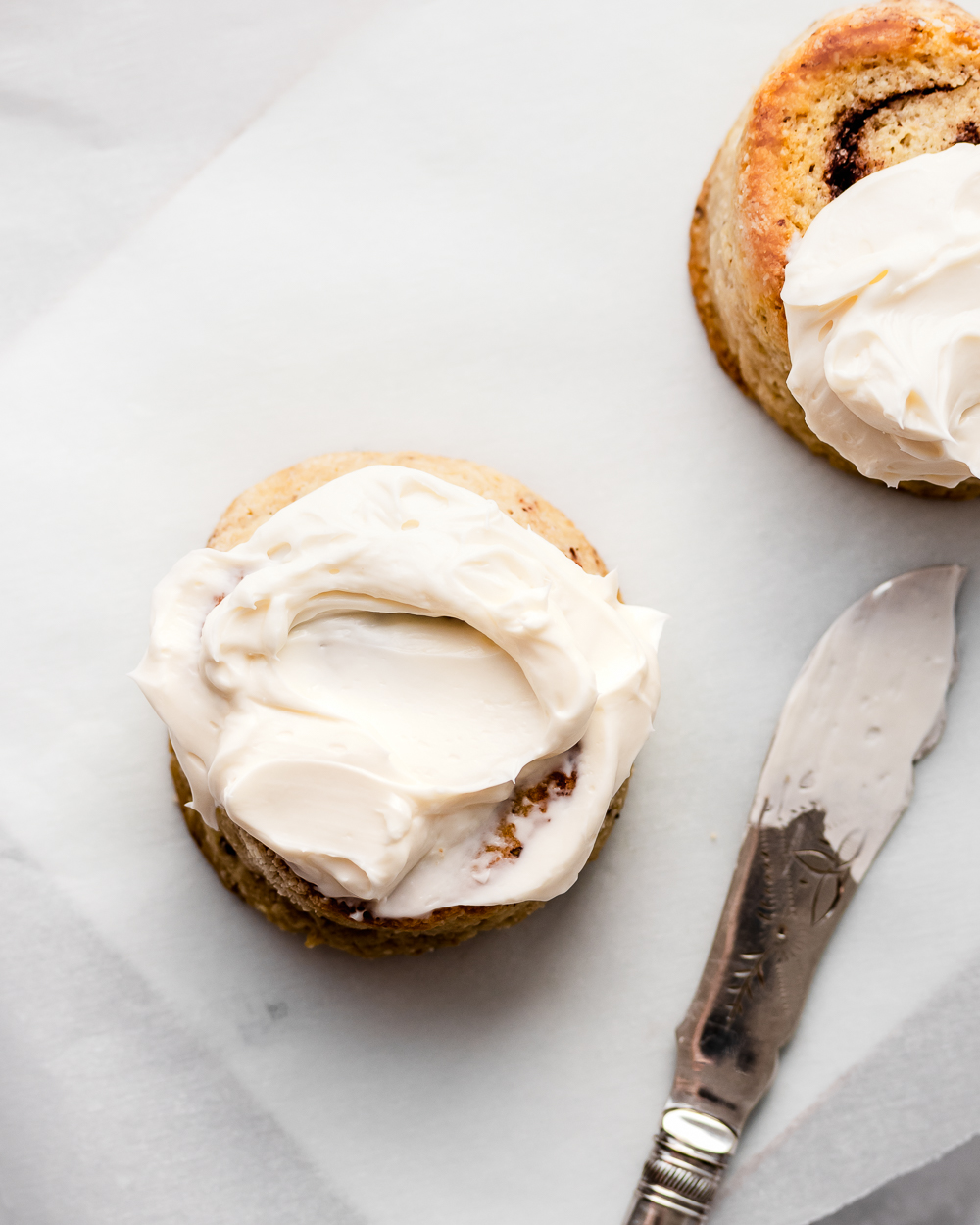 What if you don't have a ramekin? Good question! Just wing it.
I refuse to stand in the way of your quest for a cin-ful treat, so I won't. Pop it in a muffin tin or even a small loaf pan. Just shove them right in the corner and bake. It's fine!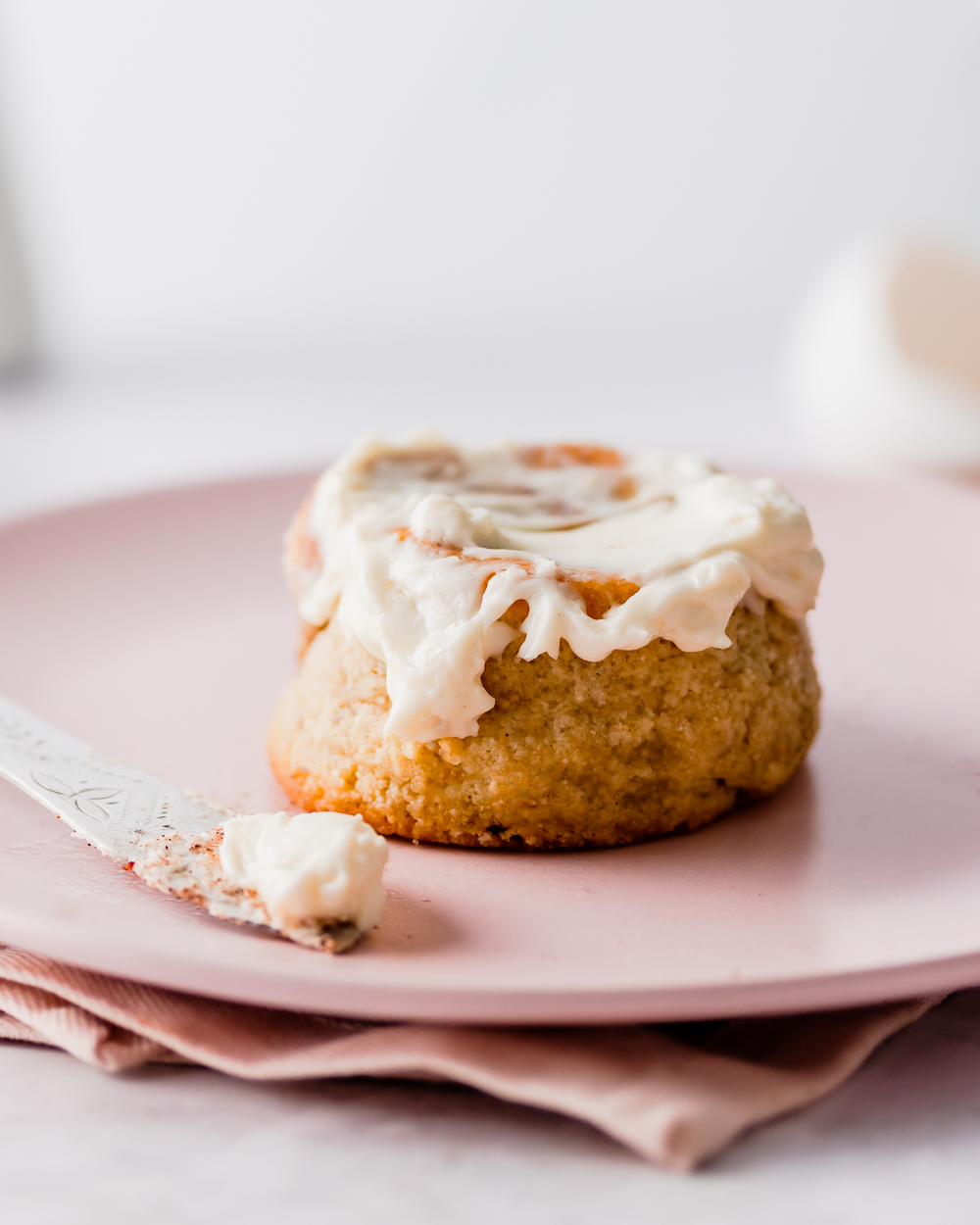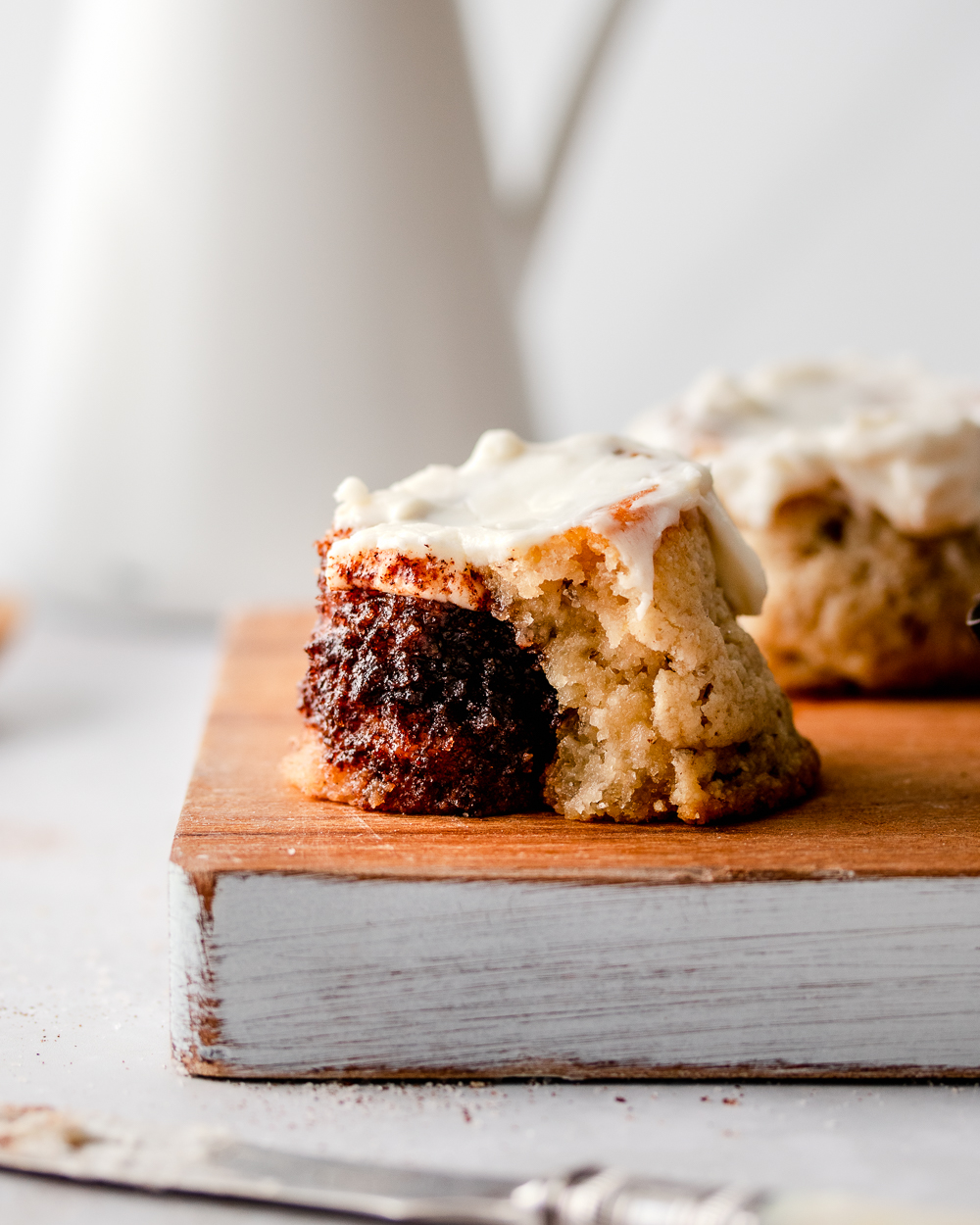 Real Roll Talk
Look, I can make almost anything look pretty nowadays because I'm a food photographer full time. BUT that doesn't mean these aren't tasty! Just go in with realistic expectations!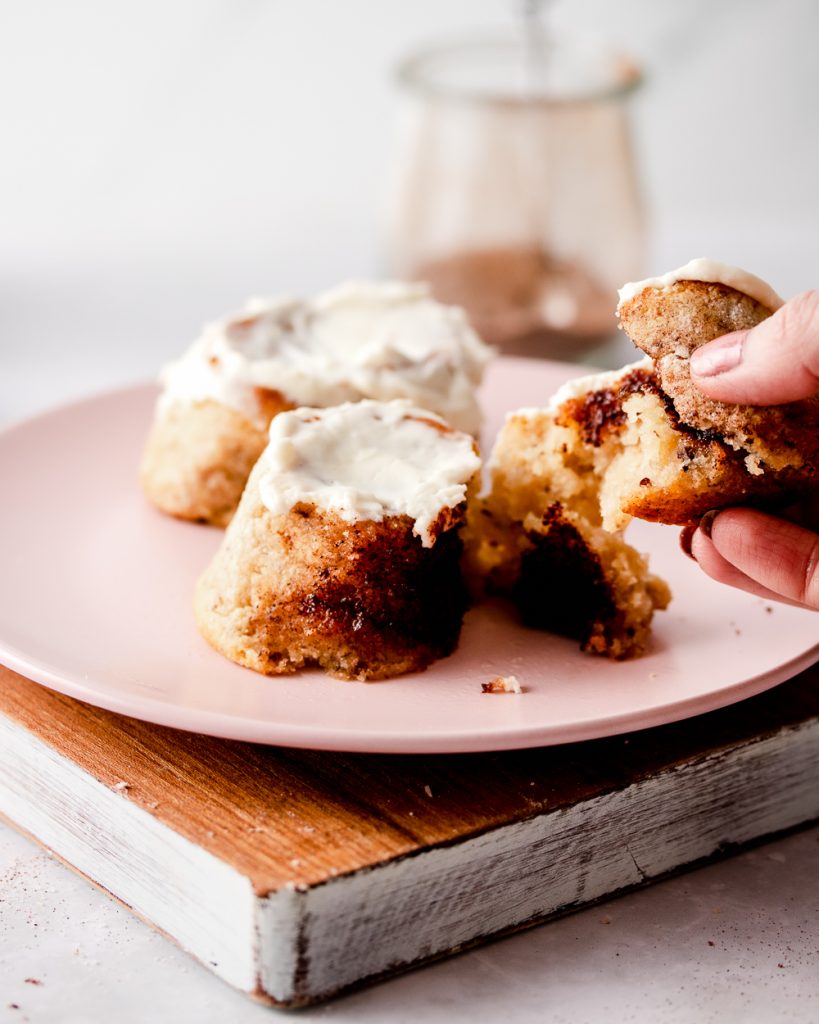 These rolls are almond flour. They will taste almond-floury with a beautiful cinnamon sugar swirl.
They won't puff and fluff like my yeast rolls because the dough is a bit drier and there isn't any yeast! These are meant to be a quick treat vs a full-on roll production.
Eat these right away or while still warm. They are better that way! And honestly, aren't most things???
Heads UP! This post contains affiliate links. As an Amazon affiliate, I earn from qualifying purchases.
Single Serving Keto Cinnamon Roll!
Yield:
2 individual rolls
A cinnamon roll so nice, it serves ya twice! This keto gluten-free cinnamon roll makes to separate servings to share (or not!)
Ingredients
Cinnamon Sugar Filling
2 tablespoons Erythritol
1 teaspoon Ground Cinnamon
Olive Oil cooking spray (or 1 teaspoon softened butter)
Instructions
Heat oven to 375° and spritz 2 ramekins with cooking spray.
In a medium bowl, whisk together the almond flour, flax, xanthan gum, sweetener, and baking soda. Add the room temperature butter and mix with a fork until it's mostly combined.
Add the egg white, apple cider vinegar, and vanilla and mix well until a dough forms. In a separate bowl combine the cinnamon and sugar.
Layout a piece of clear plastic wrap and add the dough. Top with more plastic, then press the dough into a small rectangle, about 4x6 inches, and then add the cinnamon-sugar mixture. *You won't use all of the cinnamon sugar, but you can if you want!
Spritz with more cooking spray (or alternately use melted butter to brush the dough) then gently use the edge of the plastic wrap to roll the dough (short side facing your tummy) into a tight round. I really use my fingers to wrap it tightly and press every inch in tightly. It won't break!
Slice the log into two pieces and place each in the prepared ramekin, cut side up. *NOTE: when you roll your dough log, if it's too long to be 2 small rolls, cut it into thirds.* Bake for 12 minutes, then cover with a bit of foil and continue to bake for 3-5 minutes or until golden brown.
Top with your favorite cream cheese frosting! *I'll put mine in the notes.
Notes
Cream Cheese Frosting! Simply mix 2 oz of cream cheese with 1-2 tablespoons powdered sweetener and a splash of milk to thin to desired consistency! Spread it like you mean it.
Nutrition Information
Yield

2
Serving Size

1 roll
Amount Per Serving
Calories

283
Total Fat

26g
Carbohydrates

8g
Net Carbohydrates

4g
Fiber

4g
Protein

8g