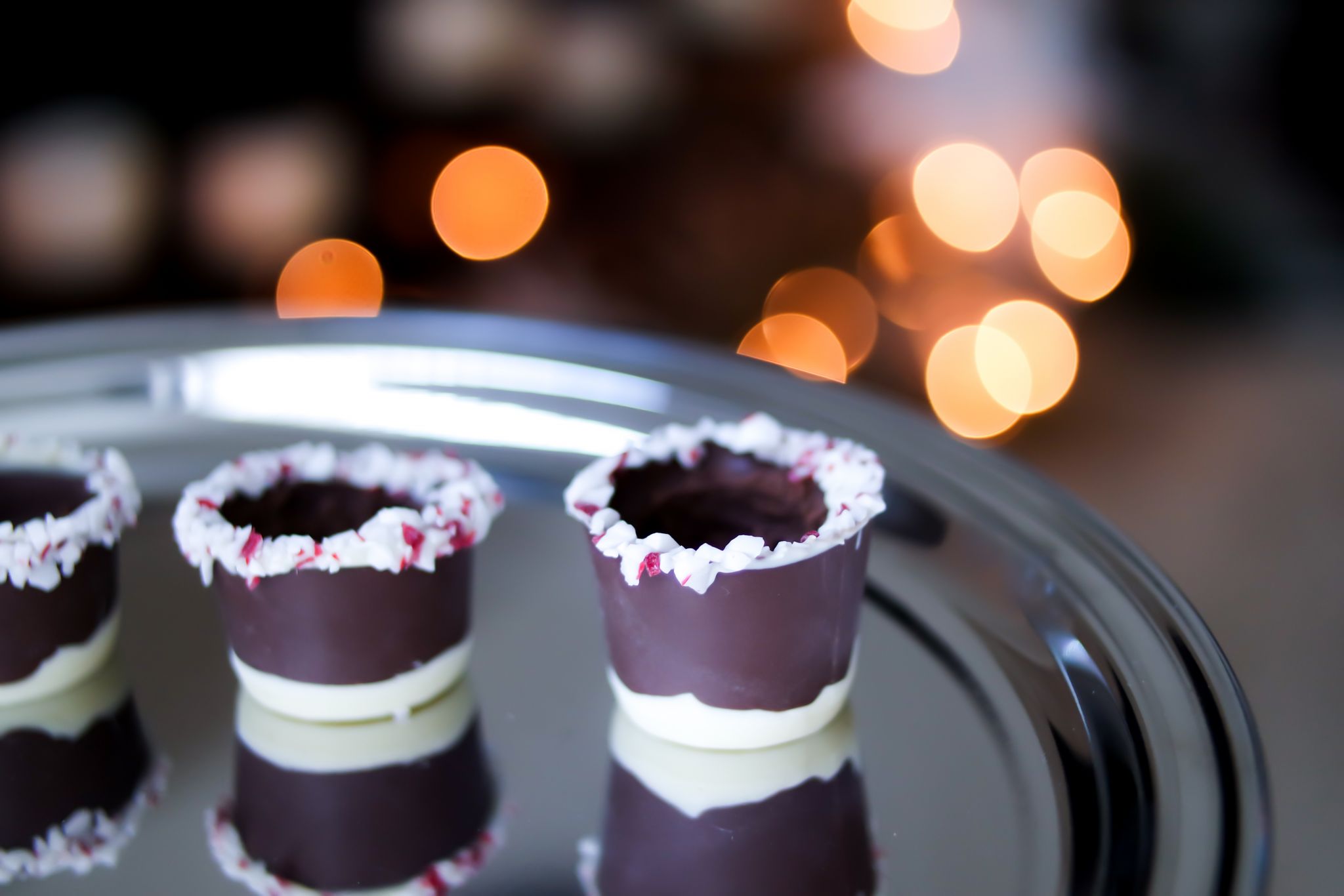 Did I ever tell you guys I used to work in a candy store? 
Well I did. Way way way back when I was a teen and in need of spending money, I started workin' it at this Old Fashion Candy Store where they handmade all of their own confections. Please do not be impressed with my seeming ambition. There was no application filled out, interview had, or display of candy making skills. My mother worked there which meant I had been at the candy store since I was able to walk. Come to think of it, I was never even officially hired. I just showed up every day after school and wandered around until I eventually started getting a paycheck.
Such a cush gig for teen. Great hours, minimum wage, and all of the candy you can eat. Mmmph. The good old days.
I know what you are thinking. Yes, I ate a $%!% ton of candy. I wasn't a Nutritionist then and I have nothing to apologize for. 
So anyway, mom was a Master Chocolatier and I was her sidekick. My formidable years were spent hawking pounds of this candy and watching my mother craft some beautifully decadent delights. Sort of a master and apprentice situation. Though I didn't end up going into the candy biz, actually the exact opposite, I did hold on  to some of my love for candy making.
And candy eating.
Let's Talk Chocolate Shot Glasses.

I learned quite a few tricks over there at Gramer's Chocolates, one being how chocolate can be manipulated into some pretty rad things. My favorites have to do with alcohol. Can you guess how many rum soaked cherries I snuck on those nights I was there alone?
Heh, memories.
The other night I was racking my brain, trying to figure out how to make a chocolate alcohol vessel without having to go buy any fancy equipment or molds…and then it hit me. DIXIE CUPS!!! Simple, cheap, and idiot proof. Trust me when I say anyone can make these. Just literally look at the pictures and you'll figure it out, but if you need more guidance I'm laying it out for you step by step below…
Christmas Craft Booze Hour
is about to begin so grab the Peppermint Schnapps 
and the following ingredients!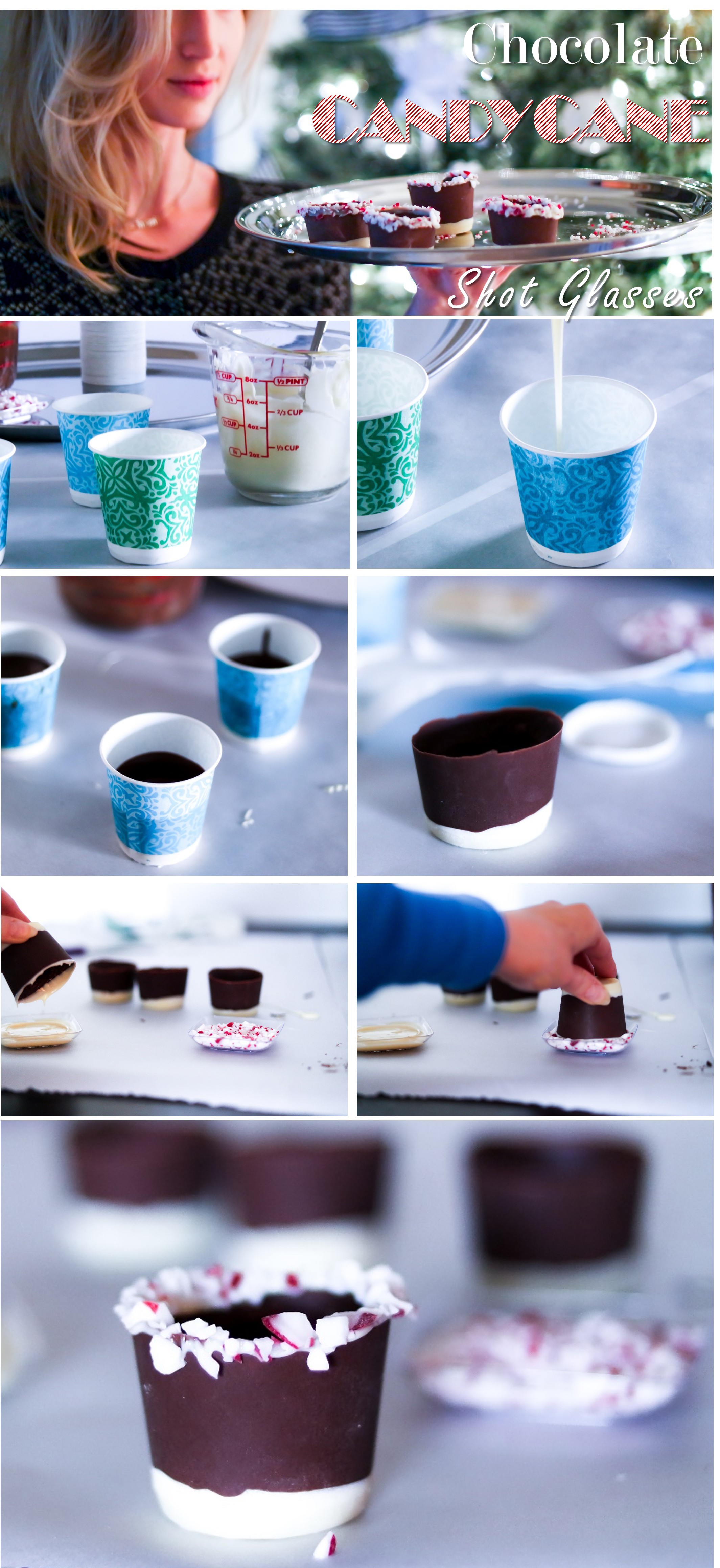 Ingredients
Makes about 8 shot glasses
16 oz Milk Chocolate- I used THIS Low Carb chocolate in bars and just melted them as you would regular chocolate.
8 oz White Chocolate- I used baker's chocolate but you could just use white chips too.
1/4 cup Peppermint Candy Pieces- Any brand will do. THESE are tasty.
8 Dixie Cups
Using two small microwave safe bowls, melt your white and dark chocolate in 30-45 second increments.  
***Melting tip: The chocolate does not have to be completely liquid. Melt it to about 90% done, then continue to stir until smooth. This is how you achieve the proper temper for your goodies.
Pour the white chocolate into each paper cup, about 1 inch high. My cups had a line where the base was attached so that was a good guide. Tap the base of the cup on your work surface to even out any lumps, bumps, or air bubbles.  Chill for 10 minutes. 
Remove from refrigerator and pour the milk chocolate into your cups to fill them 1/4 full. Once all are filled, take each cup and slowly lay it on it's side while turning it clockwise. The chocolate with slowly begin to crawl up the side of the cup. Continue twirling each cup until the sides are covered. I like to do each cup once, then go back and roll them a second time after some of the chocolate sets. THIS IS THE REASON THEY ARE HOLLOW. Allowing the chocolate to slowly harden on the sides of the cup leaves a well perfect for filling with libations. Chill until solid. 
Cut a slit into the rim of the paper cup and peel away the paper.
Using the leftover white chocolate, melt about 1/4 cup and place in a shallow dish. Pour candy pieces on a plate or mound on wax paper. Dip the rim of the chocolate shot glasses in the chocolate, then dip in the peppermint pieces. Chill until solid. 
Fill these suckers with whatever your heart desires. Here are a few ideas that I think are fan-frickin-tastic…
5 Minute Chocolate Peppermint Mousse
Chocolate Peppermint Christmas Cocktail 
Vodka Infused Peppermint Whipped Cream
Chocolate Shot Glass
Candy Cane Crunch
Bottoms Up!
Another Round
Tastes Like Christmas
Work friends: When I say our staff Christmas parties are missing something, this is what I'm referring to.
♥Liz