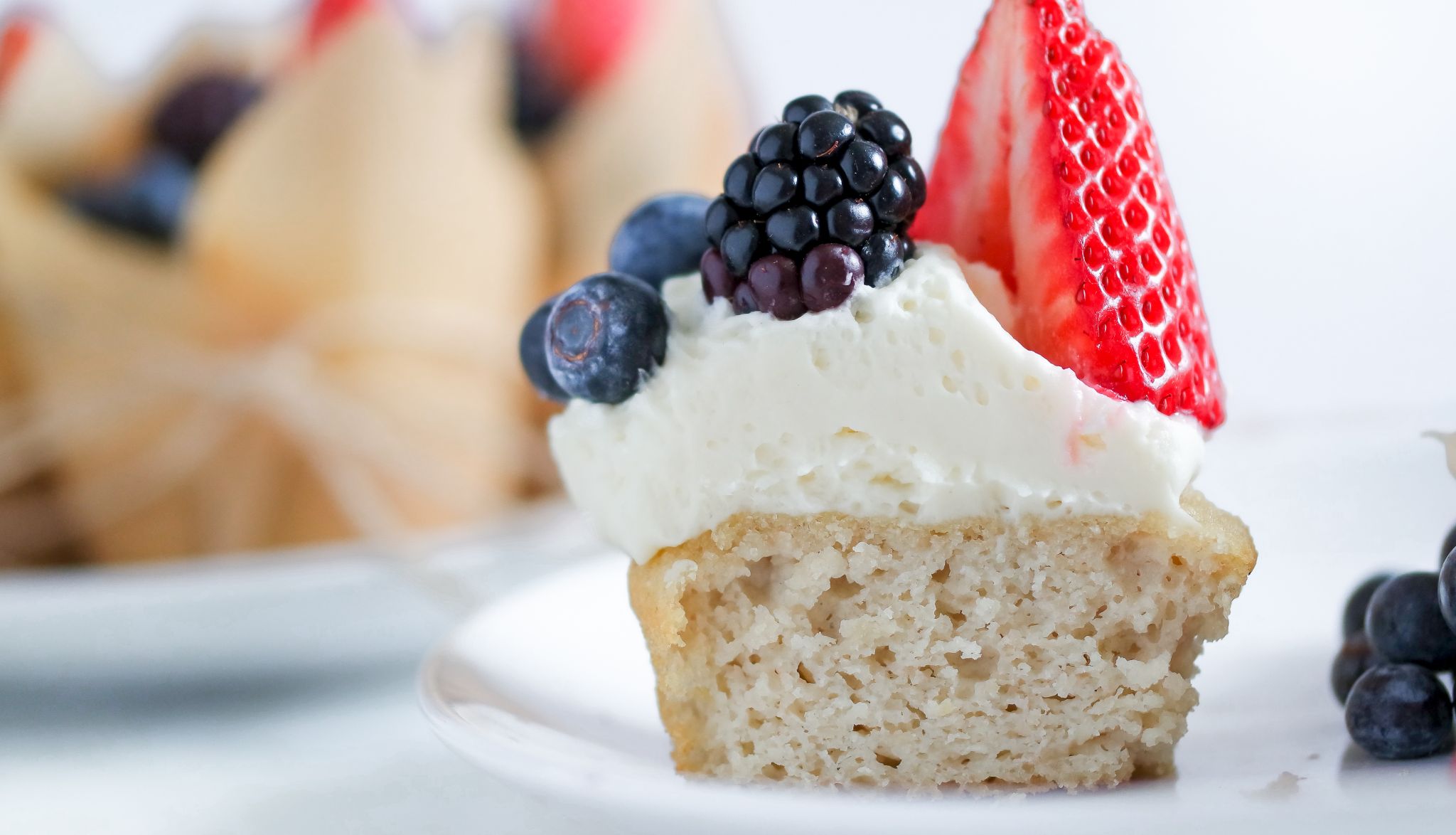 I've not always been what you would call "a finisher" in life. Sure I finished college and yes I've worked in the same job for 7 years, but that's about it. Oh yeah, and I wrote a book. It's 270 pages, it took me seven years and I basically half-assed the ending just so I could add that to my accomplishments. I wouldn't even technically call it complete because there's a paragraph missing that I STILL. CAN'T. FINISH.
I know, I need some form of therapy. I'm aware.
Sadly, there are probably support groups for people like me but I'd only make it to the first three meetings. On the fourth meeting I would show up late, be too embarrassed to go in and wind up at sulking at Starbucks figuring out the next thing I could get low key obsessed with.
Piano. Guitar. Quilting. Exercise. Making those sweatshirts with iron-on pictures of animals and puffy paint accents.
Starting this blog induced feelings (eww) that I couldn't ignore. Happy feelings. Warm fuzzy obsessive feelings. Keep you up at night fantasizing about your next blog post feelings. Naturally I just assumed the life expectancy of Inspector Gorgeous was 6 months max and then I'd be selling my camera on ebay.
That's the spirit, Liz.
Last week marked ONE WHOLE FREAKIN YEAR of the InspectorG Blog. A year! Considering I debated quitting many times I'd say that's cause for celebratory treats!
Gluten free/low carb CUPCAKES anyone?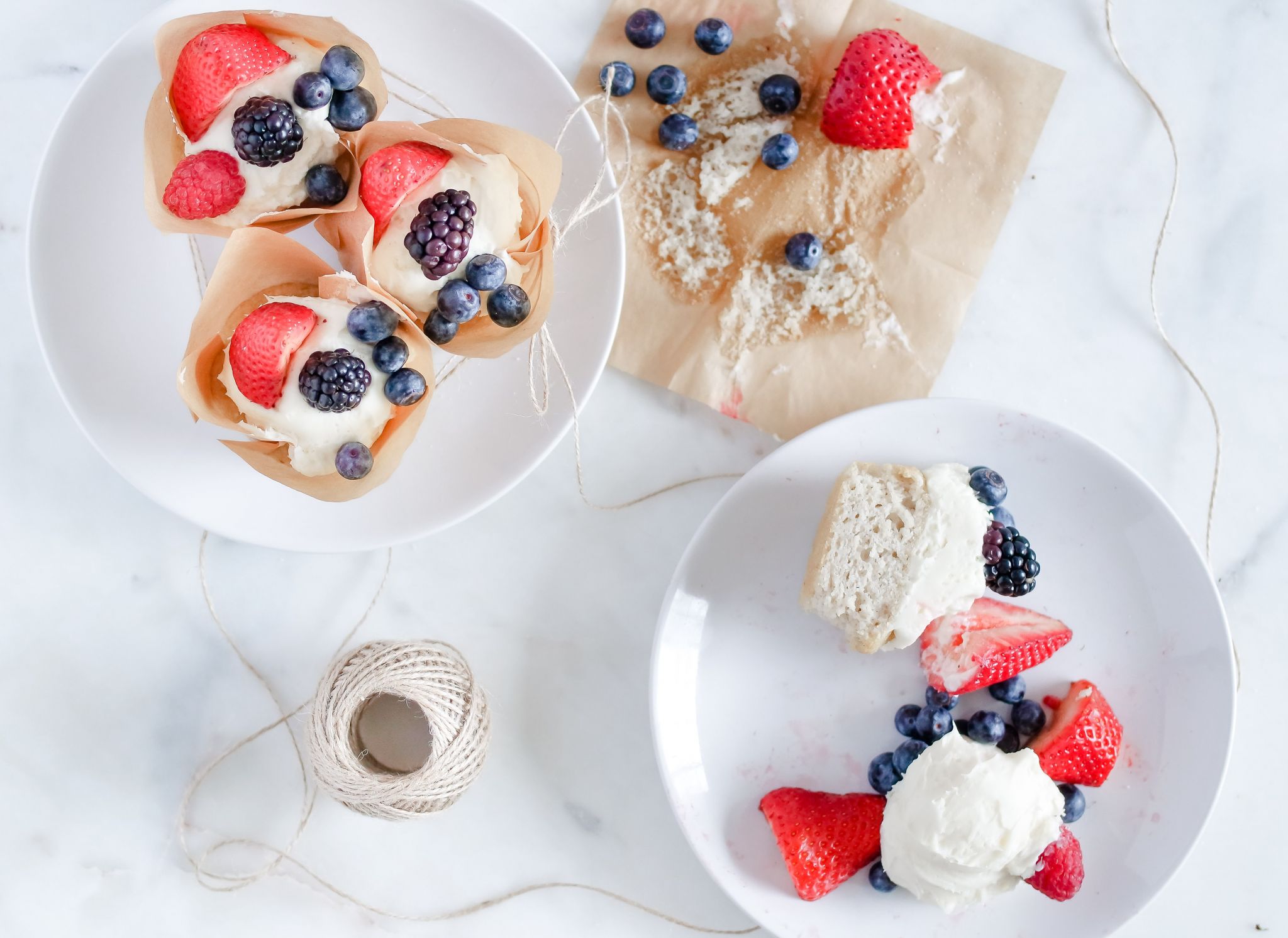 Now because these are adorned in fruits, they are technically considered a breakfast item and are totes acceptable to nosh accordingly. In my life, that's exciting stuff.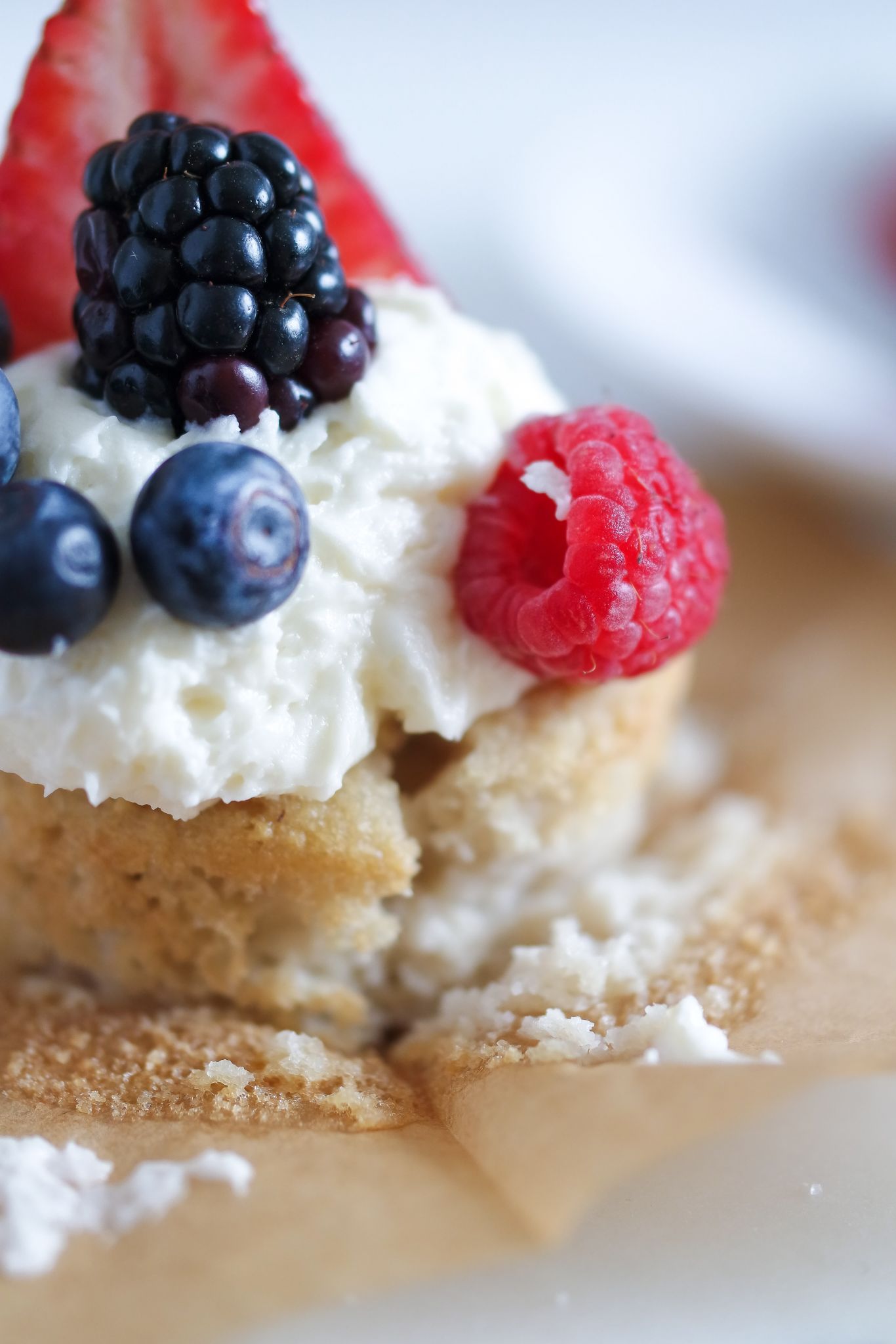 You can literally cut the excitement with a knife (demonstrated below)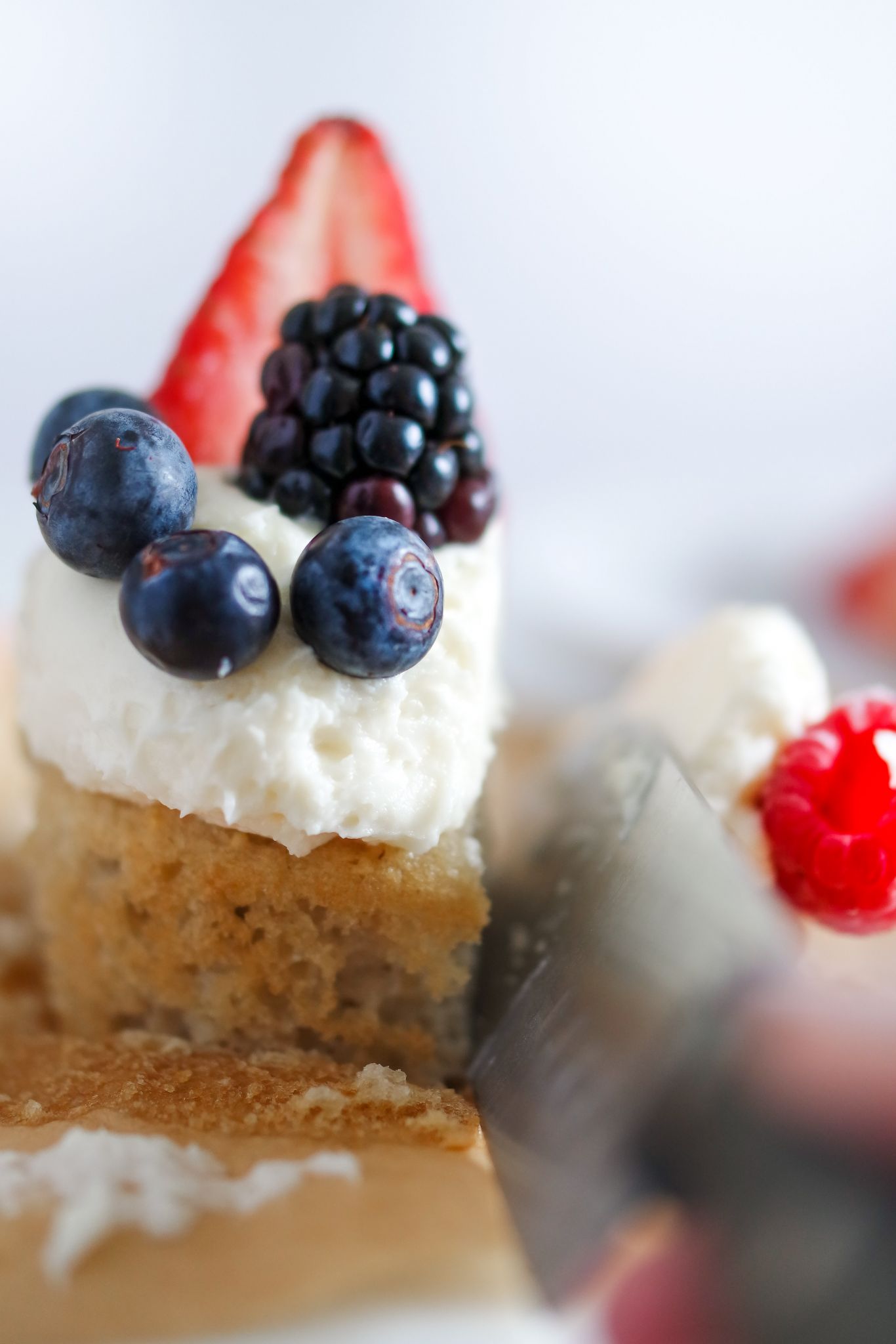 -and eat all of the crumbly guts with zero guilt because this recipe is clean AF.
Hey! Another thing I will finish!
All of these cupcakes.
Keto White Cupcakes & Cream Cheese Frosting
Yield:
Approx. 10 Cupcakes
Ingredients
Cupcake Mix
1 cup Almond Flour
1/8 cup Coconut Flour
2 Egg Whites
1 Egg, Whole
1/3 cup Swerve Granulated Sweetener
1 tbsp Coconut oil or Butter, Softened
1 tbsp Apple Cider Vinegar
1/2 tsp Baking Soda
1/2 tsp Baking Powder
1-3 tbsp Warm Water, depending on your batter
Frosting
16 oz Cream Cheese, softened
7 tbsp Butter, softened
2-3 cups Swerve Confectioner's Style Sweetener
Assorted Berries to Decorate with and/or dip in frosting for later
Instructions
Cupcake Mix
Preheat oven to 350°. Combine dry ingredients in a large mixing bowl. In a separate bowl, beat eggs, oil, and 1 tbsp water until mixed well.
Add the wet mixture to the dry mixture and stir until almost smooth. Add the apple cider vinegar and mix. If the batter is still very thick, add another tbsp of warm water until it becomes the consistency of cake batter.
Using a ladle or ice cream scoop, portion one per cupcake liner. Bake for 30 minutes or until lightly browned.
Frosting
Whip room temperature cream cheese with butter until combine. Slowly add confectioner's sugar until your desired sweetness. More sugar will also produce a "stiff" frosting so the texture is up to you! Scoop onto cooled cupcakes and top with berries.
All wrapped up and ready for me to eat all by myself. I'll share when I turn 2…