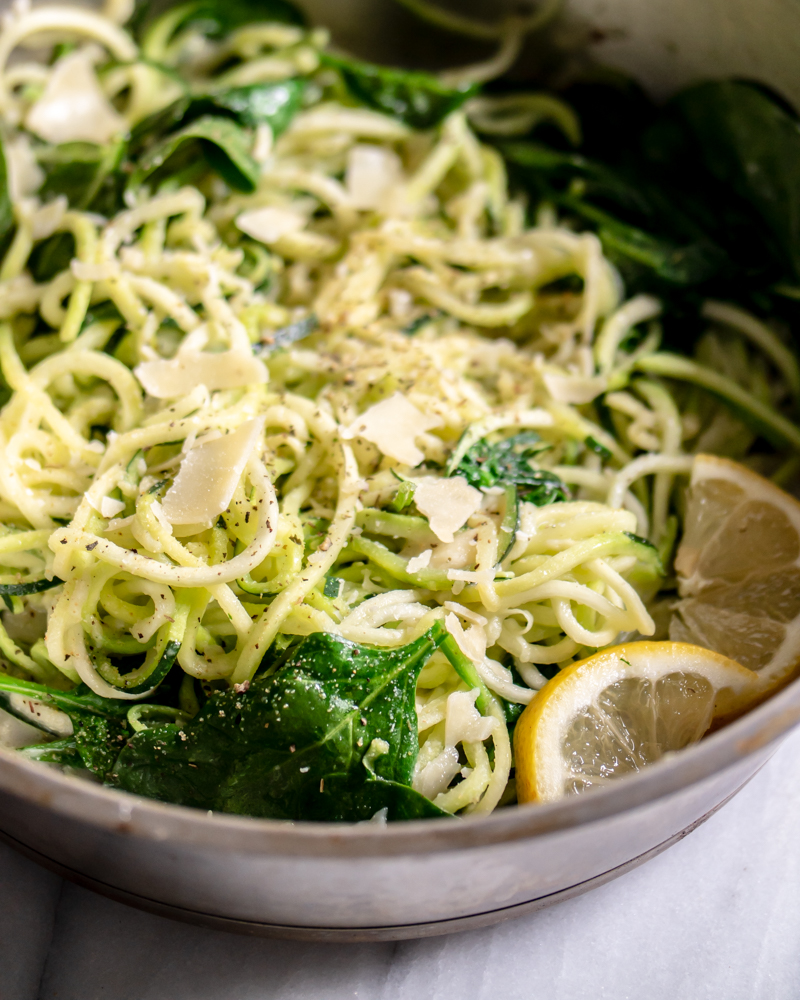 The Un-Recipe Recipe
Because sometimes dinner needs to be uncomplicated and unmeasured. 
Like life in general, if you overthink everything, always, you will certainly miss out on a ton of super cool stuff. The sentence you just read? It should absolutely be revised, but I'm letting it ride because we waste SO much time on things that are not that big of a deal (sad but true) that it makes me physically ill.
The cure? Pretend I'm french and say phrases like vis a vis and creme de la creme while I aimlessly cook things.
BTW this recipe is totally Italian in nature, but our *mindset* is French. #balance
Pasta al Limone, only Less Carby
You've probably never heard about the magic that is Pasta al Limone. Or maybe you have? That's not the point. The key is that you are hearing about it's limone-y (read "lemony") delicious flavor that will make you feel 100x more classy than your basic Lemon Zoodles. 
Kinda like everyone knowing me Inspector Gorgeous, but when I need to be taken seriously it's Inspector Elizabeth Gorgeous—thanks. 
In the normal, Italian recipe, starch from the pasta water is mixed with cream, butter, and lemon zest which creates a built-in sauce. That's what we call in the cooking biz, a time saver. WE are saving both time and carbs by cutting out the starch (oh, hey zoodles) and adding some flaky Parmesan for flavor and texture and stuff.
Best part? We aren't even going to accurately measure it!
That's the Parisian part. Tres aloof.
Et Voila!
So once we have tossed everything in a pan with absolutely no tbsps in sight, we taste, adjust, and taste until it's got that certain je ne sais quoi. Then, we plate our zucchini noodles that are coated in buttery lemon goodness and sprinkle it with a squeeze of fresh lemon juice. Not only does it taste really good, but it's also very impressive to use acid in your cooking.
C'est la vie! Let's make this un-recipe!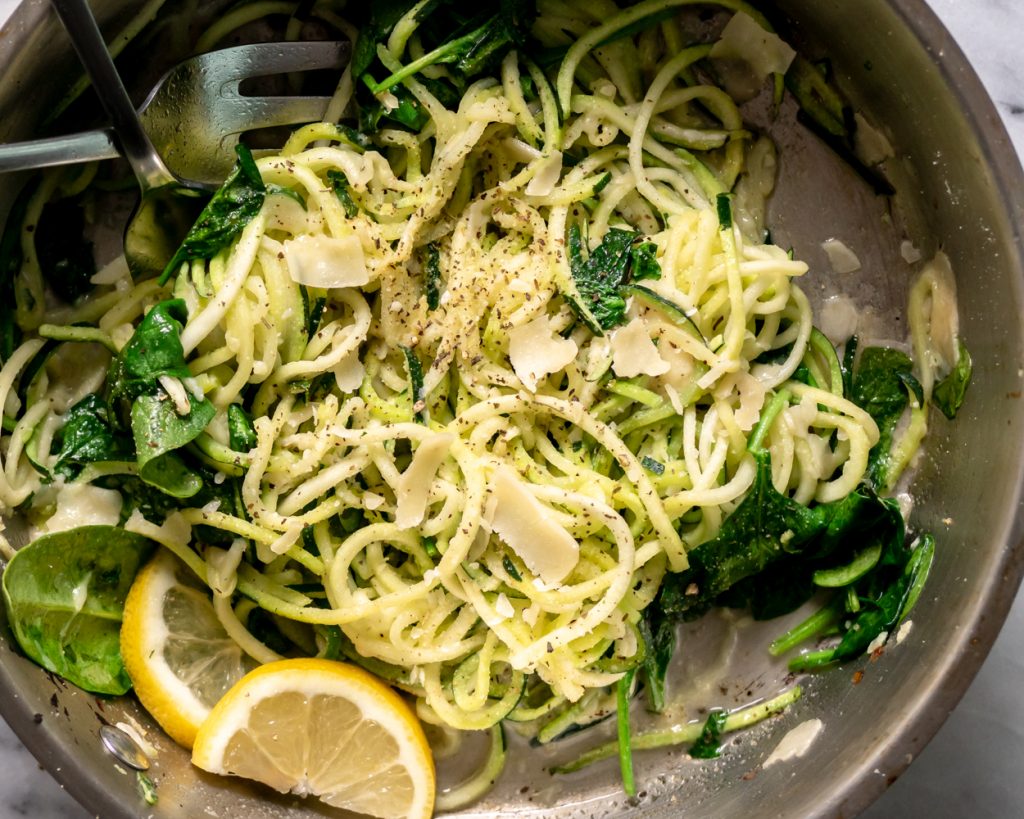 Here are have some noodle glamour shots. Notice that I use pre-noodled zoodles.
I don't expect people to make their own pasta, so why should I noodle
my own zoodles?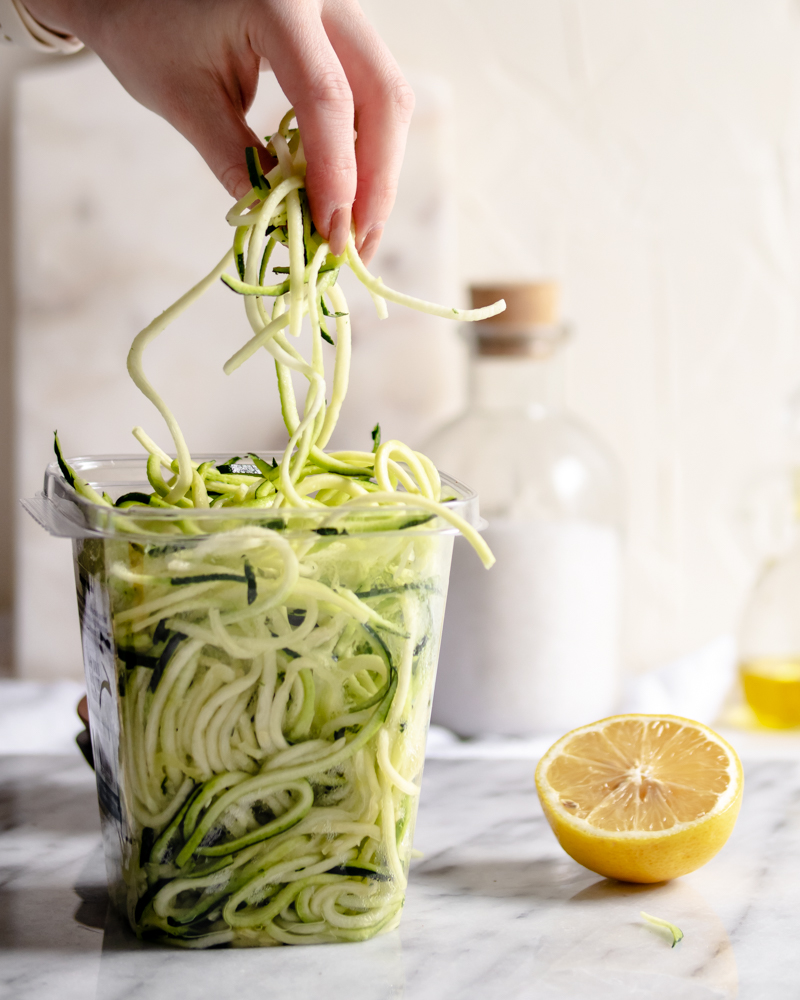 What you can see here is a lot of vegetation. What you DON'T see is the buttery lemon stuff happening below the veg.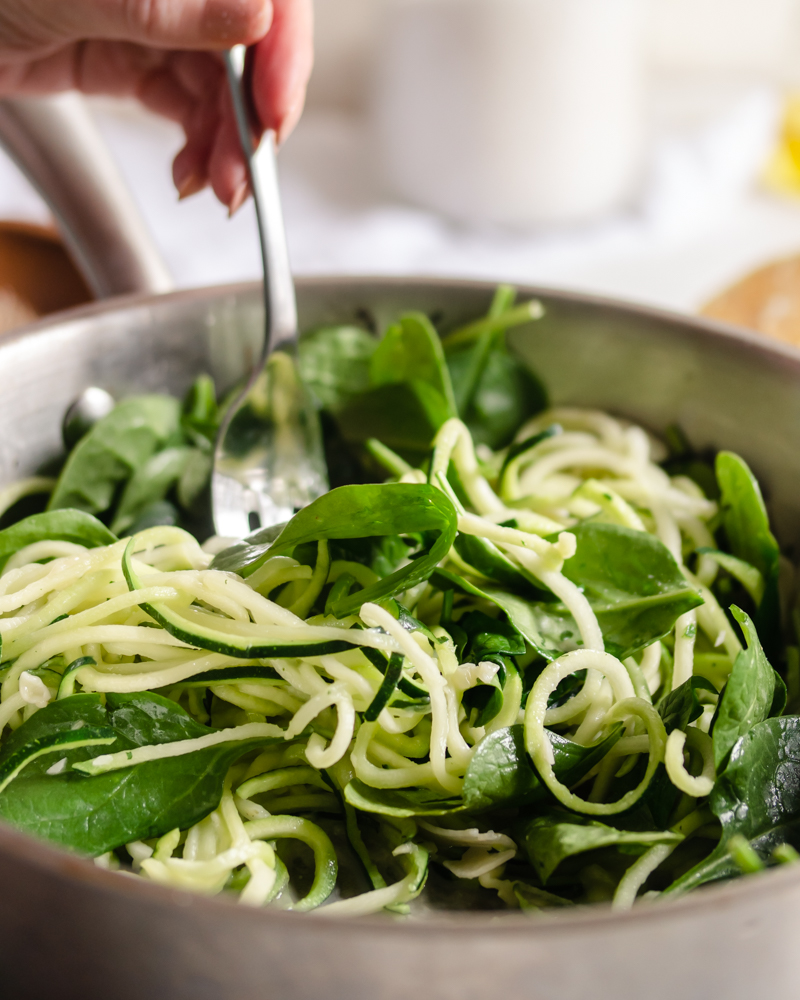 Toss it around, generously top it with cheese, refill your wine (French or Italian, your choice), then squeeze a lemon on it. DONE.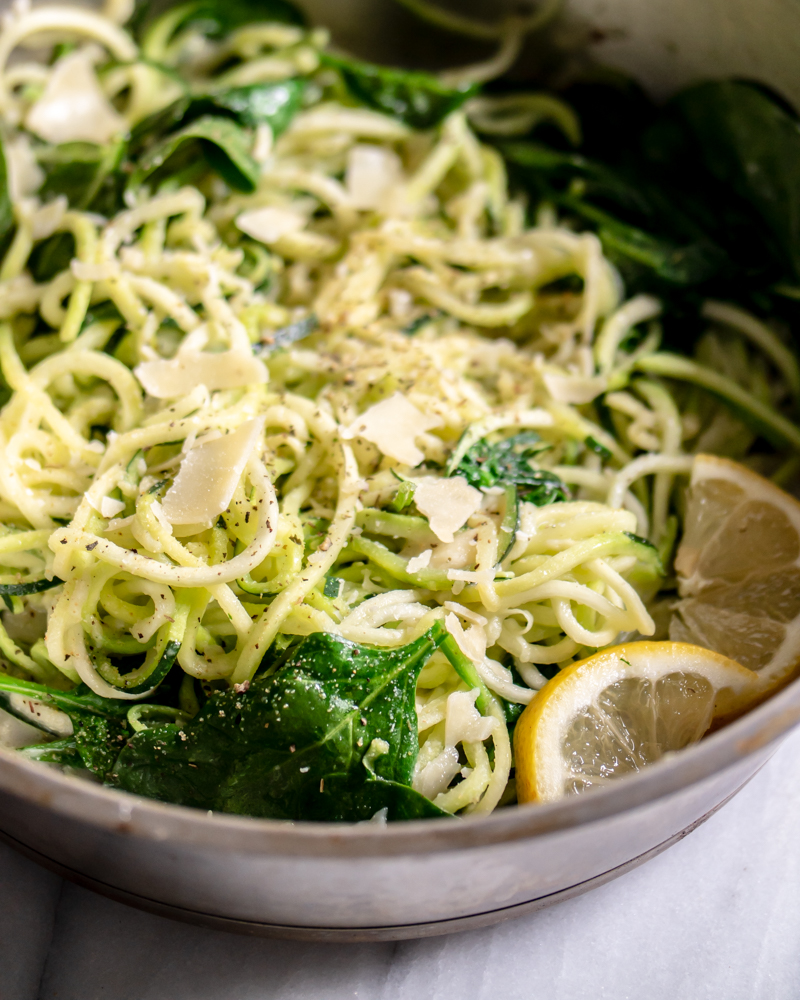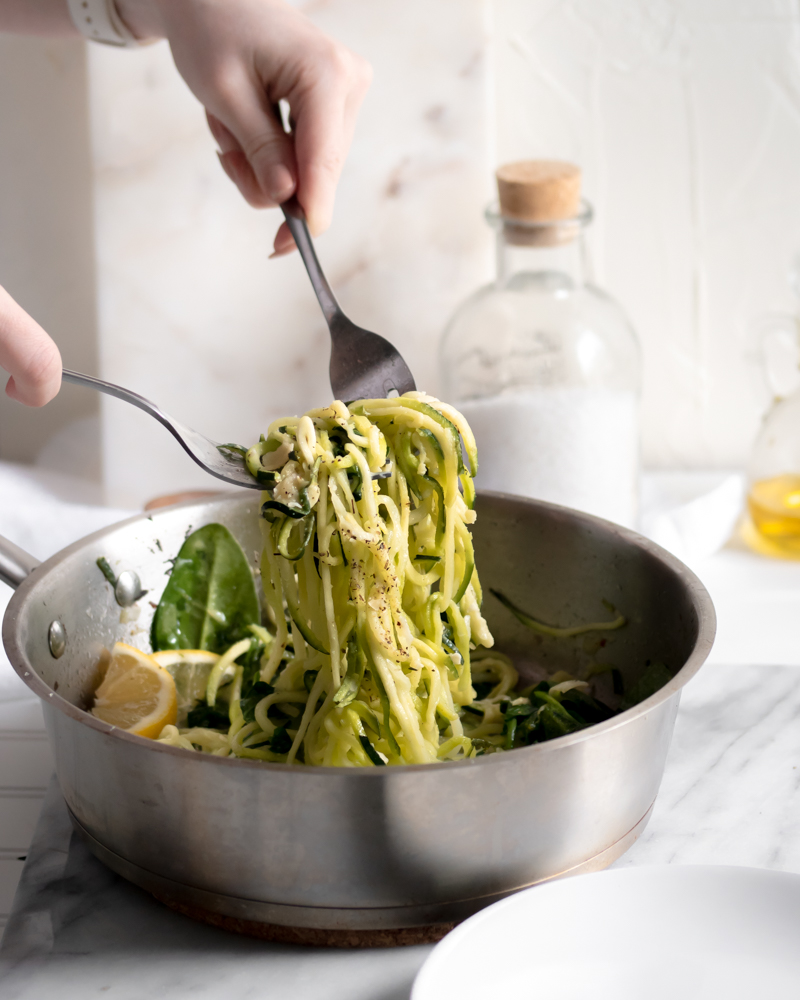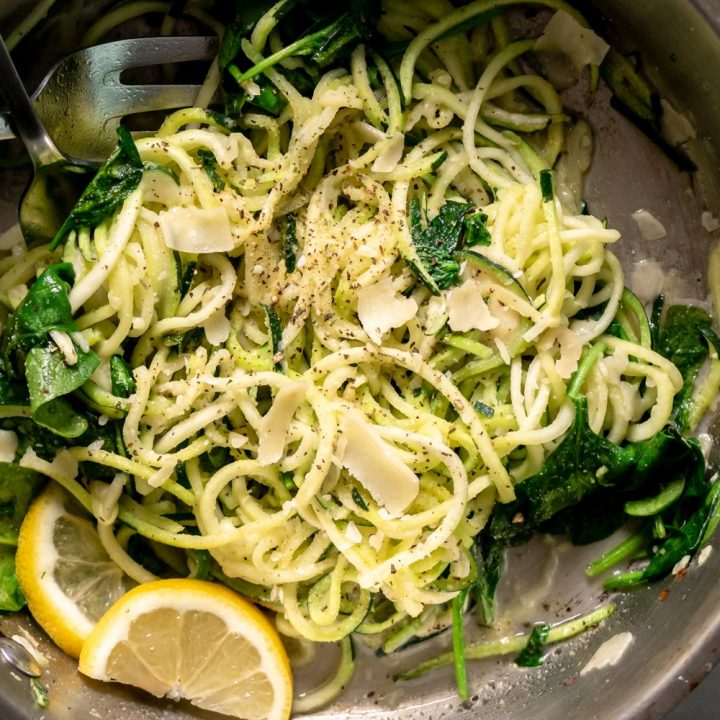 Zucchini Pasta Al Limone
This recipe is meant to be a guide. Let your taste buds do the measuring for you!
Ingredients
2 medium Zucchini, noodled
1/2 cup Baby Spinach
2 tbsp Butter
1 tbsp Olive Oil
2 cloves garlic, minced
1 tbsp Lemon Juice (or more to taste preference)
1/4 cup Grated Parmesan Cheese + more to garnish
Salt and pepper to taste
Instructions
Turn your zucchini into "zoodles" or if using pre-made zoodles, move on to step 2.
Melt butter and olive oil in a large skillet over medium heat and add garlic. Saute until soft and fragrant.
Add the zucchini and spinach to the pan and toss to coat in the garlic butter, allowing the zoodles to soften and release some of their water; only 1-3 minutes to avoid soggy noodles. Season with salt and pepper.
Remove from heat, add the lemon juice and parmesan cheese and toss gently.
Serve with more fresh parmesan, salt, and pepper to taste.