Well, it's over. The big day has come and gone and what am I left with? Since I'm writing this 3 whole days before Valentine's Day (yay for productivity) it's anyone's guess at this point. Mounds of candy? Bouquets of flowering roses? Piles of plush, stuffed bears and other assorted animals? This year the possibilities are endless…
Valentine's day. The Year was 2012. I had finally struck out on my own. A new city, a partially empty apartment and equally empty love life. Since I was single and my friend's boyfriend (now husband) was away at med school, we devised a plan to ward off the loneliness. Cocktails-neon green crystal light and whatever booze I had around-crudité and our own private showing of Fright Night. You know, the one where Collin Farrell is a hot, scary vampire. Spoiler alert: It wasn't hot but was very scary for two buzzed chicks on a Tuesday night. 
So this year's endless possibilities? I'm really just hoping for some good white wine and a movie that won't give me nightmares.
Fingers crossed.
SO if you were lucky enough to see a non-horror movie and have a little vino, your Valentine may have also decided to bestow their love in flower form, as they should, and now you have twelve sweet smelling long stem roses lying around waiting to be disposed of.
$27.99 right in the trash. 
Please, PLEASE don't throw away all of those pretties you've so diligently earned because, let's be frank, you have earned them. A full year's worth of girl-friending and mom-ing around even when you feel like committing murder on whoever emptied the coffee pot and didn't brew another. You deserve every petal of that nearly thirty-dollar bouquet. Here's how you can savor if for weeks to come.
 DIY Rose Water Spritz
There are two ways you can go about this endeavor and whichever you choose is up to you. If you'd like to be lazy and have a less "pure" product, that's your prerogative. I did it. There's no shame. 
If purity is your passion, the more complicated method is what you will want. Be prepared, it is more work. I've also made it the hard way and, yes, it is definitely more fragrant and appealing. 
Tools Needed
Giant Pot w/Lid
Purified Water
Roses– I used about 6 of the 12
Spray bottle and funnel for easy filling
For the complicated option-
A brick or small heat safe object (I used a small clay pot)
Dish to collect the water
---
Place your brick in the center of the pot. Remove fresh petals from the rose until you hit pollen and gently fill your pot with petals. I used THESE beautiful and unnecessarily heavy shears from Target. They are pretty.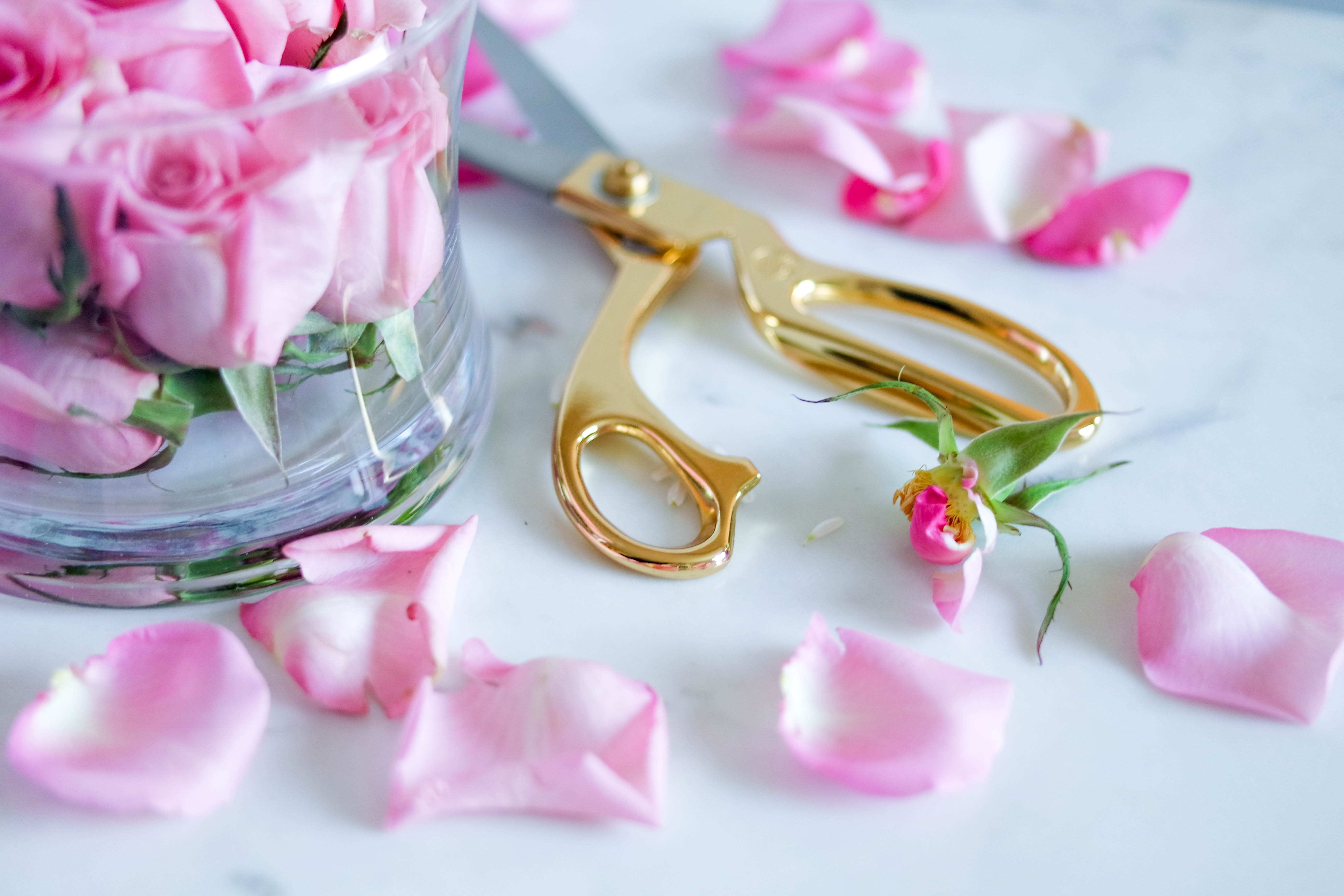 Here is the pot half-full. Get it? Anyway, the pedestal on which your water-collecting bowl will sit. I did not use a brick, clearly, so you may find something lying around that will work for you.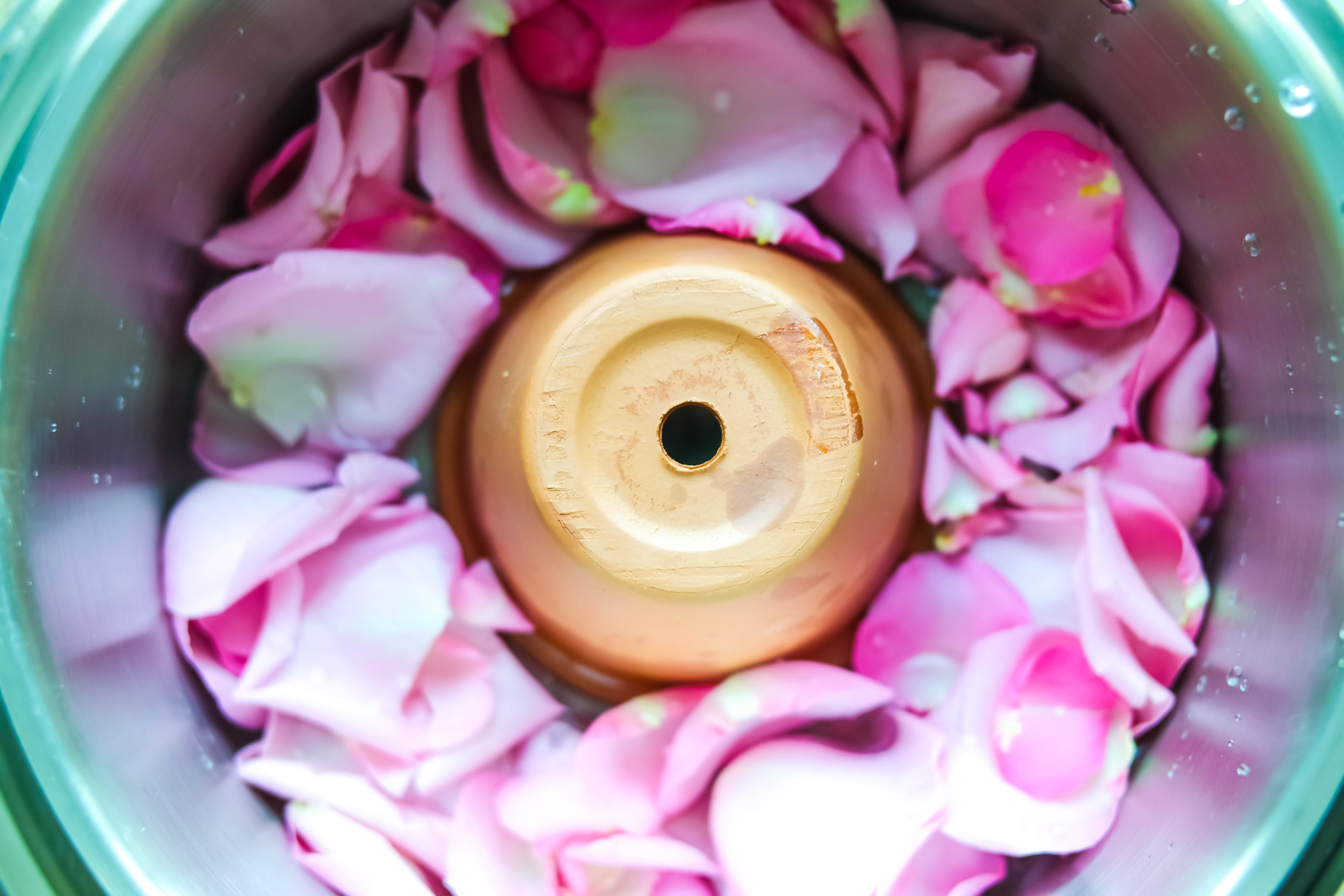 Add purified water until all petals are submerged and place bowl on top of your stand. 
Bring water to a nice simmer/gentle boil and place the lid UPSIDE DOWN on your pan. That means the handle of your lid with be directly above your collection bowl.
As the water simmers, the steam will collect on the lid and travel down to the center, dropping it's pure rose water goodness into your bowl.
Wait until your bowl is cool before removing. The water collected in the bowl is your rose water!
The simple method is one step. Simmer your petals until most of the color is gone and the water turns a bright, yellow hue. Strain the remaining liquid into your spray bottle.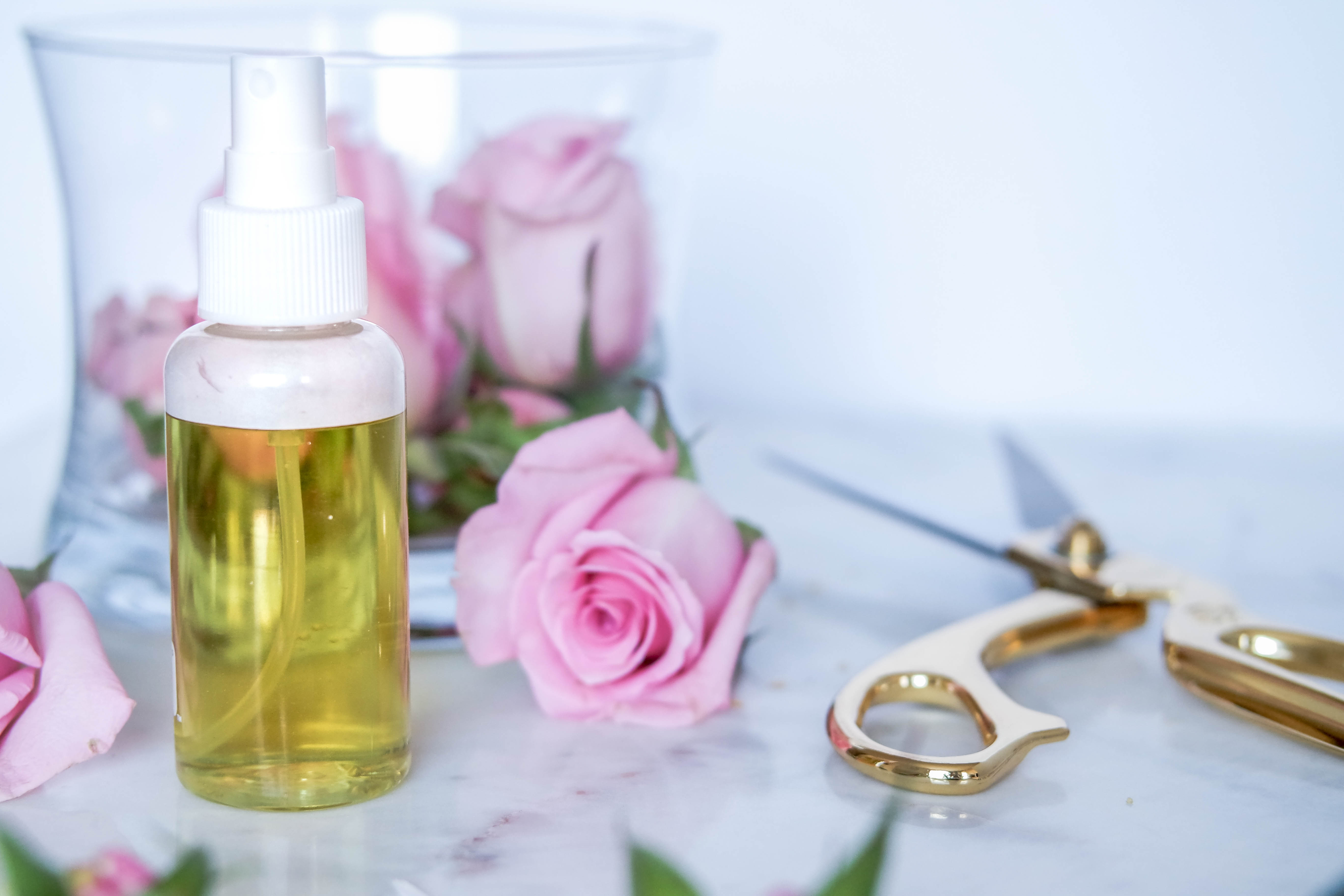 Use your bottled roses as a midday spritz to freshen your skin, pillow, bathroom, etc. Or take it to work where you can continue to rub your love flowers in everyone's faces! 
Here's a handy little graphic that is perfect for Pinteresting…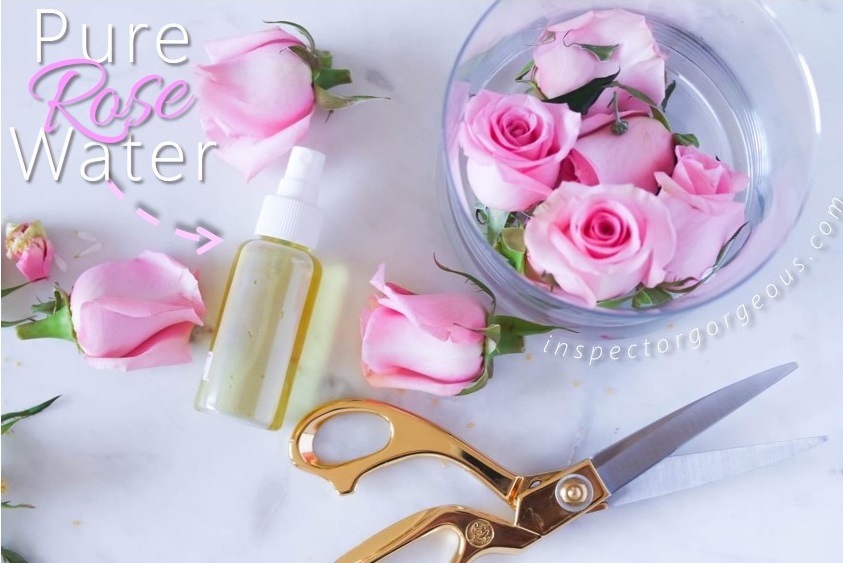 So what did everyone do for the big day? Anyone have roses that they are dying to boil??
♥ Liz