Isn't it odd how February is the shortest month of the year, yet it feels like like a never ending, frozen eternity? We have this daily calendar in my office, the kind that you pull off the page day by day and it has some inspirational quote. I guess you could call it a "quote-a-day" calendar. Anyway, every time we get around to February it feel like the pages never progress. November. December. June. July. They all just fly by, but it's like the February pages keep recycling themselves over and over until one day you pull the page and BAM. It's September again.
Some sort of cruel, quote-a-day calendar prank probably. 
Oh ok sure. Fine. The end is near, but is it really near? Or are we launching ourselves into a pseudo February full of frizzy hair and frost bite? If I recall, the groundhog said two thumbs up for an early spring. I woke up to fresh snow. 
The groundhog is a jerk liar, as most groundhogs are. 
I guess we can all go ahead and stock up on fresh tomatoes and basil so we may keep our body temp above freezing with this glorious bisque.
* *Just kidding, use canned tomatoes like a normal person* *
This recipe is one of my absolute favorites because you pull out fresh basil and everyone thinks you can actually cook.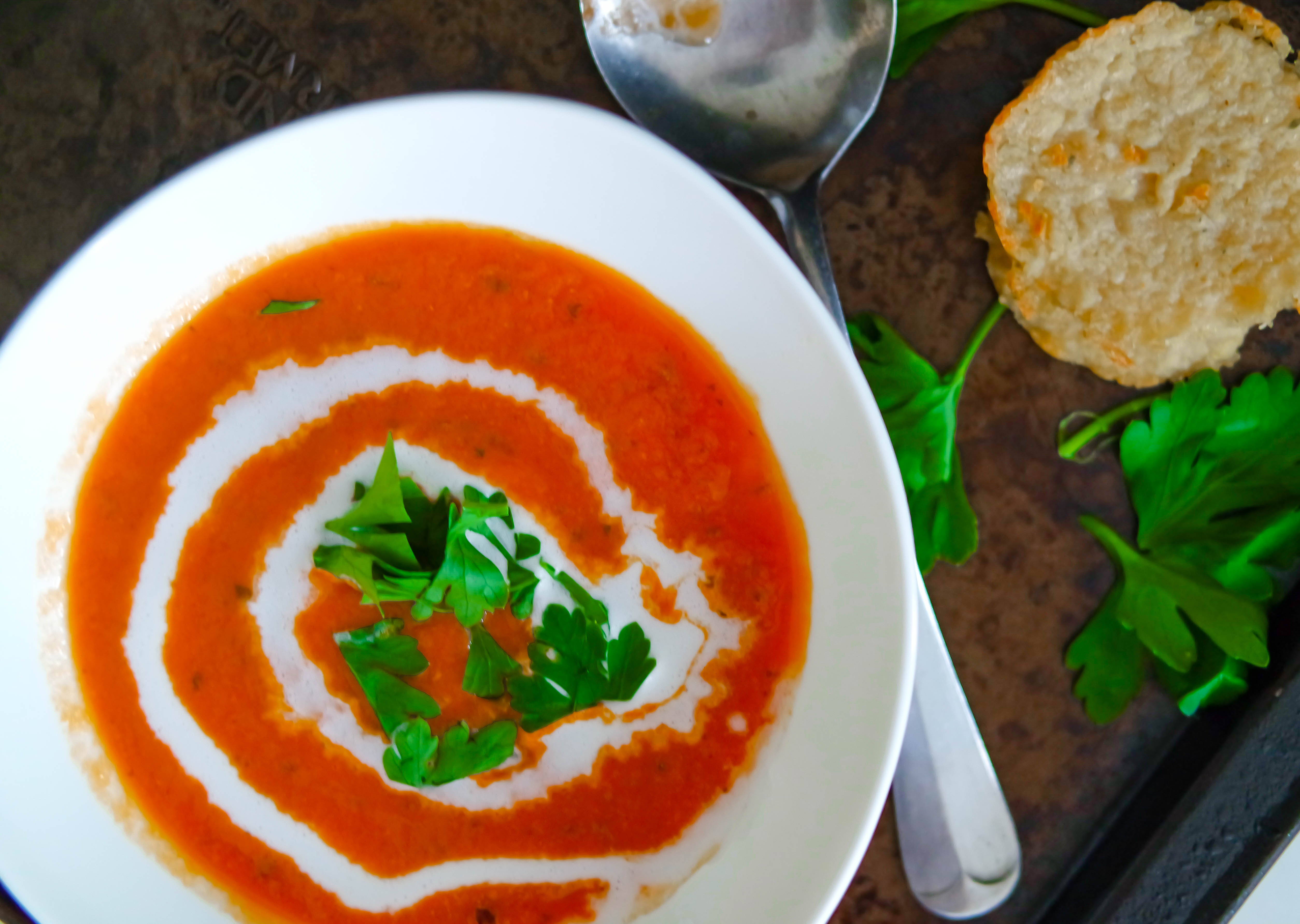 And obviously you need some sort of bread or croutony type of dunking mechanism. I chose to make my favorite chickpea flat bread into little rounds. The recipe is coming in a couple of weeks but if you can't wait HERE is one that is similar to what I do. Mine is going to be good but man, this bloggers pictures are just…amazing.
And now the recipe because too many words or pictures is just bothersome.
Tomato Bisque
2 cans Petite Diced Tomatoes

1/2 cup Stock (chicken or vegetable)

1/4 cup Unsweetened Cashew Milk (or dairy milk if you must)

1/4 c Onion, diced

1/4 tsp Garlic Powder (or 2 cloves of fresh, minced)

4 to 5 Basil leaves, coarse chopped

Salt and Pepper to taste
In a medium pot, saute onion in oil until translucent. If using fresh garlic, add now. 
Drain the liquid from one can of tomatoes and add to the pot. Add the remaining can of tomatoes (with liquid) and stock to pot. Cook on medium heat until you reach a light boil. 
Reduce heat and simmer for 15 minutes. Add garlic powder, basil and cashew milk and reduce heat to low for 5 minutes. Place soup in a blender and puree (careful, it's hot) or using an immersion blender, puree until smooth. 
Top with fresh herbs and drizzle with coconut cream (or sour cream of you eat that sort of thing). 
So who else is ready for spring? I love soup but, c'mon already…
♥ Liz