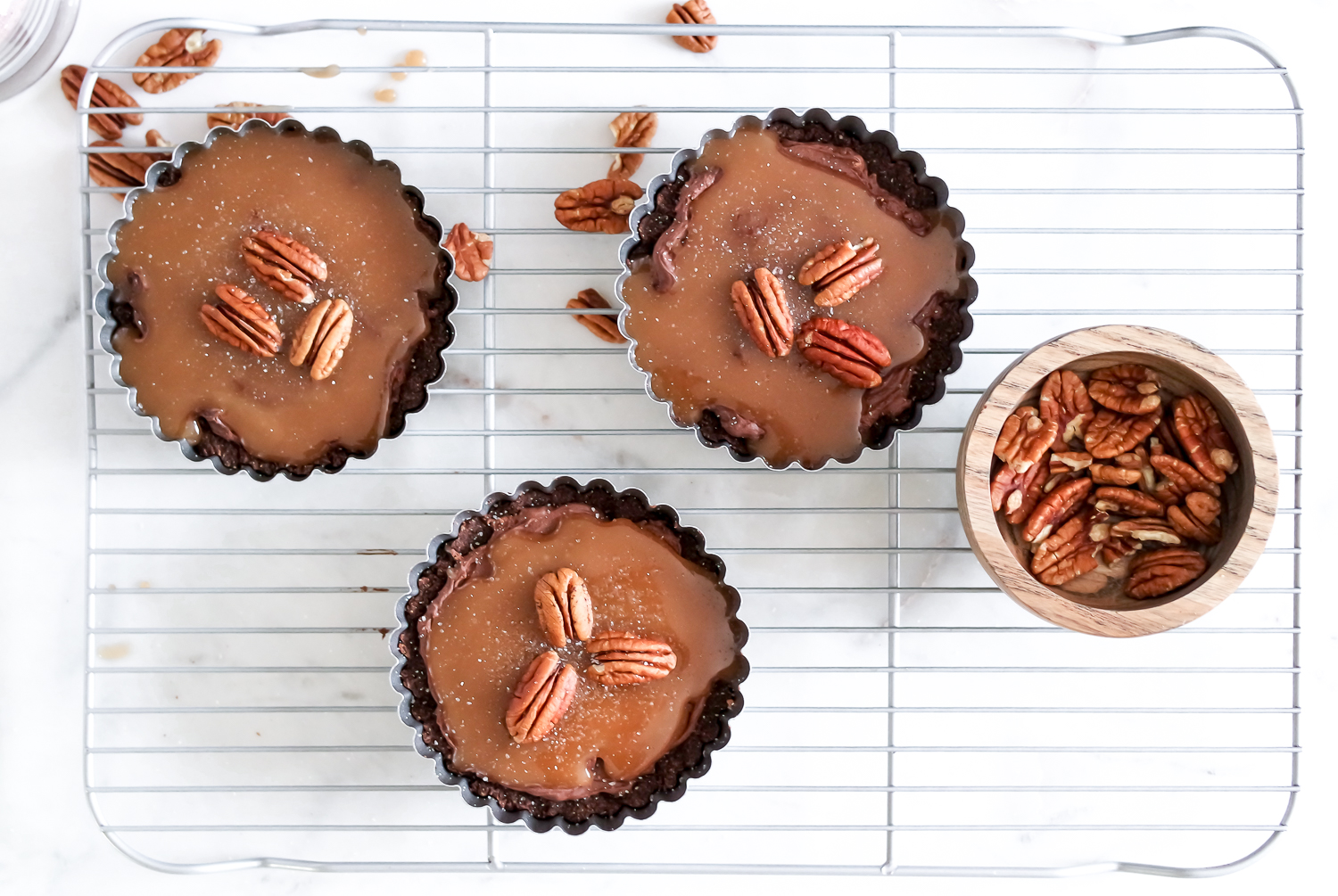 Every year I have the same beautiful fantasy of Valentine's Day. A perfectly narrated, lull me to sleep at night like a bedtime story, sort of pipe dream. I'm talking whimsical, Rom-Com style, partially impossible and completely unrealistic happenings. You know, fantasy. Not to say that I won't have a phenomenal V-Day. It will at least be better than the one when I got hit by a car. Let's hope anyway.
SO the fantasy. For starters, the snow would be gone and the mercury would be well above freezing. That's a fantastical wish all on it's own but just go with it. So I'm shopping for shoes that don't involve layers of fur or waterproof rubber and out of the blue I score the perfect little hot pink dress, on sale, that fits like a glove and makes me look super tan.
Booyah.
So I'm in my dream dress at some snobby restaurant that hates vegetarians-I can fill up on appetizers and wine so its ok-and the lighting has my skin looking like a fresh-faced sixteen-year-old again. The beautiful blonde man candy who escorted me on said date orders two desserts (because this is my fantasy) and we devour them without feeling guilty or bloated. Then we drink more wine and spend the night dancing our faces off like the amazing sexy creatures we are. Oh, and I don't even have to suck my stomach in.
Doesn't that sound magical?
I know there is zero chance of the weather working out in my favor this year (or any year) and the odds of wearing anything tight without sucking in is beyond reality, but devouring massive amounts of desserts without guilt is 100% doable.
Behold the ultimate three-way: dessert style.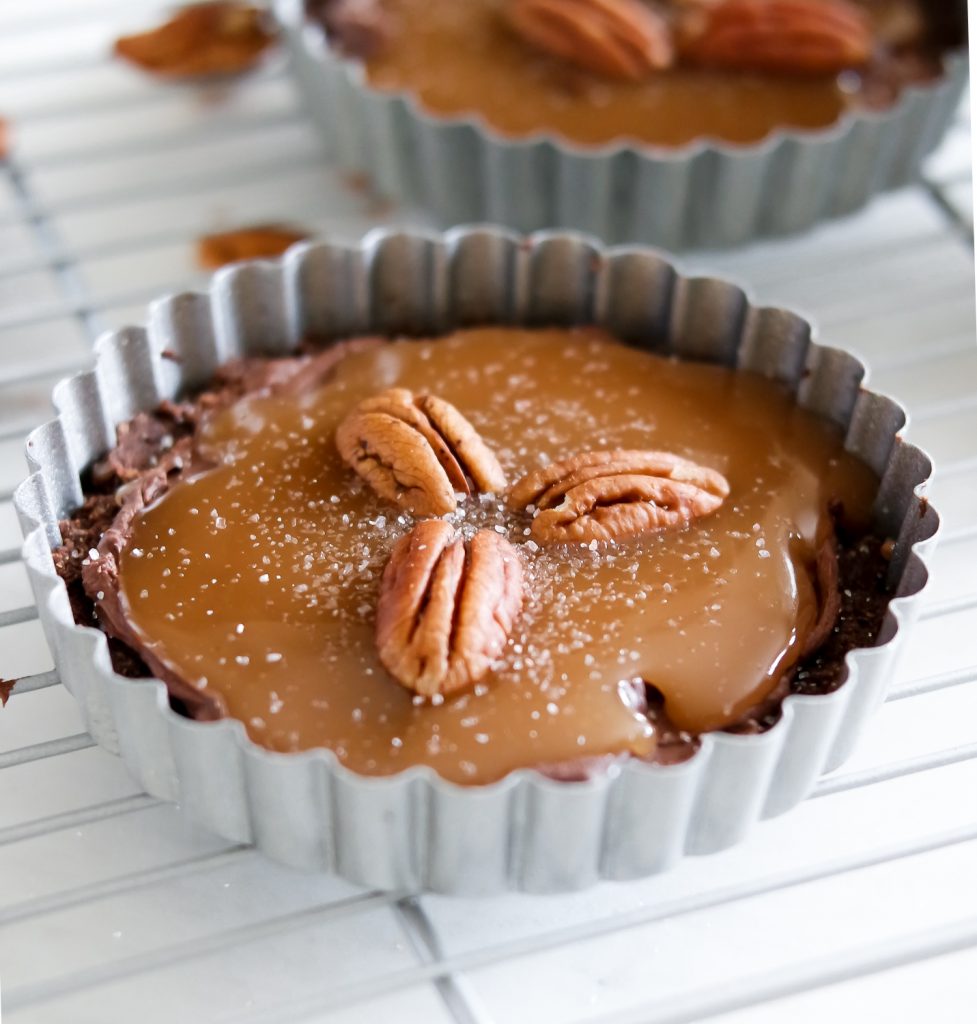 Deep, dark chocolate brownie all snuggled up with some light and creamy milk chocolate filling.
On top, sweet salted caramel.
Heck, I might just hunker down with a batch of these and
Netflix and re-write my fantasy this year.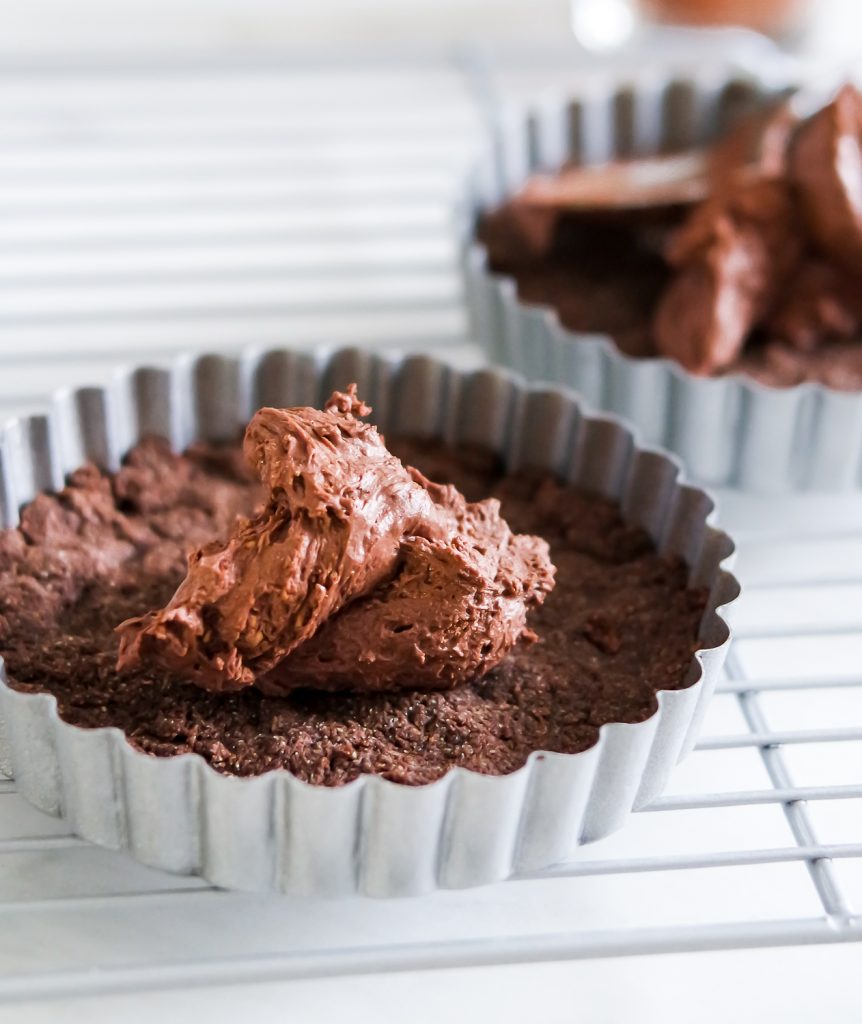 GLUTEN? Nope.
CARBS? Psht, barely.
GOOEYNESS? Obviously.
Skill Level Needed??? It's totally doable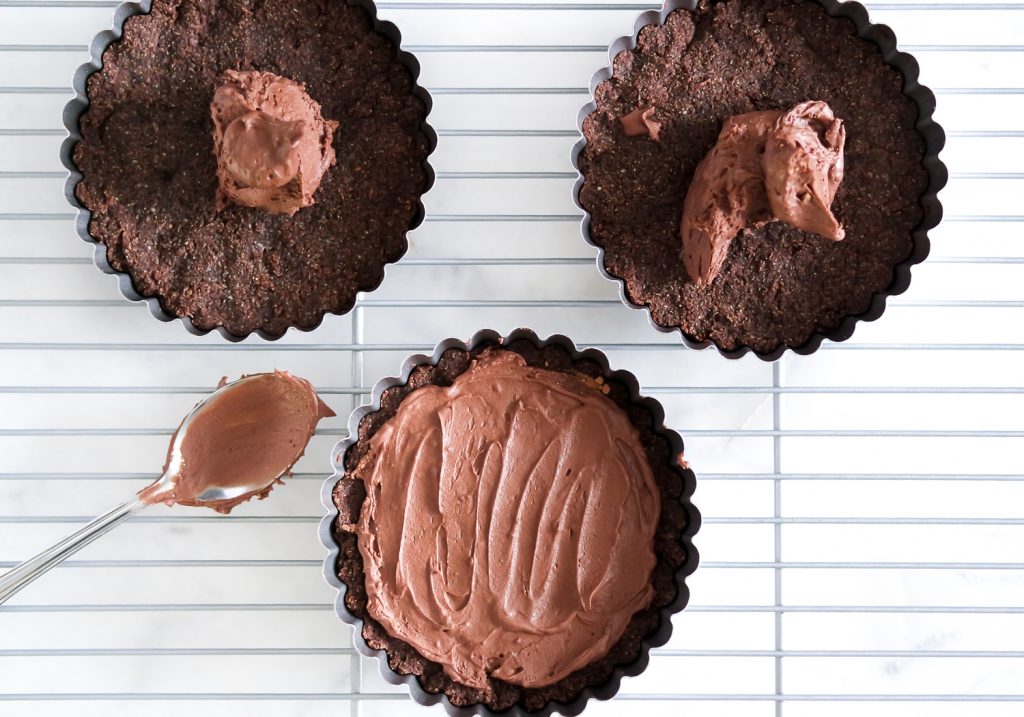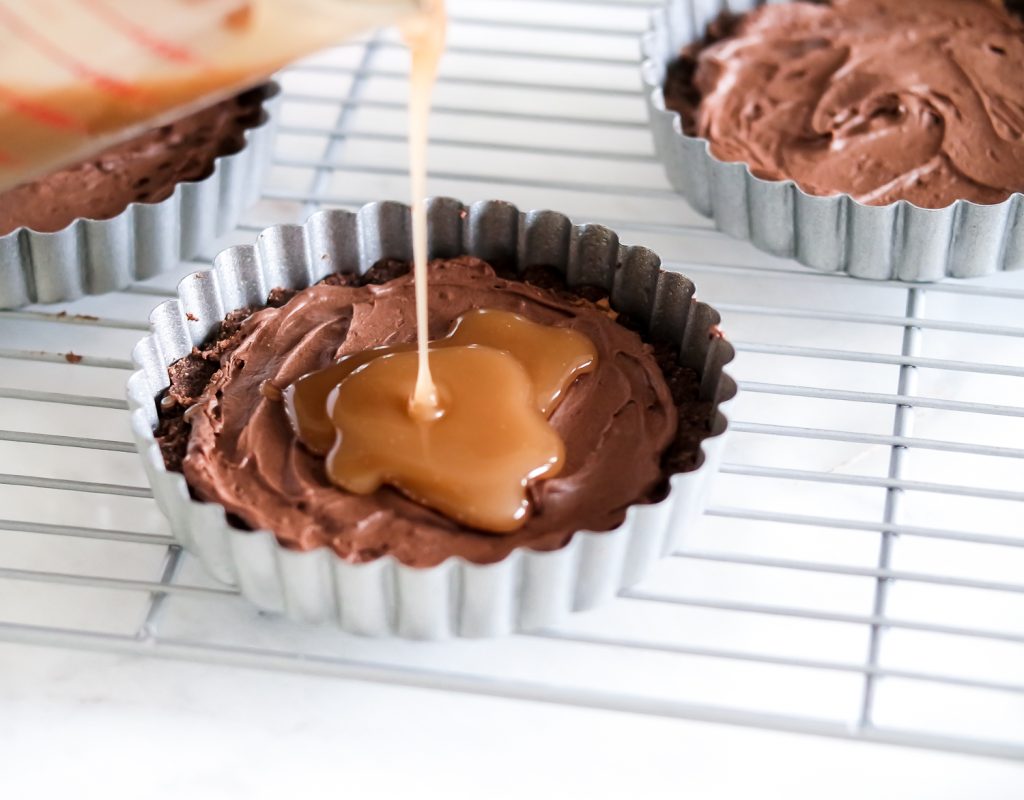 Don't those pictures make it seem obnoxiously simple? Well, it actually is.
This recipe is a three-parter, hence the catchy title, that includes a
"brownie" base, whipped chocolate center, and a firm caramel top.
Sea salt and pecans are optional but highly desirable.
Let's get this Ménage à Trois…I mean Tarte…
started!
Low Carb Salted Caramel Brownie Tarts
Keto Chocolate brownie tarts with a whipped chocolate mousse and creamy caramel!
Ingredients
Brownie Base
1 cup Almond Flour
2 tbsp Cocoa Powder
3 tbsp Swerve (or sweetener of your choice)
2 tbsp Coconut oil
1 egg yolk
Whipped Chocolate Layer
2 oz Milk Chocolate (I used Chocorite Bars-they are sweetened with Stevia)
2 tbsp Non-Dairy Milk, Silk Cashew is my go-to at the moment
1-2 tbsp Unsweetened Cocoa Powder
Salted Caramel Layer
1/2 Stick Butter
1/2 cup Truvia Baking Blend Sugar
9-12 Whole Salted Pecans
Instructions
Brownie Base
Preheat oven to 350. Mix all ingredients well. IF it isn't holding together, add a splash of water, 1 tbsp at most. Press into mini tart pans and bake for 15 minutes or until firm. Let cool.
Whipped Chocolate Layer
Melt the chocolate in the microwave on power level 5 in 45-second intervals. It should take two or less before it is ready.
Using a whisk, add the milk into the warm chocolate one tablespoon at a time, whipping vigorously. Then, spoon in the cocoa powder and keep stirring until the chocolate becomes light and airy. It should be firm.
Spread onto cooled brownie crust.
Salted Caramel Layer
In a saucepan bring sugar and butter to a boil. Reduce heat to medium, stirring continuously.
Once the mixture begins to brown, remove from heat and set aside to cool to room temp. This layer works best when it is warm, not hot.
Pour caramel layer over the chocolate frosting layer. Top with pecans and sprinkle with sea salt.
And the countdown begins! What kind of sweet and lovely plans does everyone have for Valentine's Day?
♥ Liz