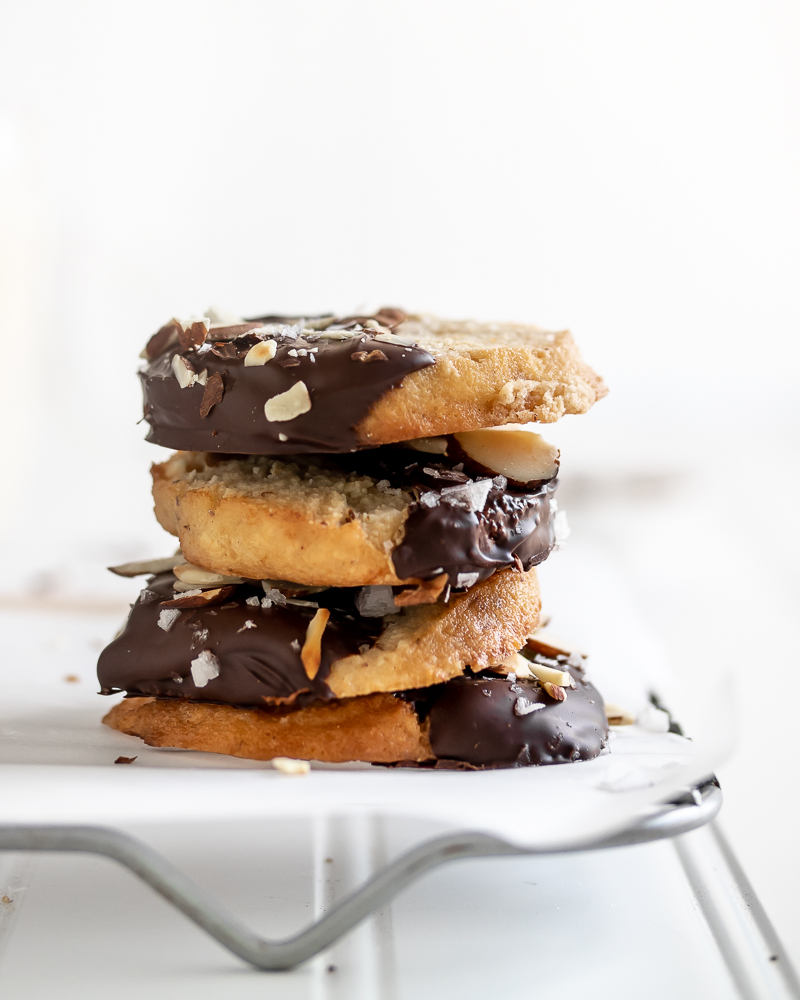 Slice Me Off A Piece Of That!
You know, because they are slice and bake.
I find slice n' bake cookies fascinating. I'm drawn to their odd shape with slightly raised edges and rigid centers, a photographer's dream, and that they are easy, don't spread, and I can really load up my baking sheet.
Then there's the fact that these cookies are keto, grain free, buttery and crisp with giant flakes of sea salt, and perfectly toasted almonds—then there's the chocolate.
So many reasons to love a cookie, even though a reason isn't necessary.
BUT maybe the most important part of this cookie the reason I fell in love was the secretly crisp, sugared edges.
The Secret To Crisp Edges!
Baking cookies to the desired doneness can be tricky business. The goal is a golden brown edge, but sometimes browning turns to burning.
Ew.
SO my favorite little trick to evenly browned and beautiful baked goods is an egg wash, which is beaten egg (yolk, whole, or white) mixed with a liquid and brushed on pastries before baking to promote browning.
Guess what? It works on cookies too! BUT the trick to an easy egg-washed cookie is to roll the dough into a log—then brush it on. This method is a little more time-consuming but you'll be consuming deliciously crisp cookies in no time which makes up for it.
Need a visual? Let's roll (cookie logs) 👇👇👇
Buttery Toasted Almond
Slice & Bake Shortbread Cookies!
The first cut is the deepest and also
the goofiest looking cookie.




Key Cookie Log Tips:
1. You MUST let this log chill ❄
1/2 hr to 1 hr in the freezer is what I find to be perfect.
Less than that and your cookies will fall to pieces.
2. Gently Slicing is NECESSARY 🔪
I found that a sharp knife and a hand bracing
the cookie being cut works best.
That means you want to position your knife,
THEN press your hand on the "butt" of the cookie log
as you slice through.
If not, the cookie will start to fall over
as you slice and it WILL break in half.
If that happens, just press it back together.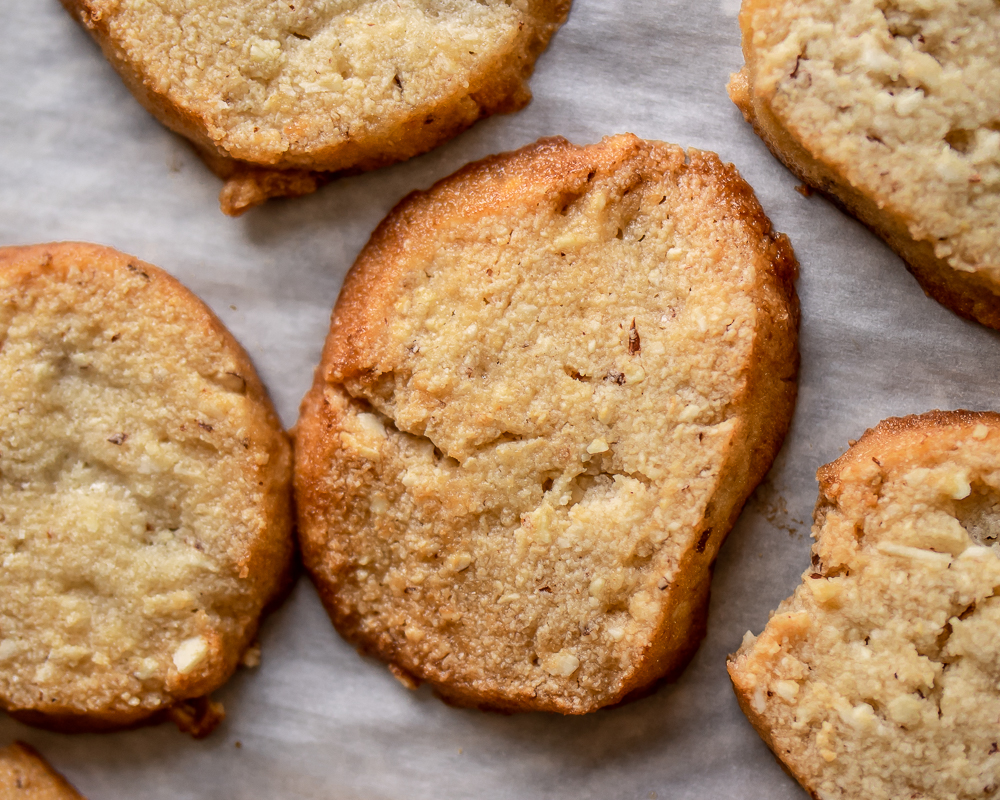 Cool it, Jack. (Again) 💨
3. Cookies gotta rest, yo.
Once they have baked, they will still feel soft and fragile to the touch.
Stay calm!
Once they cool they harden right up…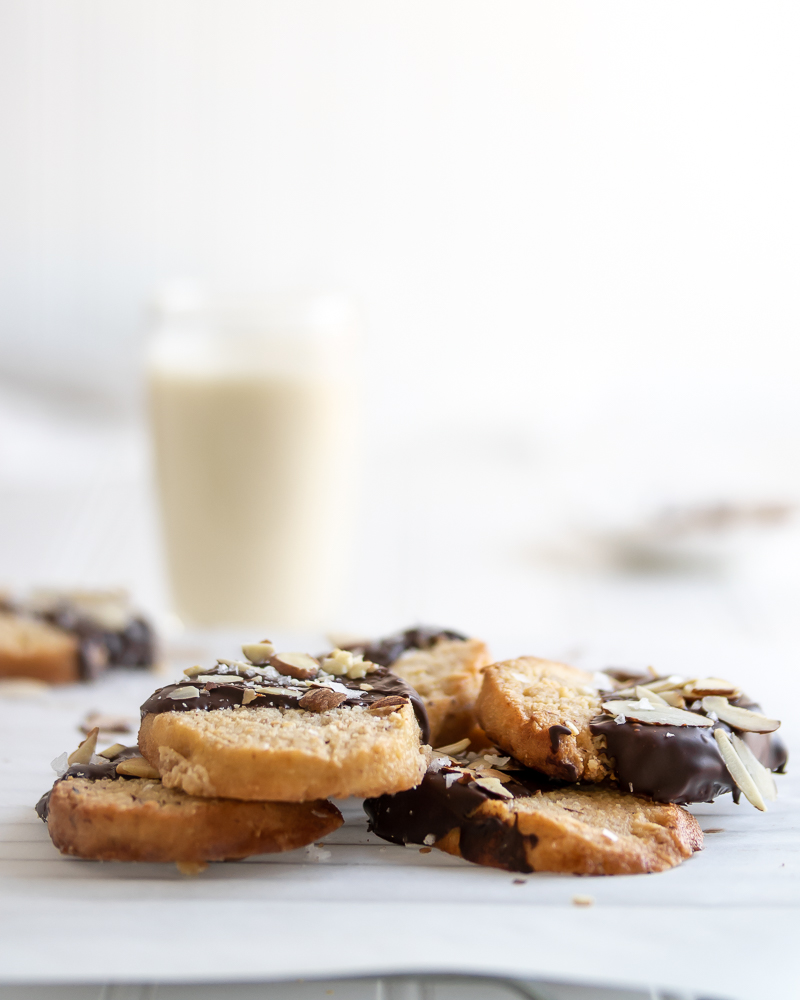 Seal the Deal 🍫
4. Take care of yourself and your cookies by giving them a
deep dark chocolate coating.
Preferably with a sprinkle of your toasted almonds and
the best Flaky Salt I've ever had.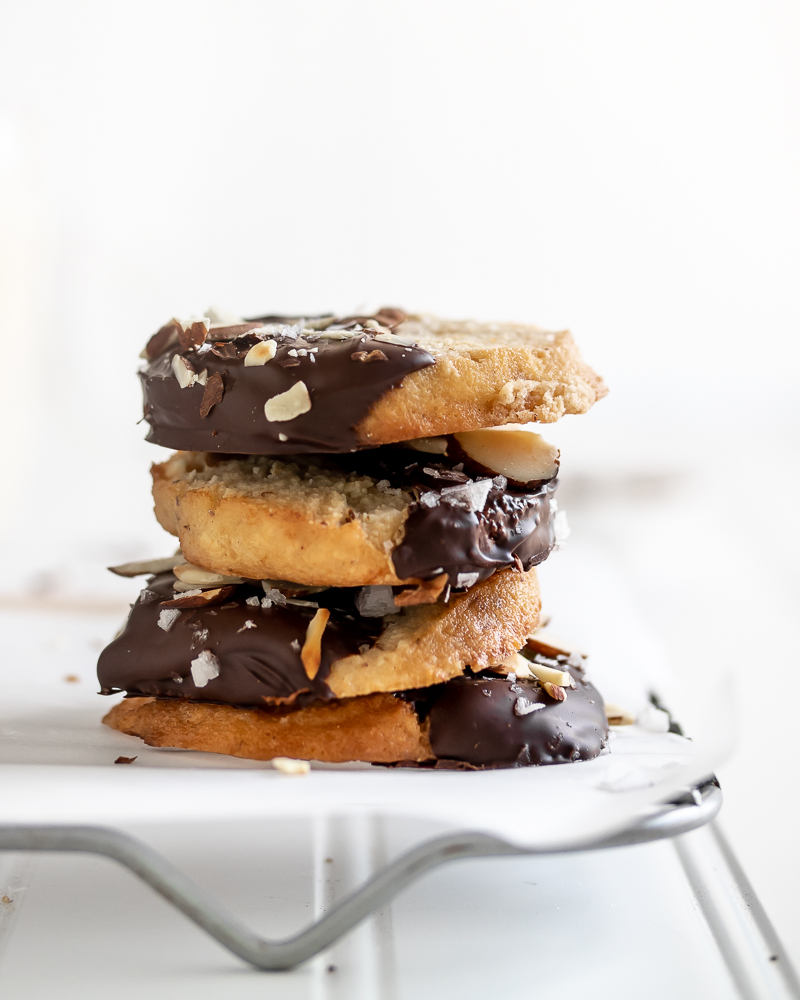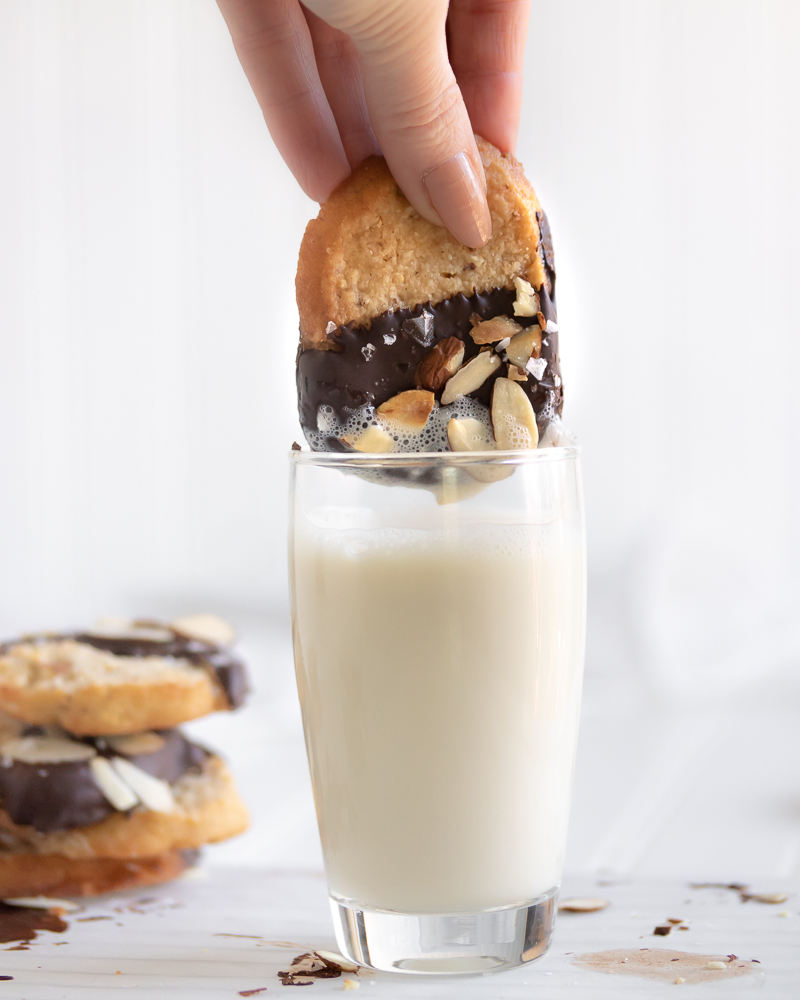 NOTE: You can also make these cookies the traditional way by rolling them out and cutting them into circles or squares like my Lavender Shortbread if slice n bake isn't your thing.
Deliciously Crisp Slice & Bake Toasted Almond Shortbread Cookies!
Total Time:
1 hour
15 minutes
Slice and bake as many or as few shortbreads as your cookie-loving heart desires!
Ingredients
1/4 cup Slivered Almonds, 2 tbsp reserved for decorating
1 cup Almond Flour
4 tbsp Butter, chilled
1 tsp Flaky Salt!!!
1/4 cup Granulated Low Carb Sweetener
1 tsp Xanthan Gum
Eggwash
1 Large Egg Yolk
1 tbsp Water
1 tbsp Granulated Low Carb Sweetener
Instructions
Begin by toasting your slivered almonds in a non-stick skillet over high heat until they begin to brown. Remove from heat and let them cool.
Combine all cookie ingredients in a food processor and pulse until the mixture looks sandy. You can do this by hand, but make sure you chop or process your slivered almonds before adding to your dough. If the pieces are too big, slicing your cookie roll is nearly impossible!!!
Transfer the sandy dough to a flat surface lined with cling wrap.
Casually wrap the dough and begin to work it into a ball, pressing it and turning it to activate the xanthan gum and distribute any large hunks of butter.
Once the dough looks smooth, form it into a log, wrap it tightly, and freeze for 30 minutes to 1 hour or refrigerate up to a week.
To Bake
Prepare your egg wash by beating your egg yolk and water until smooth.
Using a pastry brush, gently coat the cookie log with egg, then sprinkle with sweetener. *If using erythritol, the coating can start to get too much of the "cooling" effect so I recommend monk fruit or sweetener like Lanko or Truvia baking blend if you are sensitive.
Slice the log into 10 cookies and bake on a parchment lined cookie sheet at 350 for 15 minutes or until edges are browned.
Let cool completely before dipping in chocolate!
Notes
-Nutrition Facts do not include chocolate since brands vary-
2 oz Lily's Dark Chocolate Chips would add
CALS-22
FAT-1.6g
CARBS 1g
PROTEIN-0.4g
Nutrition Information
Amount Per Serving
Calories

128
Total Fat

12g
Carbohydrates

3g
Fiber

2g
Protein

3g