This keto focaccia isn't a dupe for the gluten version (no yeast or grains) but it is the perfect almond flour bread to dip, slather, and season! Just a small serving loaf that is ready in under 30 minutes to beat those bread cravings!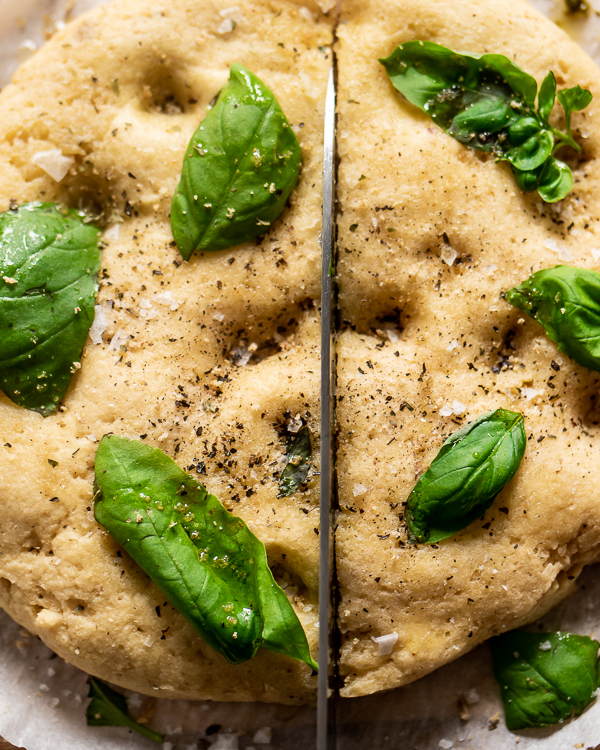 Crazy for Keto Bread
I cannot be left alone with large amounts of bread, keto or not, because I will eat every crumb.  Especially bread-like products that are oily and crumbly with a garlicky salted top. The temptation is too much! I am only human. Plus, I live alone so there is absolutely no one to police me at 8:45 pm after I've had a glass of wine and am feeling super Italian.
Molto Bello!!
This is why I made this bread with TWO important things in mind:
Be easy enough to make on a whim, satisfying my lustful bread urges promptly,
It won't make a huge portion in case I want to eat a lot of it. 
Which I will. If it's there. #smallbatchlife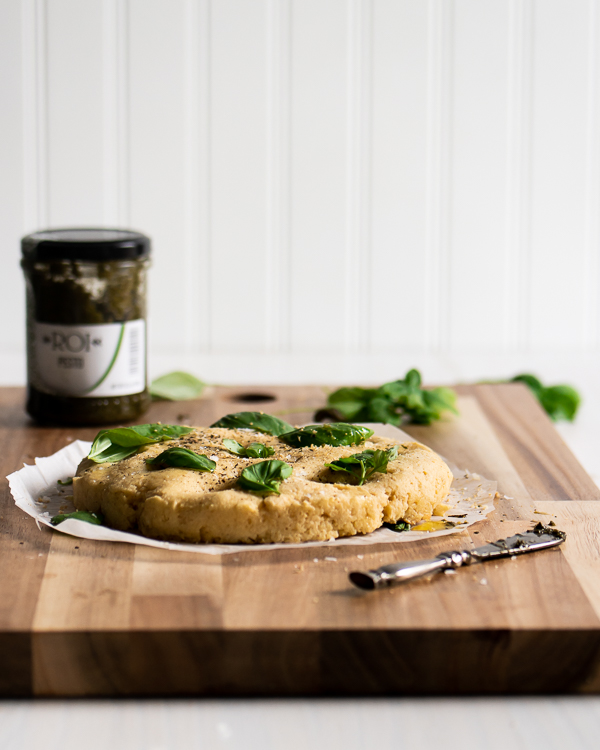 Let's Get That Bread!
Traditional focaccia is a yeast bread that is similar to pizza dough and is made for slicing up and serving with your main course. Though I have used yeast in keto and low-carb bread recipes for flavor, yeast does not work well with almond flour bread due to zero gluten to hold the bread together.
To replace the yeast in the leavening process, I used double-action baking powder and baking soda + lemon juice. The crumb in this keto focaccia recipe is tight and soft, unlike traditional focaccia, and slightly crumbly—and it's for a reason!
In test batches, I found that most were too dense and chewy. The texture took away from the amazing flavors of garlic, salt, and basil. For me, even though this is a cheater's focaccia, this almond flour focaccia has a delicious flavor and a texture that I enjoy!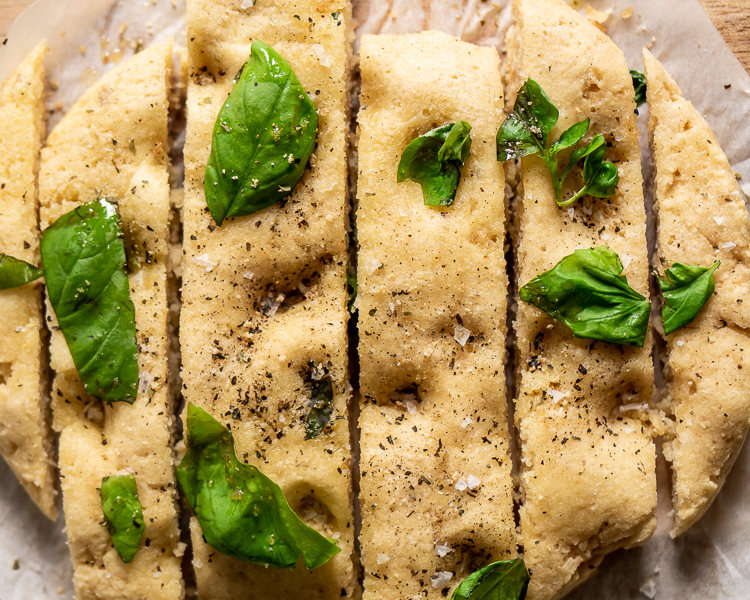 The texture of this gluten-free focaccia is soft and sort of crumbly. PERFECT for slathering is pesto or sopping up soup. Oh, and did I mention how buttery and delicious it is?
But the REAL showstopper on this bread is the flaky salt 👇👇👇 which is a shaved salt that has a nice crunch and a mild salty flavor. Shaved salt is a finishing salt, meaning you don't cook with it but you use it to add a final seasoning.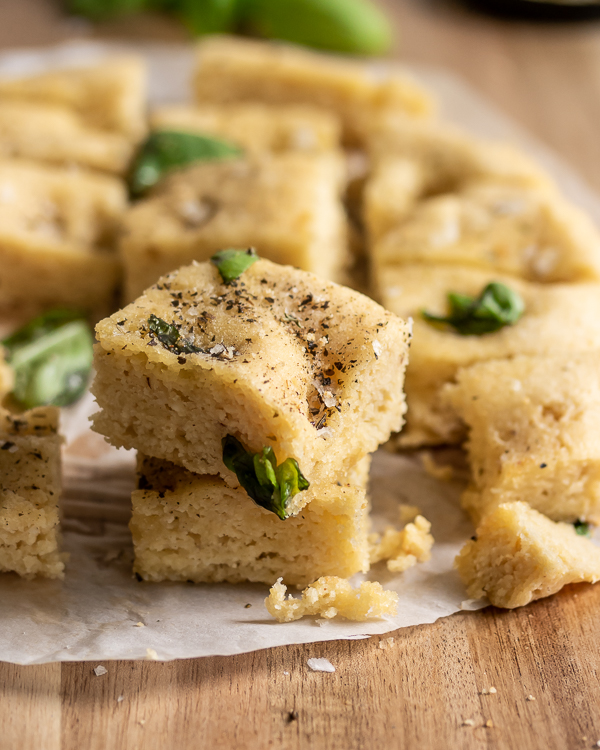 Helpful TIPS for Keto Focaccia
When you are ready to dimple the bread in traditional focaccia fashion, dip your knuckle or finger into a glass of water, then dimple away. I like to go almost all the way down to the pan. 
The same goes for flattening it onto the pan. A little water will keep it from sticking to your spatula or hand!
My bread round was a 6 1/2-inch round. If you don't have a small cake pan and would like to use a large pan, just double the recipe!
Please be cautious when measuring your coconut flour and DO NOT pack the measuring cup. Too much coconut flour will result in dry, hard-to-swallow bread.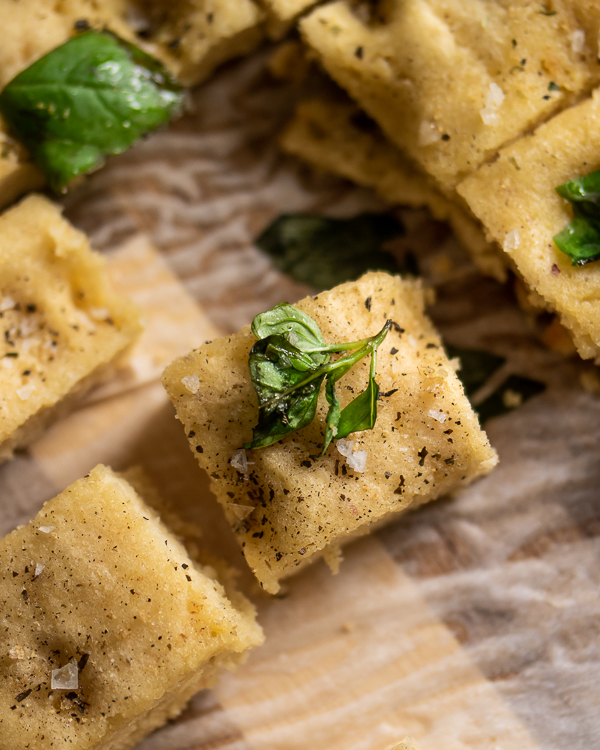 Whether you choose to slice this bread into squares or strips or whatever,  that's up to you! Just know that the macros (carbs, calories, fat, & protein) are based on how many servings you get per batch. Since this is a small loaf, I prefer to slice it into medium squares and serve it alongside soup or something saucy!
Heads UP! This post contains affiliate links. As an Amazon affiliate, I earn from qualifying purchases.
Hungry for More? Try these!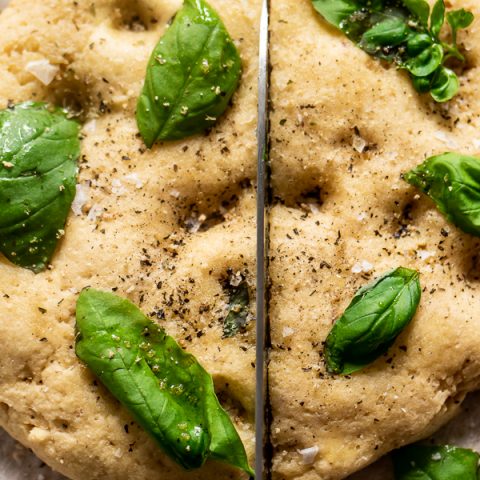 Keto Garlic Herb Focaccia!
Quit bread for good and get this keto grain-free focaccia on your plate!
Ingredients
Dry Ingredients
1/2 tsp Xanthan Gum
1 tsp Garlic Powder
1/2 tsp Baking Soda
1/2 tsp Baking Powder
Wet Ingredients
3 eggs
1 tbsp Lemon Juice
2 tsp Olive oil + 2 tbsp Olive Oil to drizzle
Fresh Basil, to garnish
Instructions
Heat oven to 350 and line a baking tray or 8-inch round pan with parchment.
Whisk together the dry ingredients making sure there are no lumps.
Beat the egg, lemon juice, and oil until combined.
Mix the wet and the dry together and use a silicone spatula or large spoon to "knead" it for about 30 seconds.
Scoop the dough into your pan and smooth the top and edges with a spatula dipped in water (or your hands) then wet your knuckle with water and dimple the dough.
Cover with foil and bake for 10 minutes (this is important for the rise and to not over-dry the bread). Remove foil, drizzle with olive oil, bake uncovered for an additional 10-15 minutes to lightly brown on the edges.
Top with flaky salt, a drizzle of more olive oil (optional), a dash of Italian seasoning, and fresh basil. Slice and serve fresh from the friggin oven.
Notes
Texture: I've updated this recipe to include an extra egg from the previous version. If you loved the original, proceed with two eggs! I find my tastes and preferences have changed over the years and I love the triple egg version!
DO NOT pack your coconut flour in the measuring cup. Unlike almond flour, adding too much coconut flour will dry this bread out and make it uncomfortable to swallow.
Cover with Foil for the first bake for the best rise, moisture content, and texture. Please, don't skip it!
Nutrition Information
Amount Per Serving
Calories

166
Total Fat

13g
Carbohydrates

7g
Net Carbohydrates

3g
Fiber

4g
Protein

7g