I didn't really need to come up with something snappy for this post
because, well, it's cookies. Cookies are snappy by definition —these ones are technically chewy which might be better —so I'm off the hook. As if cookies weren't gift enough, now I can shirk my creative duties and just plop some delectable delights in front of you and ta-da! Blogged.
Maybe I should just start a cookie blog where all I do is bake and intake cookies all day? Sounds appealing.
But, alas, something snappy happened. I mean, obviously. Read the title and there you have it. Snaptastic.
You know what else is snaptastic? The fact that my father has abstained from the merriment of eating all things peanut. That blows my mind. And not just peanuts either. He stopped eating nearly all nuts due to an allergy developed in adulthood and that's his life now. No peanuts, cashews, (or cucumbers) etc. Crazy! He knew the glory of nuts for so many years and one day it all came crashing down. No more nuts for dear old dad.
Nut free since '93 ish, give or take.
I can eat peanuts like an elephant in captivity but for my dad I've concocted this little cookie recipe that is nut free and gluten free. Bonus, it's low carb. He loves that too since he's tryna low carb it up as well.
Nut Free Chocolate Chip Cookies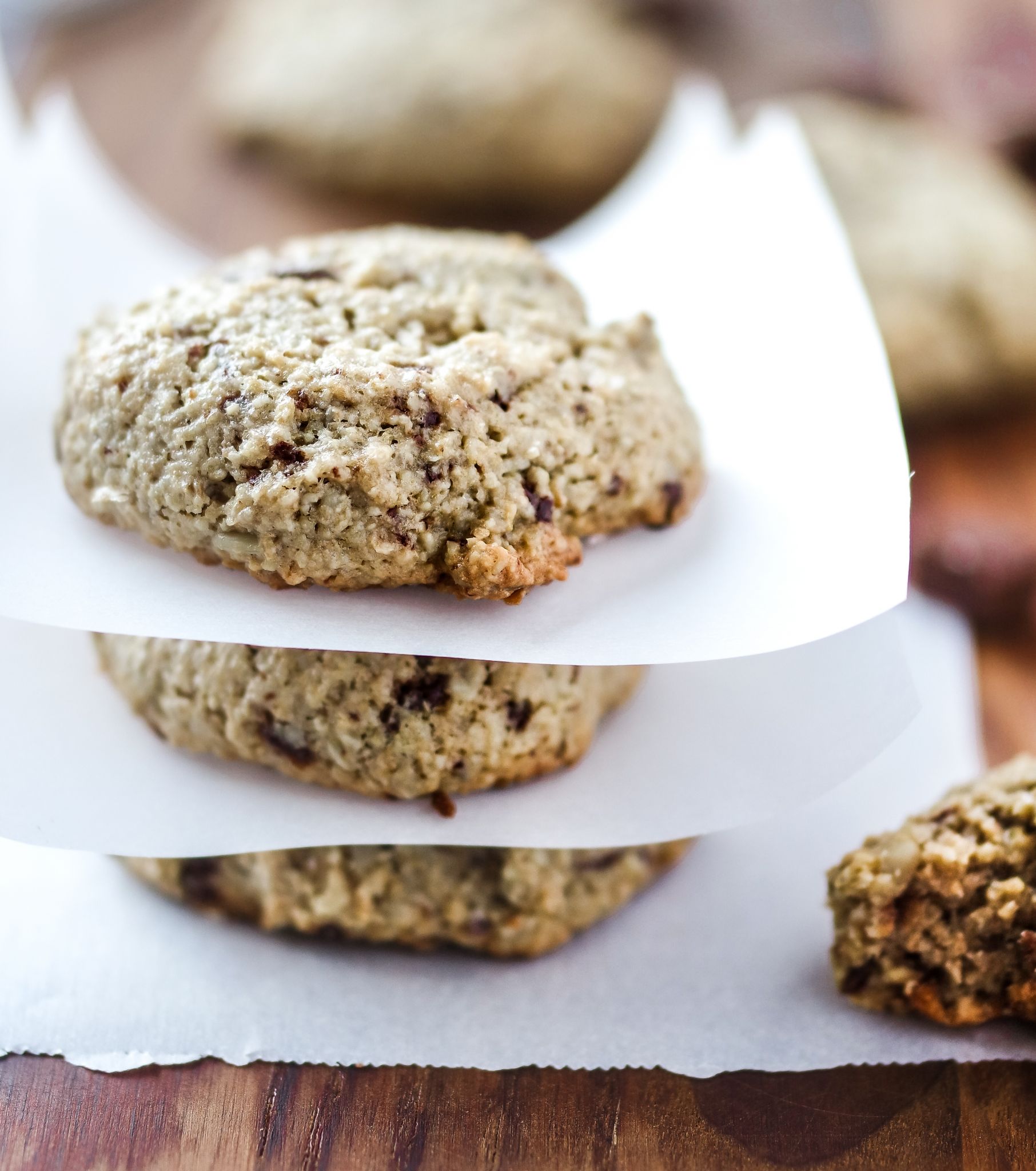 Here's another added bonus to this nut free, dairy free recipe: you can make this one completely in your blender/food processor!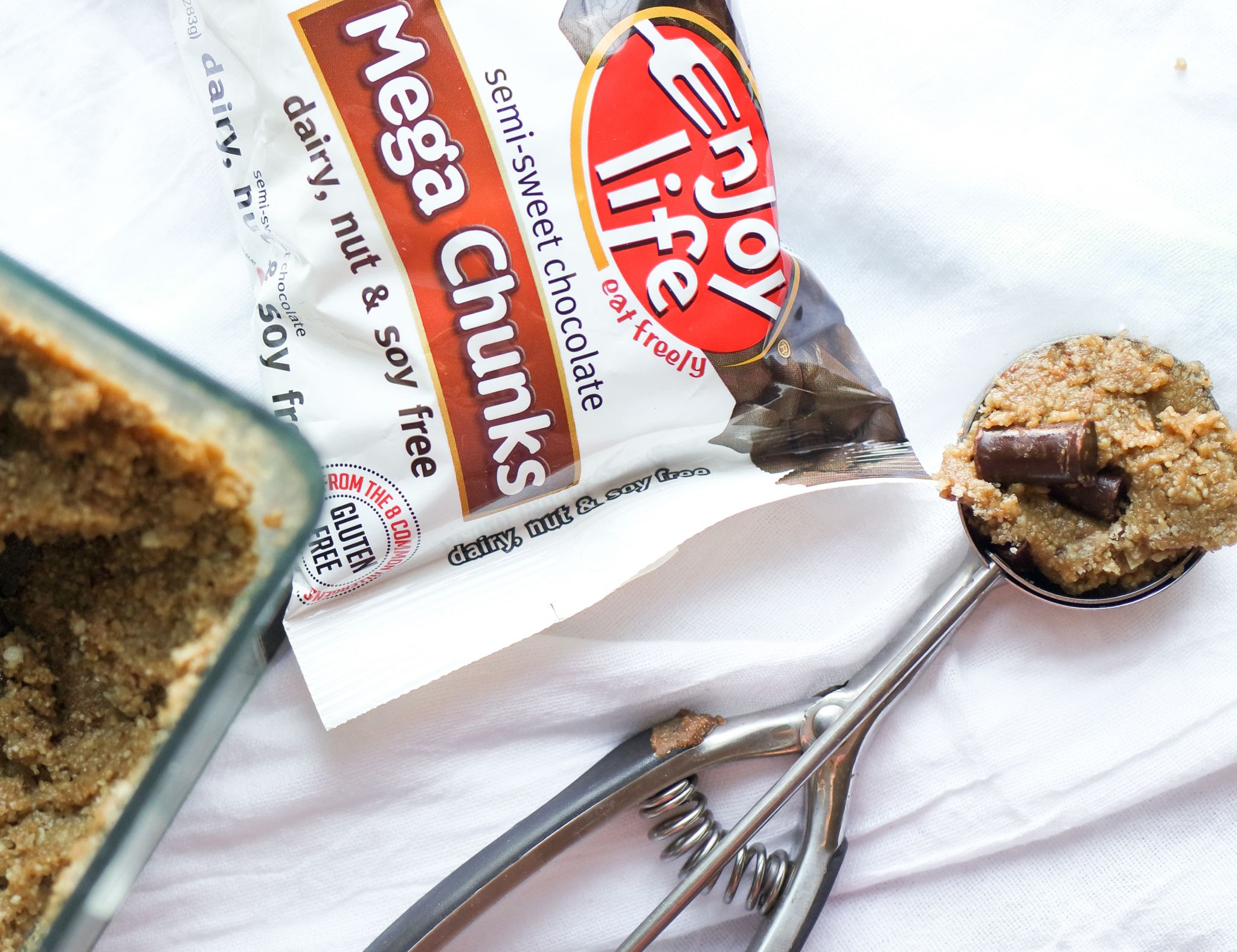 Did you know that sunflower seed butter tastes like a dupe for peanut butter?
Did you also know that though these cookies don't taste like peanut butter cookies, they taste like heaven?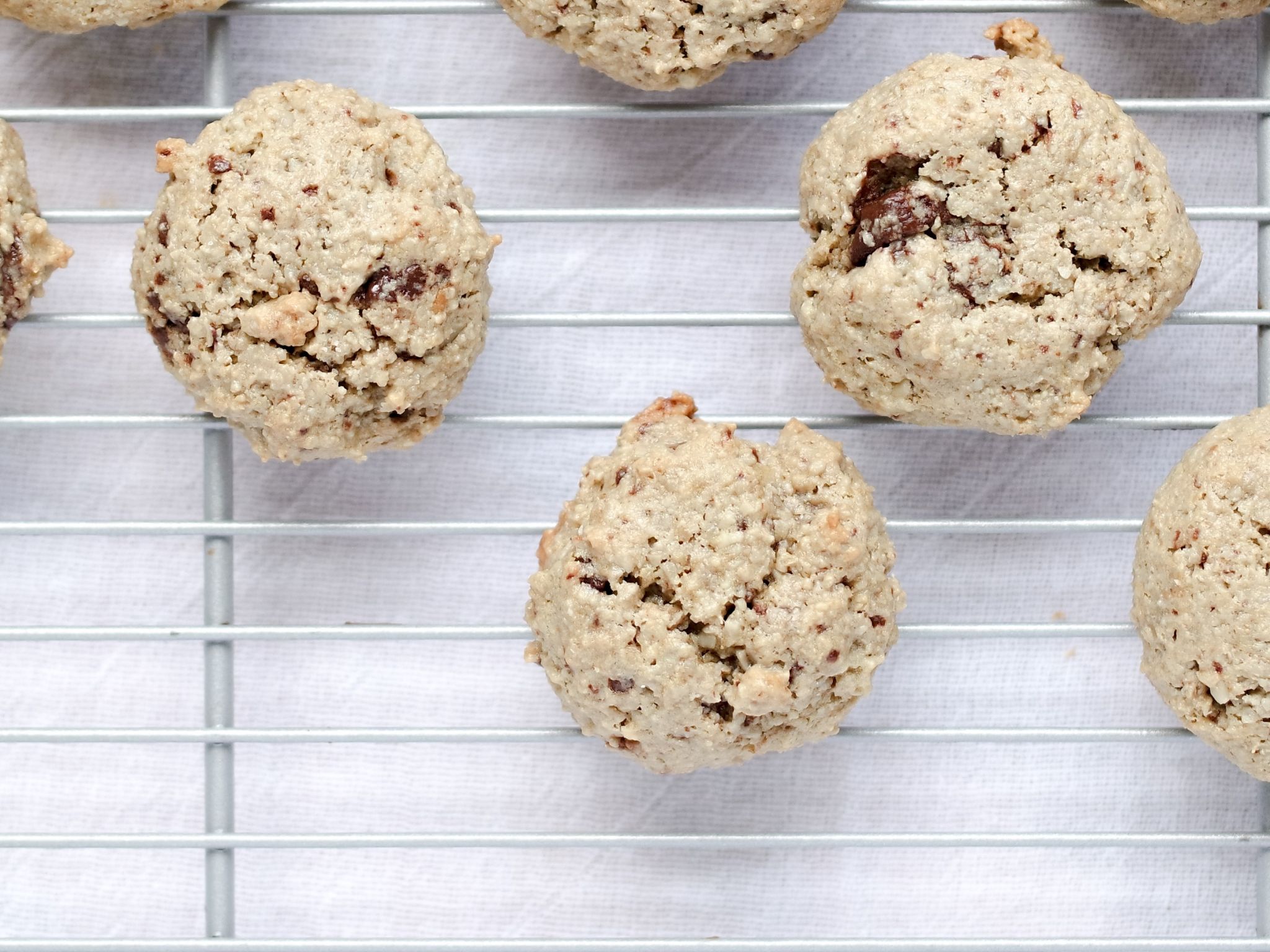 Chewy, gooey, chocolate chippy heaven.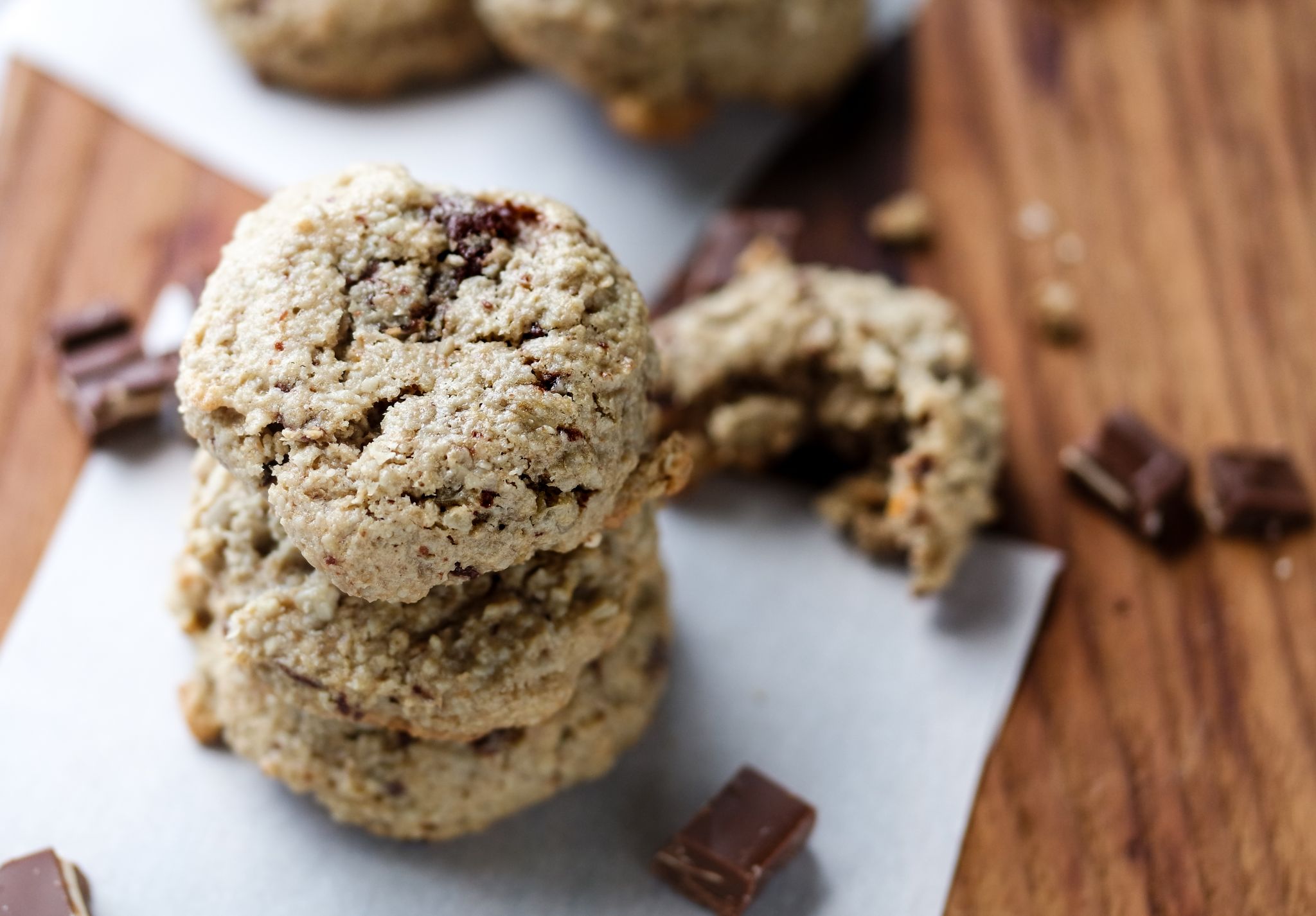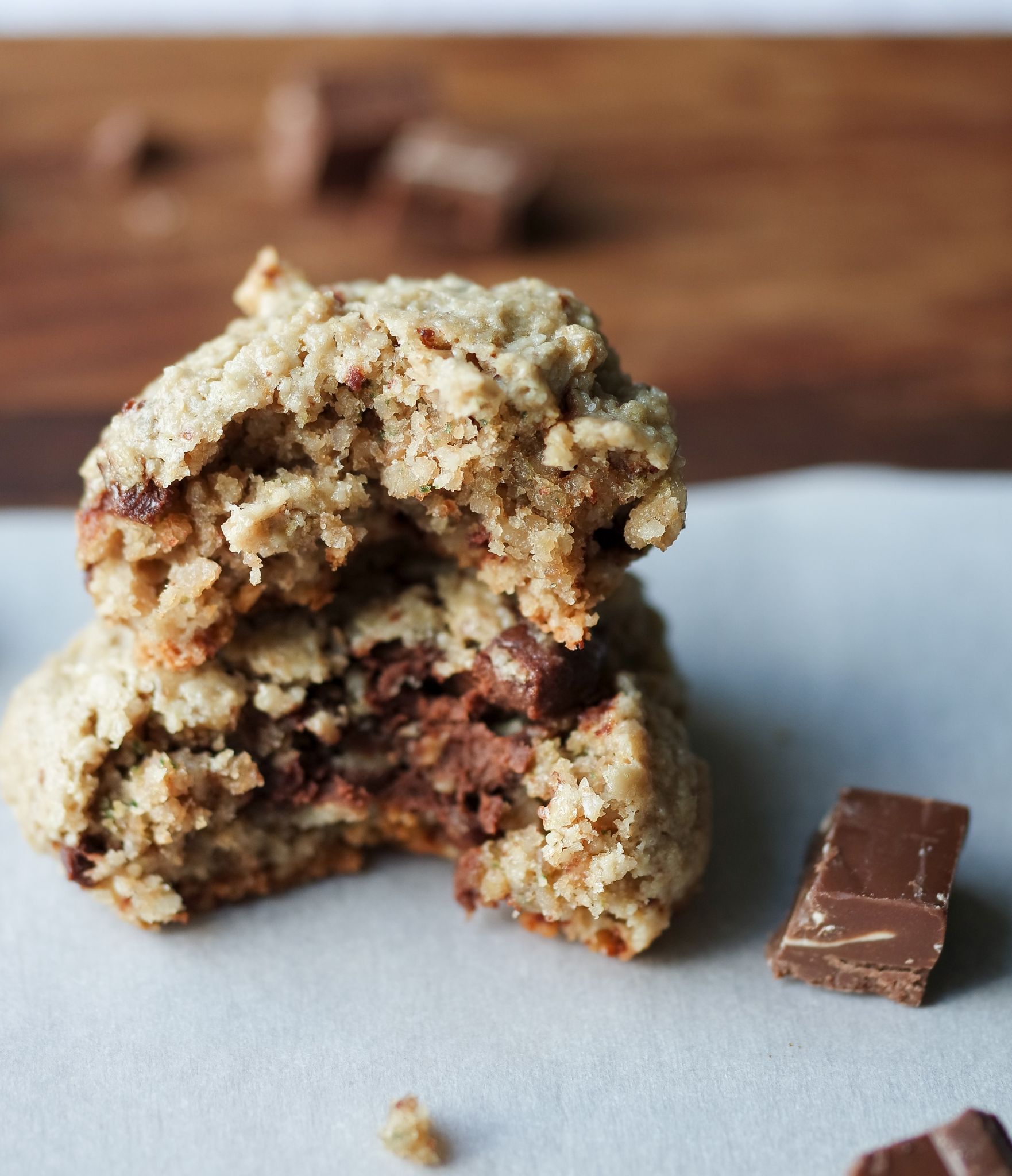 Sunflower Seed Chocolate Chunk Cookies
Ingredients
1 3/4 c. Sunflower Seeds, roasted salted
1 Egg White
1/8 c. Brown Sugar, I used Truvia Brown Sugar Blend
1/2 tsp Baking Powder
1/2 tsp Vanilla, optional
1/2 c. Chocolate Chunks
Instructions
Preheat oven to 350.
Add sunflower seeds to food processor and pulse until the consistency of sand. Add brown sugar and pulse two to three times to combine. Add egg white, baking powder, vanilla, and chocolate. Pulse it some more until well combined...again.
Use a spoon or a ice cream scoop to form approximately 10 dough balls. Place on baking mat or tray and flatten the tops as these babies don't spread that much. Bake for 10 minutes or until golden. Let cool before devouring.
If you don't like carbs then for starters, let's be friends. Also, use this link to turn your calorie-free sweetener into brown sugar or just buy Truvia Brown Sugar Baking Blend. Cool? Cool.