This shop has been compensated by Collective Bias, Inc. and its advertiser. All opinions are mine alone. #PrepNowSavorLater  #StockPrepWin #CollectiveBias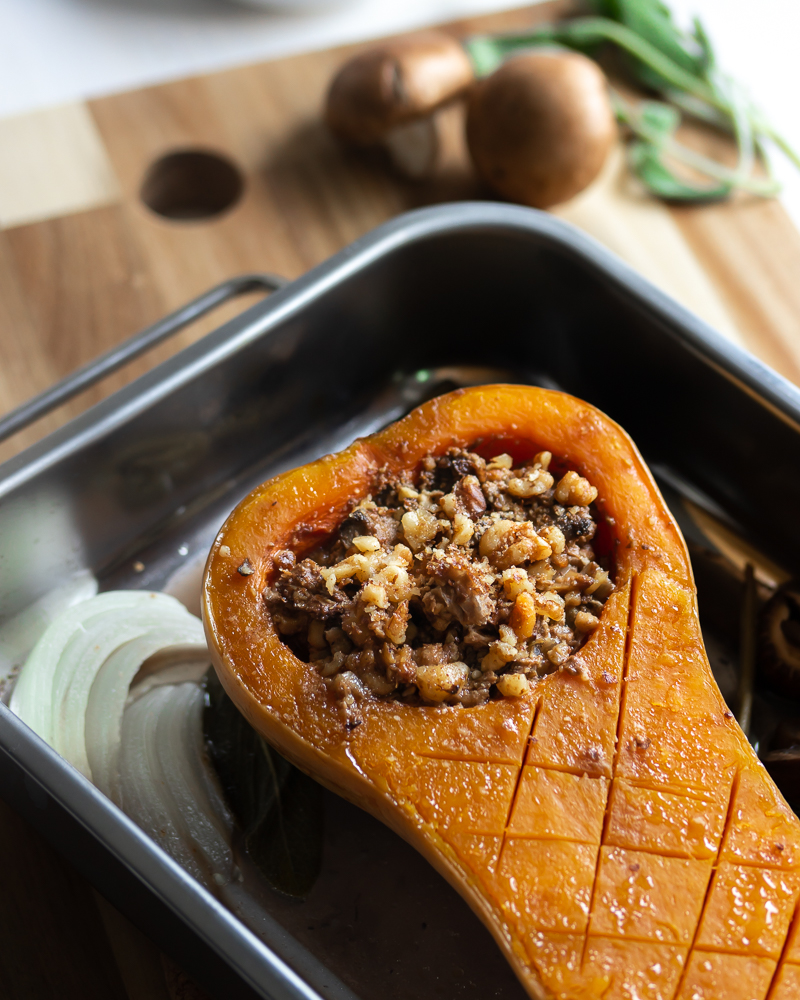 Winner Winner Prepped Holiday Dinner🙌
Bless my family, but the burden should never fall on them to manage every single one of my dietary dysfunctions–especially on a holiday. The fact that I choose to eat a low-carb vegetarian lifestyle is 100% my problem to manage and I take full responsibility.
My allergy to sweet potatoes? Ok yes, please help a girl out and let me know which foods will kill me, but after that, I'm set.
Make it-Take it-Bake it
SO normally I would bring the entire contents of my fridge to Thanksgiving. This would ensure I could eat something other than salad or the veggie tray.  Once I got sick of that, I'd make something and bring it along. I'm now sick of that as well. 
Sure, waking up at dawn to cook two gluten free pies and three sides for my holiday food offering was fun and all—but after multiple traveling-meal mishaps that ended in food spilled in my trunk, it had to stop. If we foodies were being tasked with bringing it to the holiday table, there had to be a better way.
Let me introduce you to my spankin' new FoodSaver® FM5330 Vacuum Sealing System It's like a foodie's dream. Unlike foil (irritating) or plastic cling wrap (more irritating), the air-tight seal keeps everything poppin' fresh so you never have to worry about your culinary creation getting stale. Plus, it's way more travel friendly for those of us who bring food wherever we go.
Here's the deal– just cut the guts out of the squash and fill it a day (or two) before, vacuum seal it in one of the multi-layer, BPA-free vacuum-seal bags and throw it in the fridge. No more waking up early and wasting time struggling with aluminum foil when you could be sleeping in and wasting time drinking coffee.
Also, it's freakin delicious. #PrepNowSavorLater #StockPrepWin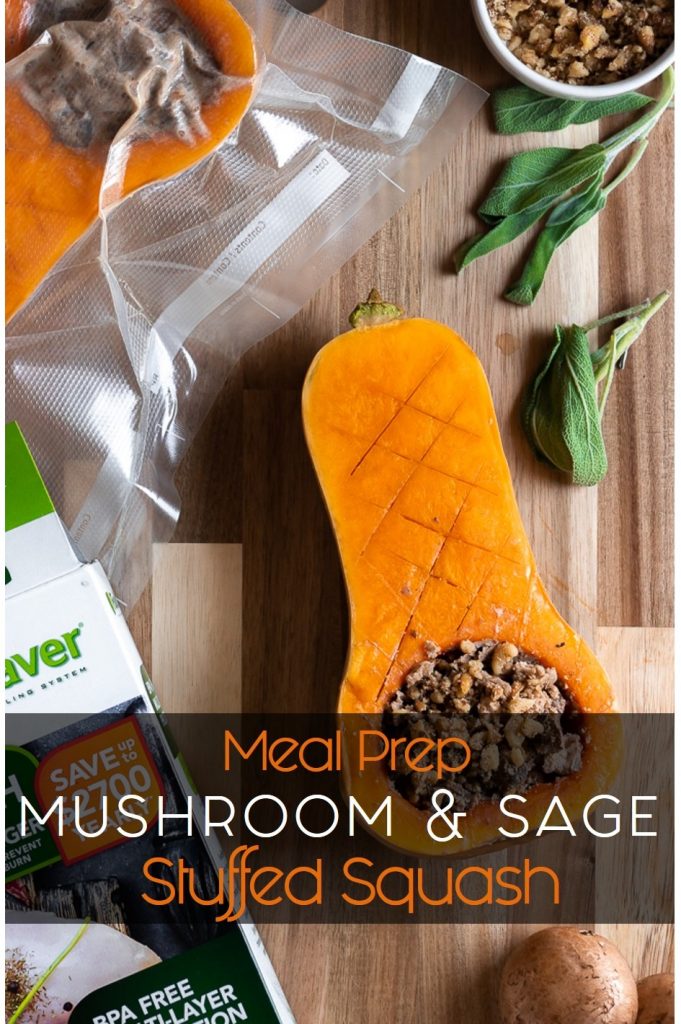 Don't be jealous of me lazing around, watching tv on a holiday without a cooking-care in the world.  Snag the FoodSaver® FM5330 yourself at Bed Bath & Beyond, then stock up on FoodSaver® Heat-Sealed Rolls and FoodSaver® Heat-Sealed Bags and definitely enter the SWEEPSTAKES alllll the way at the bottom of this post.
Meal Prepped Mushroom & Sage 🍁🍂Stuffed Butternut Squash
This holiday season: save time, save food, save your sanity.
How to seal what is quite possibly the most mouth-watering
stuffed butternut squash of your life.
Choose your bag situation.
I went with the default pre-made
FoodSaver® Heat Sealed bags.
*I've actually been making my own custom-size bags lately because
the FoodSaver® FM5330  will actually do it in half the time of the other models.
Plus, when you can customize your size, that means less wasted space.
It's really up to you.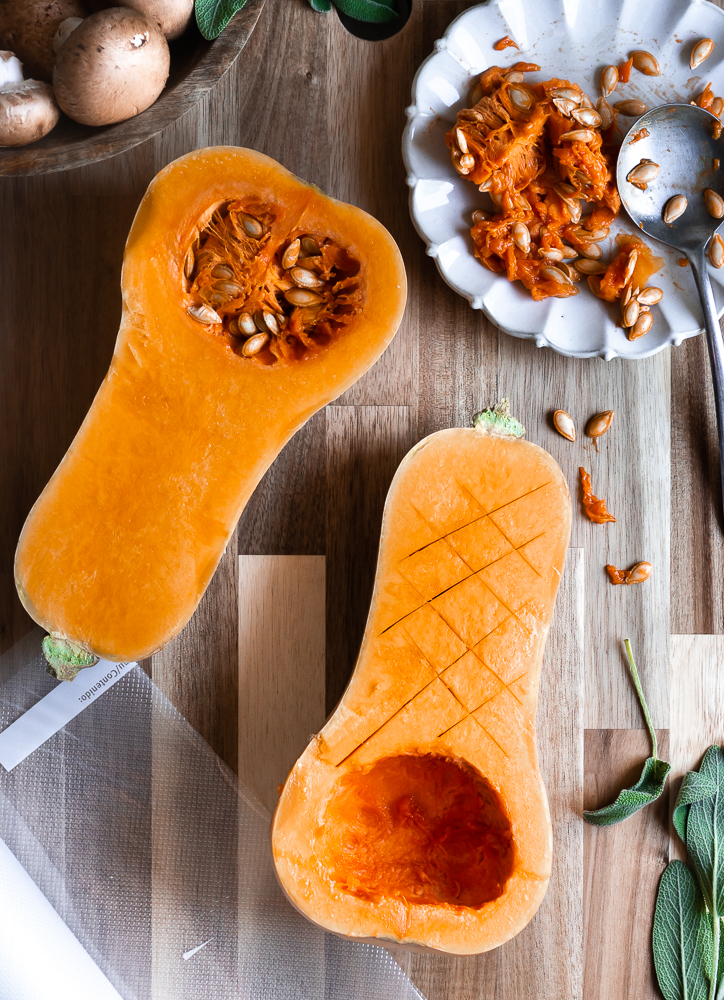 Actually Make Your Squash
Once you have your bag situation in order, prep your squash just as you
would if you were getting ready to bake it….
Only you DON'T bake it! You vacuum seal and take it.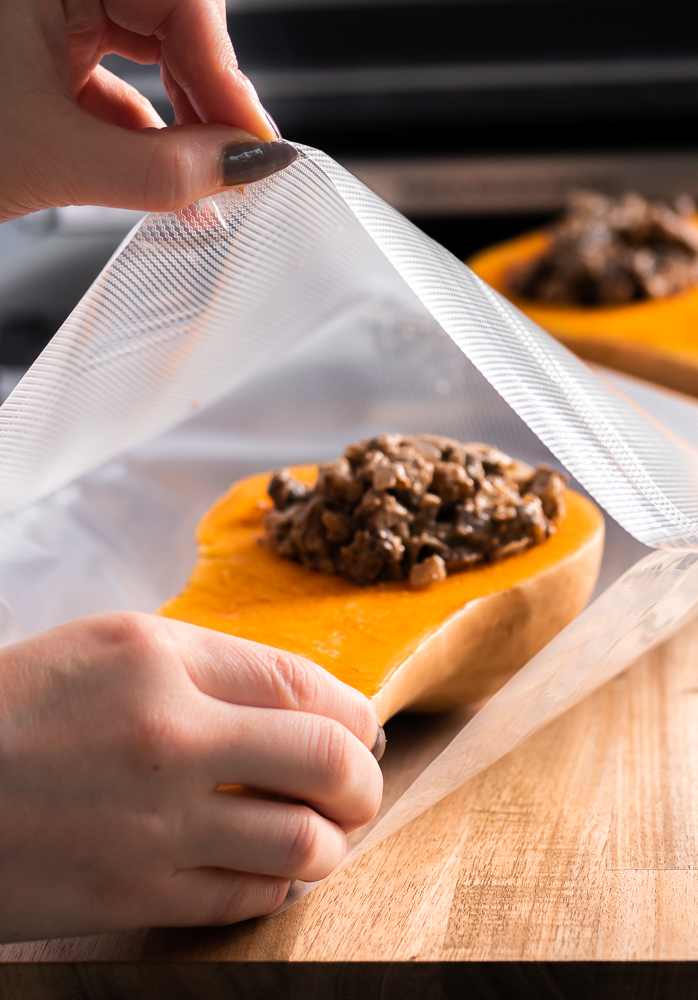 Once you get your butternut bagged, slide the open end of the bag through the bottom of the vacuum view window.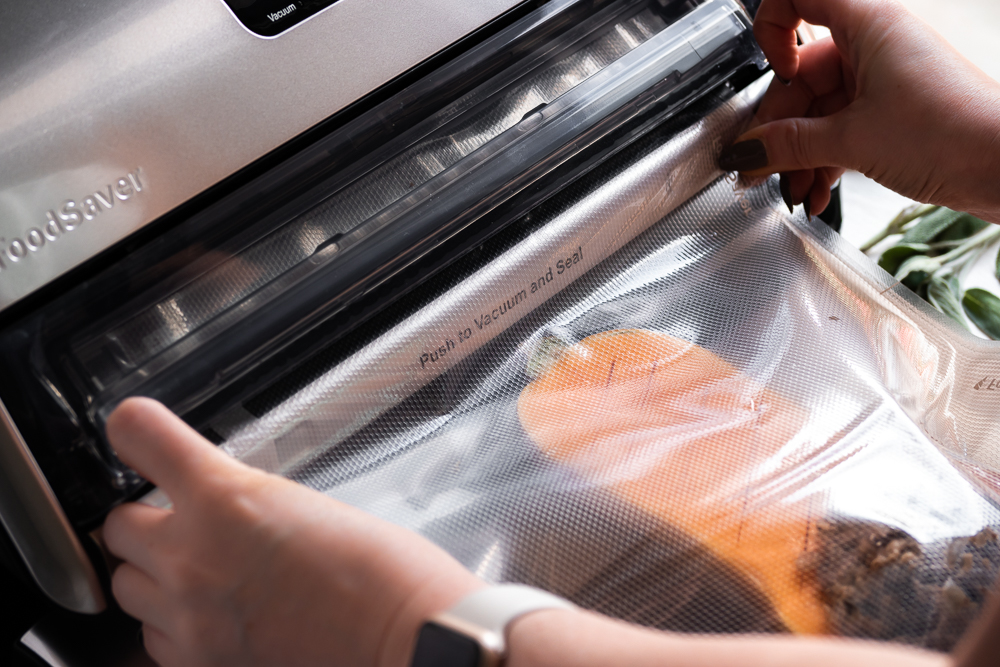 Then, push and release the vacuum and seal bar on both sides.
Then just sit back and watch it suck, seal and release your oven-ready
culinary creation.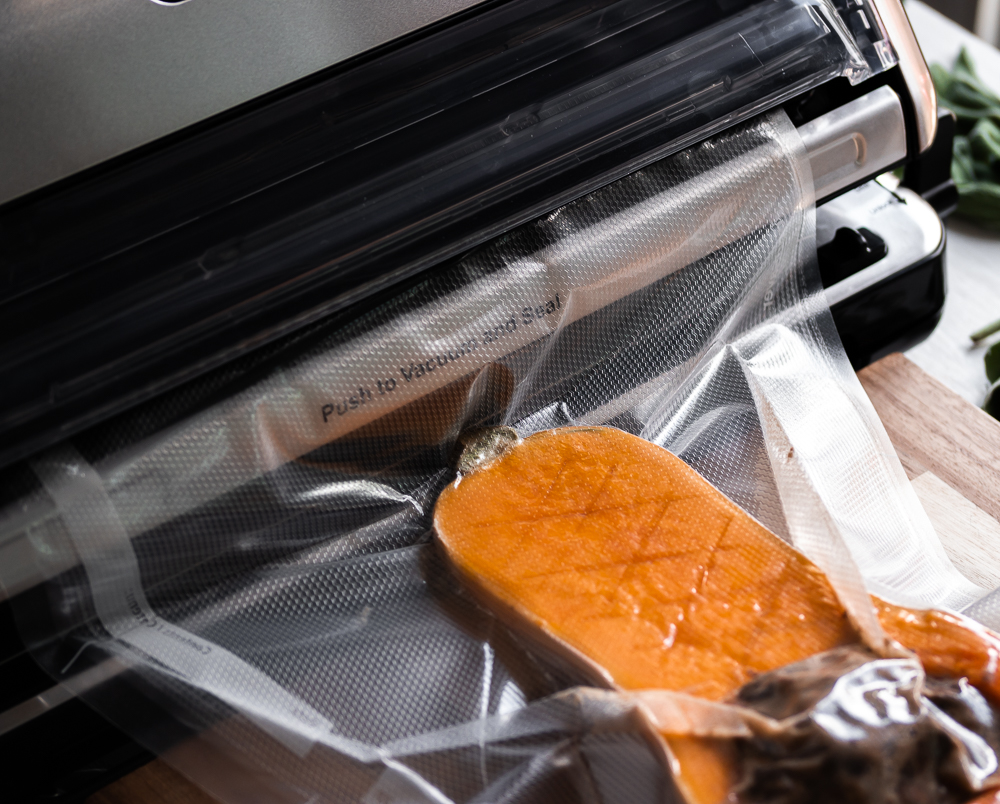 When you're ready to bake your butternut, just slice open the multi-layer,
BPA-free vacuum-seal bag, cover it in foil and go back to living life
with one-less stressor.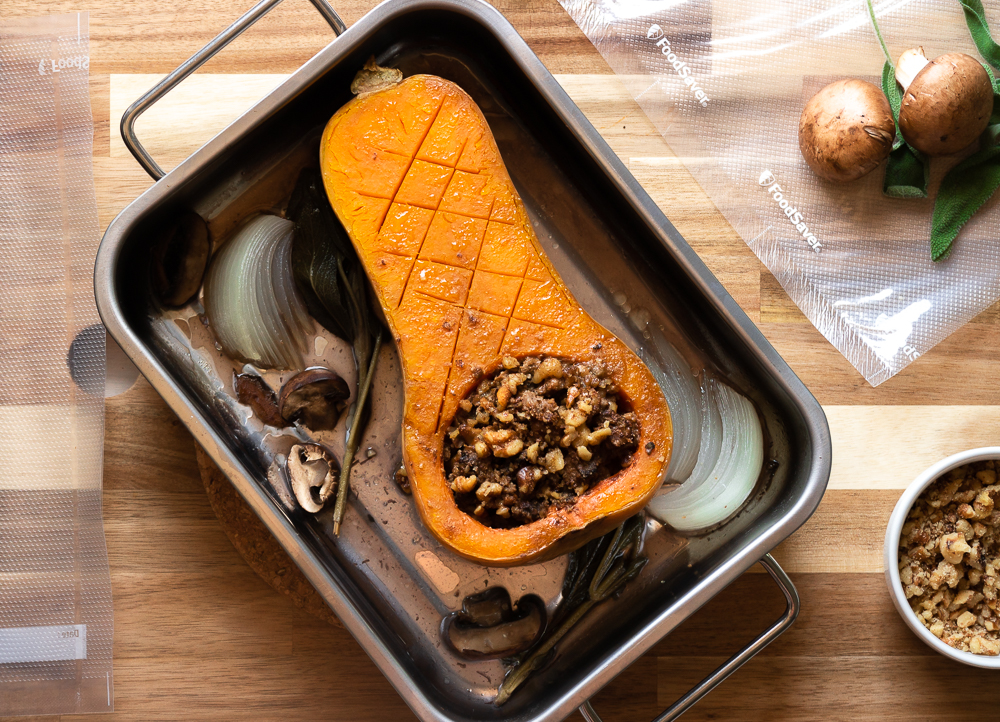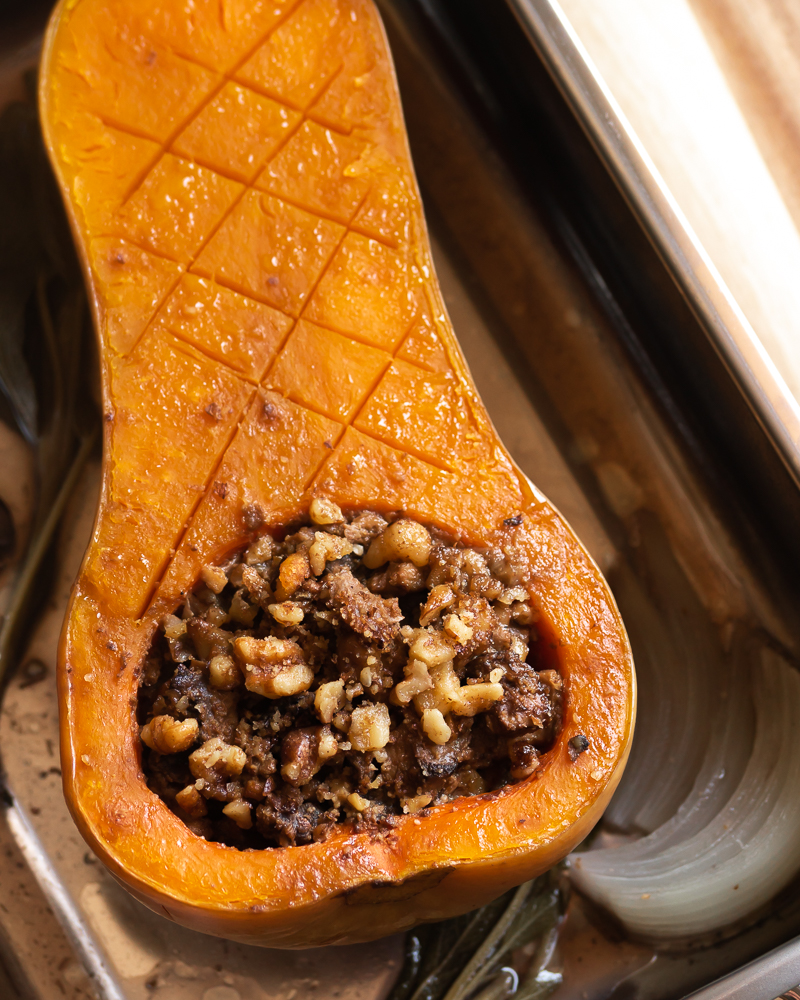 Now about that sweepstakes I was hinting to-
Stocking up with FoodSaver® bags and rolls this harvest and
holiday season has is perks!
Every bags and rolls purchase gets you closer to NYC!
Clickity click the link below 👇👇👇from now until Oct. 21, 2018 for a
chance to win!
Mushroom & Sage Stuffed Butternut Squash!
Total Time:
1 hour
5 minutes
Herby Sage and Mushroom Stuffed Butternut Squash to #PrepNowSavorLater
Ingredients
1 Medium Butternut Squash, halved and seeds removed
1 tbsp Butter (avocado oil if vegan)
1/4 of a medium White Onion
2 cloves Garlic, minced
6 Crimini Mushrooms, chopped
1/4 cup Walnuts, finely chopped
1/2 tsp Rubbed Sage
1/2 tsp Oregano
Salt to taste
Oil *to add before baking*
Instructions
For the Squash
To easily cut and clean squash, insert a sharp knife into the round end to pierce the skin, about 1 inch long. This is necessary for the heat to escape.
Place the squash in the microwave for 3 minutes to soften the skin.
Continue at the original cut to slice the squash open from end to end. Remove seeds and score the flesh of the squash to allow oil and seasoning to marinate. Set aside.
For the filling.
In a saute pan over medium heat, melt butter and saute onion and garlic until fragrant.
While the onions cook, pulse the walnuts in a food processor to a fine crumb.
Add the mushrooms to the pan and saute just until they soften. Stir in the walnuts.
Assemble and Serve
Divide the mixture between the squash halves and let cool.
Seal each half in individual FoodSaver heat-sealed bags and refrigerate until ready to bake.
To Serve- Brush the squash flesh with oil and season with salt and pepper.
Cover and bake at 350 for 45 minutes. Garnish with toasted walnuts if desired!
Ready for MORE? Check out my newest eCookbook! 
It's only $4.99 and full of vibrant, beautiful foods for Vegetarians and vegetable lovers alike!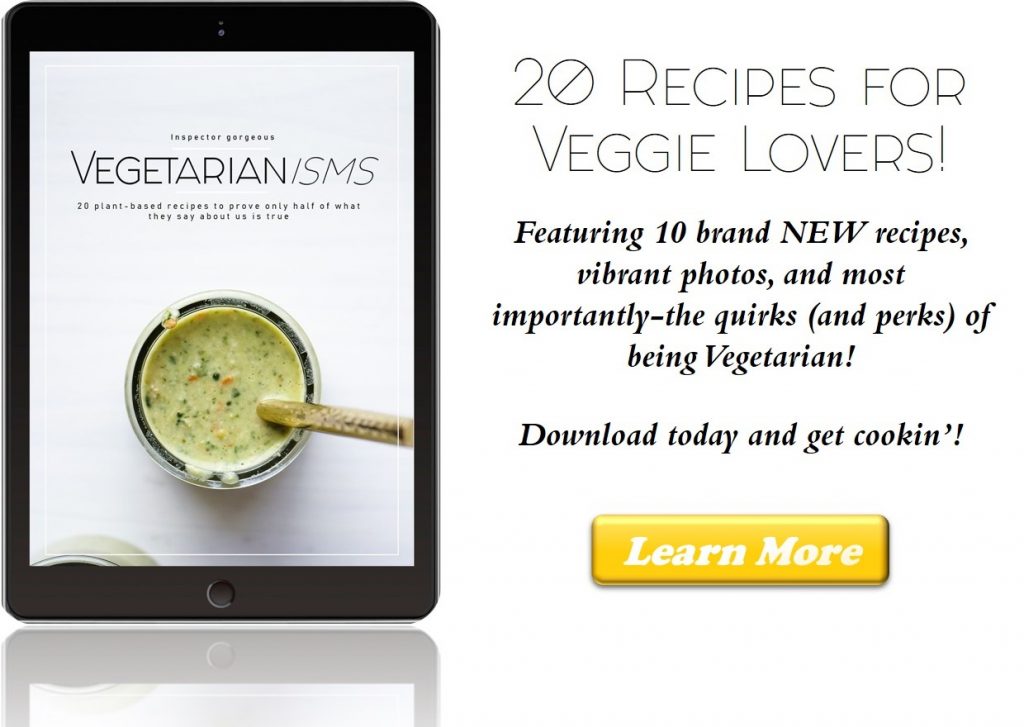 #Vegetarianisms #AllEatersWelcome