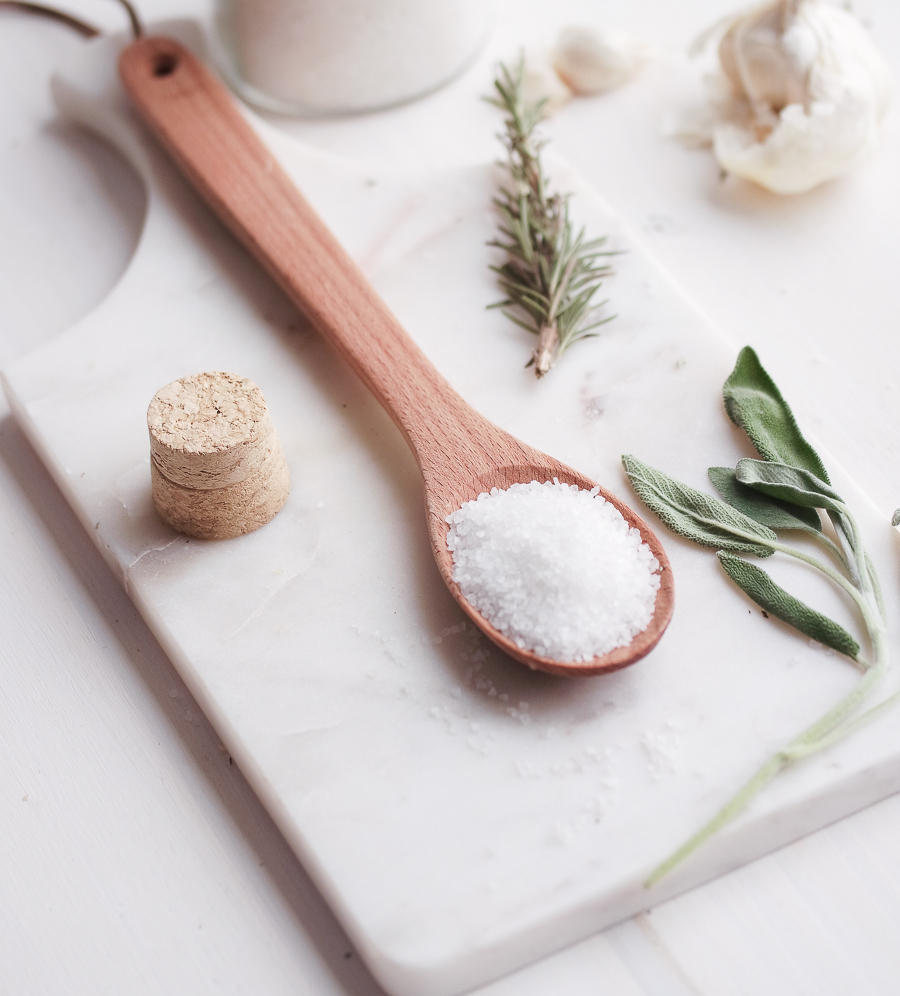 Is your seasoning worth it's salt?
Probably not, but I bet it has potential. First of all, does it contain one or more artificial preservatives and/or msg? If so, stop reading now and scroll right to the recipe. Msg tastes good but let's ring in the new year with less of it. Science says it's fine but my brain begs to differ. Deal?
A good seasoning salt should be littered with pungent herbs. A nice rough chop of something strong and fragrant like Rosemary or Thyme is preferable. Garlic is always a player and Sage is my furry new friend for faking a poultry presence, so let's add that to the list too. Toss it all about with some really good coarse salt and you've got a killer companion for popcorn, veggies, and anything else you want to sprinkle with a speck of really good flavor.
How are we doing so far? Ready to chuck that Mrs Dash yet?
Gracious & Herbaceous
Not only is this an excellent gift for your own taste buds, but it gifts pretty darn good for the foodies in your life with minimal cost and effort. Just keep in mind that your fingers will smell absolutely herbal (down to the nail beds) for days.
Small price to pay. Trust me.
Seal it up in an airtight container and wrap it with a handmade something or other and give the gift of delicious flavor. The salt preserves the herbs so the shelf life on your gift is somewhere in the ballpark of six months, unlike those Christmas sweets you may be thinking of gifting. Those will last six hours MAX before they are gone, and forgotten.
-Rosemary Garlic Sage Salt-
The gift that keeps on giving good flavor!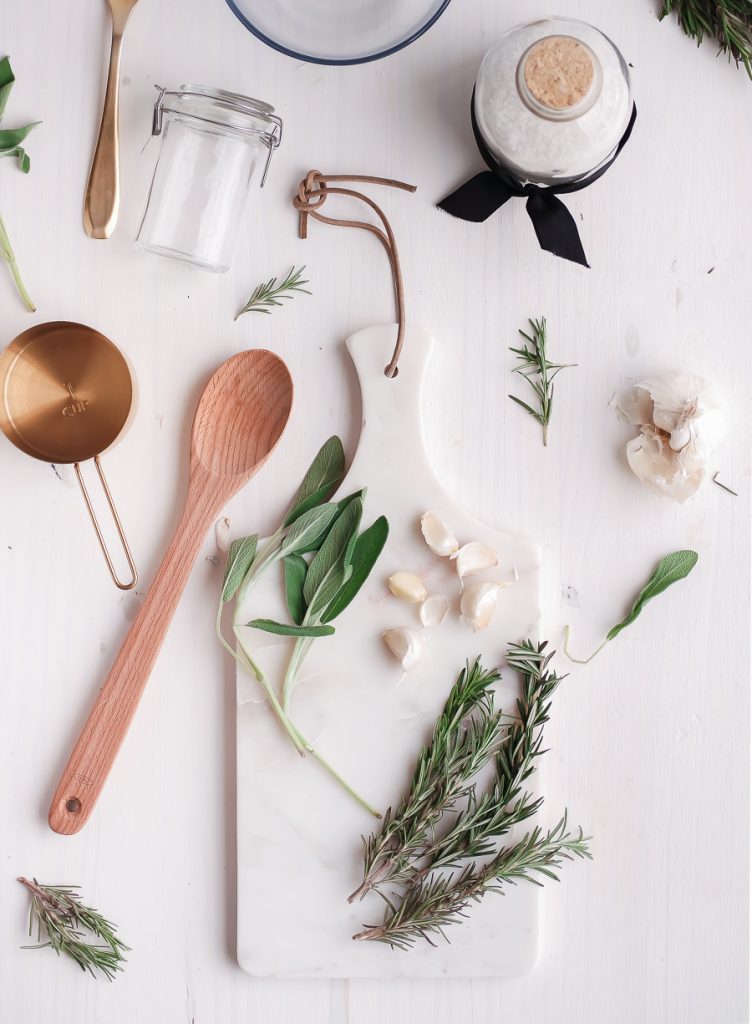 Not only is this a delicious gift, it's a pretty too.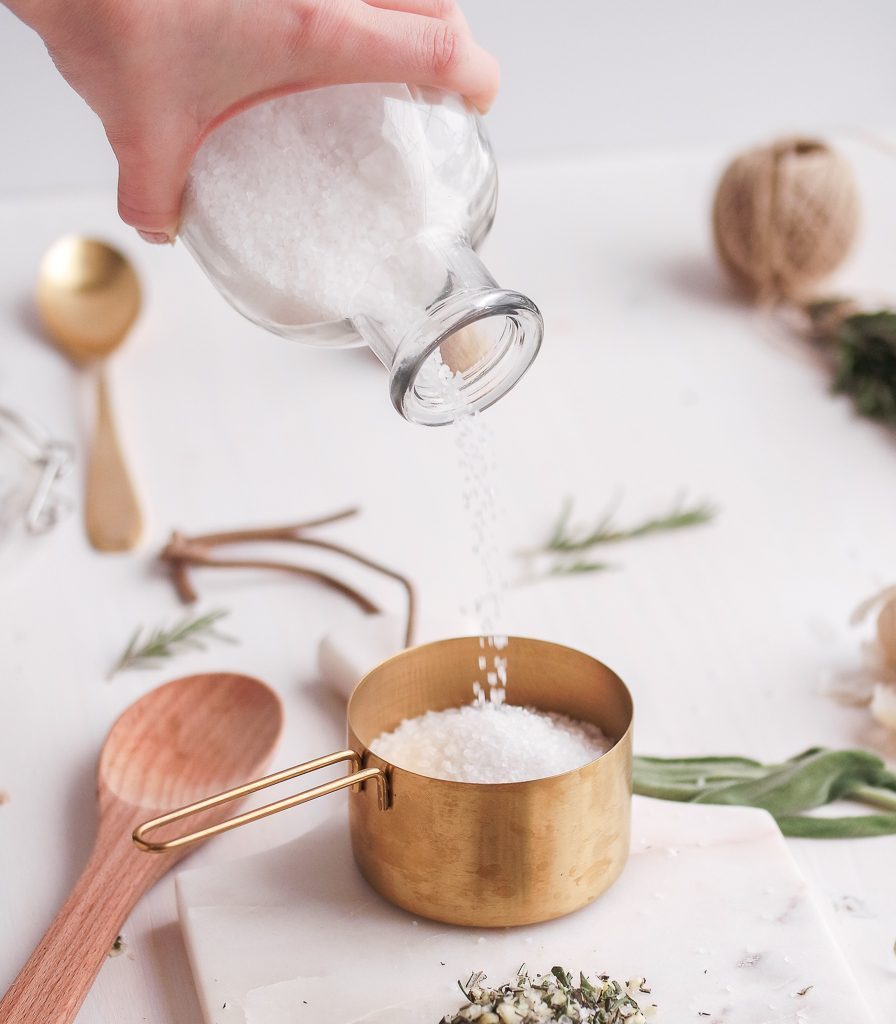 You'll see in the recipe that there is a food processor involved if you want a finer salt.
I like it rough.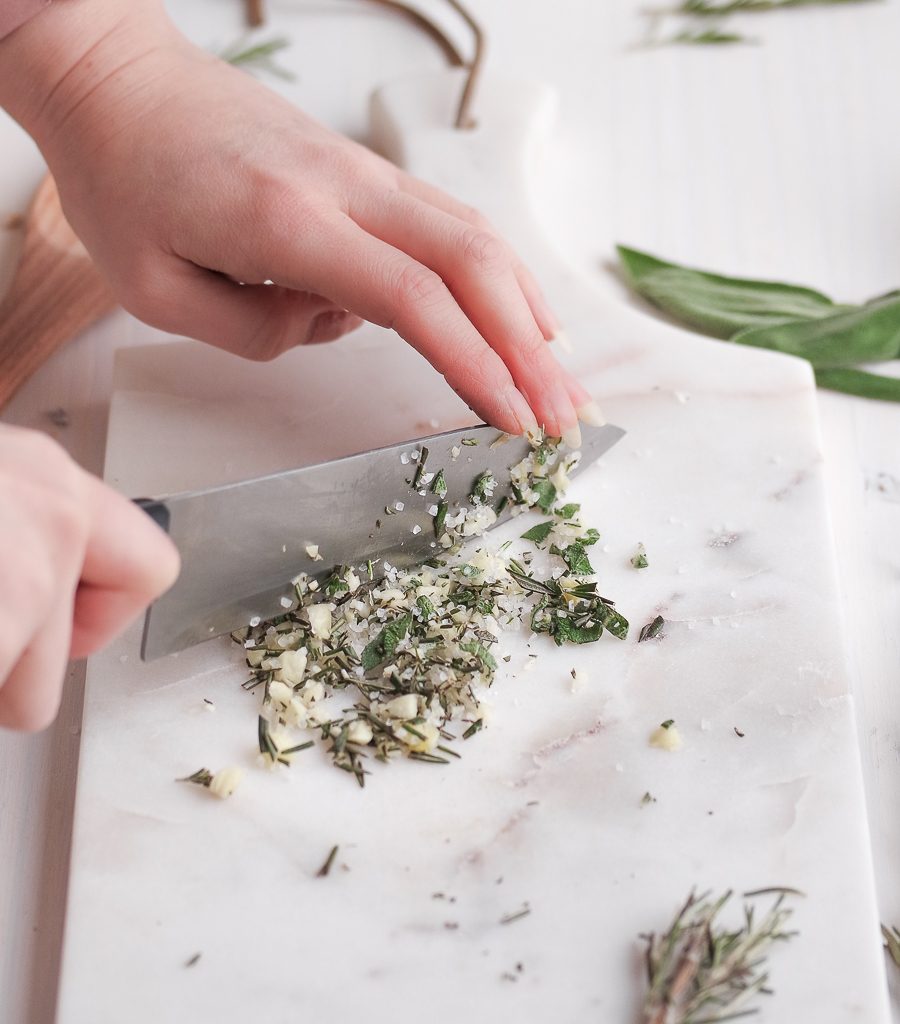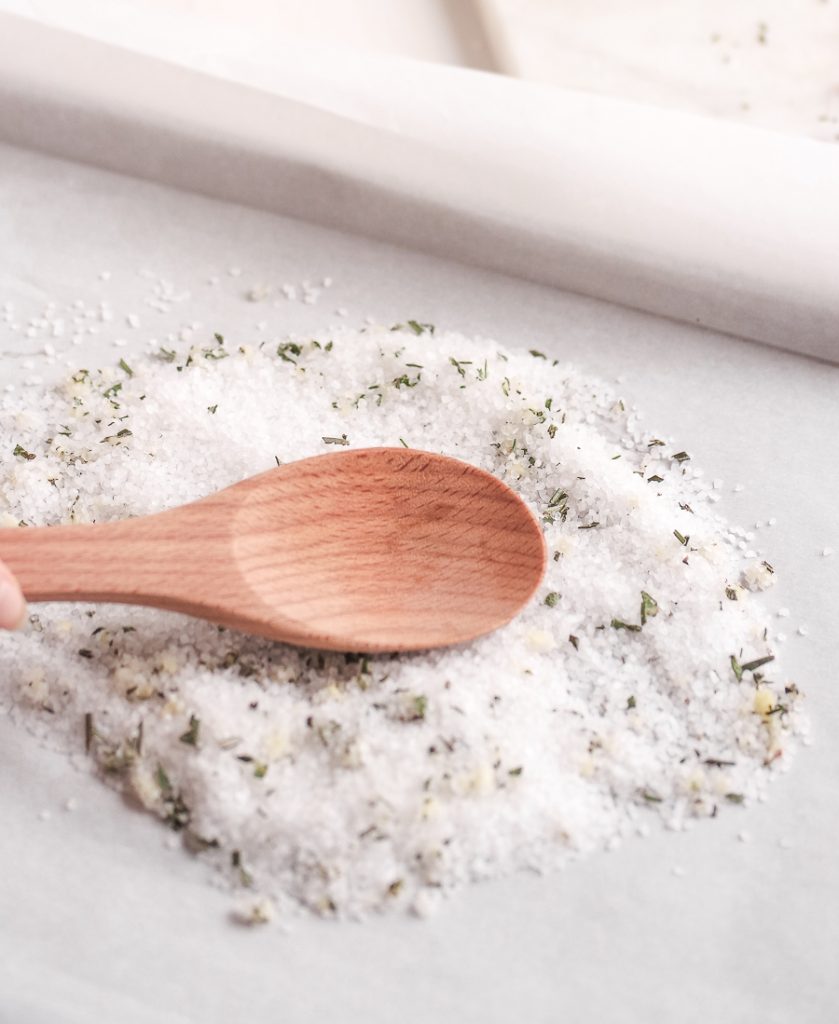 Handmade gift tags are always a good idea.
Even if your penmanship is sub par…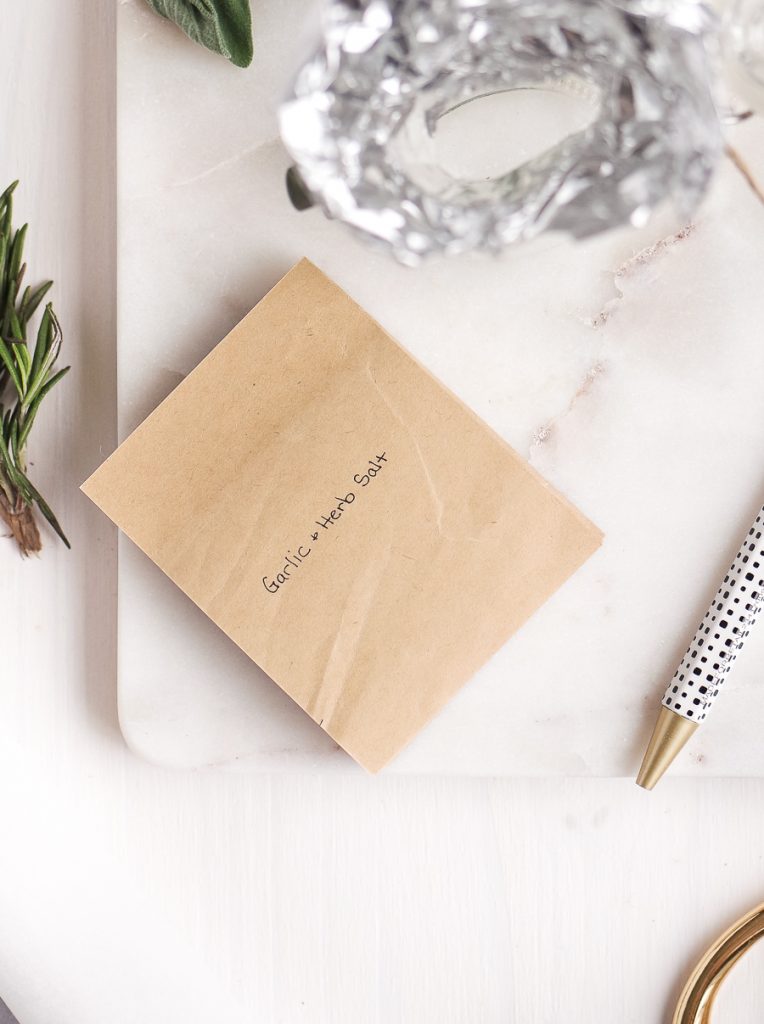 I went light on the herbs for the photos but I went back and added more.
The more flavor for me, the better.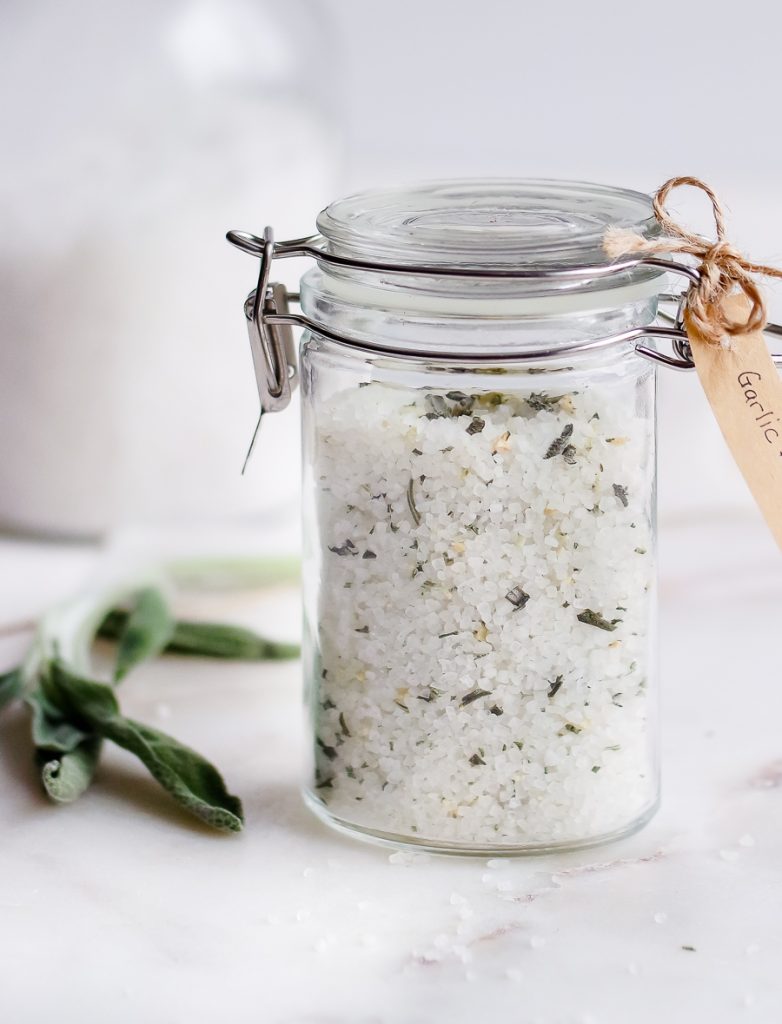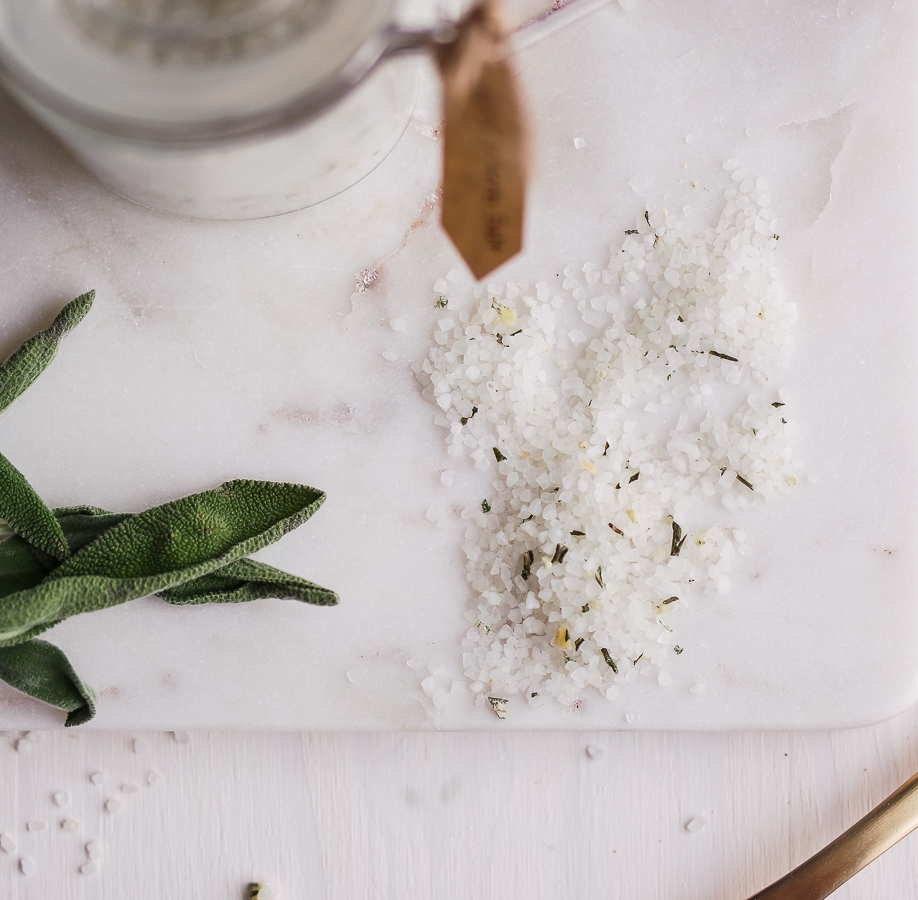 Garlic Rosemary & Sage Herb Salt
Total Time:
4 hours
5 minutes
Ingredients
1 cup Coarse Salt
6 Sprigs Rosemary
6 Sage leaves
3-5 Cloves of Garlic, dependant on the desired strength
Instructions
Remove stems and sticks from the herbs and any hard pieces from the garlic.
Roughly chop the herbs and garlic, adding 1 TBSP of salt as your work your knife through the mixture. Repeat three times.
Transfer the herbs and salt to a small food processor and pulse for a finer chop.
Add the processed salt to the untouched salt to combine evenly.
Spread the salt to dry on parchment for the better part of a day in a dry room.
Bottle, gift, season!
Notes
You may put this in the oven to accelerate the drying process at the lowest setting your oven has (below 200) for about 20 minutes.

Tis' the Seasoning?