This shop has been compensated by Collective Bias, Inc. and its advertiser. All opinions are mine alone. #CollectiveBias#NewZoneKetoPerfect #ZonePerfectKeto #ZonePerfect #MacrosMatter #Collectivebias
---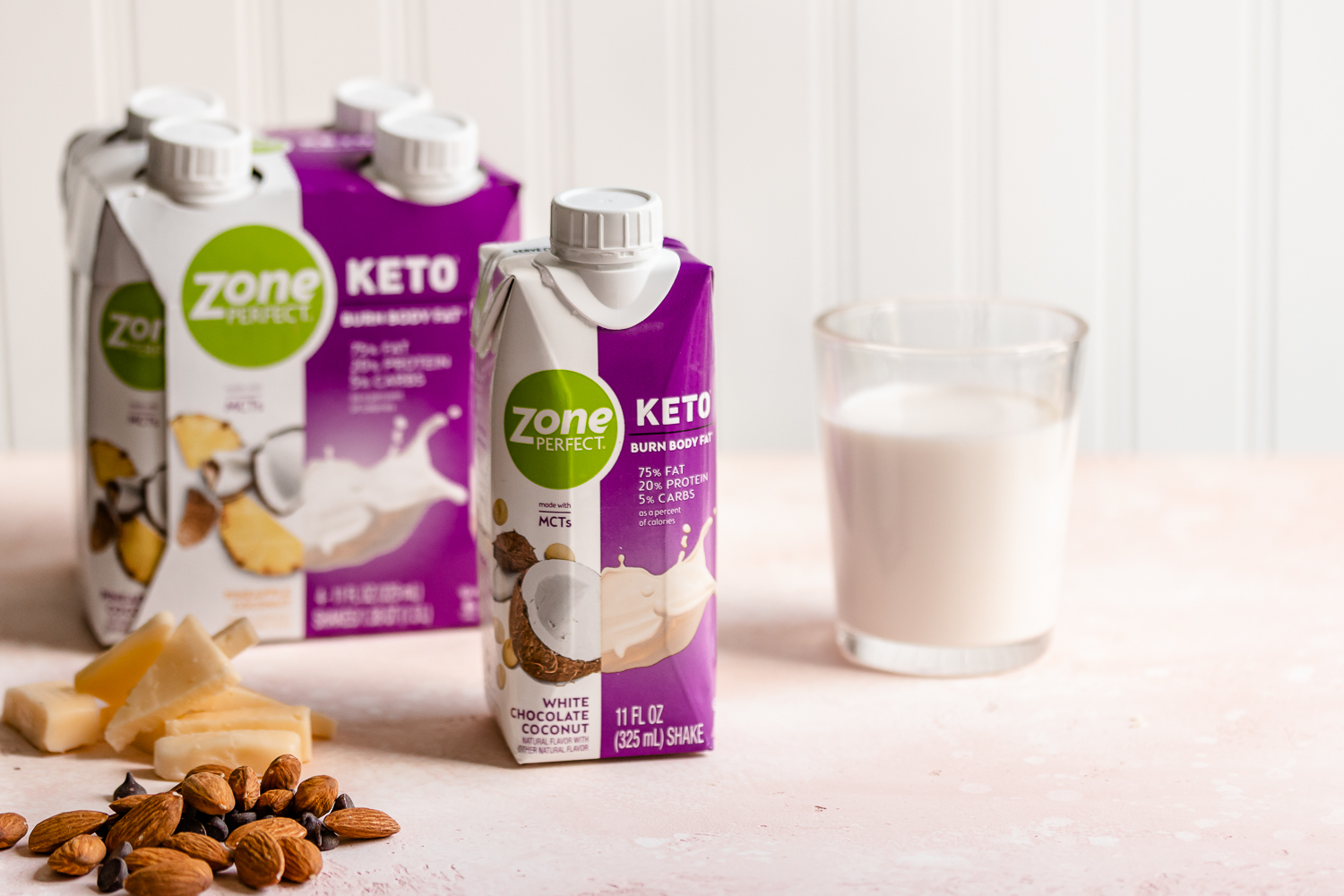 As a food blogger, there is no such thing as being "off the clock". Whether it's cruising Pinterest for recipe inspo or scrolling through endless foodporn on Instagram, my day is full of temptation.
Staying on track in a hectic, food-filled world is HARD. For me, some days are back to back recipe testing with hours of brainstorming how to make my keto recipes look irresistible. After 8+ hours of being absolutely food-focused, it's no surprise that I'm craving a million different things and fighting that tiny voice in my head screaming "just eat everything!!".
Example 👇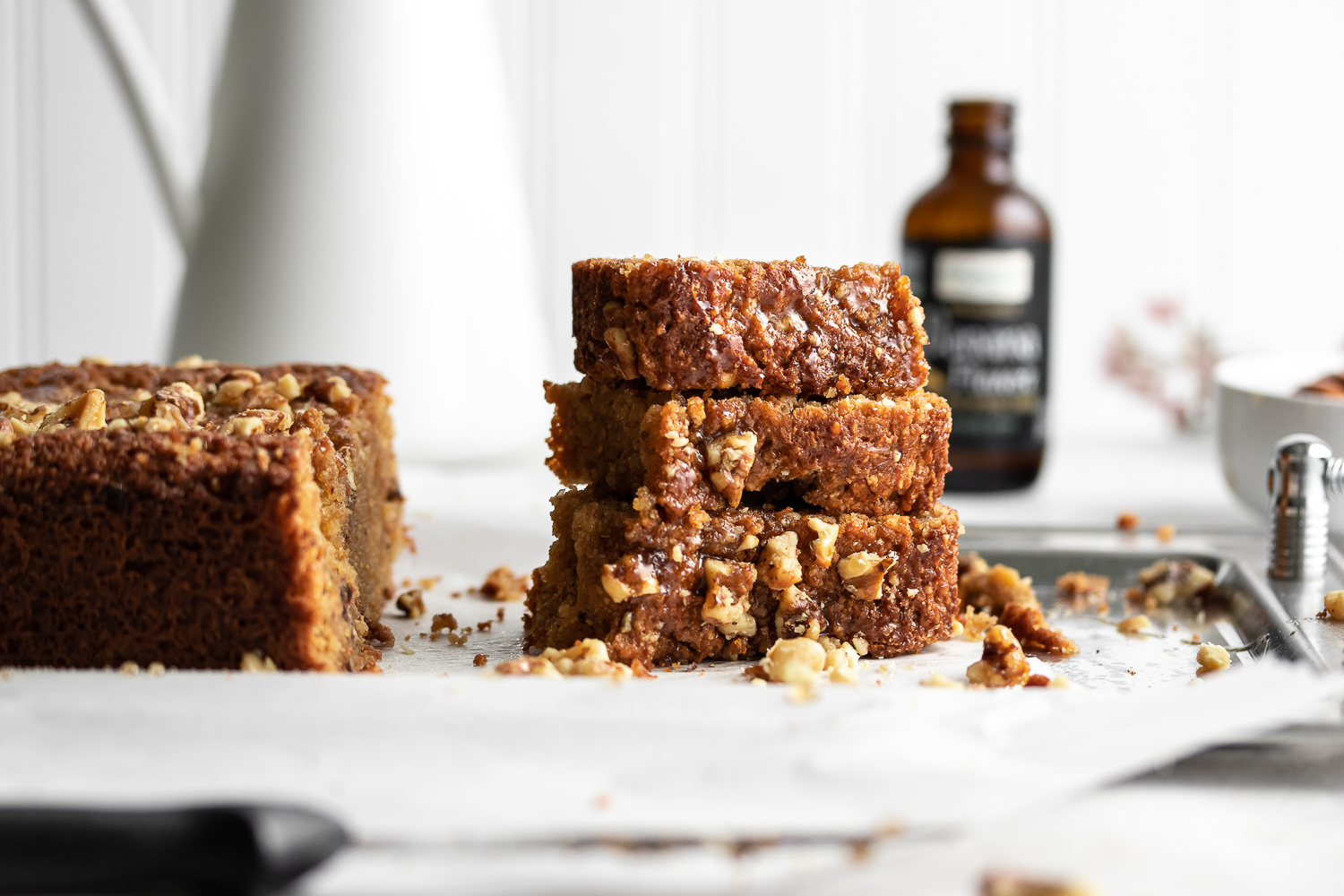 How could you not want to snack on half of this loaf of deliciousness throughout your workday? HOW?
And for a while, I lost that battle. I would exhaust myself by constantly saying no or slipping up and then being more strict later and it was a vicious cycle. But being more strict wasn't the answer!
Here are a few simple strategies that I use to help keep my hand out of the cookie jar and stay on track with a little help from ZonePerfect Keto at Publix 🎉
1. Take A Break. For Real.
---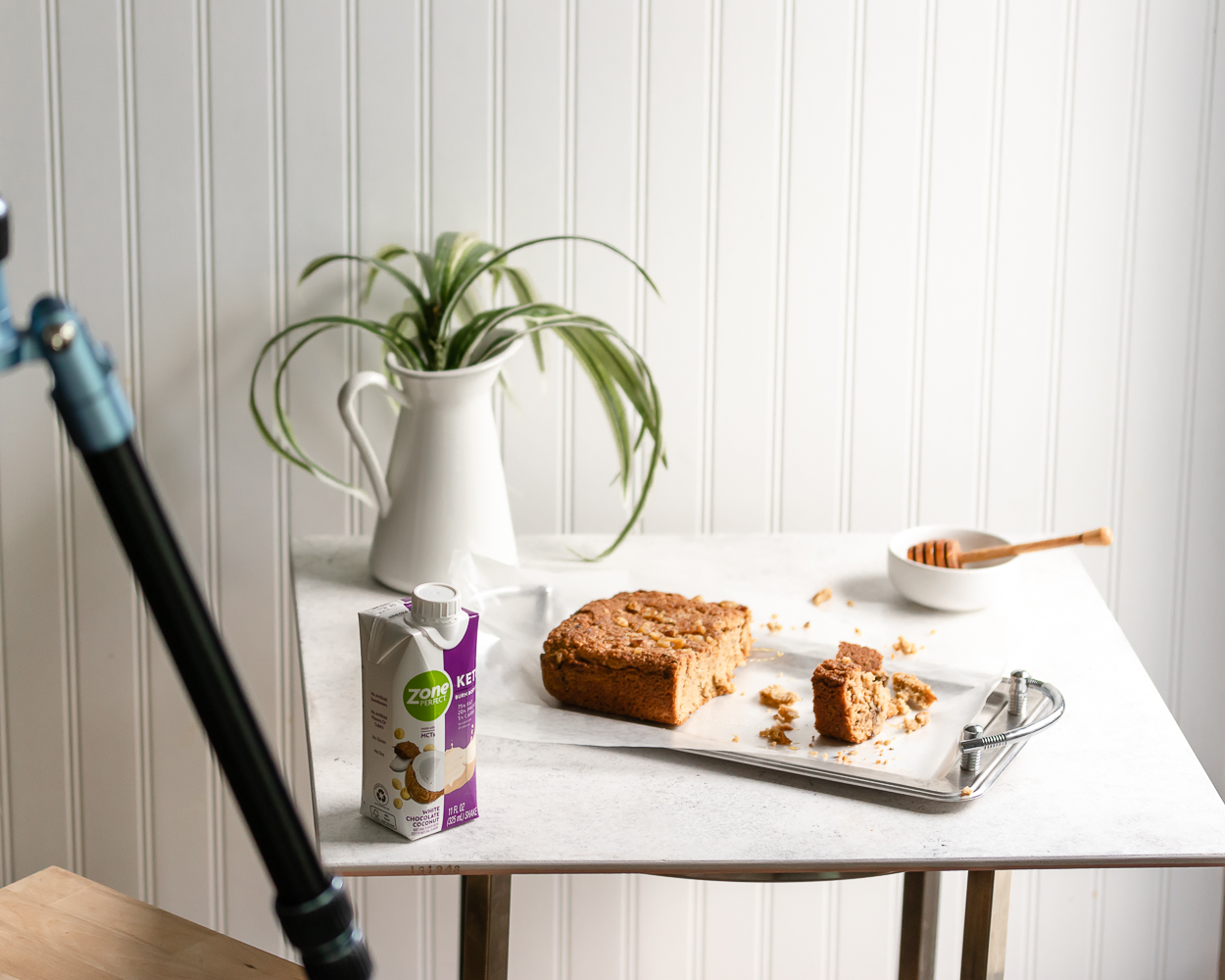 It's easy to get caught up in the day-to-day and skip a meal. Or three.
There were times in my life where I actually applauded myself for skipping meals or forgetting to eat. But the fact is, skipping meals and going hungry can be a trigger for some, myself included, that leads to overeating later. Plus, it's no way to live!
When you start having semi-erotic feelings for a family size bag of chips, it's time to take a beat and assess your hunger. Then, go for a snack that will nourish you and satiate the deep hunger. If I'm busy with back-to-back photos or testing recipes, I love having the ability to grab a shake like ZonePerfect Keto White Chocolate Coconut Shake to sip while I work. They have honestly been a LIFESAVER for me when I'm on my third batch of gnocchi and my willpower is wearing thin. I have a weakness for pesto.
There's no stress of stopping what I'm doing or worrying about macros at all. Everything is calculated and perfectly portioned so I can sip without worry. Each shake is designed to fuel a keto diet, which means the ratios of 75% fat, 20% protein, and 5% carbs.
But Why Can't We Eat The Keto Treats LIZ????
Let's be clear. I am ALL FOR THE TREATS guys. But think about this for a moment: how much do you enjoy your food when you're rushed, frazzled, and preoccupied? After you've calmed your craving—if you still want to treat yourself, do it. You're less likely to overindulge and you'll enjoy it 1000x more. 🙏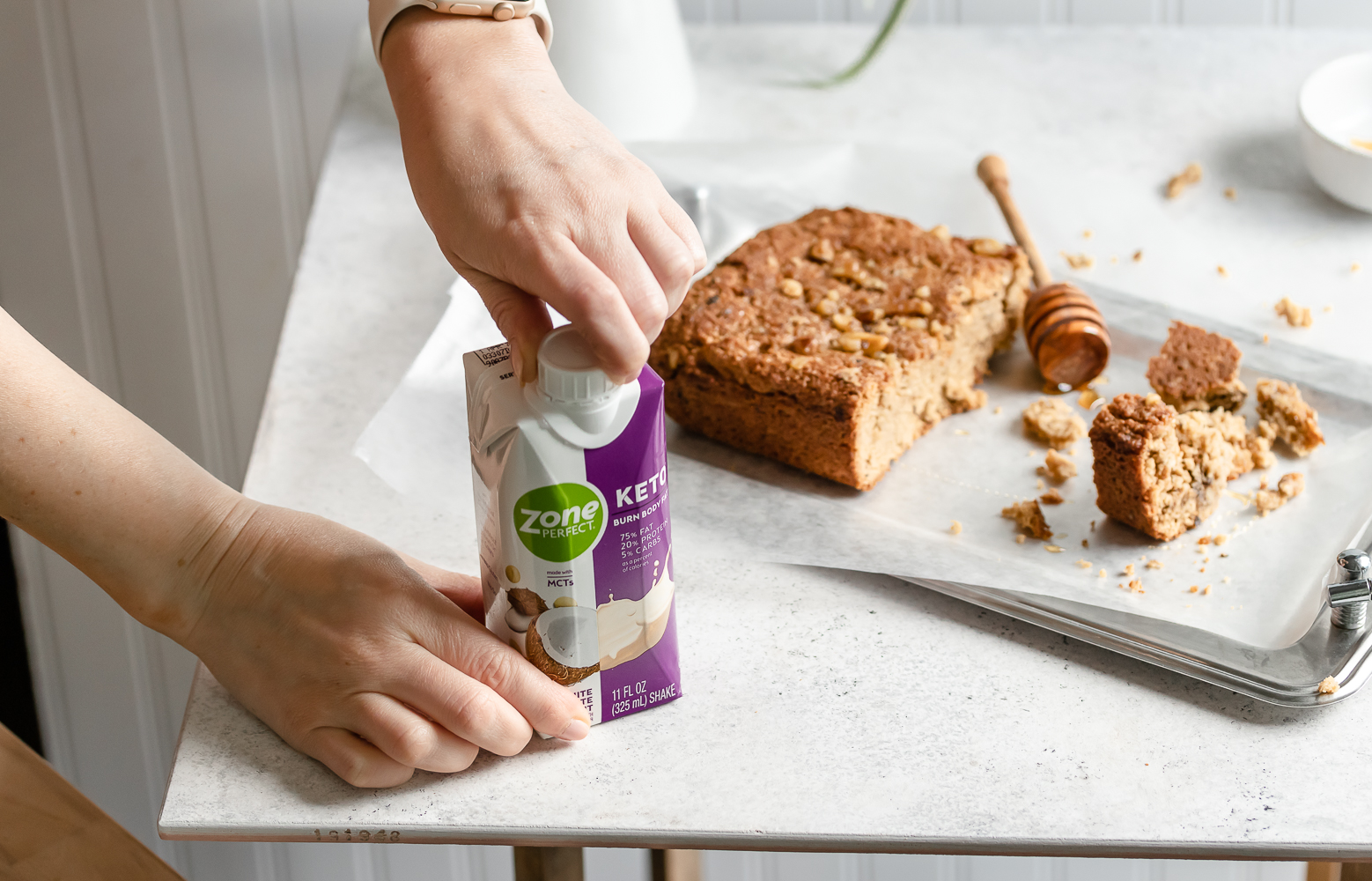 Also, this keto friendly, gluten-free banana bread recipe is coming next week!
2. Have Your go-to's Ready. To. GO 🚀
---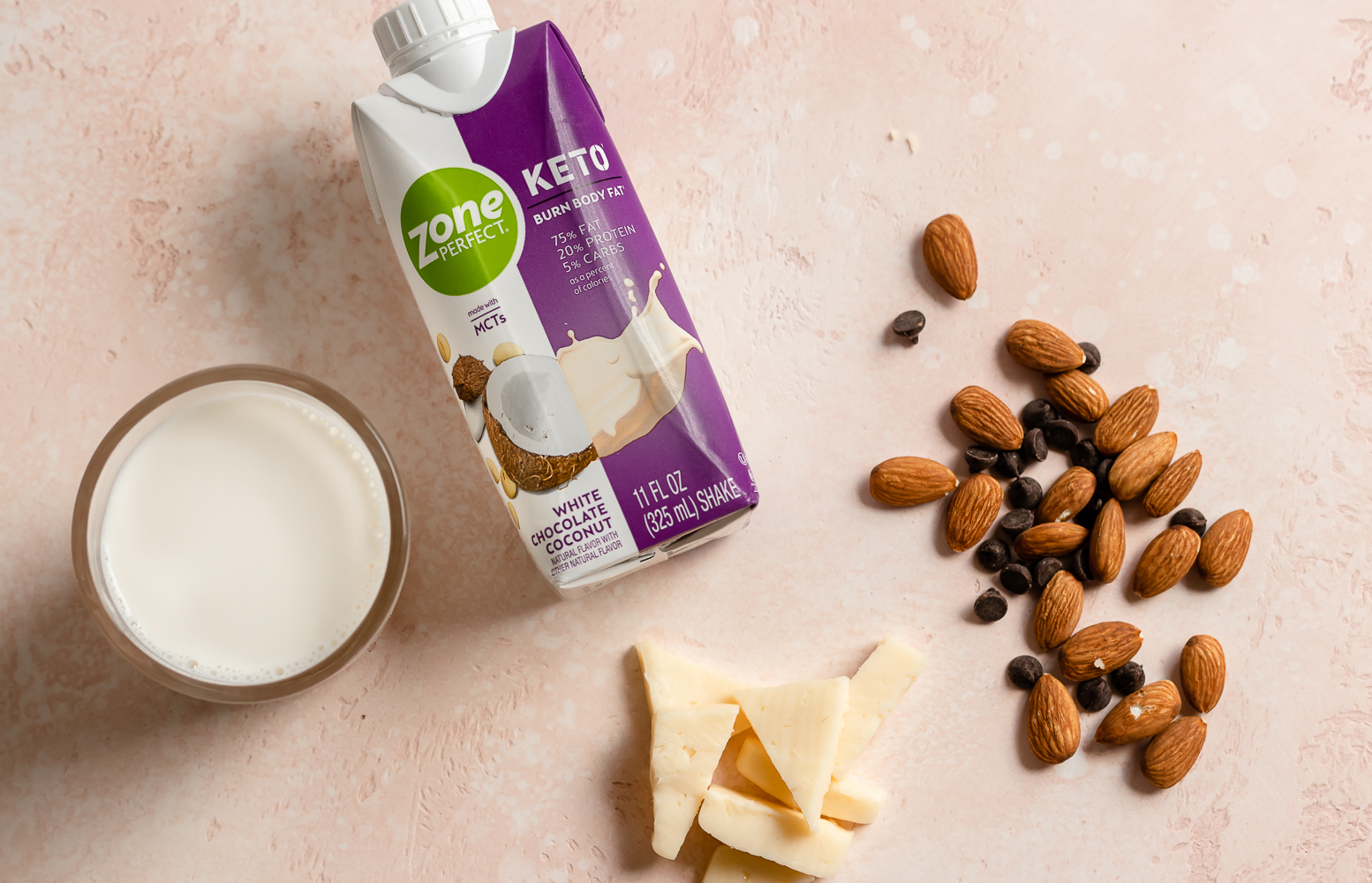 Have go-to foods, but also have them ready.
Like, literally. That economy pack of unwashed romaine hearts isn't doing you any favors when you're hangry.
In my experience, even when there's a fridge full of healthy snacks, you're more likely to choose the quickest option. This is a fact.
For me, having quick snacks like sliced cucumber, cubed cheese, and hard-boiled eggs (peeled!) portioned and at eye level eliminates snack-time stress. No chance I'm going to "accidentally" eat an entire block of Havarti. Mostly.
My never-fail snacks are:
– 1 Huge tbsp Nut Butter + 1 square of stevia-sweetened chocolate, perfect for a sweet tooth
– Roasted Salted Almonds, perfect for that crunchy salty tooth
– Hard Boiled Egg + Everything Bagel Seasoning + Mini Sweet Peppers
3. Actually, LIKE What You Eat. Seriously.
---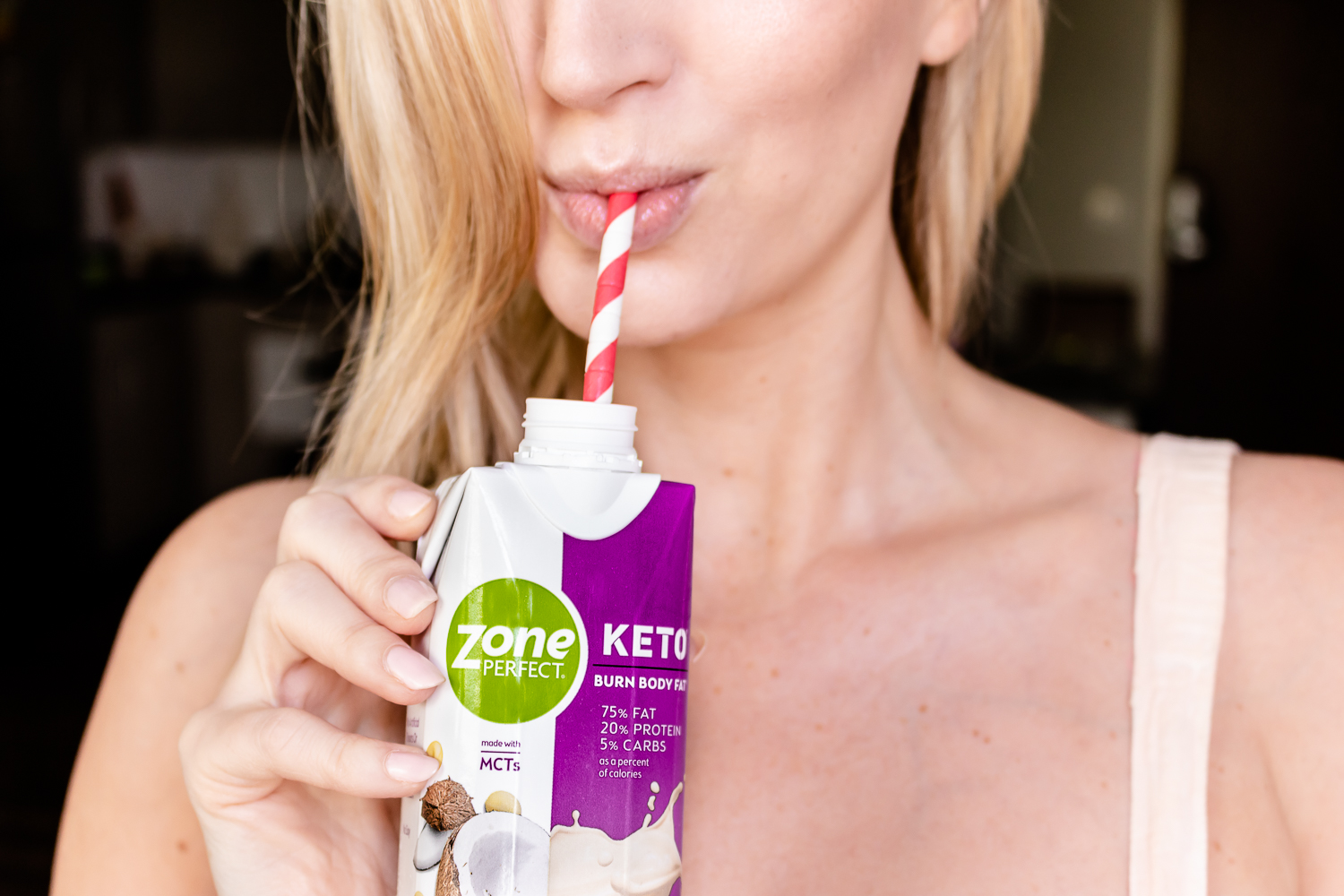 Find the foods that fuel you without sacrificing taste.
This has been my mantra ever since college. I can't tell you how many times I ate something in the name of being healthy, but I can tell you that it absolutely wasn't worth it. If you don't like it, don't eat it! All of the health benefits in the world aren't going to make the food you hate worth it. Especially when there are so many options out there! Be honest with yourself and find healthy options that you really, truly enjoy.
I used to choke down shakes I disliked because they were convenient and the ingredients made sense, or I would sacrifice the quality of ingredients for a shake that tasted good. It honestly felt like I would never find a shake that hit both needs but I am loving the New ZonePerfect Keto Shakes. Out of the three flavors (ZonePerfect Keto Butter Coffee, ZonePerfect Keto White Chocolate Coconut, ZonePerfect Keto Pineapple Coconut), my fave is White Chocolate Coconut straight up or Butter Coffee on ice!
BTW, all of the ZonePerfect products are backed by the ZonePerfect Great Taste Guarantee: love the great taste or get your money back! SO no risk 😎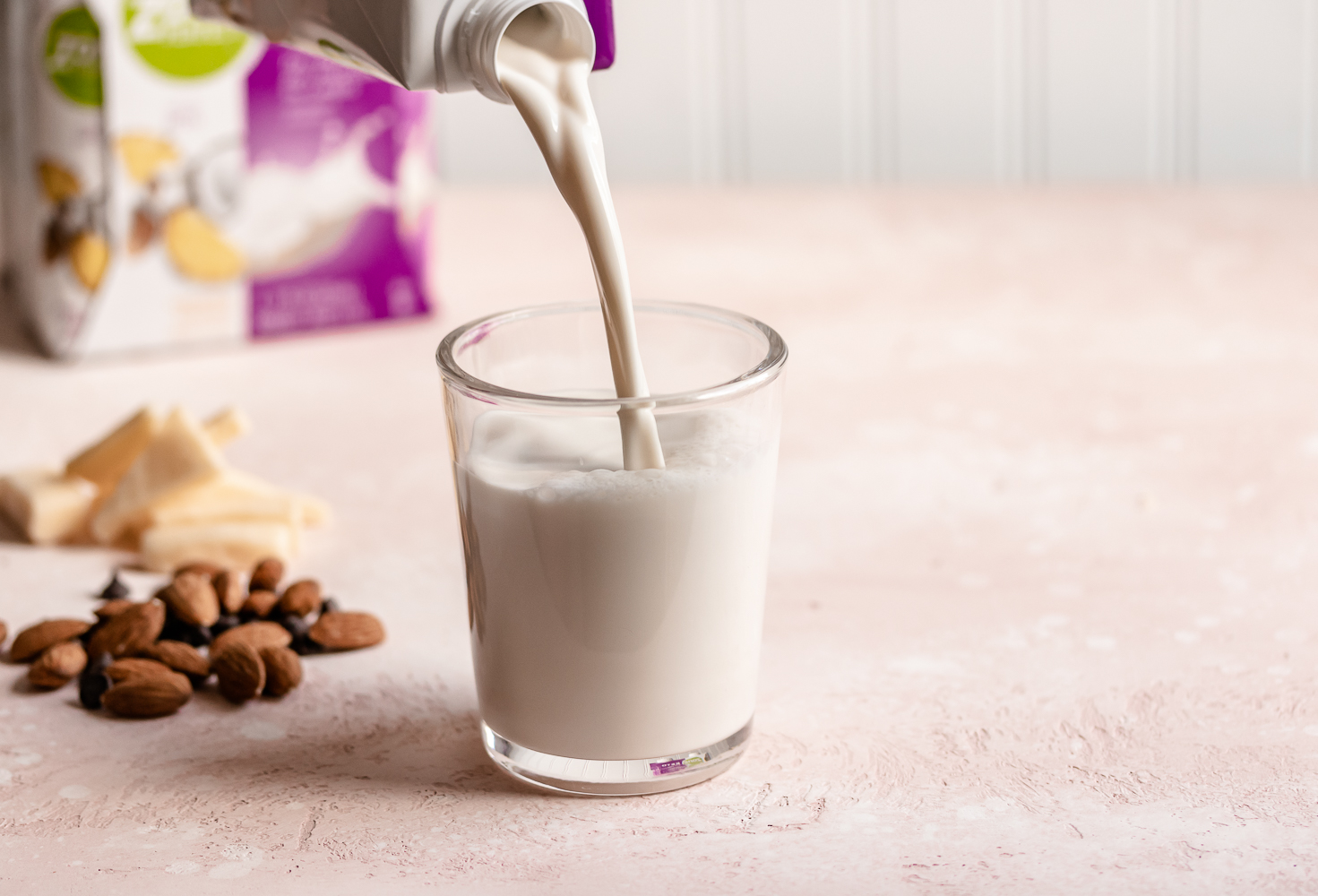 ---
Try New ZonePerfect Keto shakes at Publix, plus here's a handy coupon to save $3.00 a 4 pack! Just click on the Health & Beauty Tab and clip! Valid 5/15/19-6/30/19
How do you stay on track in a world full of food inspo?