How have we lived this long without keto-friendly pasta dumplings? HOW?
---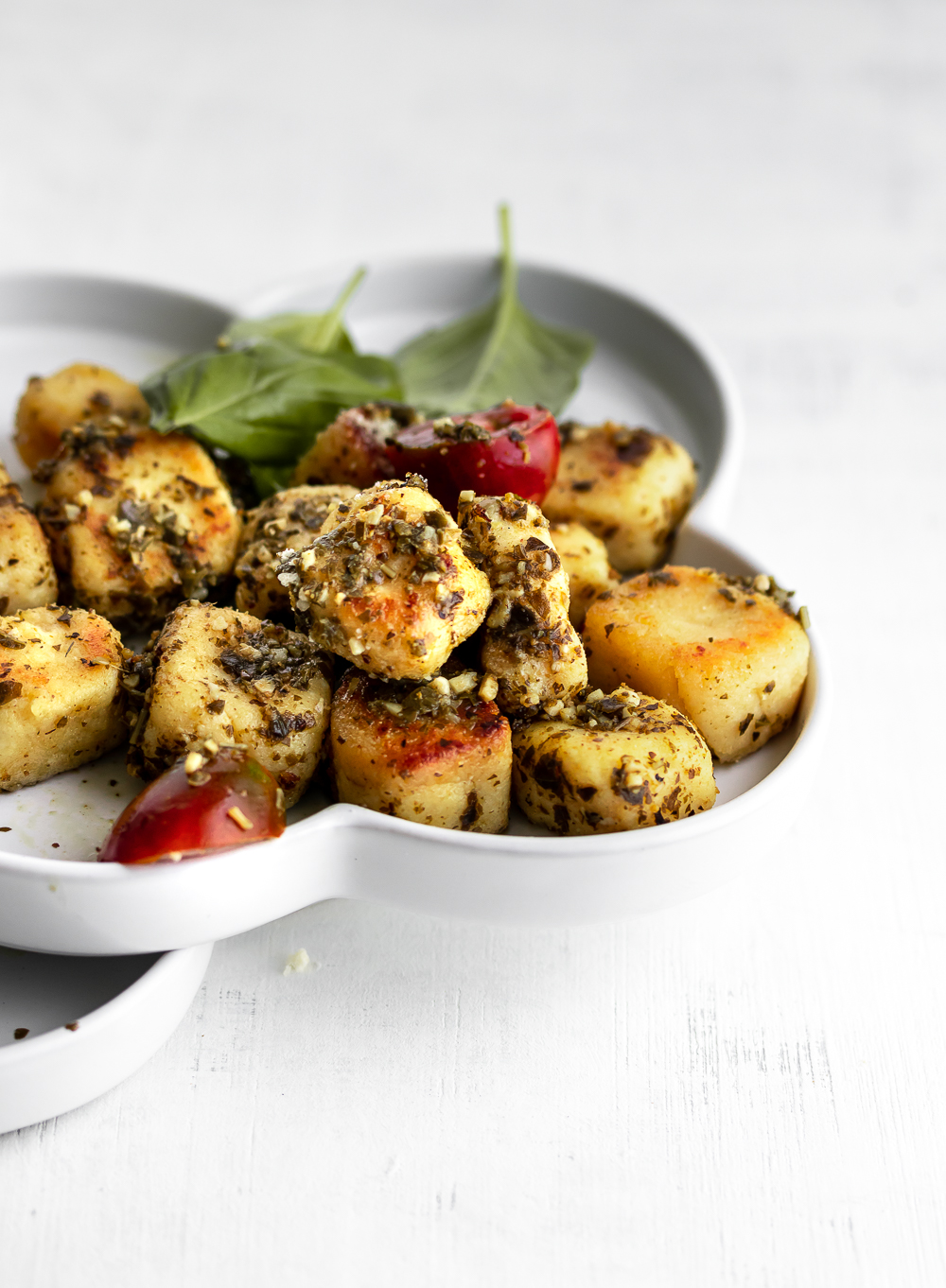 Low-Key Gnocchi
Just kidding! It's totally high-key and key-razy delicious.
But like all deliciously healthy recipes, there's a catch—it's not 100% effortless. I KNOW! I'm sorry. But gnocchi is "the pasta dumpling our lives have been missing and there's nothing we shouldn't do to eat it" which is why we are gathered here today.
I think that Mother Teresa said that but don't quote me. 
So to get us from dough ball to pasta nirvana, I found that the best method is like, four different methods. The good news? It's a lot like other gf/keto recipes and it's soooo worth it! Once you get the hang of it, you'll be batchin' up gnocchs all week long. 
That's a fun way of saying you're going to make this a lot. 
Let's do this. 🙌
Supremely Soft Almond Flour Gnocchi 
This is going to take a few tricks, a few pots, and two glasses of wine. Minimum. 
✅ Step 1: Fix your flour
Unless you buy superfine culinary grade almond flour, I can guarantee you it's going to have pieces in it. Even if you can't see them! Trust in me, I go through 2lbs of the stuff a week.
By sifting the flour with a fine mesh strainer, you can get all of the superfine pieces, then you can put the grainy bits in a coffee grinder or (good) food processor for a few seconds to really pulverize it.
✅ Step 2: Don't Over-roll the Dough
We love playing with dough. It's not our fault. We were conditioned at a young age (hi, silly putty). But we can't play with almond flour gnocchi dough too much or it forms tiny cracks that let moisture out and lend to it falling apart. Not ideal.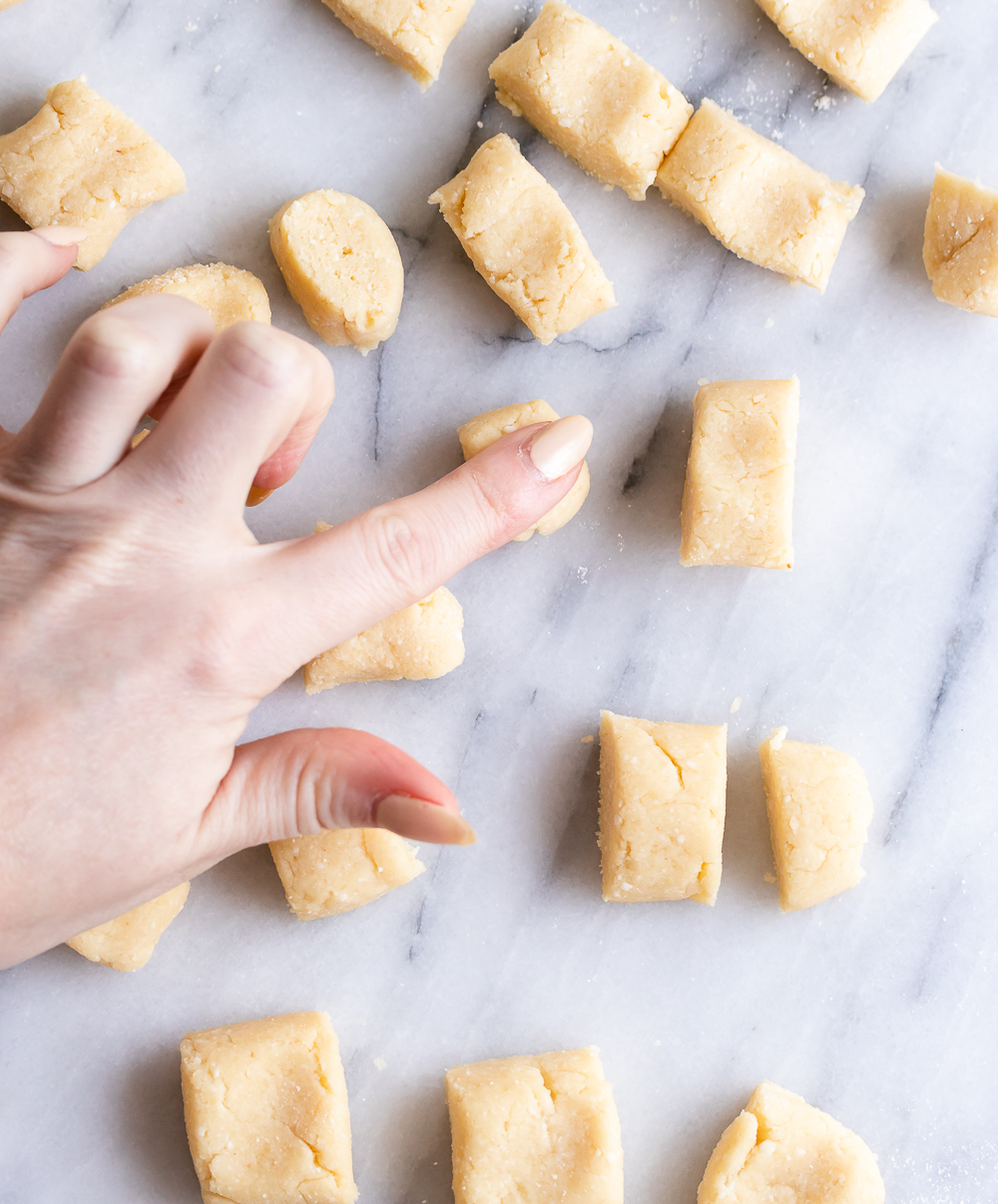 Work your dough with a bit of plastic cling wrap (see vid here) then form the dough into a ball and slice it into 4 manageable hunks. From there, you can flatten it into a skinny rectangle and slice off your gnocchi bits.
✅Step 3: Hot Tub Gnocchi Machine
Why boil almond flour dough? Won't it just fall apart? WHAT IS THE POINT?
Well, we boil the dough to cook those delicate egg and ricotta insides (gently) so the pan-frying step doesn't dry out your gnocchi, turning it into a pasta crouton. That's why. 
tbh, pasta croutons sound delicious…
The gnocchi won't fall apart. I know because I've made three batches already this week. Just make sure you boil about 3-4 at a time, dunking them gently in the water and leaving them alone.
Once they float (1 min ish) then scoop them out onto a paper towel-lined plate until you're ready to fry them.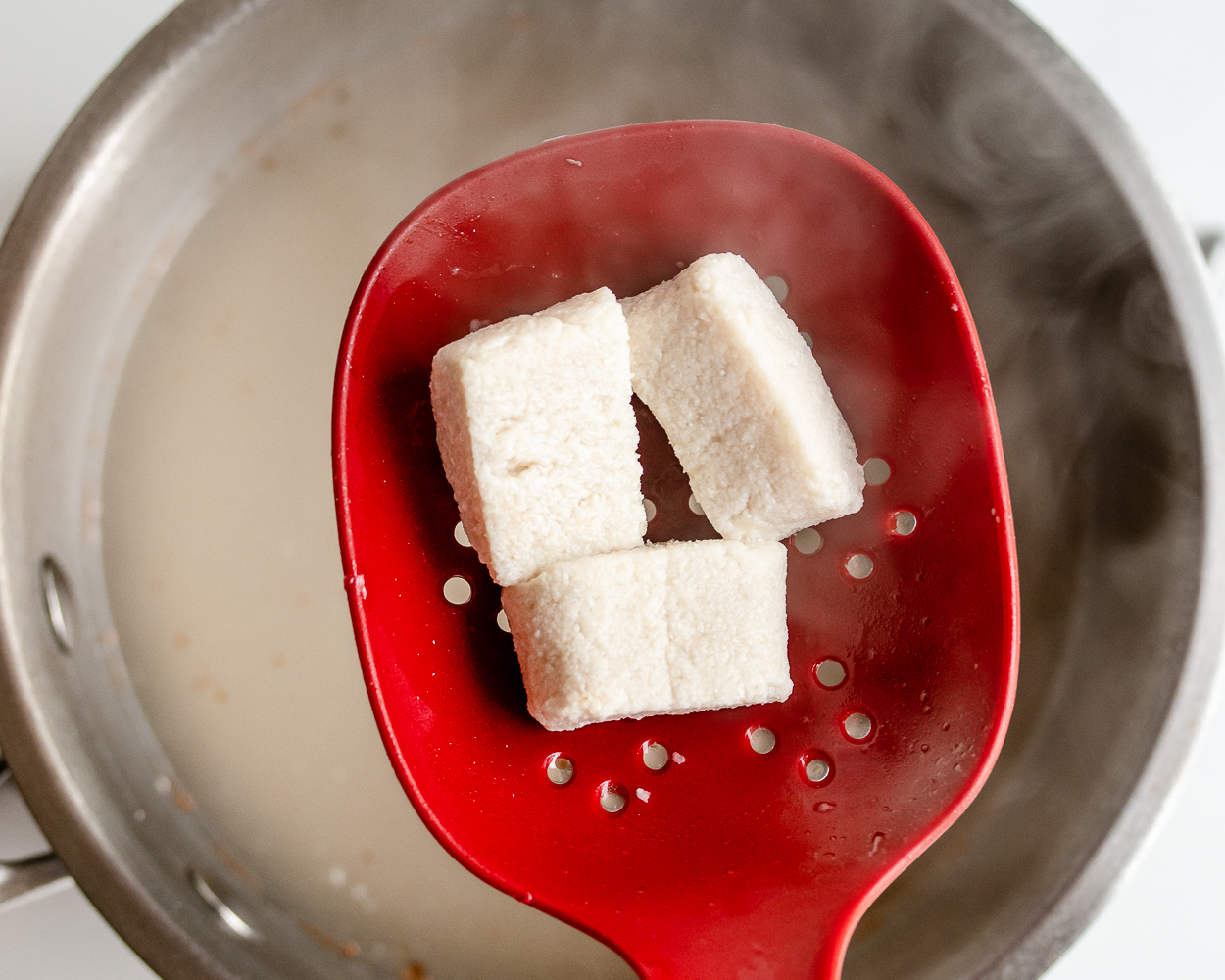 ✅Step 4: Pan Fry & Get Sauced
Toss the boiled gnocchi into a pan with a touch of oil and let it brown gently on both sides. Work in batches so you can make sure they all get evenly browned.
Add the sauce or serve it with the sauce on the side. That's your call. I love to remove it from the heat, then pour in an obscene amount of pesto.
Plate it. Parmesan it. DONE.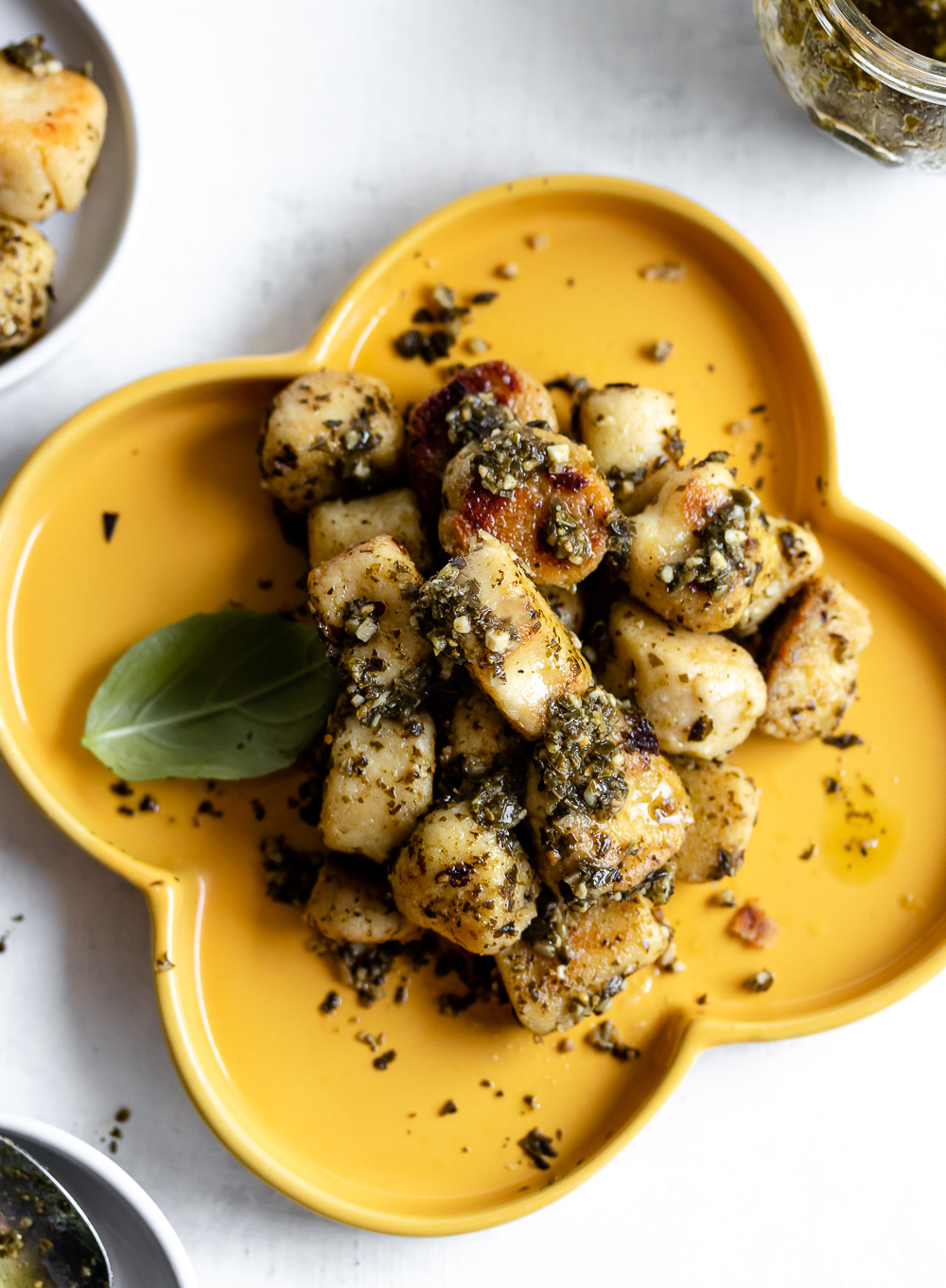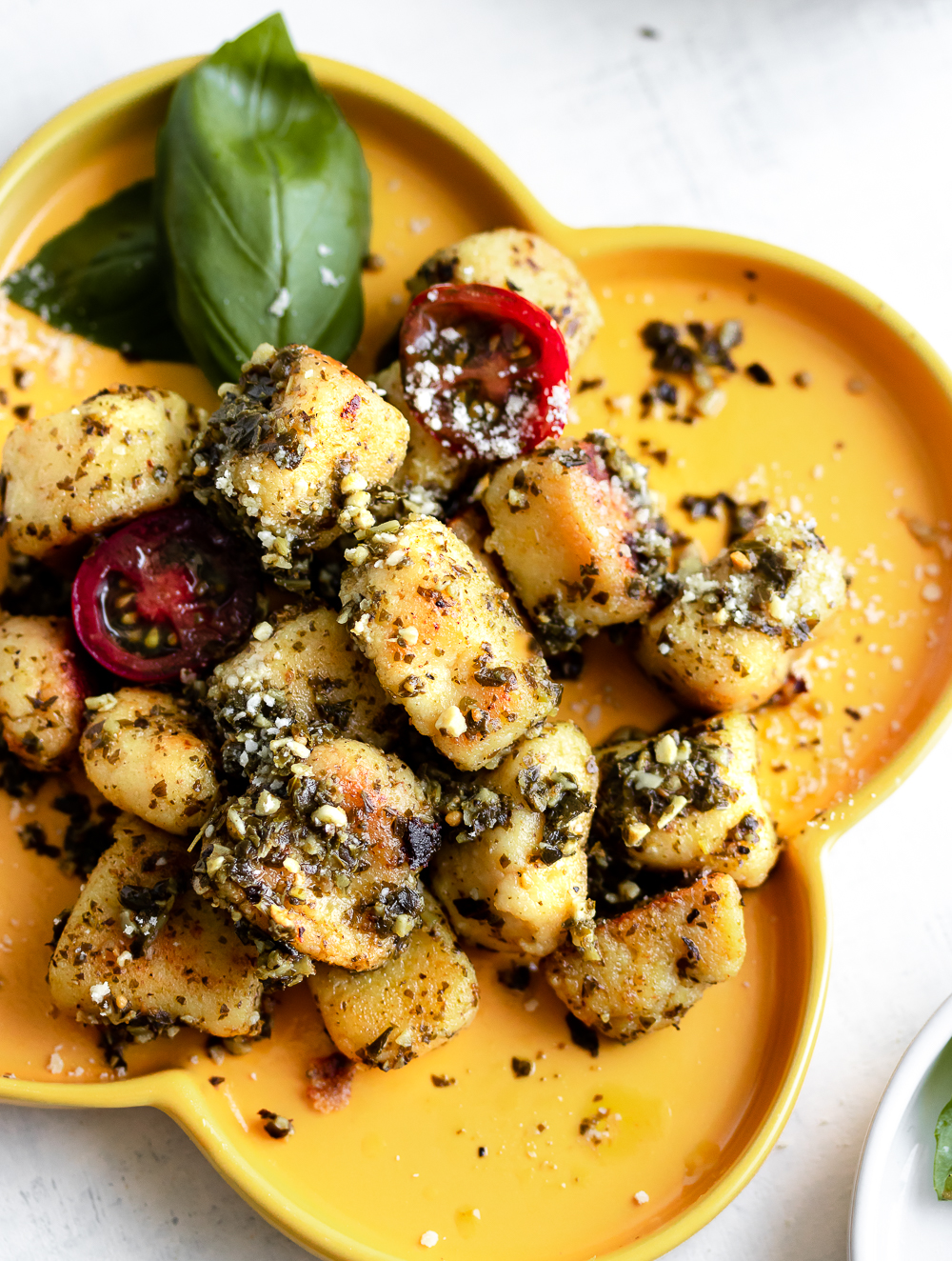 Sauce these baby pasta dumplings however you want. Just know that they are going to absorb some oil so light-handed pouring is best! 
Heads UP! This post contains affiliate links. As an Amazon affiliate, I earn from qualifying purchases.
Supremely Soft Almond Flour Gnocchi
Whip up a batch of soft almond flour gnocchi with ZERO cauliflower and kiss the carbs goodbye!
Ingredients
1 Egg
1 tbsp Water
2-3 tbsp Oil for frying
Instructions
Sift 1 cup of almond flour into a large mixing bowl. Grind the flour that remains in a coffee grinder or food processor and add to the sifted mixture.*
Whisk the ricotta, parmesan, egg, and water until combined.
Add the almond flour, coconut flour, xanthan gum, and salt to the egg mixture and stir to form a stiff dough.
Cover the dough with plastic wrap and gently knead it a few times. Slice the dough ball into four sections and form each one into a long rectangle. Slice into 1-inch squares.
Bring a small pot of water to boil and add the gnocchi, a few at a time, with a slotted spoon. Be gentle! After a minute they should start to float. Remove them and place on a plate.
To finish- heat a small amount of oil in a large pan and fry the gnocchi just until brown on each side.
Dress with your favorite sauce and serve!
Notes
*If you don't have a way to grind the leftover almond flour (post sifting) you can just sift another two to three tablespoons into the bowl. Reserve the grittier flour for recipes like cookies!
Nutrition Information
Yield

About 5
Serving Size

7 pieces
Amount Per Serving
Calories

250
Total Fat

22g
Carbohydrates

8g
Fiber

4g
Protein

10g