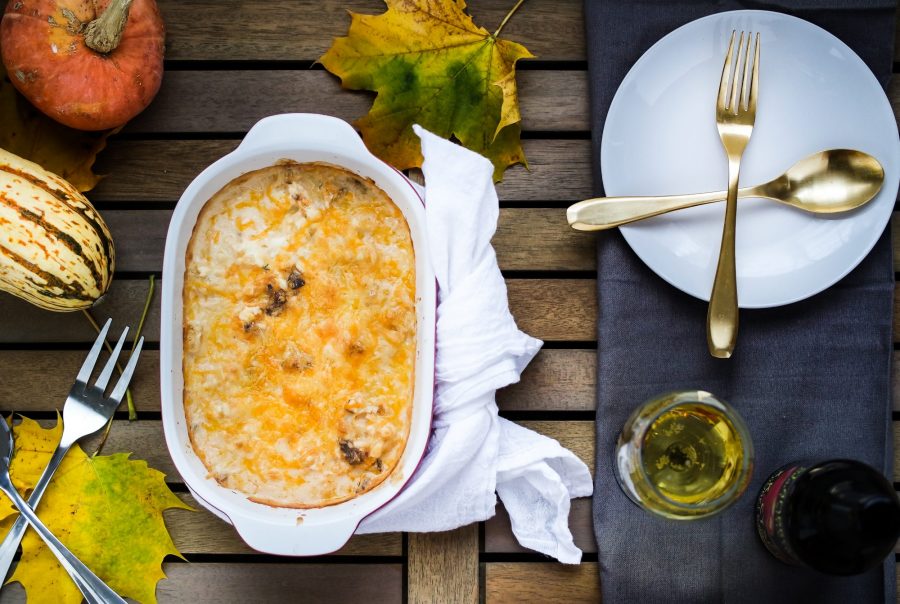 Daylight Savings Denial
Gah, the sun. I miss it so much.
How shiny it was. And hot. It was so delightfully hot! Remember when it would come out and stick around until it was time to put the wine away and tuck yourself into bed?
Le Sigh.
Every year, after I've been seduced by the spoils of summer, it all comes back to me in one big, depressing whoosh: fall is an endless eternity of dark, sucky darkness. Did I mention it's depressing?
Comfort Cauliflower
So I'm mourning the loss of summer like any sane human would: baking donuts, sleeping all day, and whining about it ad nauseam.
Oh, and making as many casserole dishes full of Keto Scalloped Cauliflower that I can.
Creamy Keto Scalloped Cauliflower is *thee* perfect comfort food. It has all of the things we love about scalloped potatoes but with basically way less carbs. Think I'm joking? Well, ha! I'm not.
Just trust me on this one because I promise you, this stuff is amazing.
Low Carb Scalloped Cauliflower
aka Cheese Casserole
aka The Ultimate Comfort Food
…because you can't very well sleep your life away without a belly full of cheesy goodness.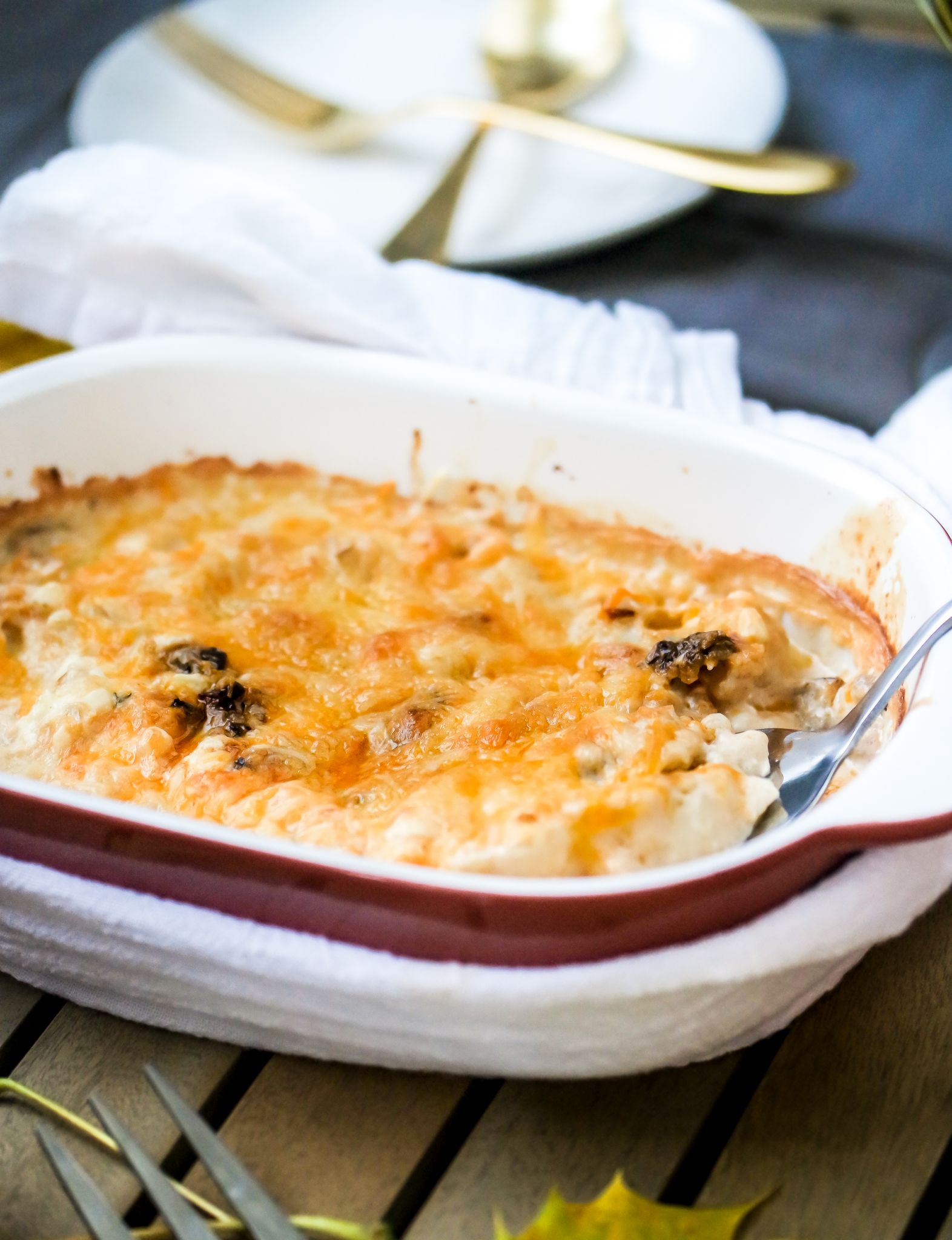 This recipe is the Low Carb BOMB dot com but the photos were
taken at sunset (so basically 4:30 pm) and not my best work.
It is what it is.
Let's press on, shall we?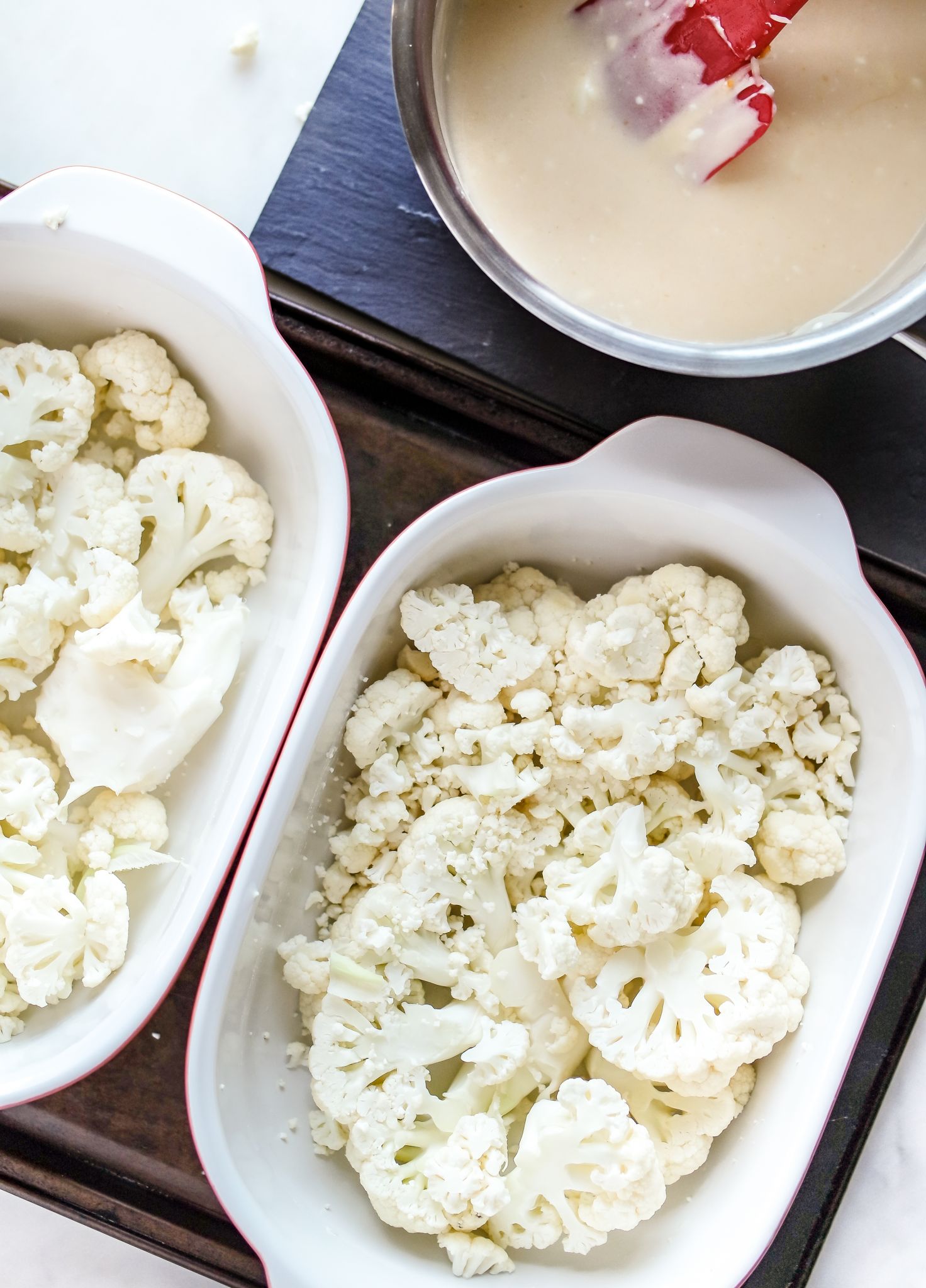 The sauce for this casserole is slightly thicker than you might expect because the cauliflower will give off a lot of water during the baking process.
Pour the sauce all over the raw cauliflower and trust in it's cheese magic.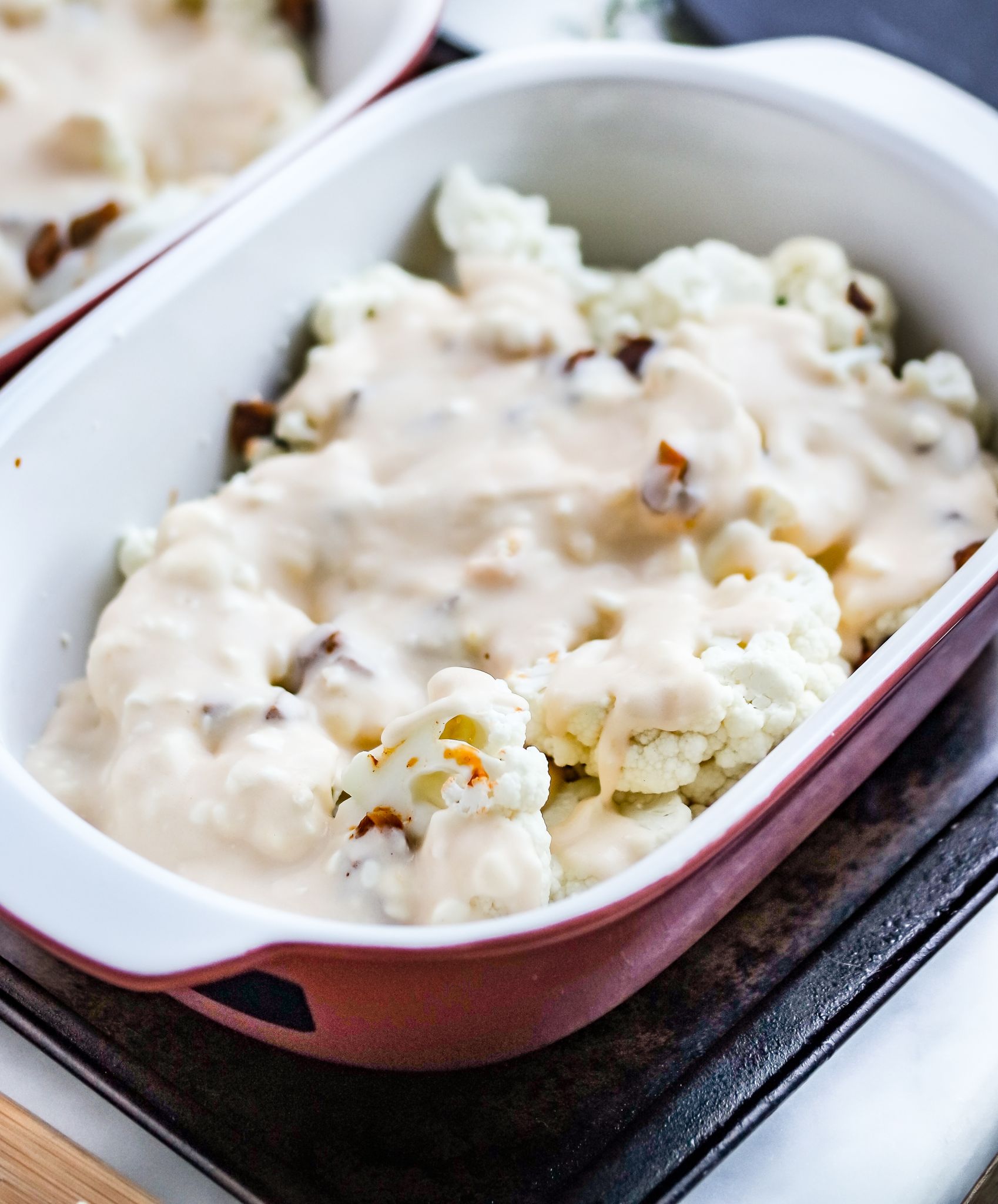 Bake the cheesy casserole concoction until it's hot and bubbly.
Note: Post-baking, you will be tempted to taste the hot, bubbly goodness.
Don't do it.
It needs more cheese first.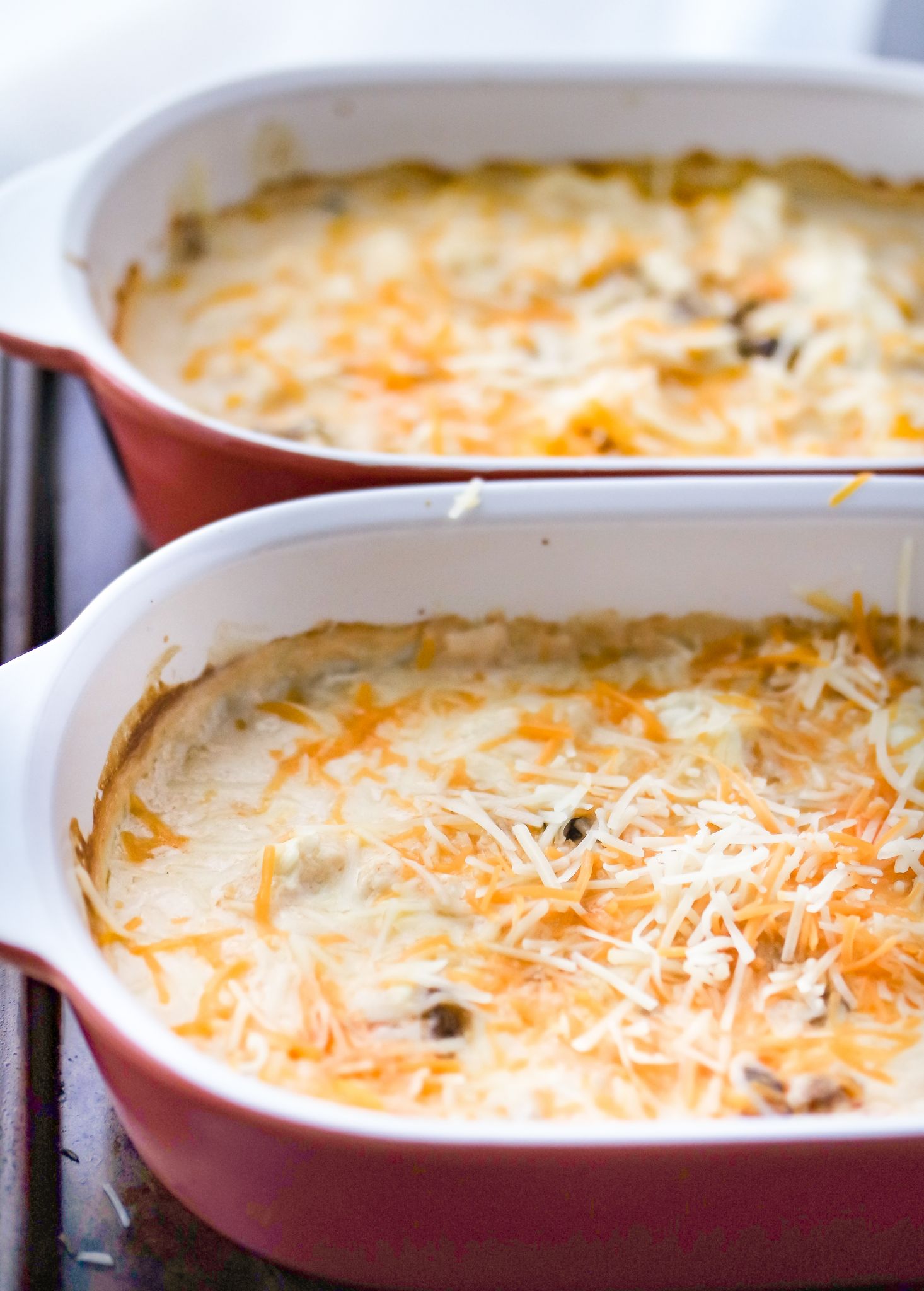 Have you ever wondered what the broil setting was for on your oven?
It's to encase casseroles in a melty, cheesy blanket of love
as demonstrated below.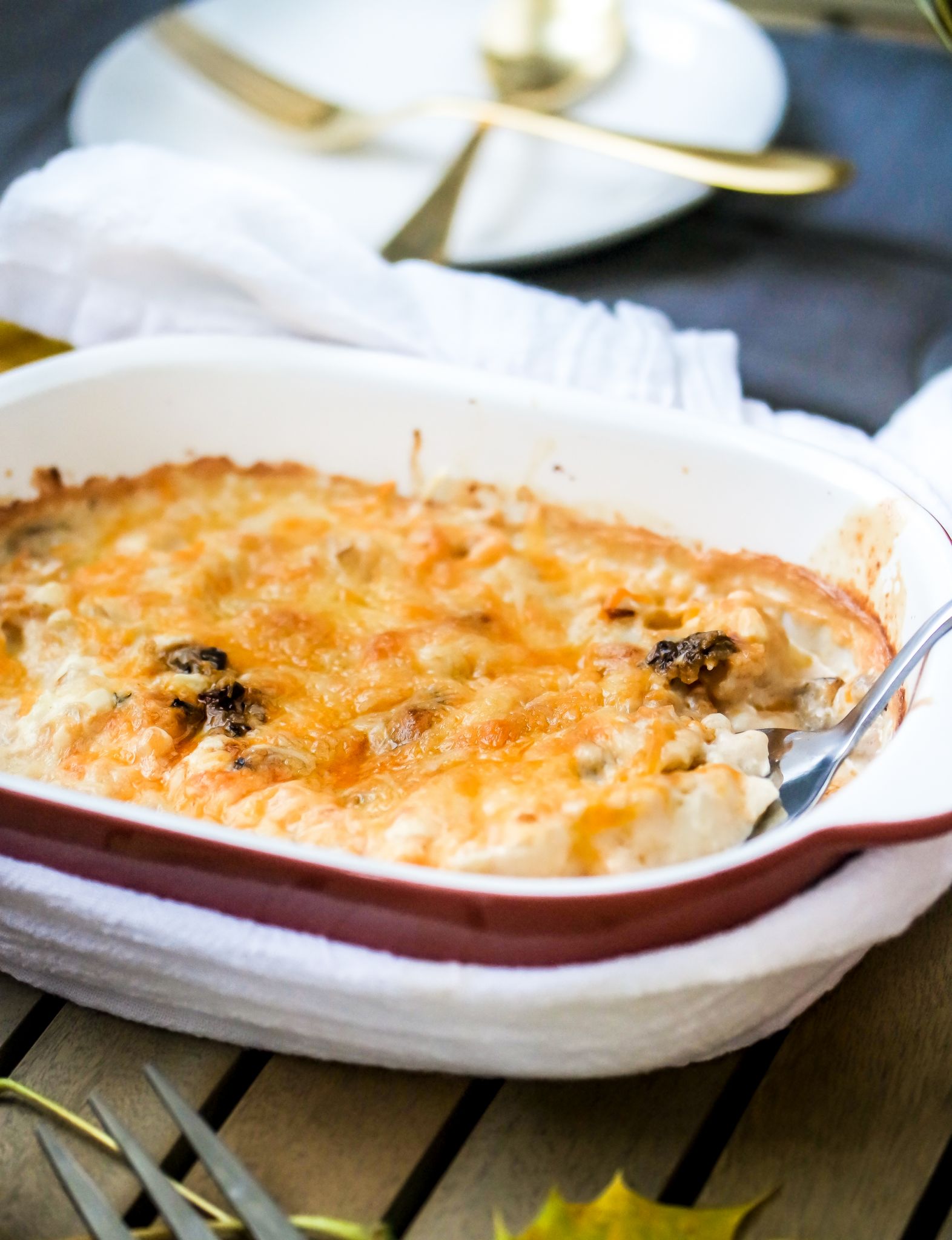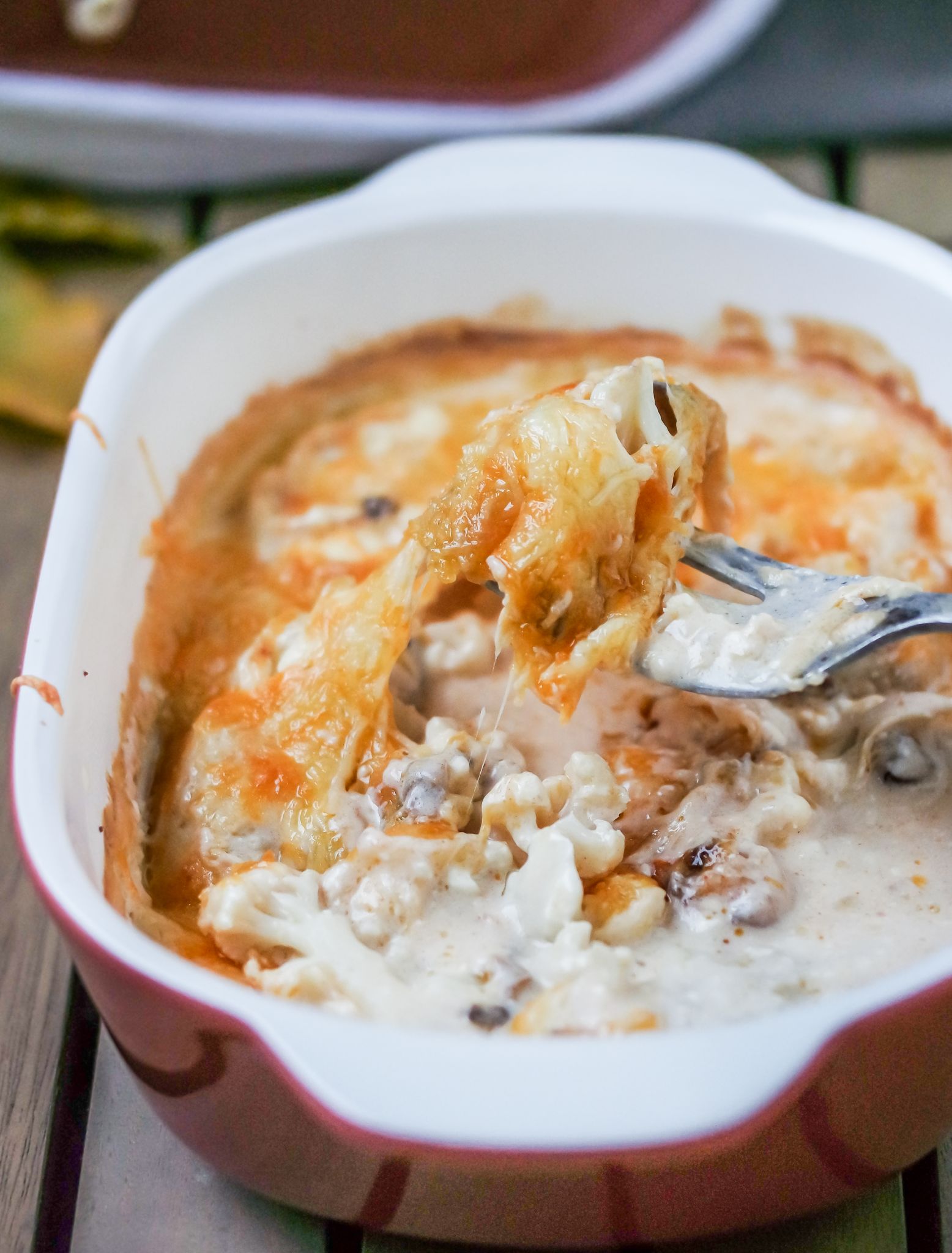 The stringy cheese and tangy cheese compliments the smoky, meaty flavor
of the sautéed portobello mushrooms which you probably didn't even see because of CHEESE!!!!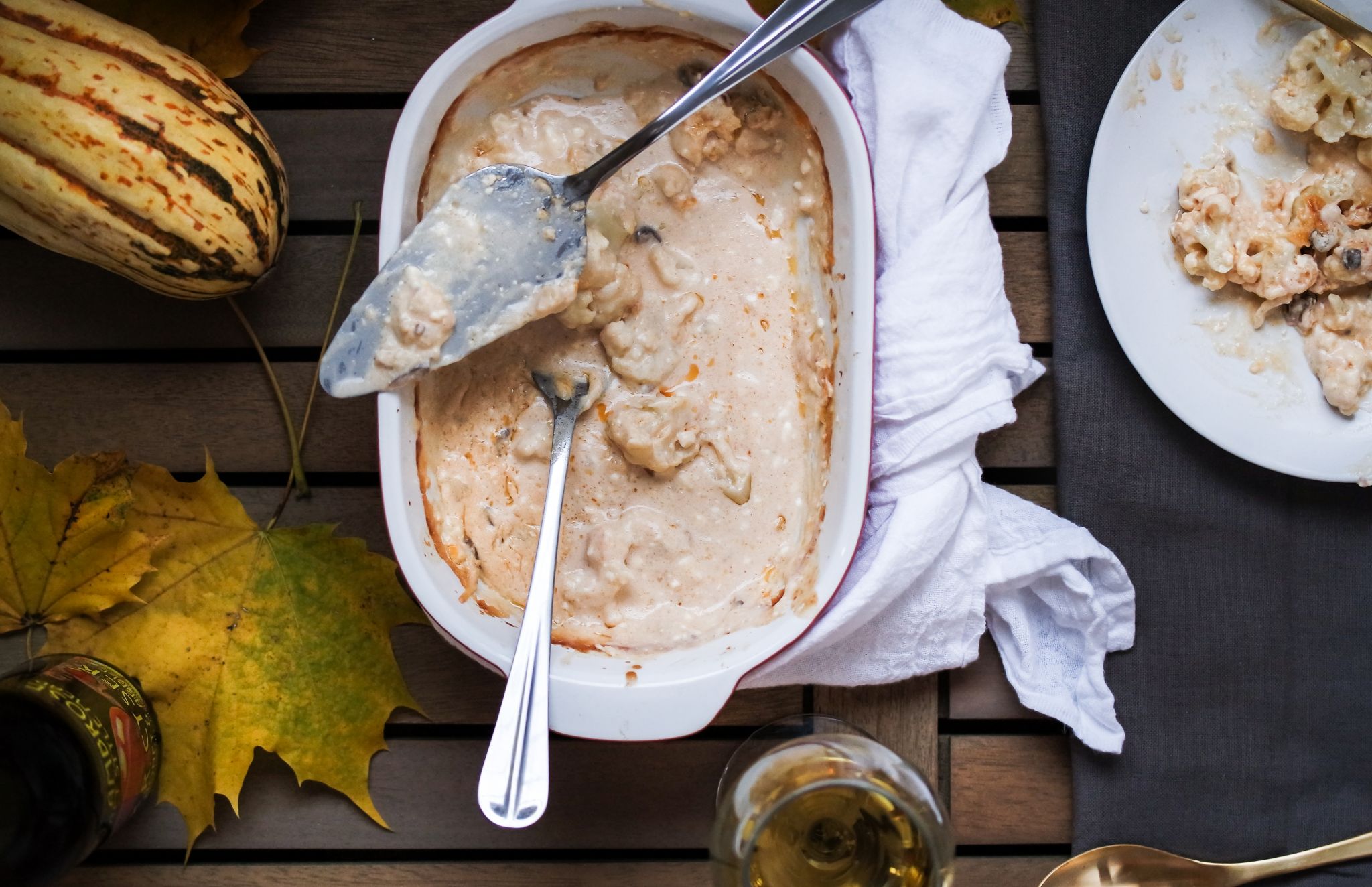 If you love comfort food, check out my other casseroles!
Super Creamy Stuffed 🍄 Mushroom Casserole
Creamy Six Cheese (maybe seven) Spinach Butternut Squash Casserole
Easy Baked Vegetable Marinara 🍅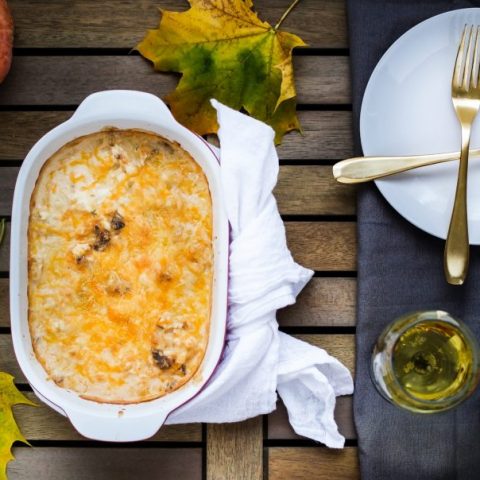 Keto Creamy Scalloped Cauliflower
Cook Time:
1 hour
10 minutes
Total Time:
1 hour
25 minutes
Cheesy cauliflower goodness that is the perfect low carb side for any holiday!
Ingredients
1 Head Cauliflower, cut into 1-inch slices
1 8 oz pkg Cream Cheese
8 oz Shredded Sharp Cheddar Cheese
2 cups Milk- I used Cashew Milk because I always have it on hand
2 tbsp Butter + 1 tbsp to saute the mushrooms
1 cups Baby Portobella Mushrooms, diced
1 tsp Smoked Paprika
1 tsp Garlic Powder
1/2 tsp Sea Salt
Instructions
Heat the oven to 350.
Melt 1 tbsp butter in a small pan and add the mushrooms.
Saute until they begin to soften, then add the smoked paprika and stir. Set aside.
In a saucepan, bring butter, cream cheese, and milk to a low simmer. Stir constantly until the cream cheese is completely melted.
Add garlic powder and salt to the cream mixture along with three handfuls of shredded cheese (approx 1 cup) one handful at a time, stirring to allow the cheese to melt and sauce to cream. *You should have a fist full of cheese left over to top your cauliflower later.
In a large casserole dish (or two small like I used) layer the sliced cauliflower evenly.
Sprinkle with the sauteed mushrooms, then pour the cheese sauce over the cauliflower evenly and tap gently to allow settling.
Cover with foil and bake for 60 minutes.
Remove from the oven, top with remaining cheese and bake uncovered for an additional 10 minutes or broil until cheese is brown and melty.
Nutrition Information
Yield

5
Serving Size

1/2 cup
Amount Per Serving
Calories

289
Total Fat

24g
Carbohydrates

8g
Net Carbohydrates

5g
Fiber

3g
Protein

17g