Each donut has it's own texture, color, and flavor depending on the balance of ingredients that you use. And today, we are making ALL OF THEM.
---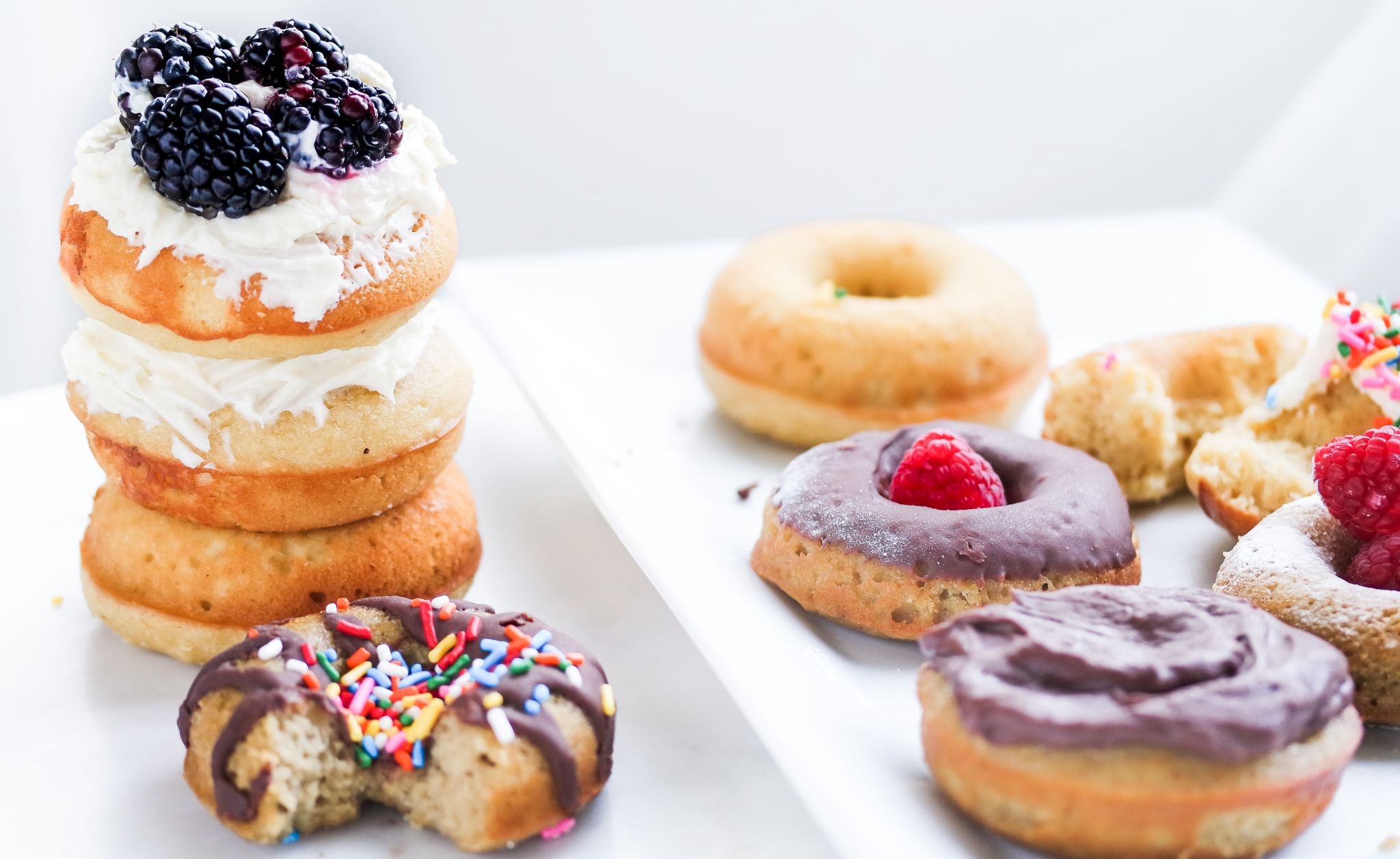 Recipe Testing 1, 2, 3
Usually, when I test a recipe I fail multiple times. After batch (insert astronomical number here) and some miraculous twist of fate, I get it right and that's what I post to all of you food enthusiasts. SO early Saturday morn, I headed to the grocery store and proceeded to spend a small fortune on donut ingredients with the full intention of bombing at least four batches before I found my holy grail recipe.
Blogger's reality is that I eat a lot of really sh*tty food because recipe testing is expensive and I can't waste valuable nutrients like cheese and almond flour. 
Unfortunately, this time was different. THEY ALL WORKED. I know, shocking. I even photographed two of the three because I couldn't decide. It was all too overwhelming. That much success all at once is a lot for one person to manage and I sort of buckled under the pressure.
So many pictures. So many bites were taken for photography's sake. 
Anyhow, all three recipes were ablaze (that means cool, the girl gang and I decided it and now it is so) but I narrowed it down to two basic baked yeast donuts that are doable if you are into gluten-free, low-carb baking. One of them is very light, fluffy, and has lots of volume. The other recipe has a bit more density and is darker in color because of the psyllium husk powder.
Psyllium Husk Powder is fibrous husks ground into a convenient powder that is great for gluten-free baking. It is great at absorbing water and acting like gluten in baked goods.
I find it at my local grocery store but it's new-ish. You may not have access to it which is why there will be an alternate recipe that doesn't include the husk below the two husky ones. Cool.
Baked Yeast Donuts (two ways!)
Gluten Free & Low Carb
Because when we have donut options, everyone is happy!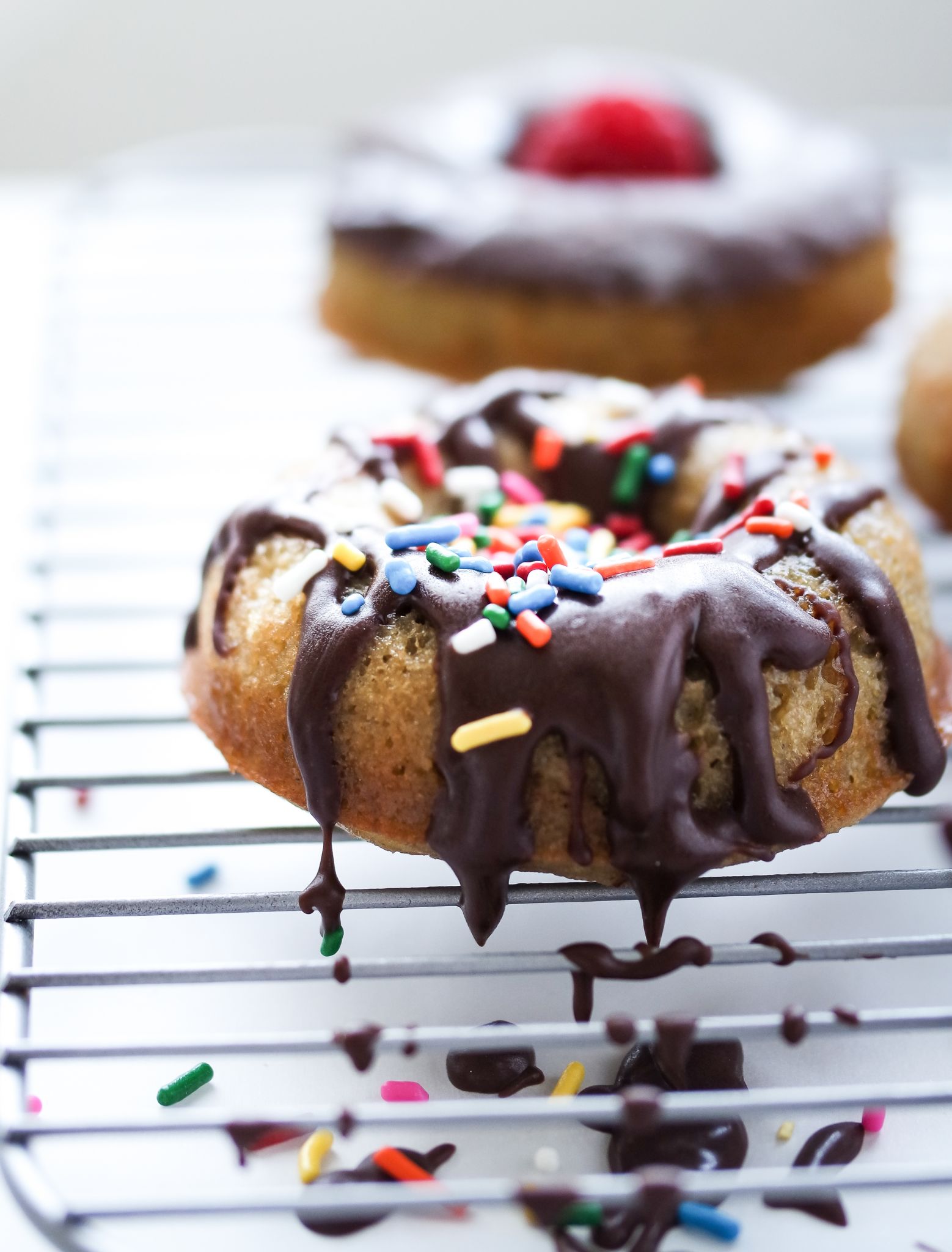 You can clearly see the difference in texture and the rising power of the two donut recipes.
The cream cheese recipe is light in color and oversized while the oil and egg are darker and denser.
Both ablaze though.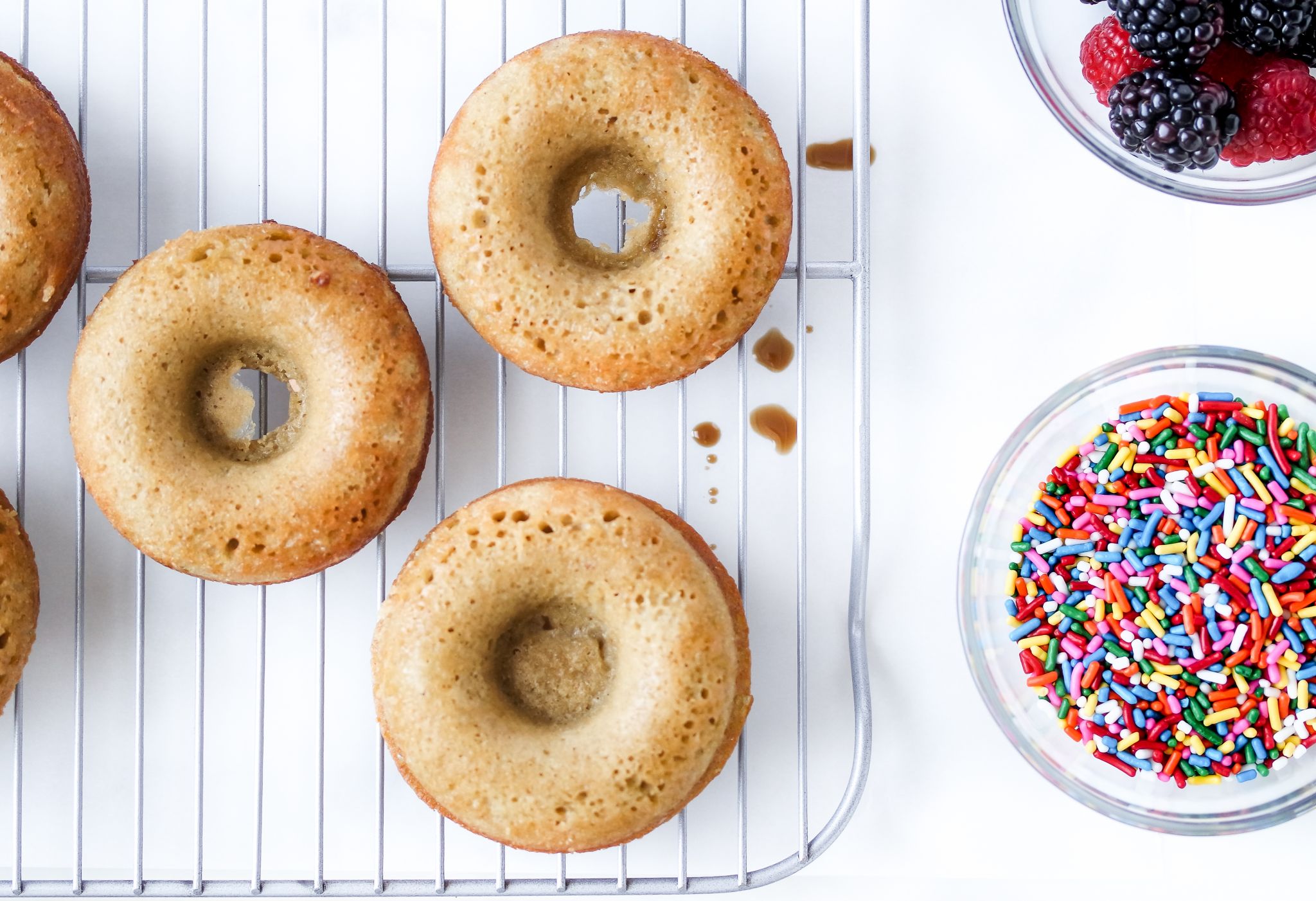 Let's talk DONUT TOPPINGS.  I mean, I'm not going to tell you how to live your life as much as I'm not going to tell you how to top your donuts. It's just not what I'm about.
I will tell you to top them a plethora of ways before you settle into your topping of choice. Variety is the spice of life folks.
Speaking of spices, cinnamon and sugar is a delightful option when topping your d-nuts.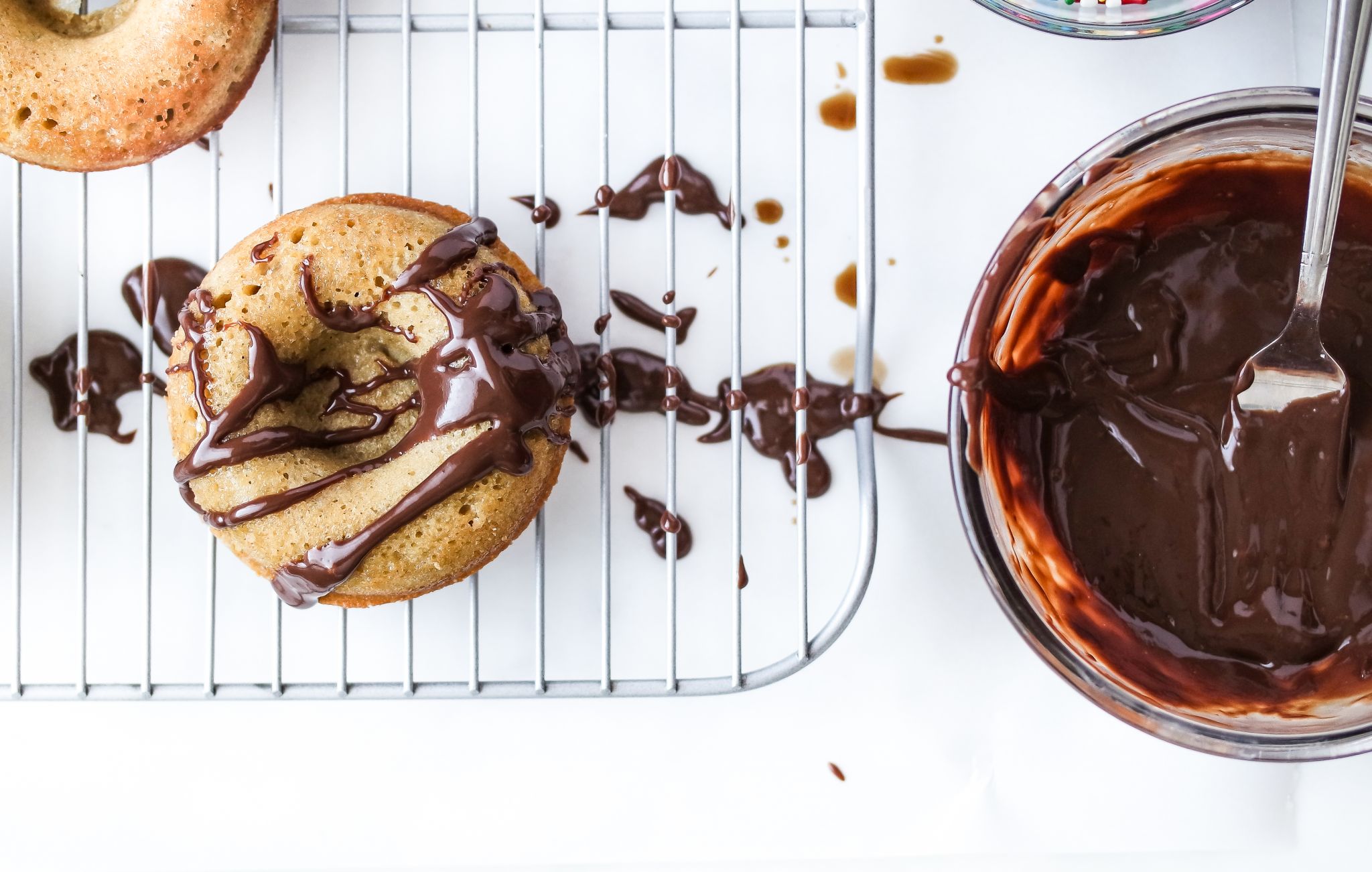 Topping Choice 1- Chocolate Ganache Drizzle with Rainbow Jimmies
Just cashew milk heated until steamy and low carb chocolate
thrown in and stirred about.
Mhmmm.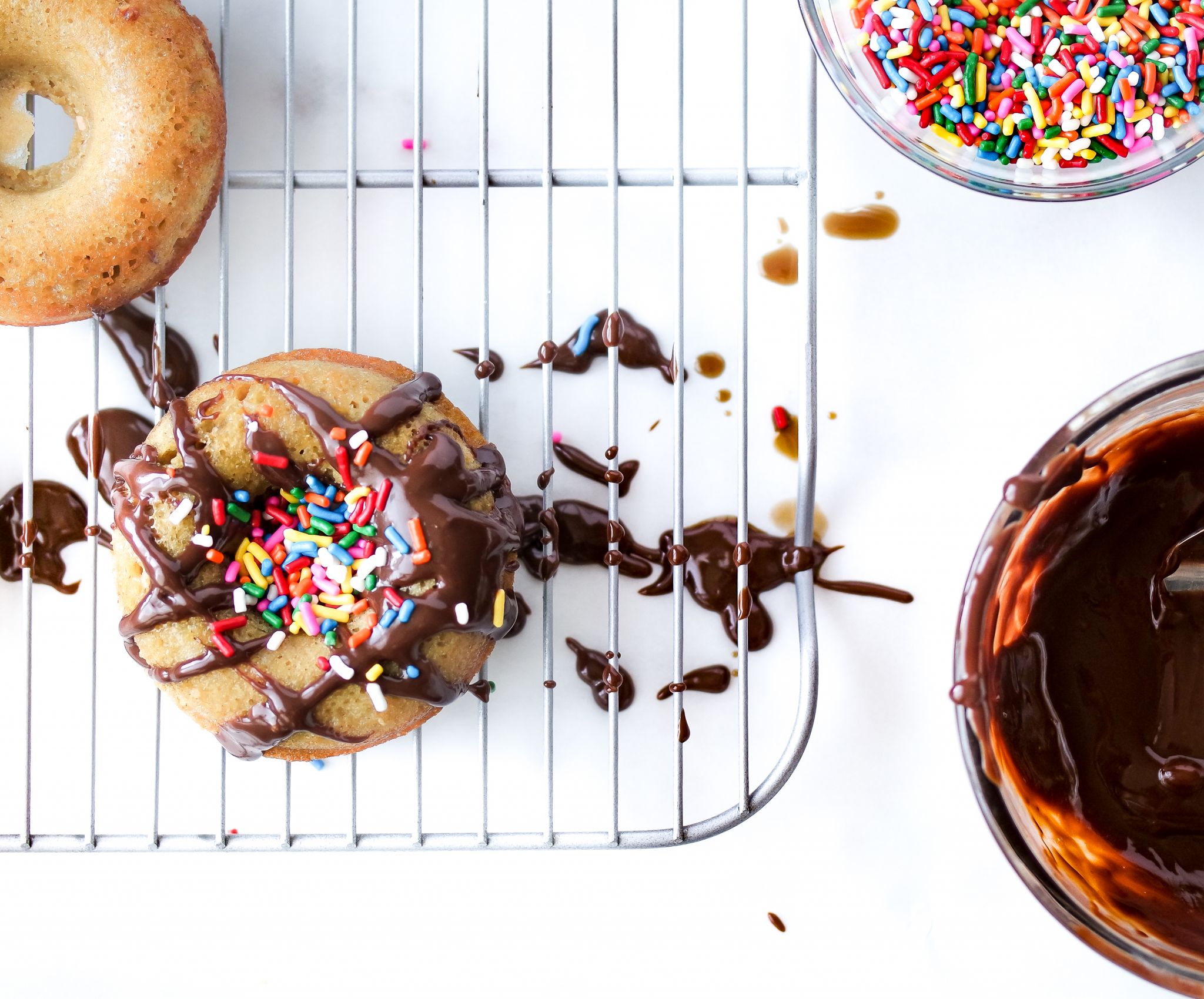 Don't stop sprinklin' till the whole hole is full of jimmies.
BTW, those aren't low carb but they are made of rainbows which is healthy.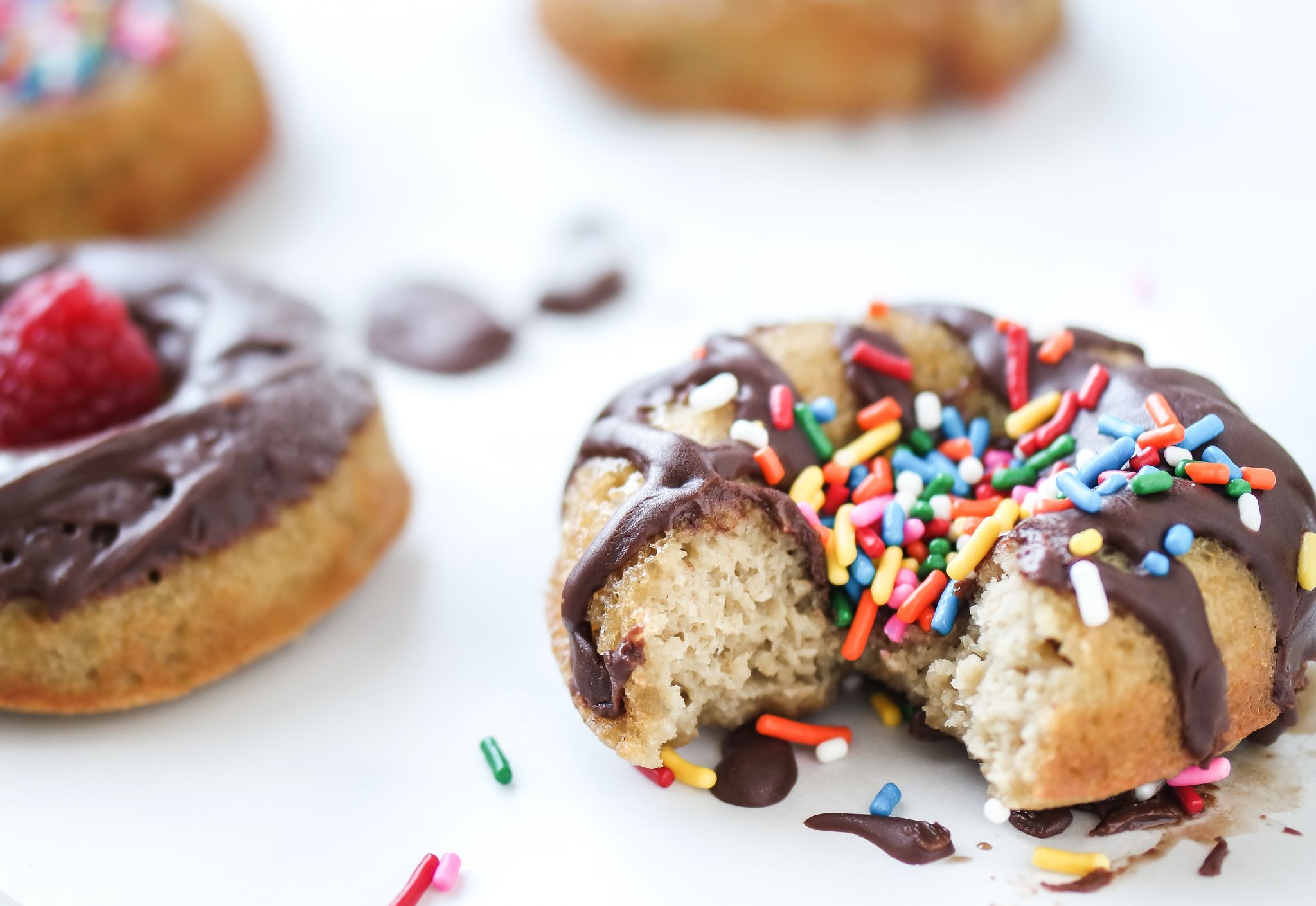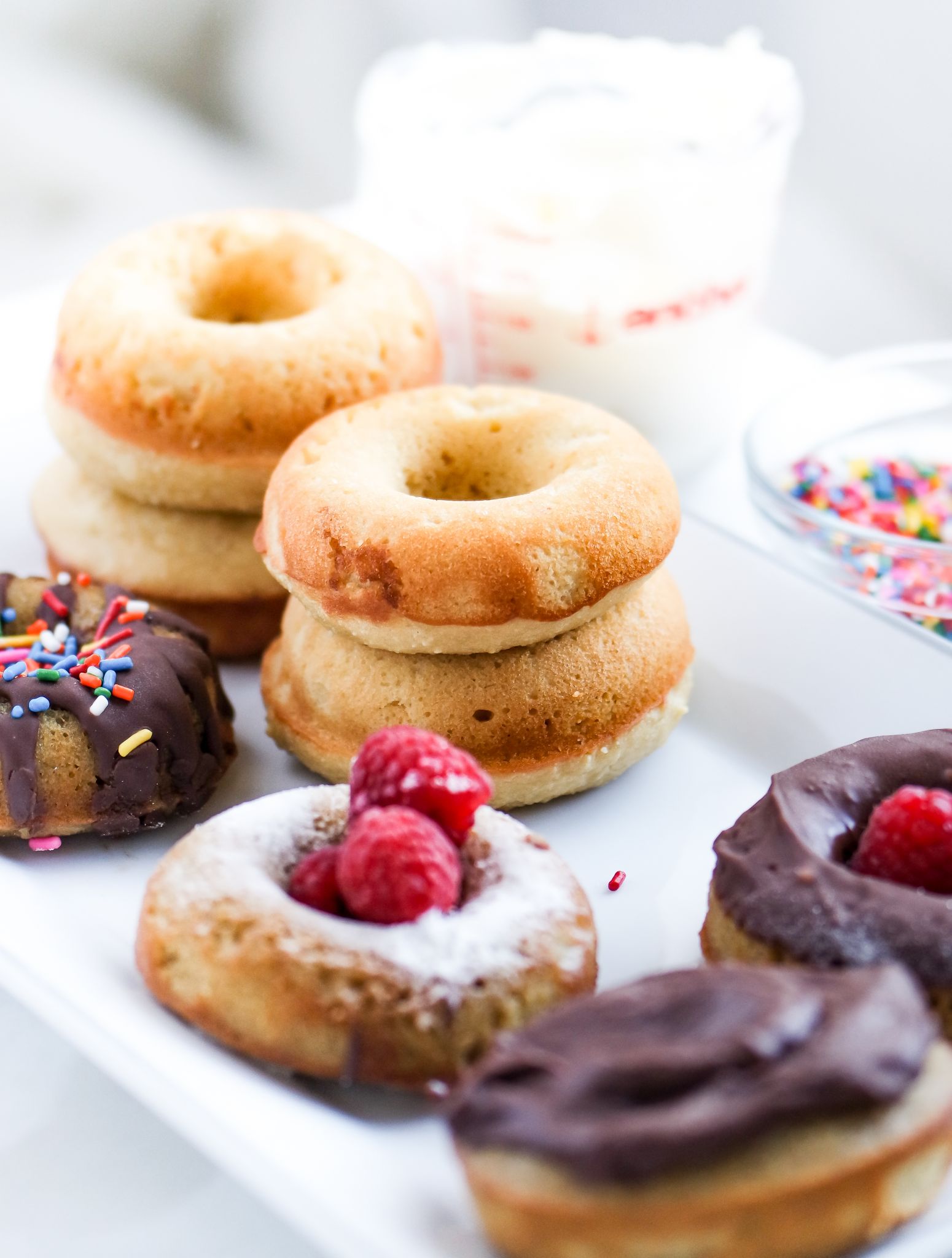 Sometimes you just have to spread the cream cheese frosting on a cream cheese donut and top it with berries like the fanciest foodie who ever lived and that's OK.
MAKE IT by combining 1/2 block of room temp cream cheese and 4-6 tbsp powdered sugar (I use Swerve) and whip or mix with the arms the Lord gave you.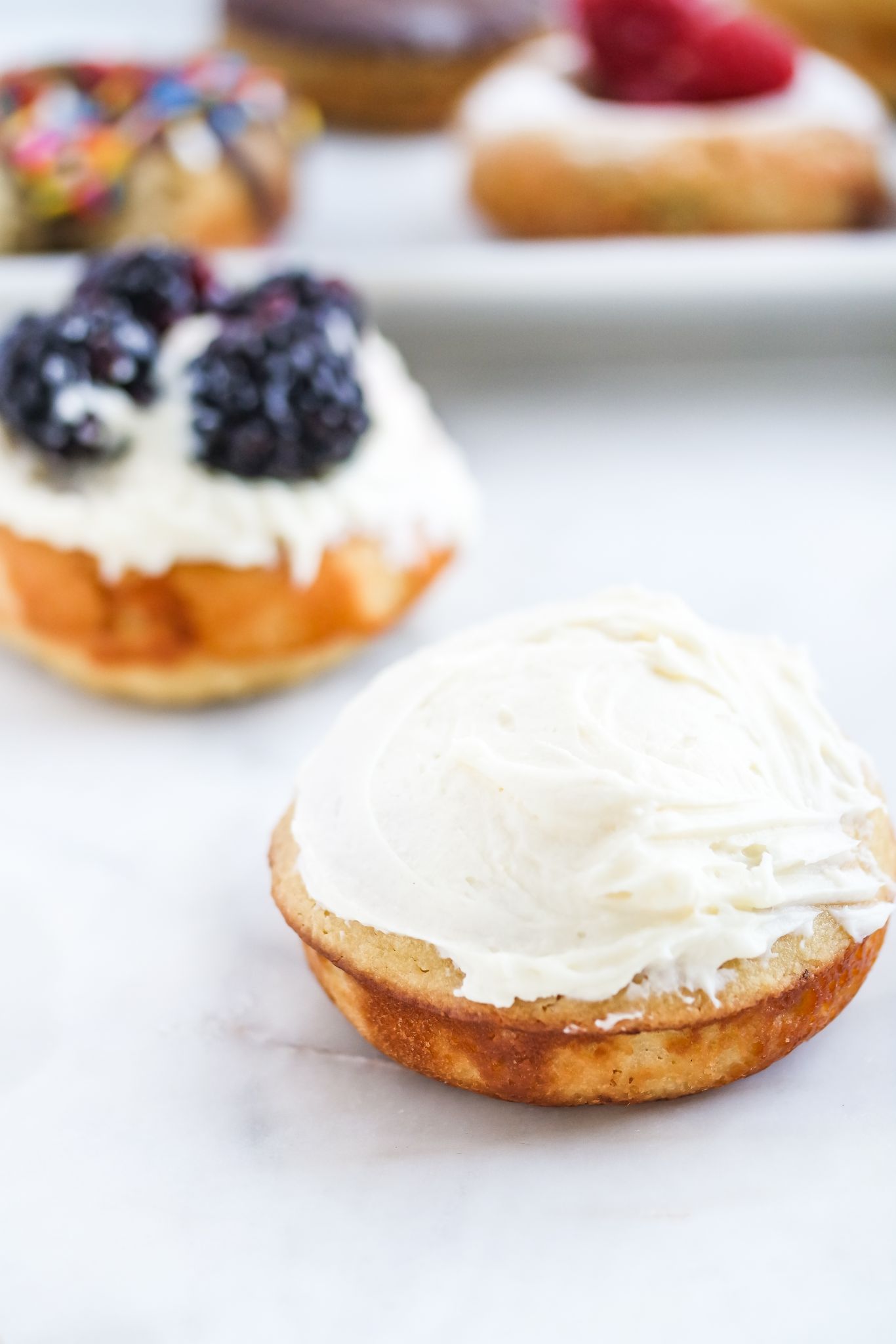 The berry placement is key. Right on top is my favorite spot.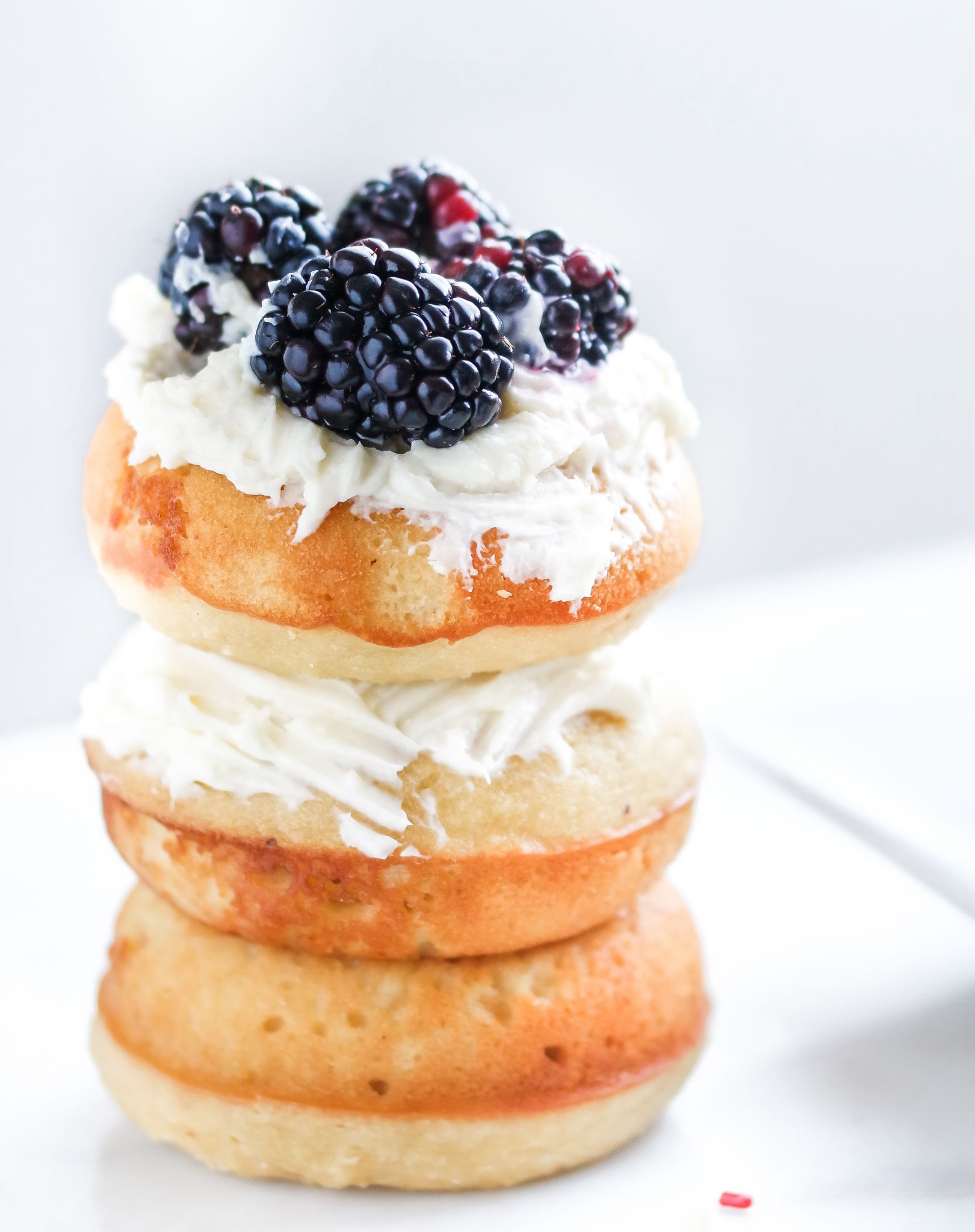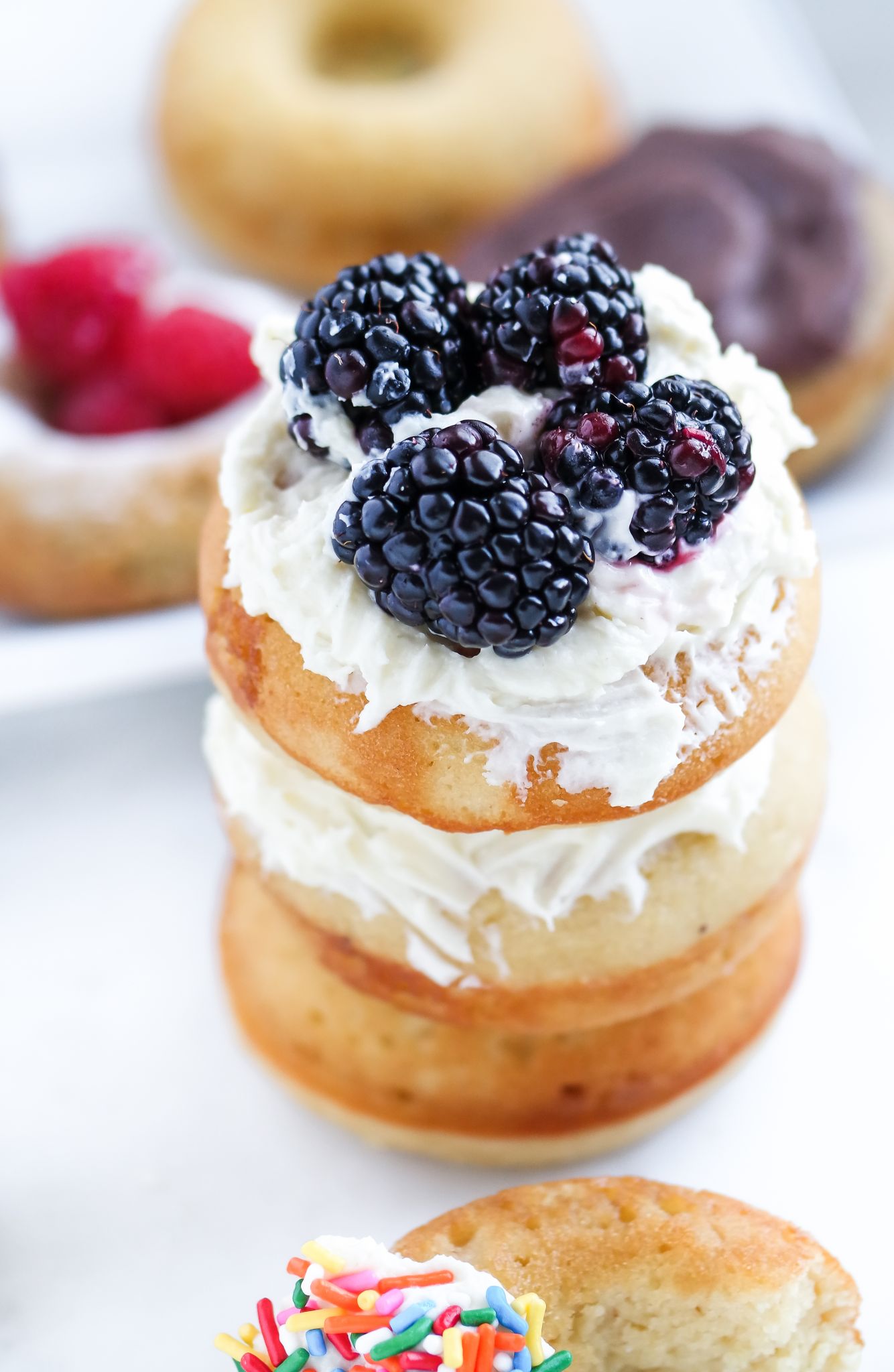 AND of course, more Jimmies in a multitude of colors. With frosting.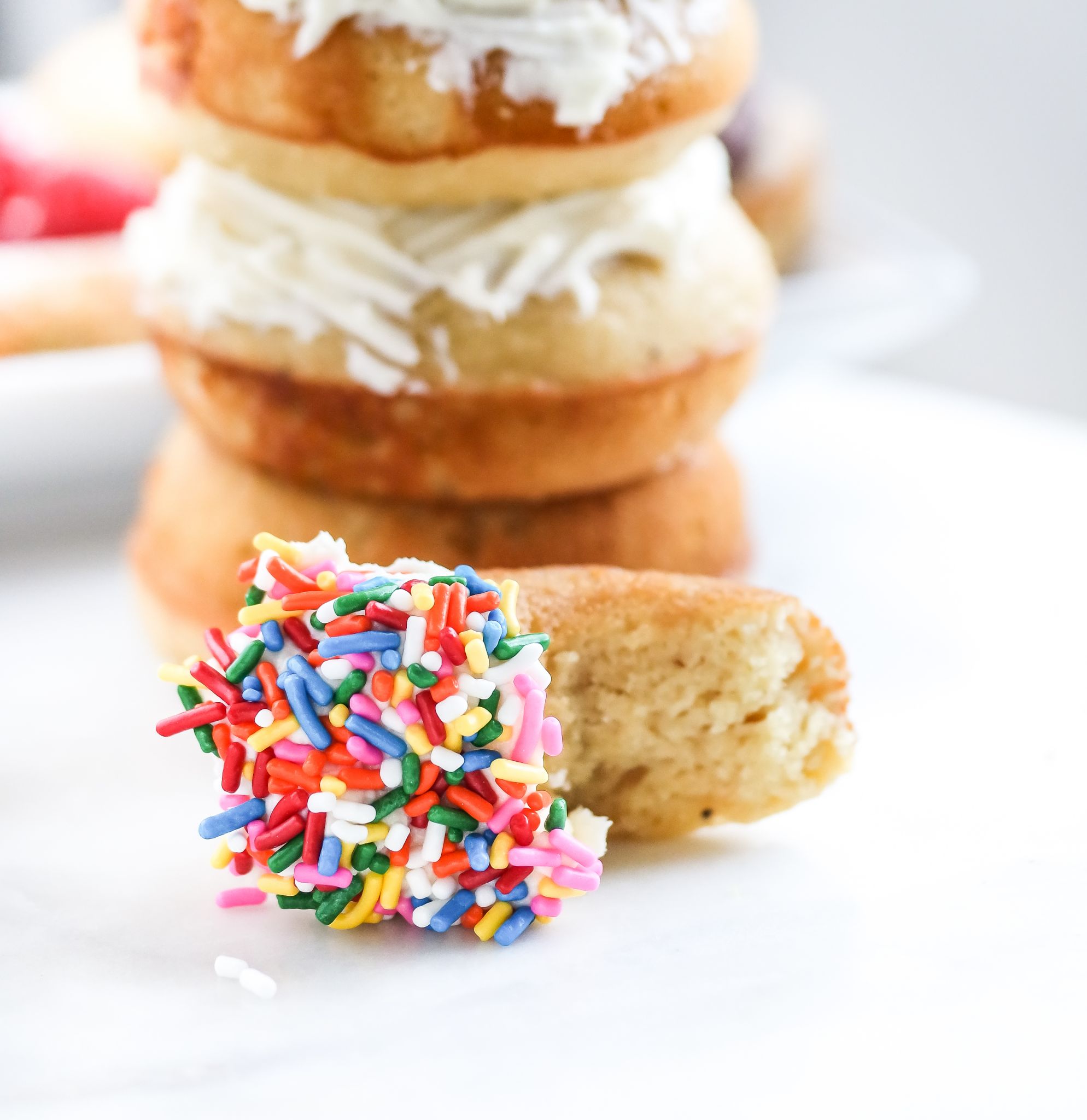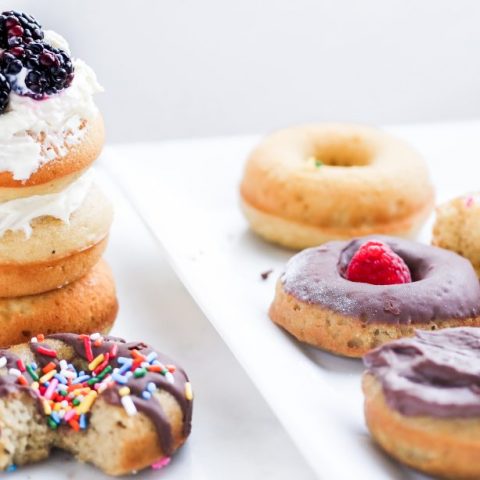 Low Carb Baked Yeast Donuts
Delicious and yeasty donuts that are baked NOT fried!
Ingredients
FOR A DENSE DONUT
2 tbsp Coconut Oil melted
2 eggs room temperature
1/4 c. Cashew Milk or other non-dairy milk
1 tbsp Warm Water
1 cup Almond Flour
1 tbsp Psyllium Husk Powder
1/2 cup Truvia Brown Sugar Blend
2 tsp Dry Active Yeast
For A Bigger, full donut
2 cups Almond Flour
1/4 cup Truvia Brown Sugar Blend
1/2 tsp Baking Powder
2 tbsp Psyllium Husk Powder
2 tsp Dry Active Yeast
1 tbsp Coconut Oil melted
2 eggs room temperature
1/2 cup Cashew Milk
1 tbsp Warm Water
Instructions
Preheat oven to 350 and coat a donut pan with nonstick spray.
Mix your dry ingredients together until combined and set aside.
Once your wet ingredients are warmed to room temperature, beat until frothy.
Add half of the dry mixture to the wet and mix well with a hand mixer or stand mixer. Add the rest of the dry mix, the batter will be wet.
Scoop into donut pan until the batter is nearly covering the "hole" area. You should fill 5 to 6 cavities of the donut pan and allow to rest (covered with a clean towel) for up to 30 minutes for the yeast to activate.
Bake for 15 minutes and allow to cool before removing. Top with cream cheese icing or powdered Swerve.
Store in an airtight container for 1-2 days. Cream cheese items should be refrigerated.
AS PROMISED,
the alternate recipe for those of you who can't get your mitts on the husk powder. The method is the same, only the wet ingredients include cream cheese.
WET:
1/2 block softened cream cheese + 2 eggs + 1/8 c. non-dairy milk and yeast mixture
DRY:
2 c. Almond Flour + 1/2 c. Truvia Brown Sugar Blend + 1/2 tsp Baking Powder +  1 tsp Xanthan Gum (which you can omit but it helps the texture)