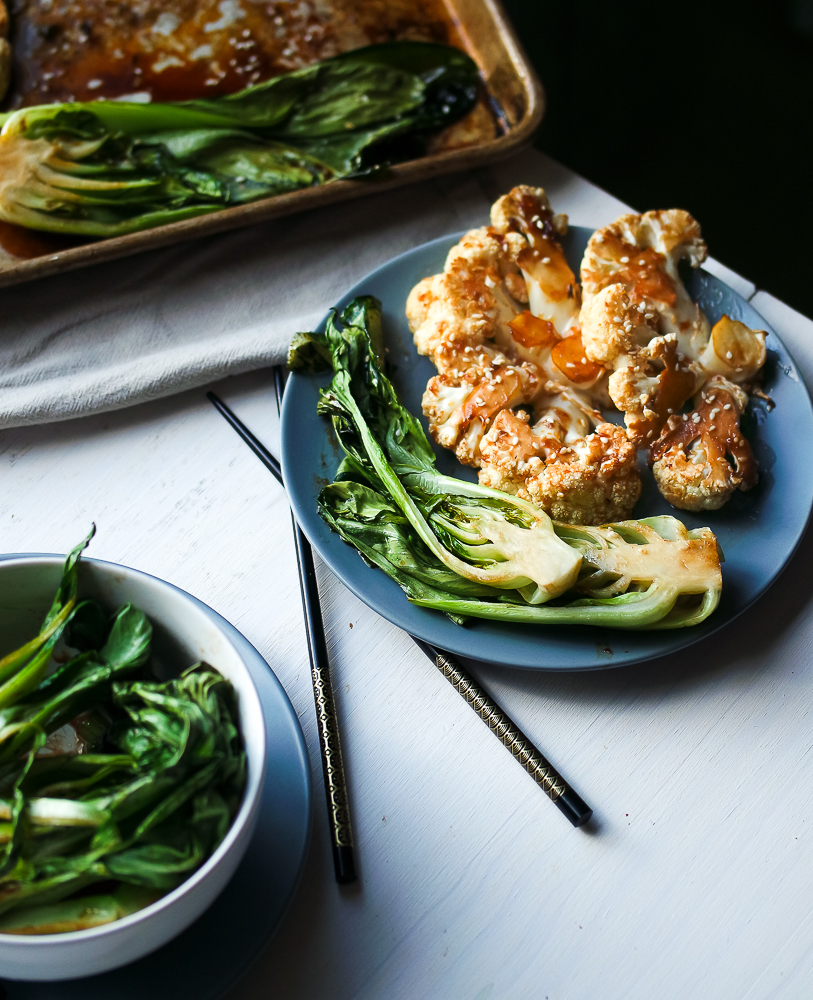 SO sometimes I can be guilty of the replay.
You know, you revisit something over and over and over because it's comfortable and familiar but you never really end up experiencing anything new. The same clothes, the same restaurants, the same dates, all on replay until something breaks or they DISCONTINUE ARCTIC ZERO AT MEIJER. That's a whole different rant. And then you are left comfortless with a pint of disappointment and you decided to do something about it. You try something new.
What the bok?
As I've been breaking down comfy barriers I've decided to play with my food and my photography. New plates and darker, more dynamic angles to frame some exciting new ingredients. Bok Choy was something I've been dying to fiddle with because it's so damn beautiful and it's pretty low on the carb scale. Most of the recipes out there are soup or stir fry so why not break the mold and roast those babies?!?!
The result is a crispy leaf and a flavorful, soft bulb of what I would compare to cabbage but more mild. OH, and then there's some low carb teriyaki that I smothered some cauliflower in. On a whim no less!
Totally vegetarian. Totally low carb, totally vegan. Totally awesome.
Sesame Roasted Bok Choy & Teriyaki Cauliflower Steaks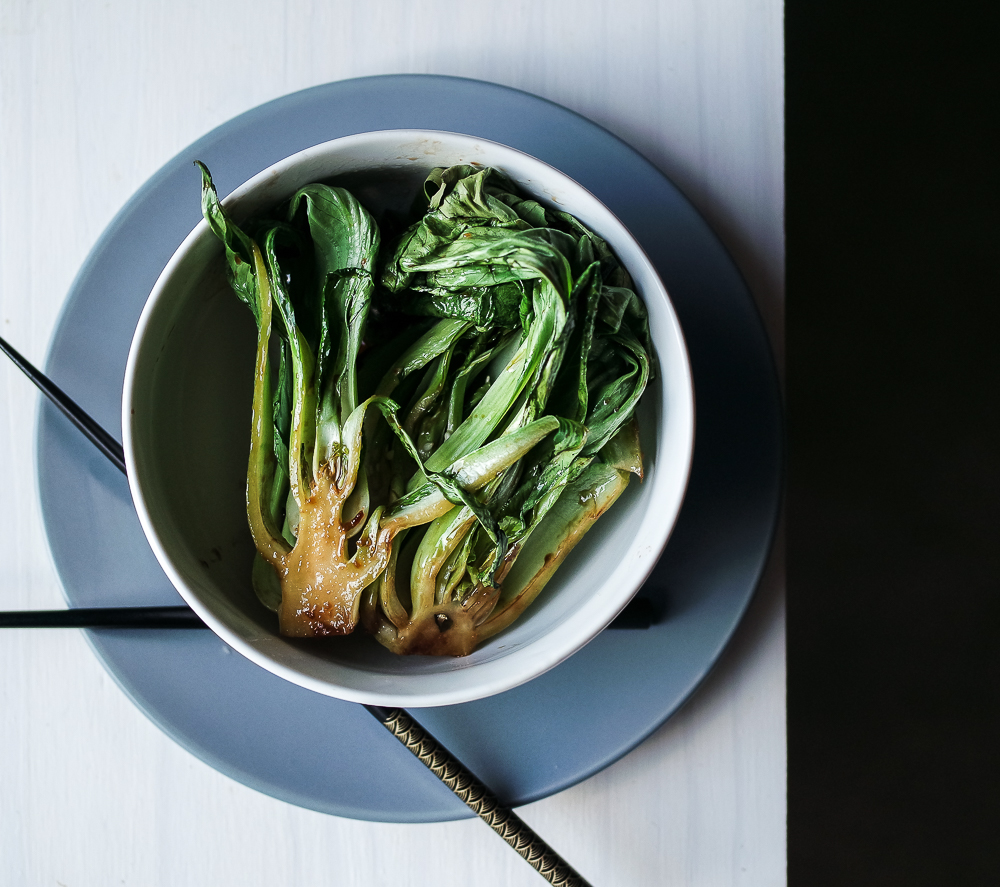 So here is the makings of this new and exciting dish. It's simple and healthy.
You're welcome.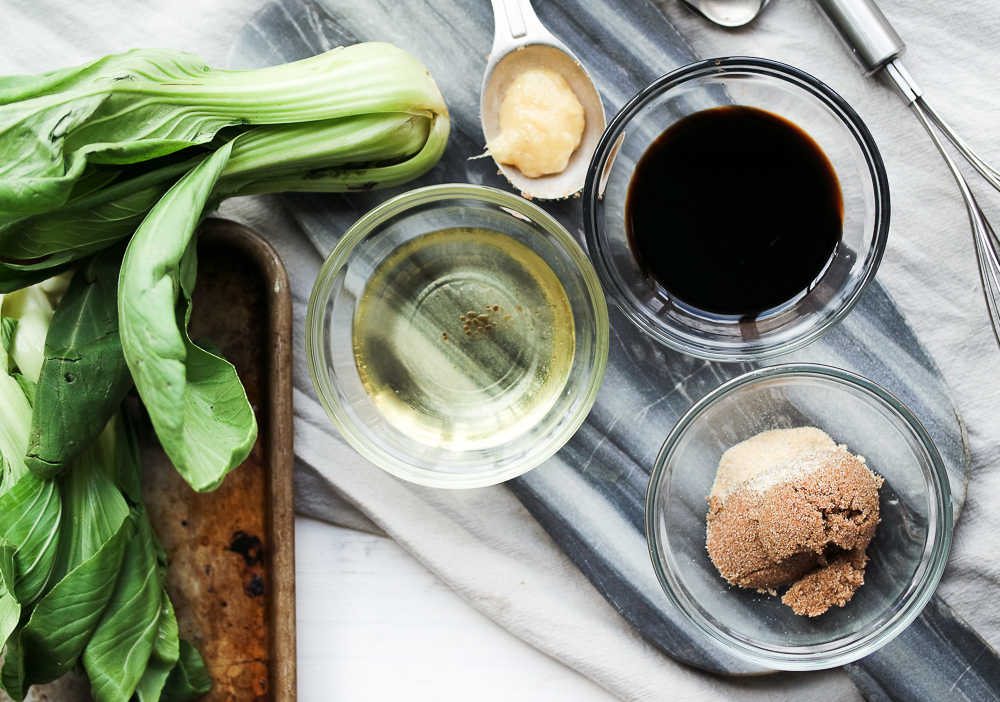 Why have I been so stuck on "the old" cabbage when new and totally doable Bok Choy was just waiting around to be loved?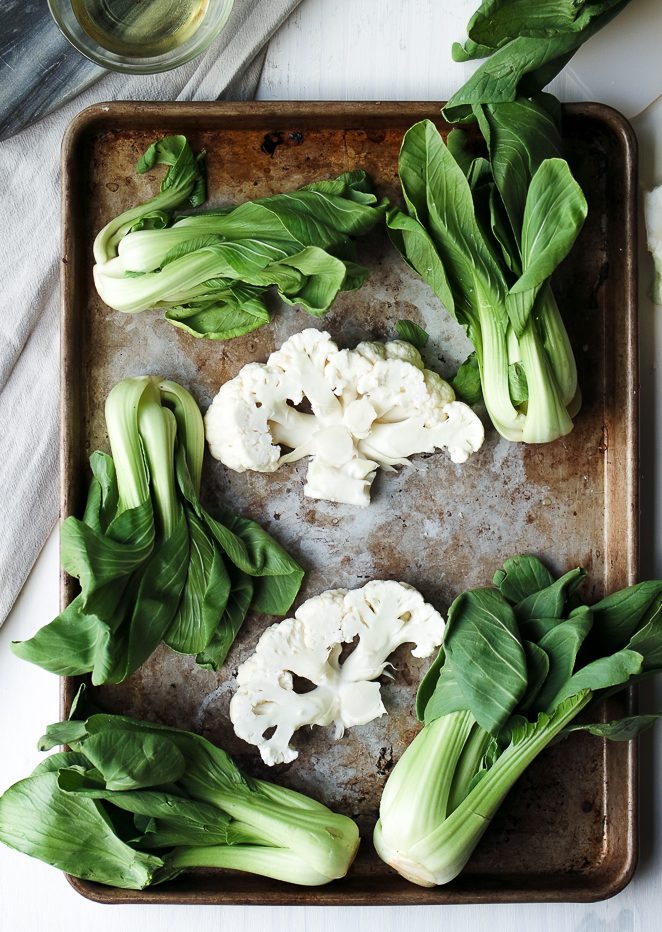 Plus it's fun to have new foods to put teriyaki on.
No more cauliflower florets. Cauliflower steaks are my new boo.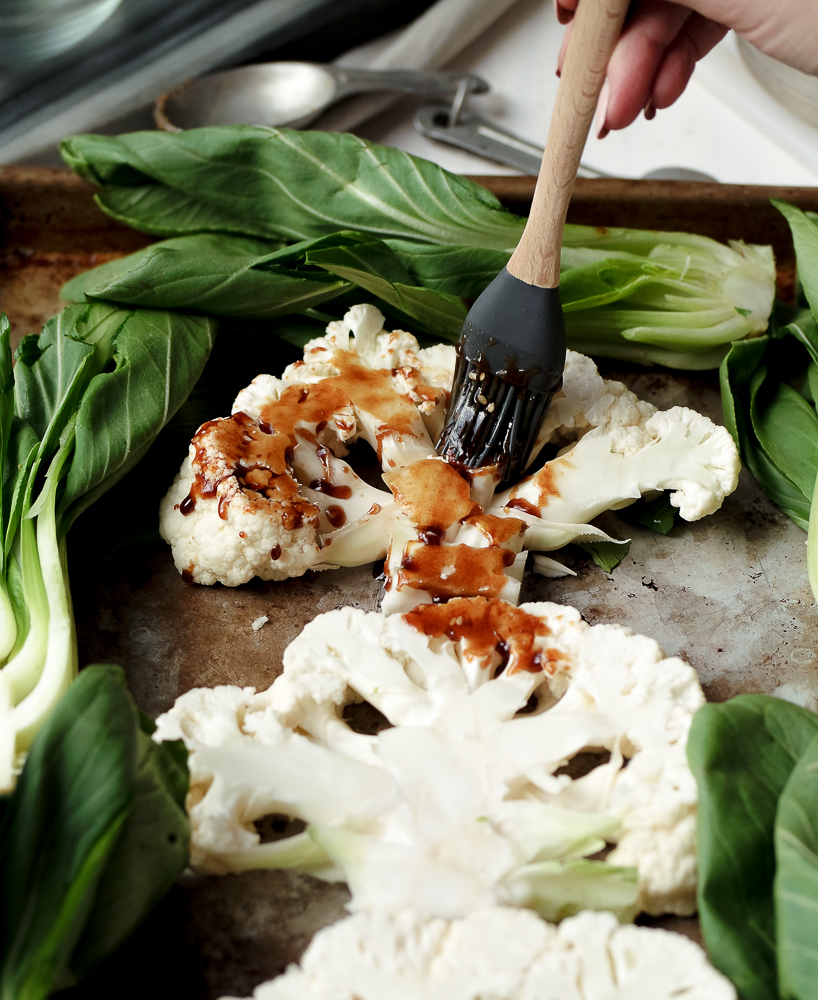 NOTE: Teriyaki Cauliflower is like doing your nails; it takes many layers.
Also, save some teriyaki for post baking.
Also x2, I didn't save any and was reduced to licking the bowl and scraping drippings from the roasting pan.
Also x3 , IT'S THAT GOOD.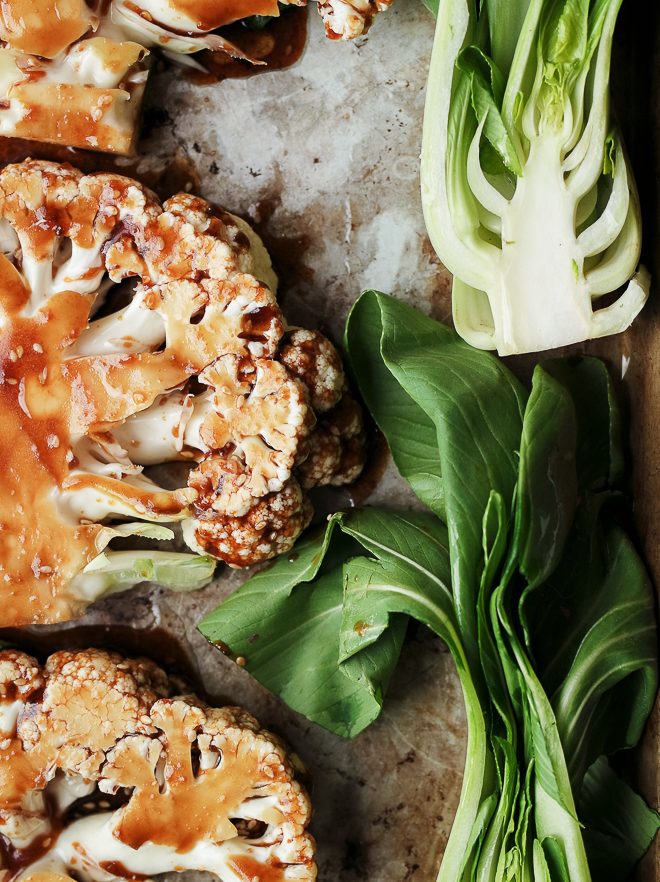 Once you slather that magic sauce into each nook n' cranny, roast for about 20-30 minutes.
The bok choy will roast a little quicker so if you don't like the leaves scorched, roast the cauliflower separately for about 10 minutes and then add the BOK to the oven to finish it out.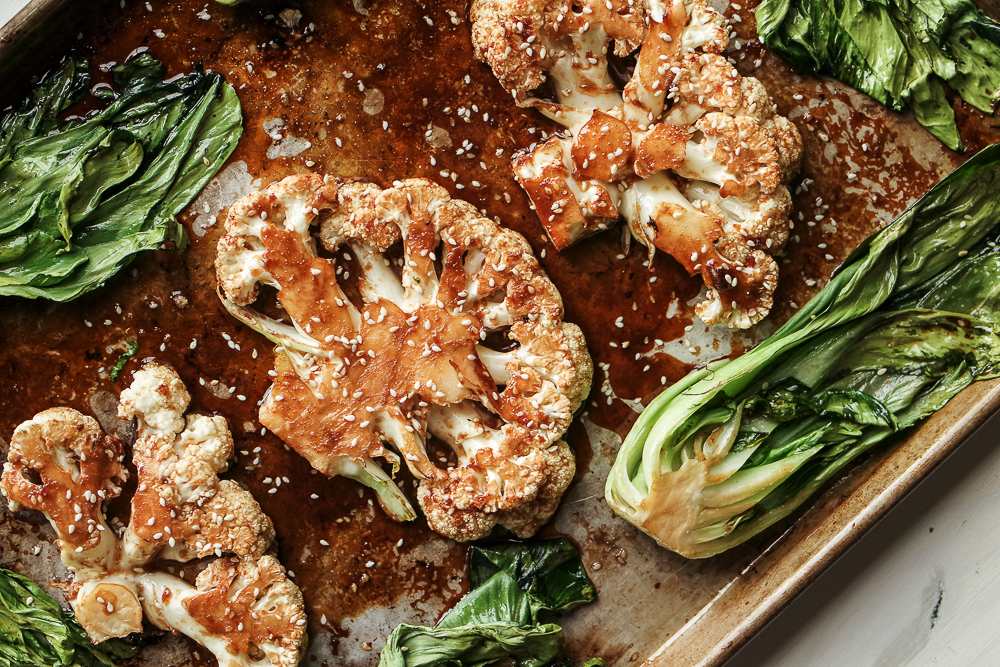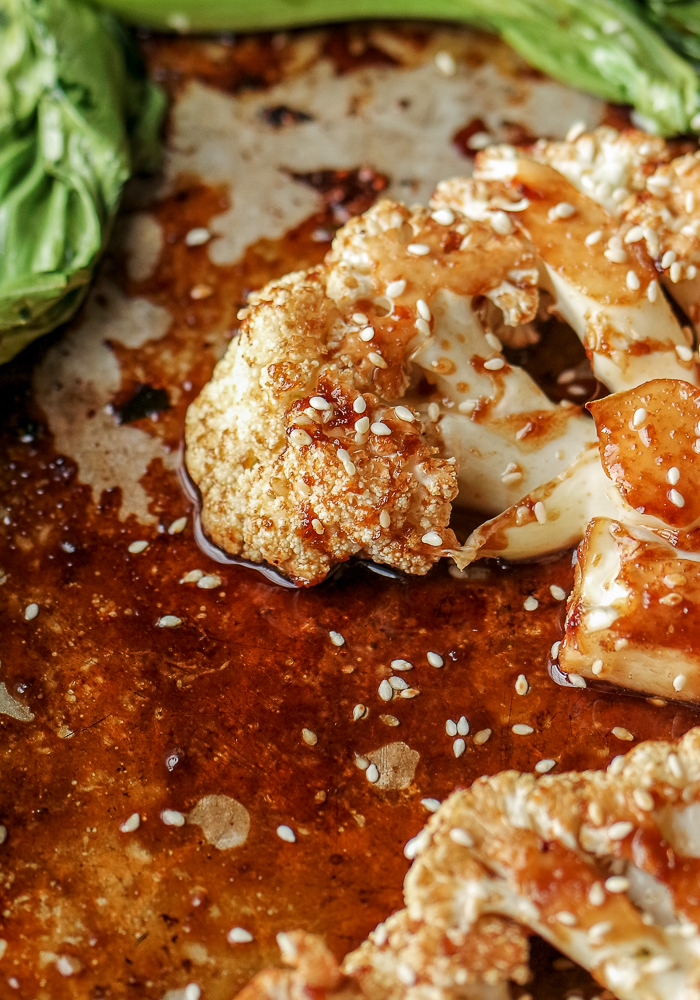 So fresh and so new! It's a whole new world!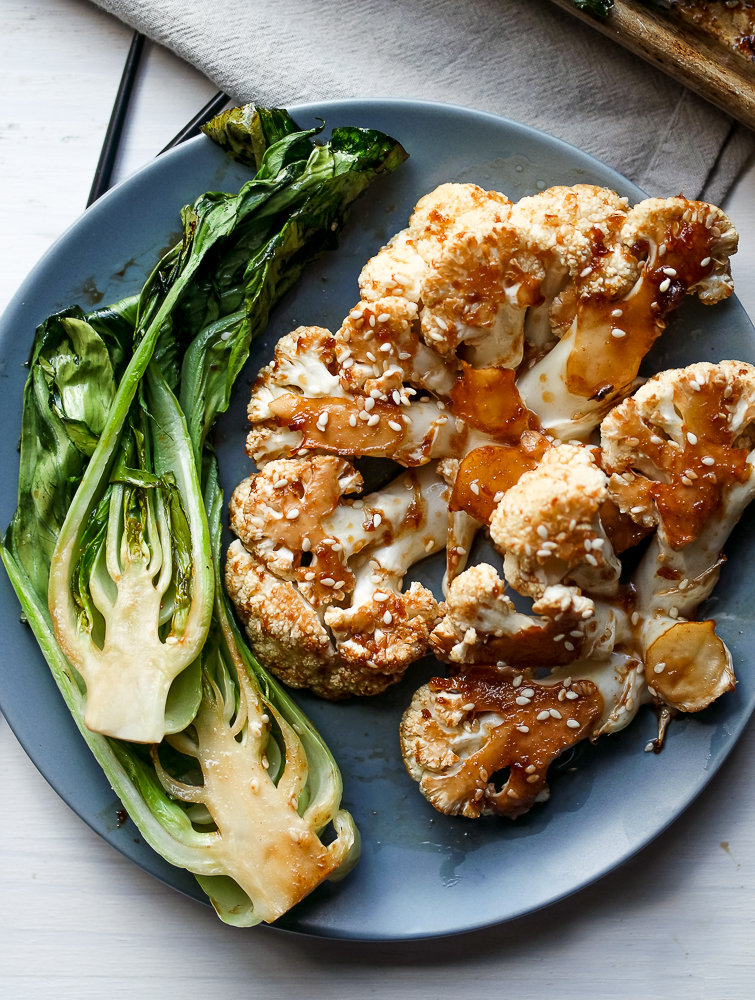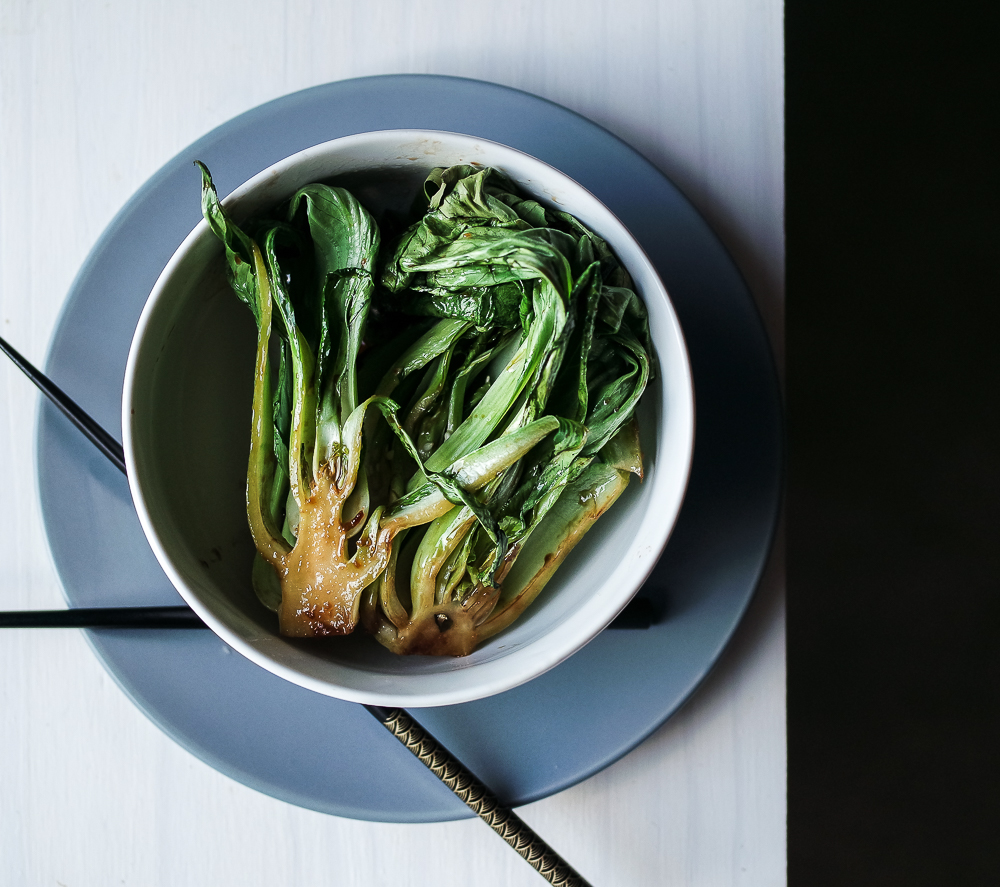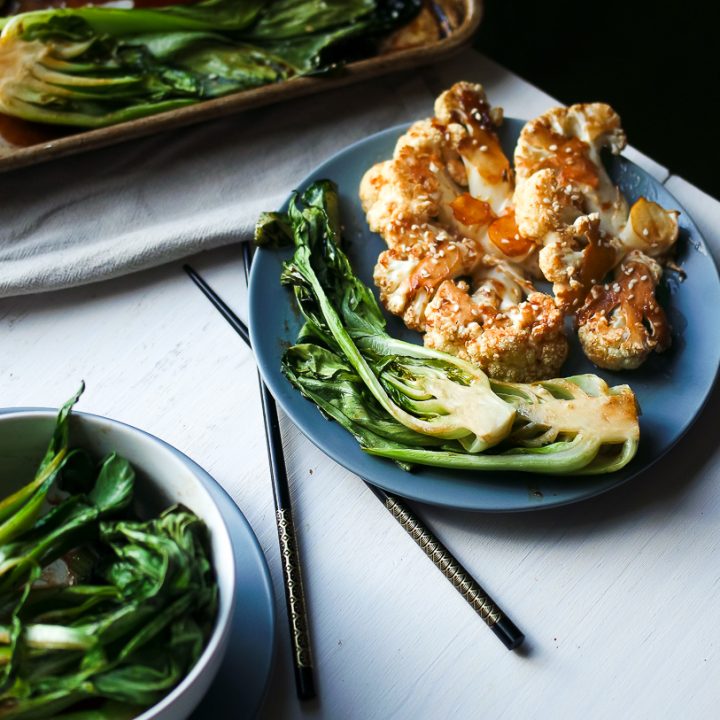 Sesame Roasted Bok Choy & Teriyaki Cauliflower Steaks
Crispy Bok Choy leaves with a soft, savory center pair great with the crispy roasted sweet teriyaki cauliflower! Make extra sauce because you'll want to double tip these!
Ingredients
3-4 Baby Bok Choy stalks
1/2 Head Cauliflower, sliced into steaks
1 cup Soy Sauce
1/2 cup Sesame Oil, plus more to drizzle on Bok Choy
2 tbsp Swerve Brown, or favorite calorie-free sweetener
1/2 tbsp Ginger, paste or fresh
1 tsp Garlic Powder
1 tsp Onion Powder
1 tsp Toasted Sesame Seeds, plus more to garnish
Instructions
Heat oven to 400.
To make the teriyaki sauce, whisk the wet and dry ingredients together on medium heat and bring to a simmer. Reduce heat to low and stir occasionally until sauce begins to thicken. Set aside and prepare the vegetables.
Wash bok choy leaves thoroughly and slice each stalk in half, lengthwise. Drizzle with sesame oil and sprinkle with sea salt making sure to lightly coat each leaf. Baste the cauliflower steaks with the sauce and arrange on the cookie sheet. Roast for ten minutes.
Add the bok choy to the roasting pan and return to the oven for 10-15 minutes. Garnish with sesame seeds.
What is your food comfort zone and how you plan to bust out of it?!