The softest, most dense, and flavorful brownie experience you can have while being totally gluten-free and sugar-less.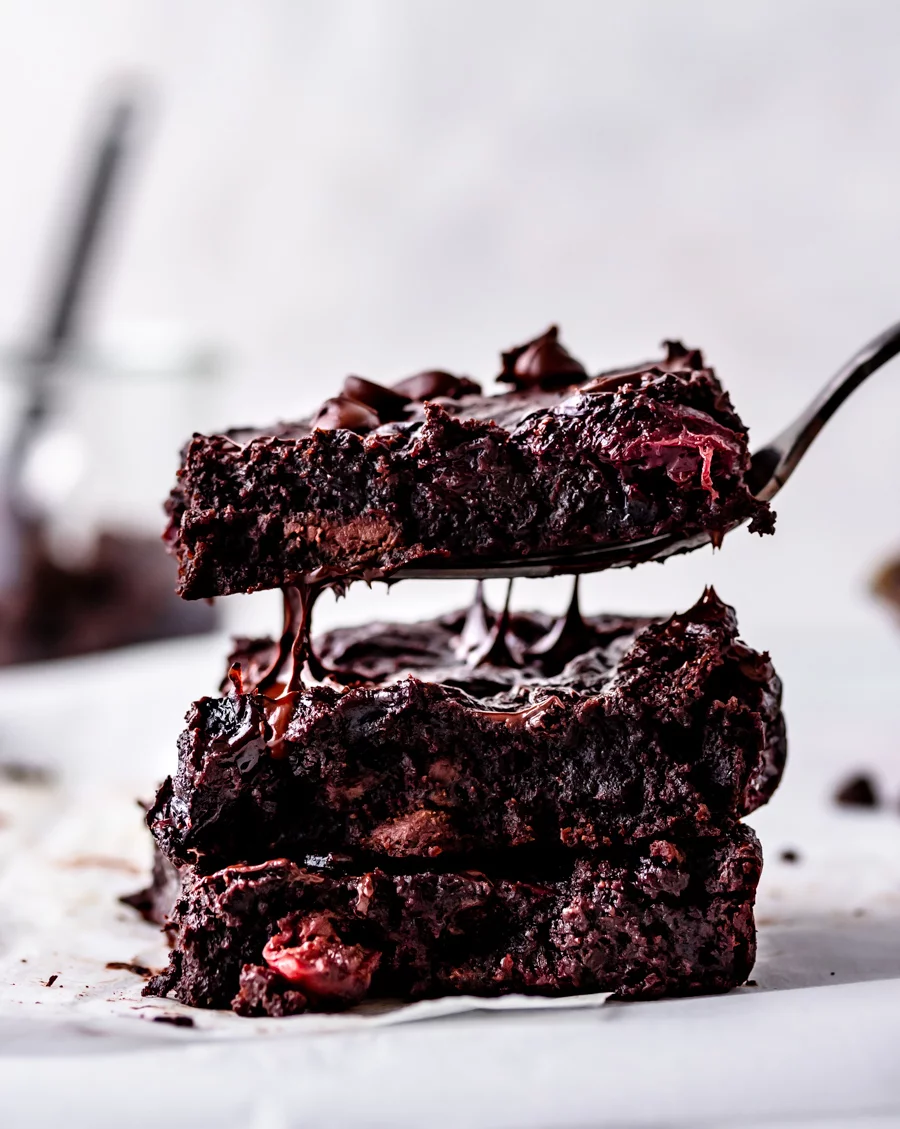 Cherry Bomb (shell) Brownies
Or as I like to call them—the only brownies I'll ever make again.
No exceptions! Even if I have to drive to Traverse City, Michigan because there's a freak cherry shortage causing all cherry shipments to be halted. THAT is how serious I am about these brownies.
I would literally go BACK to Michigan (my home state) to plunder the cherry capital of the world. So basically, they are amazing.
Cherry Brownie Basics
Honestly, I'm embarrassed at what I used to pass off as a brownie recipe. Small squares of chocolate trash in comparison to this friggin dream-brownie recipe.
It has all of the ingredients of my previously favorite fudgy brownie recipe, but because of the magical properties of cherries, we have achieved a higher level of fudginess that cannot be denied.
A brownie nirvana, if you will.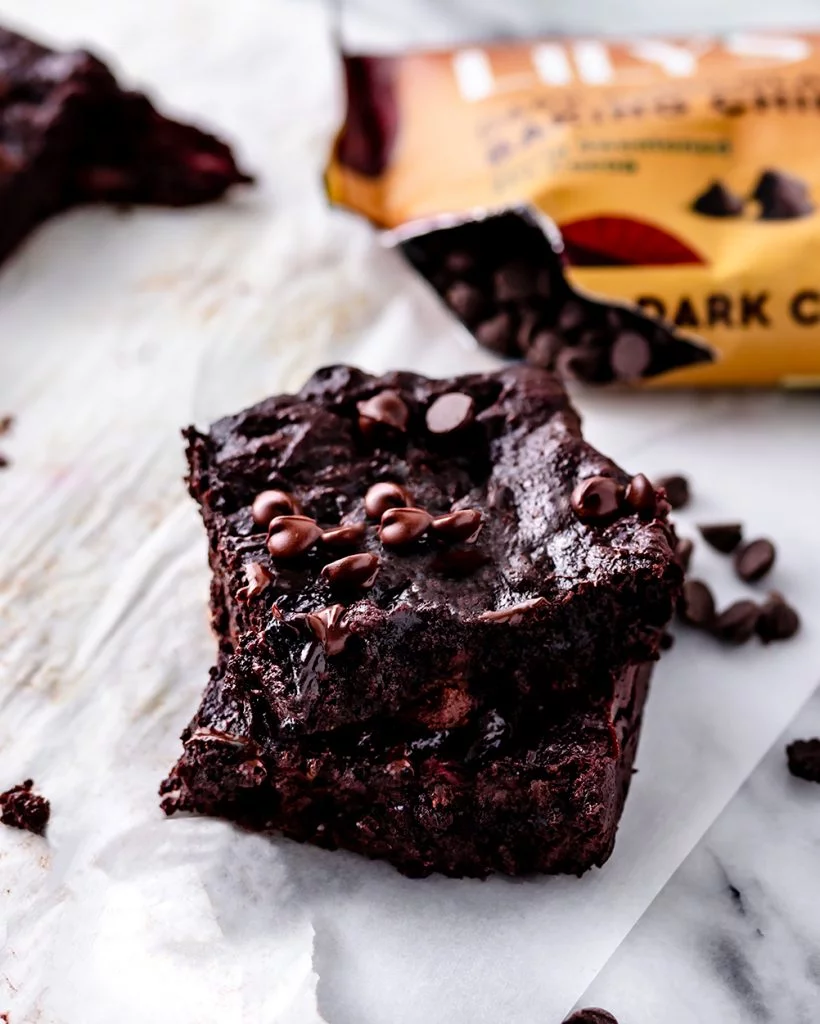 Batter Habits
Mixing batter for gluten-free desserts isn't like mixing batter for wheat flour desserts. You don't have to worry about overmixing, or the order of ingredients, or getting e.coli from eating raw batter. It's just almonds!
I don't worry about raw eggs. If they're good enough for Rocky, they're good enough for me.
As you can see these are a thing of raw beauty from start to finish.
Bake them and they just keep getting hotter. But in like a sexy way, not just temperature-wise.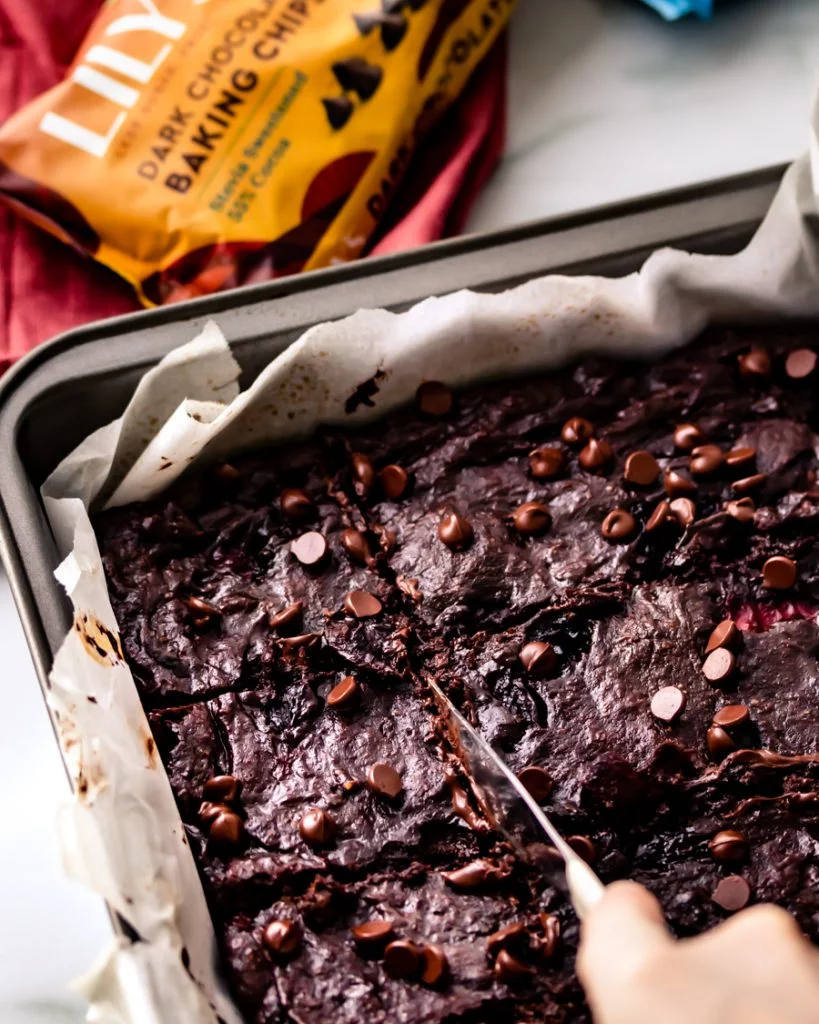 Can you even believe the consistency of these brownies? And the GIRTH? I hate to say it, but you may have to share a few because this batch is fulllll.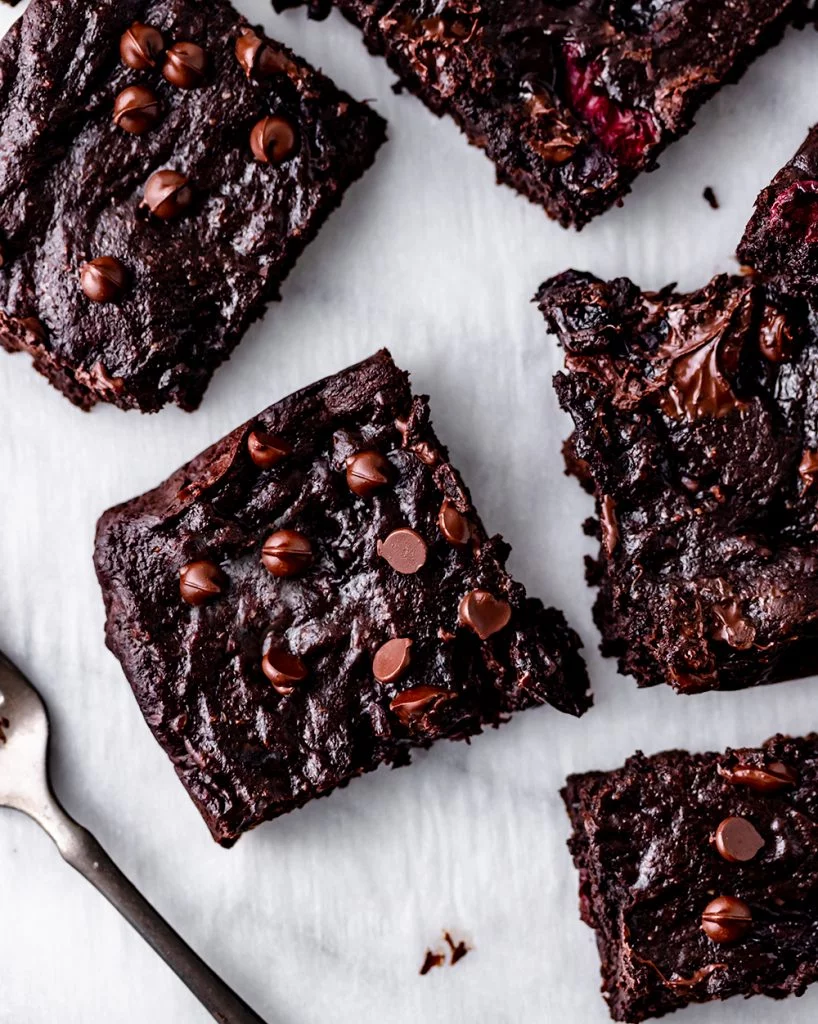 In summation, I hope I've persuaded you to disavow all other brownie varieties and pledge allegiance to the magnificence that is the Cherry Chocolate Brownie.
If not, here's a photo that should seal the deal…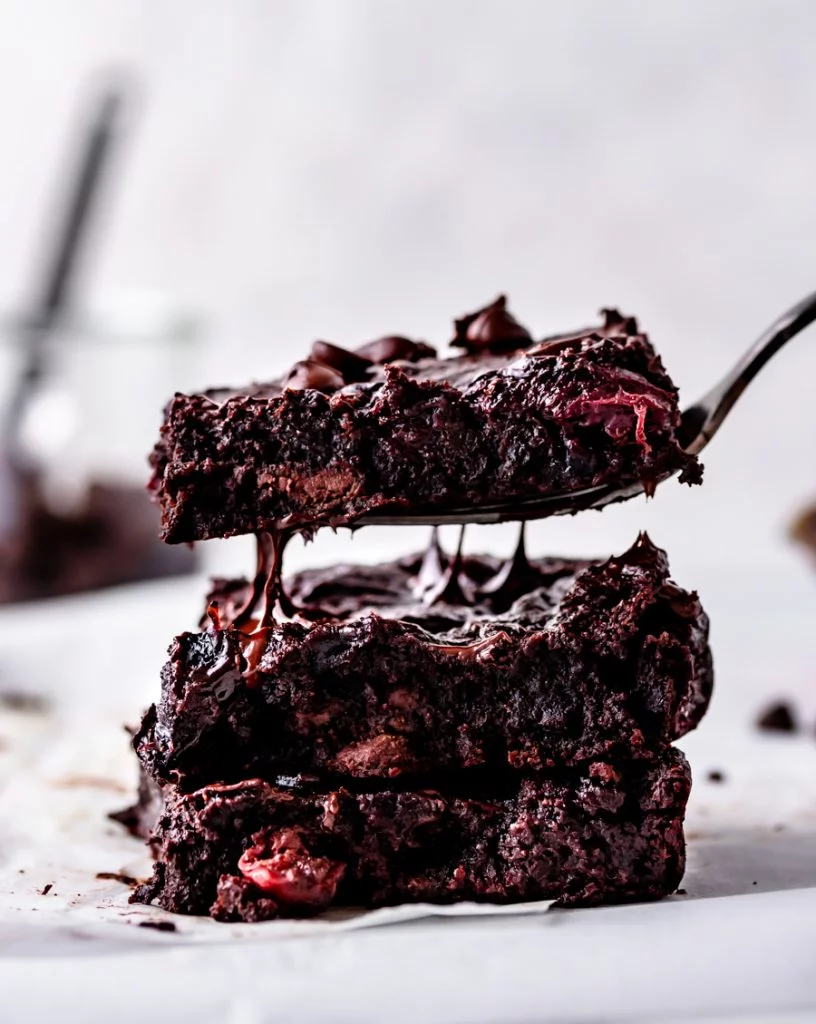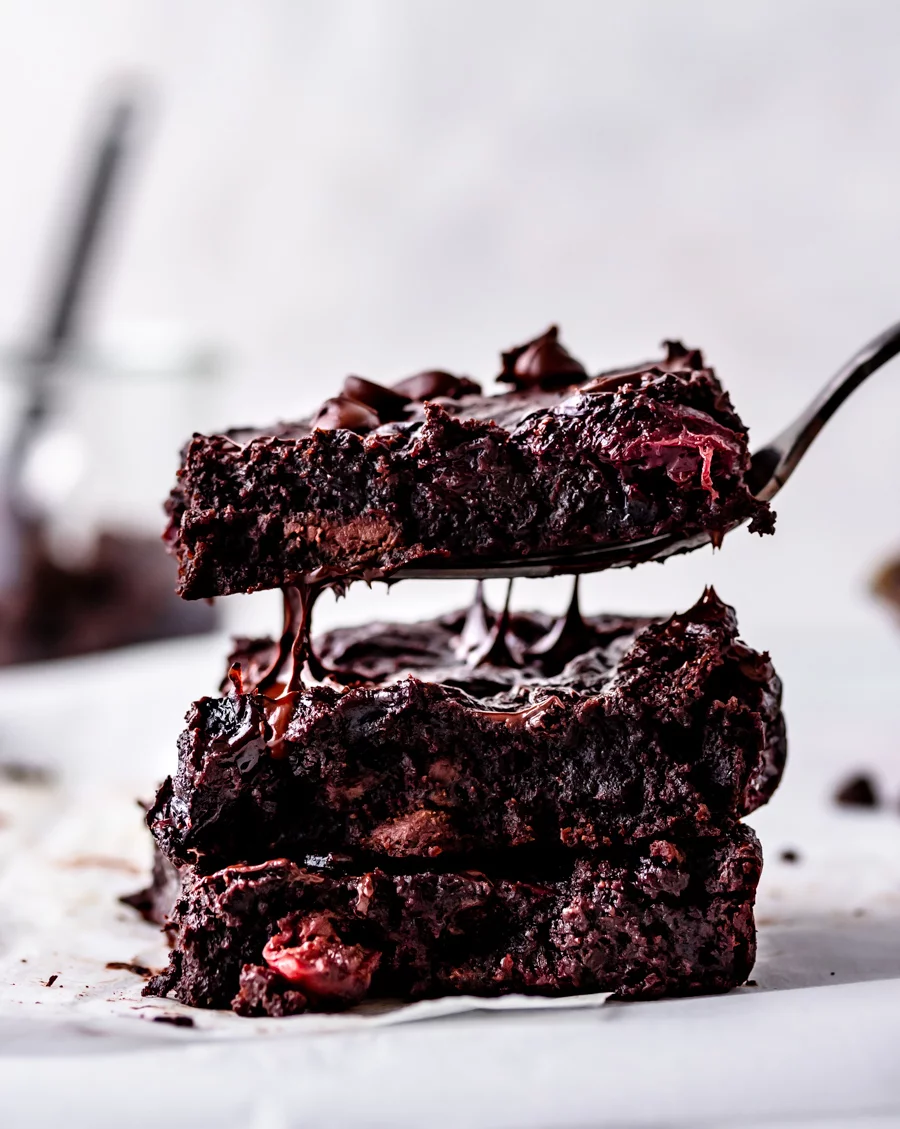 😁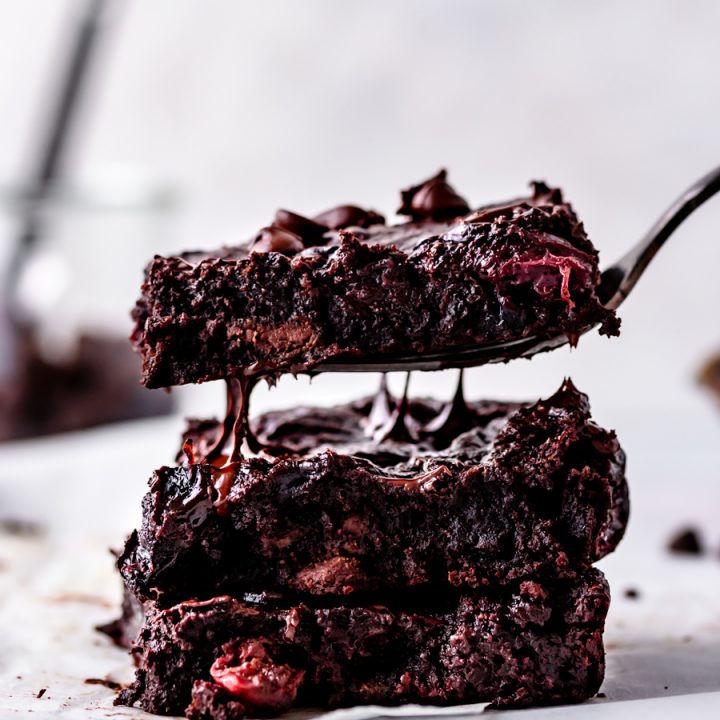 The Best keto Cherry Chocolate Brownies
The best and fudgiest keto brownies ever...plus they have cherries in 'em.
Instructions
Heat oven to 350°F and line an 8x8 baking pan with parchment. Crack the two eggs in a bowl to let them get closer to room temp and set your cherries out to thaw.
Melt the butter in a microwave for 25 seconds in a glass bowl. Add the chocolate chips to the hot butter and stir until all of the chips are melted. Set aside.
Whisk together the almond flour, cocoa powder, sweetener (allulose or erythritol), ground flax, xanthan gum, and a pinch of salt.
Beat in the eggs with a fork or a hand mixer until combined. Pour in the warm chocolate-butter mixture and stir. The batter will become very thick.
Make sure your cherries are mostly drained of any excess liquid and slice each in half. Fold in the cherries and additional chocolate chips (if using) and spread into the prepared pan.
Bake for 17-20 minutes and check for browning at the edges. The brownies are done when the center is still soft but doesn't jiggle.
Remove from the oven and, if you are fancy, sprinkle a handful more of chocolate chips and let them melt. Slice and enjoy!
IF you decide to put these in the fridge (I never do) they will get really firm since butter and chocolate are firm up when cold. Just let them return to room temp or microwave them to get the soft fudgy texture back!
Notes
Sweetener: The best keto sweetener for soft brownies is Allulose! But don't let that keep you from making these brownies. To substitute other sweeteners, just remember they do not swap equally! Erythritol is sweeter, therefore you use about 1/4 less.
Nutrition Information
Yield

12 brownies
Serving Size

1 large brownie
Amount Per Serving
Calories

168
Total Fat

14g
Carbohydrates

12g
Net Carbohydrates

5g
Fiber

7g
Protein

4g