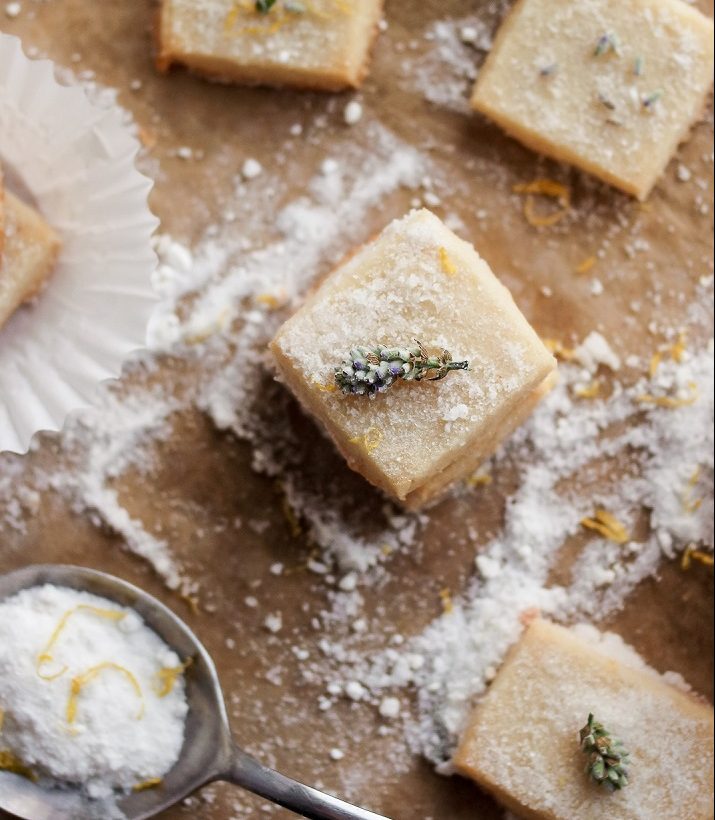 I read an article last week…
And by an article I mean I saw a meme from BuzzFeed on the internet. It was about bloggers and how they post a bunch of boring details about their lives before they (so kindly) let you read their recipe.
And then I burst into flames. Wait, sorry. I read the comments, THEN I burst into flames.
I'm not going to defend bloggers because I know we are all, on some level, irritating. The thing is, we also spend a ton of time, money, and other resources to create this CONTENT for the world for free. Which is great! And I love doing it. But it also makes you wonder if people care about you or your desire to help them on their health journey, and that part sucks.  
The End. 
Lavender Shortbread with Lavender Lemon Sugar
High Fat – Low Carb – Probably Some Protein – Definitely Fancy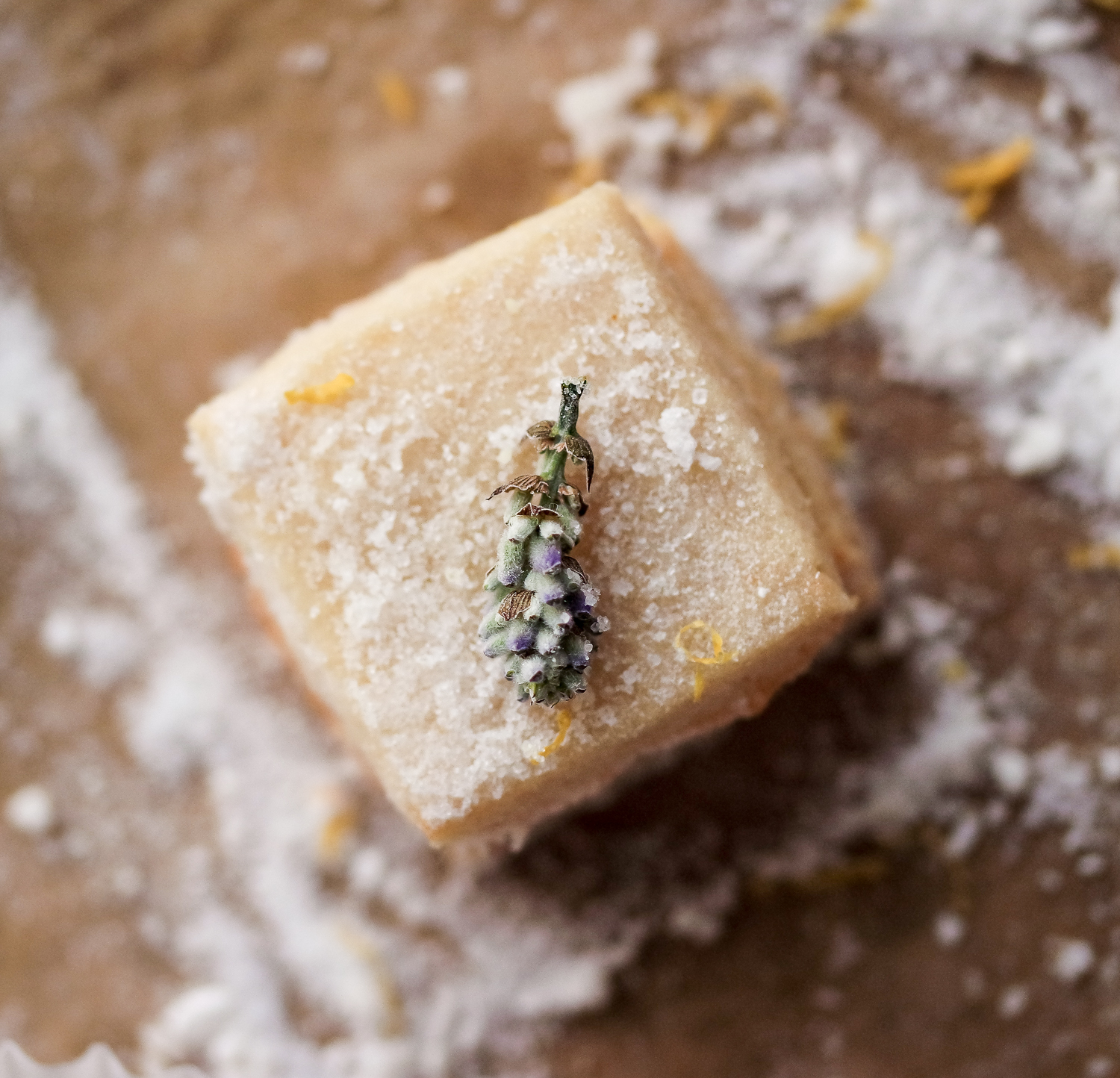 OK, the wordy portion.
So fresh lavender. It's tough to acquire.
Luckily, I have an herb dealer who gets me the special greenery I need.
It's a friend of a friend of my mail carrying mother who meets all of the most interesting folks. I also have the coolest doily coaster in the office from a different gift contributor.
Thanks, mom and kind folks on her mail route.
LAVENDER ↓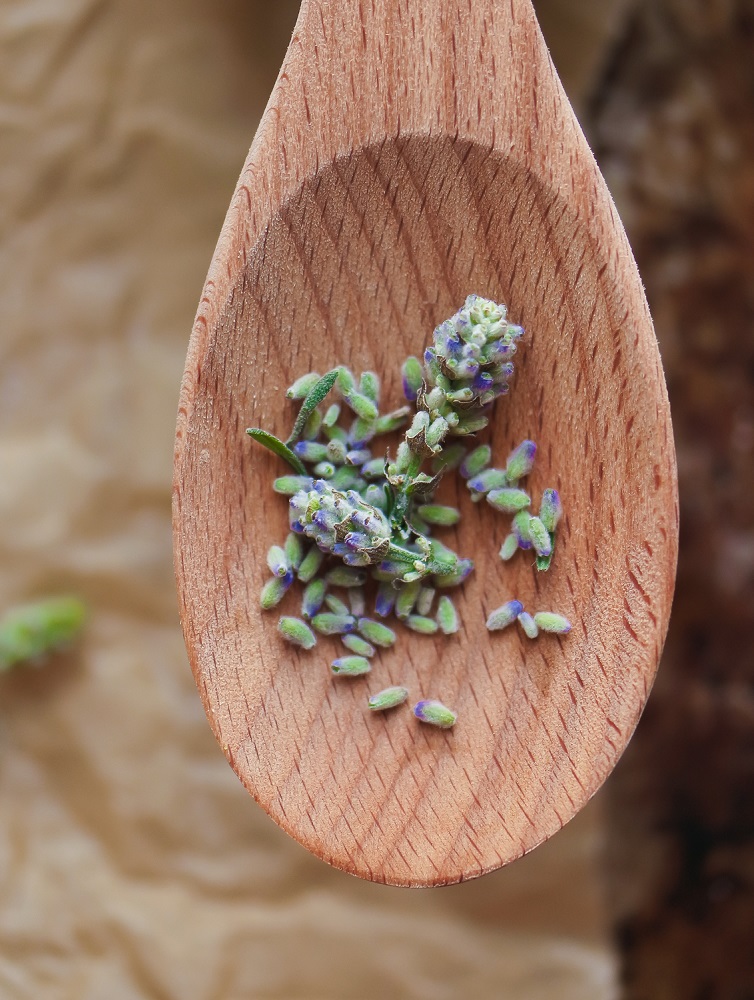 If you want to impress someone with your baking skills (keto or nah) MAKE THESE.
And garnish with LAVENDER LEMON SUGAR.
I'm yelling because it's the culinary equivalent to Vodka infused whipped cream.
Pure MAGIC.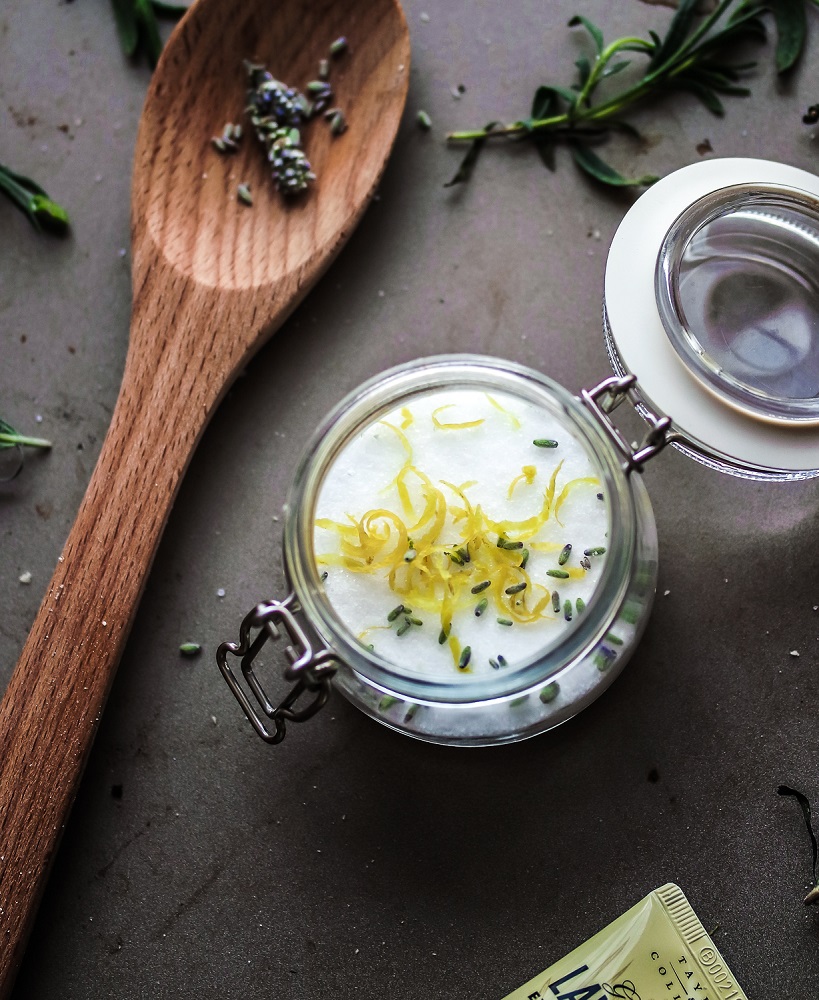 LAVENDER Sugar &/or LEMON Sugar is must and it's beyond easy.
Whirl some sweetener (this is no carbs) with lavender and/or lemon in a coffee grinder.
Now you have confectioner's sugar. OR…
Mix it with more granulated stuff for perfect sprinklin'.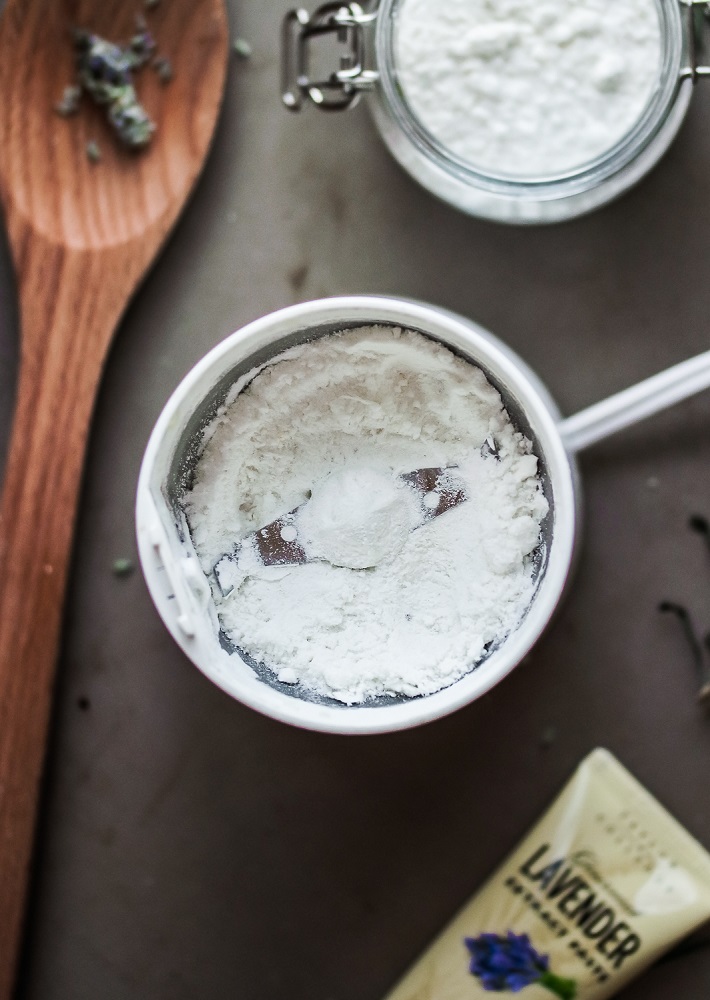 Now you make a dough that is 3 ingredients and you roll it out nice and pretty and pop it in the fridge.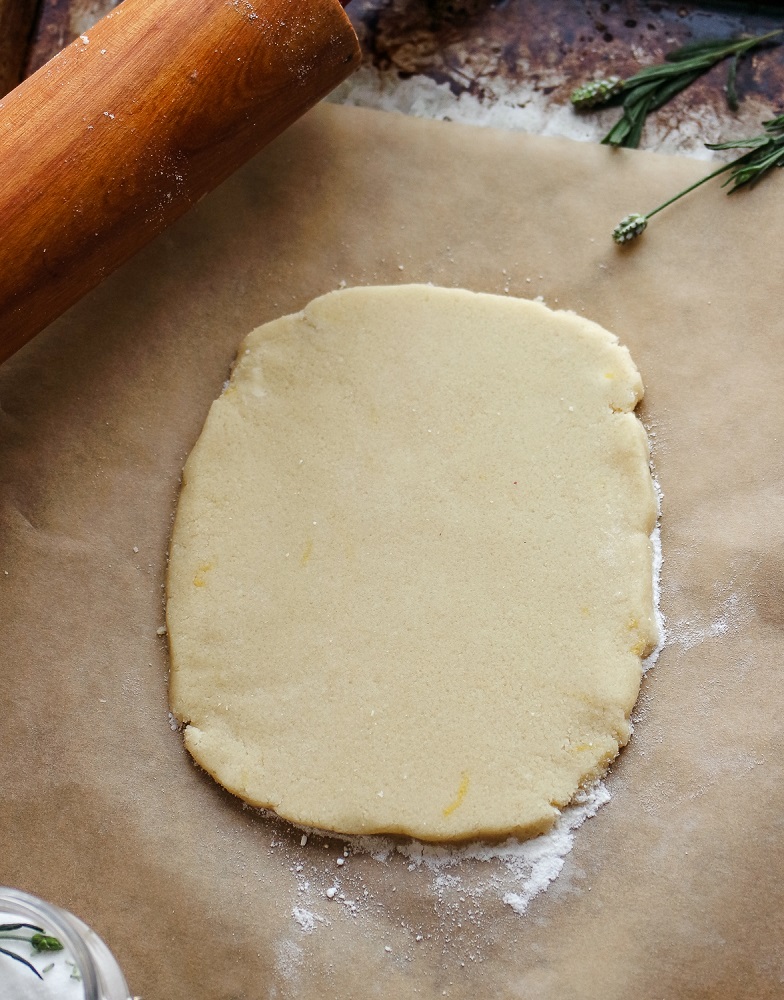 Cool. Slice. Bake. Decorate.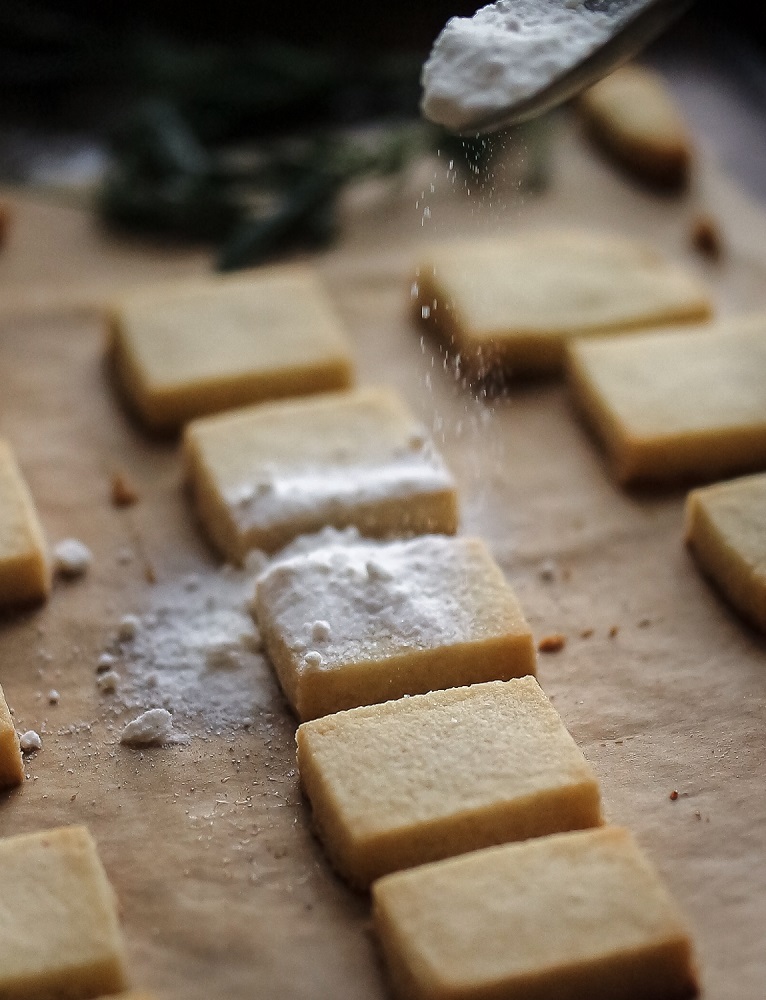 You know that I'm a sucker for sugar sprinkle shots.
Not sorry.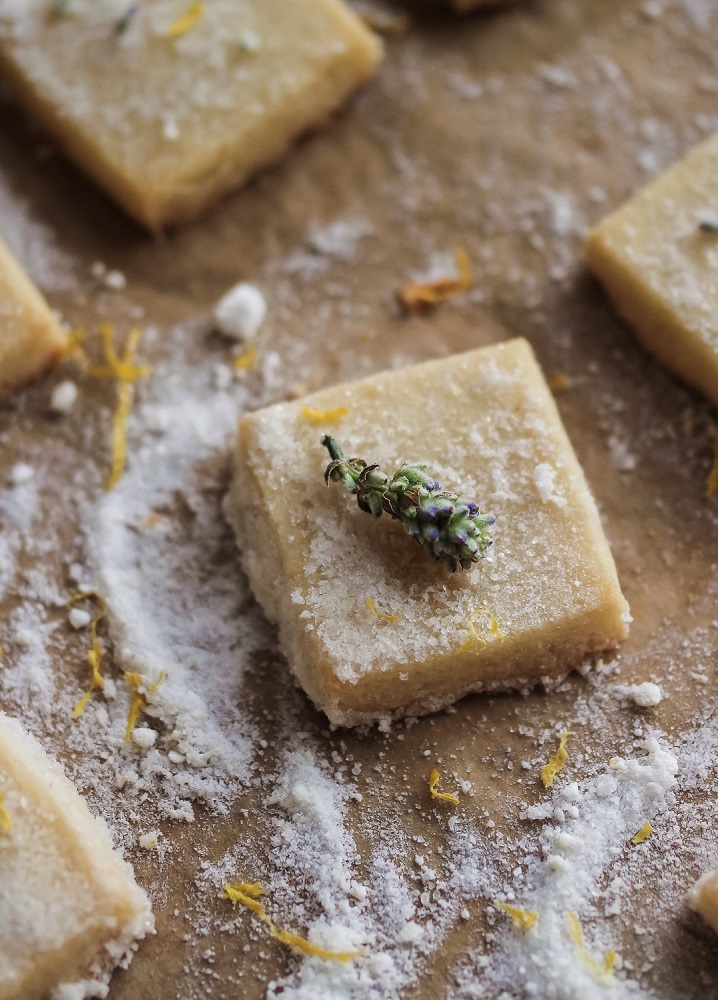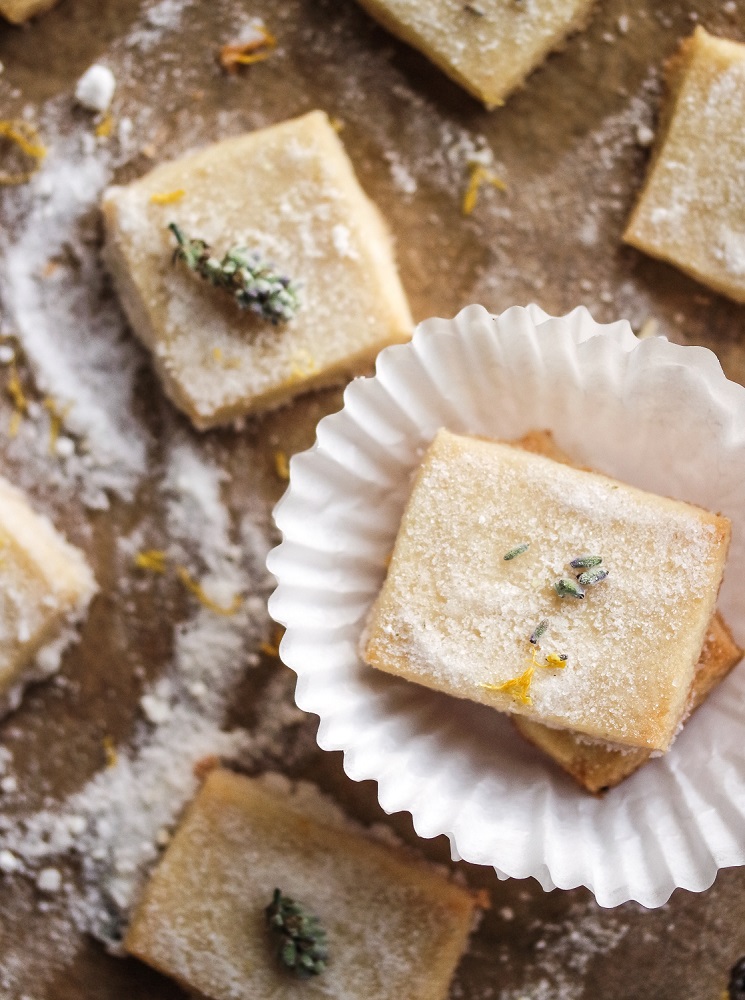 Lavender Shortbread with Lemon Sugar
Crisp, buttery lavender shortbread cookies with lavender lemon sugar. Serve with tea and a hint of superiority.
Ingredients
Cookie
1 cup Almond Flour (superfine)
3 tbsp Butter, softened but NOT warm
¼ cup Granulated Sweetener, I use Truvia no calorie sweetener
¼ tsp Lavender Extract or ½ tsp dried Lavender
1 tbsp Lemon Zest
Lemon Sugar
¼ cup Granulated no calorie sweetener
1 tbsp Lemon Zest
½ tsp Dried Lavender (optional)
Instructions
Heat oven to 350 and line a baking sheet with parchment.
In a large mixing bowl combine the cookie ingredients with a fork or pastry cutter. To get a dough-like consistency, the butter needs to be soft but still cool. Use your hands to knead it like bread dough. Don't over knead it or the butter will melt and you'll have a mess.
Roll the dough out into a ¼ in thickness and place in the fridge to cool for 15 min.
Make the lemon sugar by blending lemon zest and sugar in a coffee grinder. Add more lavender at this time if you want but remember that a little lavender goes a long way.
Remove dough from the fridge and slice into rectangles. Bake at 350 for 10 minutes.
Allow to cool before sprinkling with lemon sugar.
Nutrition Information
Serving size:
1
Calories:
67
Fat:
6
Carbohydrates:
4
Fiber:
1
Protein:
2