---
When breakfast and dessert love each other very much, they make a waffle ice-cream sandwich. 
---

The Dessert Waffle
Waffles are basically like dessert anyway, but we are making them 1000x better by removing the syrup and adding some carb-conscious ice cream. Genius, I know. And why not dip them in low carb chocolate and adorn them with chopped nuts while we are at it?
Yes. Let's. 
Why Do I Need A Recipe For This?
This waffle is good. It's great actually! But it's also pretty heavy and dense because we needed it to stand up to the task of holding ice cream. You could do this with any gluten-free/keto/normal waffle recipe, but I really liked this specific mix best.
Trust me.
Or don't! It's your waffle sandwich and I am not going to micromanage you.
Dark Chocolate Dipped Waffle Ice-Cream Sandwiches 
Like the name, this recipe is a mouthful!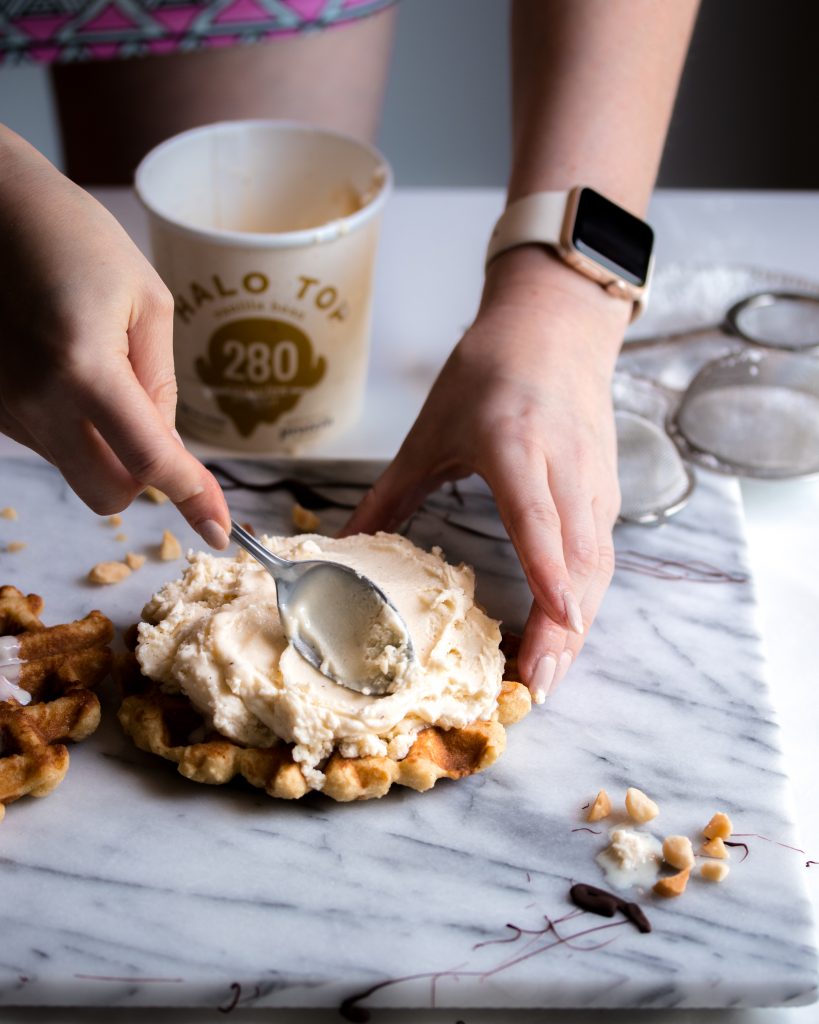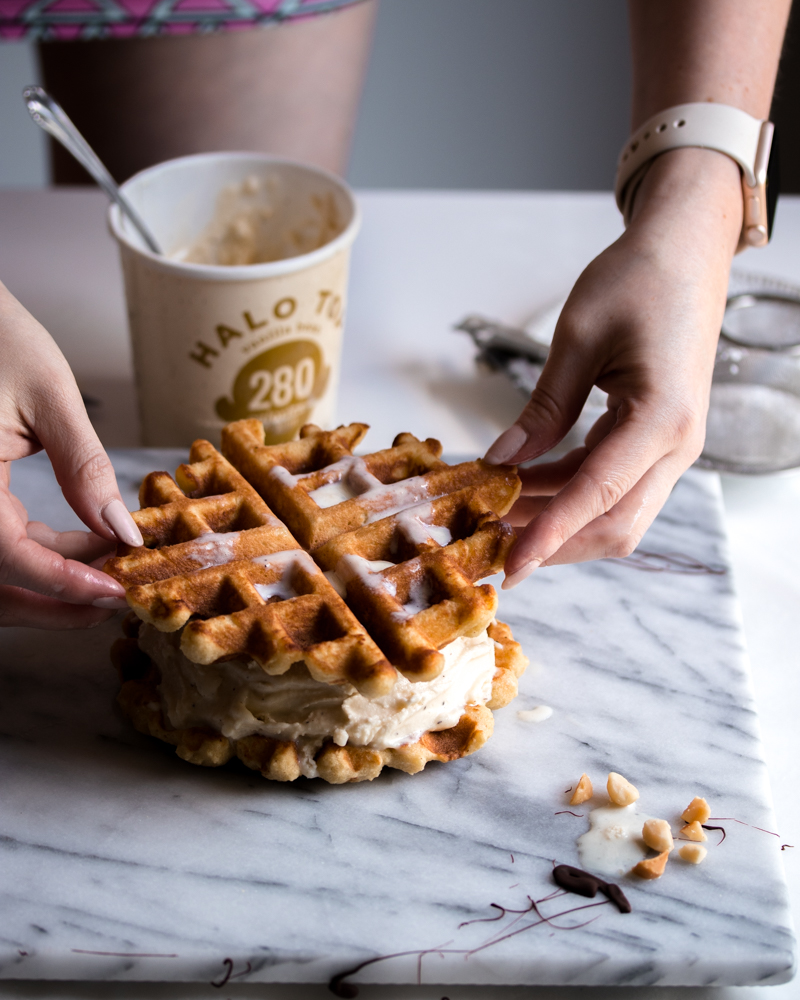 ---
Lookin' for a little cookie action instead? Check out my Keto Ice Cream Sandwich Cookie that is berry-licious.
---
Chocolate Dipped Waffle Ice Cream Sandwiches [Keto & Gluten Free]
Melty ice cream sandwiched between two gluten-free keto waffles and dipped in dark chocolate!
Author:
Inspector Gorgeous
Ingredients
Waffles
Assemble It
1 Pint Low Carb Ice Cream of Choice
4 oz Dark Chocolate + 1 tbsp Coconut oil
1 oz Chopped Macadamia Nuts
Instructions
Waffle
Beat the two eggs, vanilla, xanthan gum, and butter until frothy.
Gently mix in the flours, granulated sweetener, and a pinch of salt until a thick batter forms.
Turn your waffle iron to medium-high and coat with butter or non-stick spray.
Scoop half of the batter into the center of the waffle iron and cook for about 90 seconds. Repeat with the remaining batter.
To Assemble
Top one waffle with ice cream, about ¾ of 1 pint, and use a spoon to smooth out any uneven spots. Place the other waffle on top to make a sandwich and place in the freezer for 1 hour to firm.
In a small bowl, melt the coconut oil and dark chocolate together and set aside.
Slice the waffle into 4 pieces and dip the edge into melted chocolate. Sprinkle with nuts.