This was supposed to be the greatest Crockpot recipe ever made. I maybe overshot that goal.
In theory, the crock is a great idea. What an invention for the busy family or working mom on-the-go! 
Unfortunately, I am not a mom on-the-go. Quite the opposite actually. A not busy, non-mom, with only one (big) mouth to feed, which is my own. Knowing all of these facts about myself one would think I'd realize I don't need a crockpot. Yet still I fell prey to the seductive idea of another kitchen tool. 
I'm now the proud owner of a Crockpot. 
To be fair, I didn't purchase the pot. My dear mother gifted it after I had hemmed and hawed about getting one. Most of the women in my office love theirs. Some have multiples. Why wouldn't I want this magical cooking machine?!?! Heh. 
Crockpot vs Stockpot 
So my maiden voyage of the Crock is this soup that is a mixture between an herb soup I love and your basic Watercress Soup, only it's in a Crockpot so it's somehow much better. 
Here it is. Crockpot Version:
Very green and soupy. Tasty, yes. Visually pleasing? Eh. We'll talk later about how to make this crockpot version look more appealing.
And the Stockpot Version:
Gorgeous color. Look at those potatoes! Not a hint of green in that beautiful spud. No, you're right. Looks aren't everything. Vitamins are important, too.
Health Stats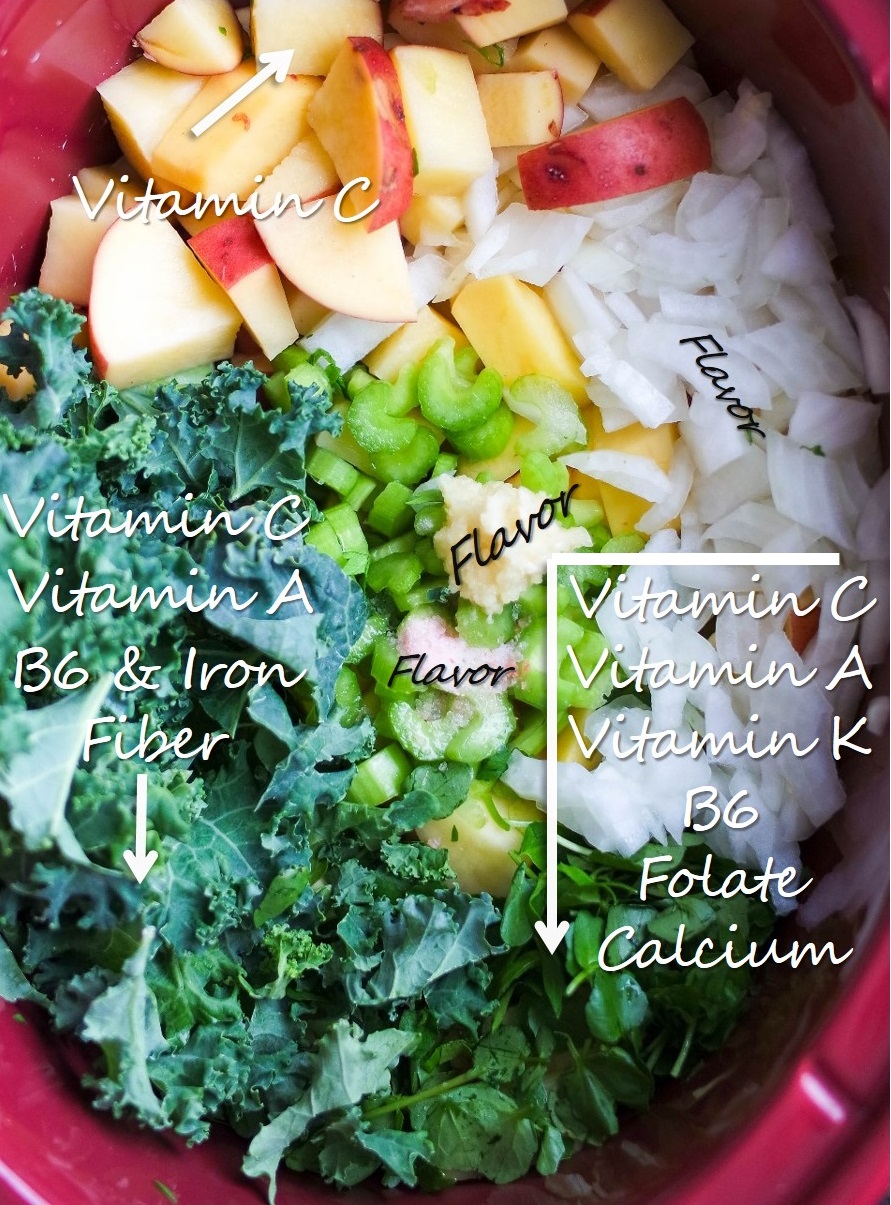 Now this soup is brimming with nutrients and is so light and brothy, you can just feel all of your bloat melting away. It's packed full of kale, which we all know is a super duper food. I mean, check out the bazillion health benefits from my friends at Healthline if you need proof… for instance, did you know Kale's components are most potent after the cooking process as opposed to raw? True!
Choose Your Method
It's actually very simple to make if you just put it in a big ol' pot and cook it on the stove so if you are cooking for two or want this in a hurry, I suggest you skip the Crockpot. 
If you want to start this in the a.m. or transport it to a potluck, the Crockpot is probably a better option because it's big and portable and super slow. Just don't add the herbs until 30 min before eatin' time. 
---
Kale and Watercress Soup
2 tbsp Olive Oil
4 Potatoes, peeled and cubed
2 stalks Celery, chopped
1/2 medium White Onion, diced (more if you love onion) 
4 cloves Garlic, crushed with 1 tsp pink salt (graphic below)
3 handfuls Kale, stems and vein removed
1/2 to 1 bunch Watercress, stems removed and chopped
6 cups Stock (chicken or vegetable)
Salt to taste
Heat olive oil in a large pot and add garlic mash, onion, and celery. Saute until onion is translucent. Add diced potatoes and stock to pot and cook on high to a soft boil.
Reduce heat and simmer for 30-40 minutes or until potatoes are cooked no longer firm. Add Kale and Watercress and cook for an additional 10 minutes or until kale is slightly tender. Add salt to taste.
*For a crockpot soup, follow these steps, only cook broth and vegetable mixture for 4-6 hours on high. Add Kale and Watercress for the last 30 minutes. 
---
Final Thoughts On The Crockpot
THE PROS
– I put everything in and walked away. Much safer than when I do that everyday with the stove/oven. 
– Two settings: Low or High. Can't really screw that up. 
– It's portable. I can be just like those b's at work and I love that.
THE CONS
-Everything cooks at once so if you want to caramelize, brown, saute, etc. you are basically dirtying another dish and adding to the cooking process.
-It takes FOREVER but not long enough to leave it on all day unless you are cooking meat. I'm a vegetarian so…
– You can't make two servings. If you screw up a new recipe (ehem) you have a whole lotta gross food to eat.  
Maybe next time I'll try something with more substance. Crockpot lentils anyone? 
♥ Liz