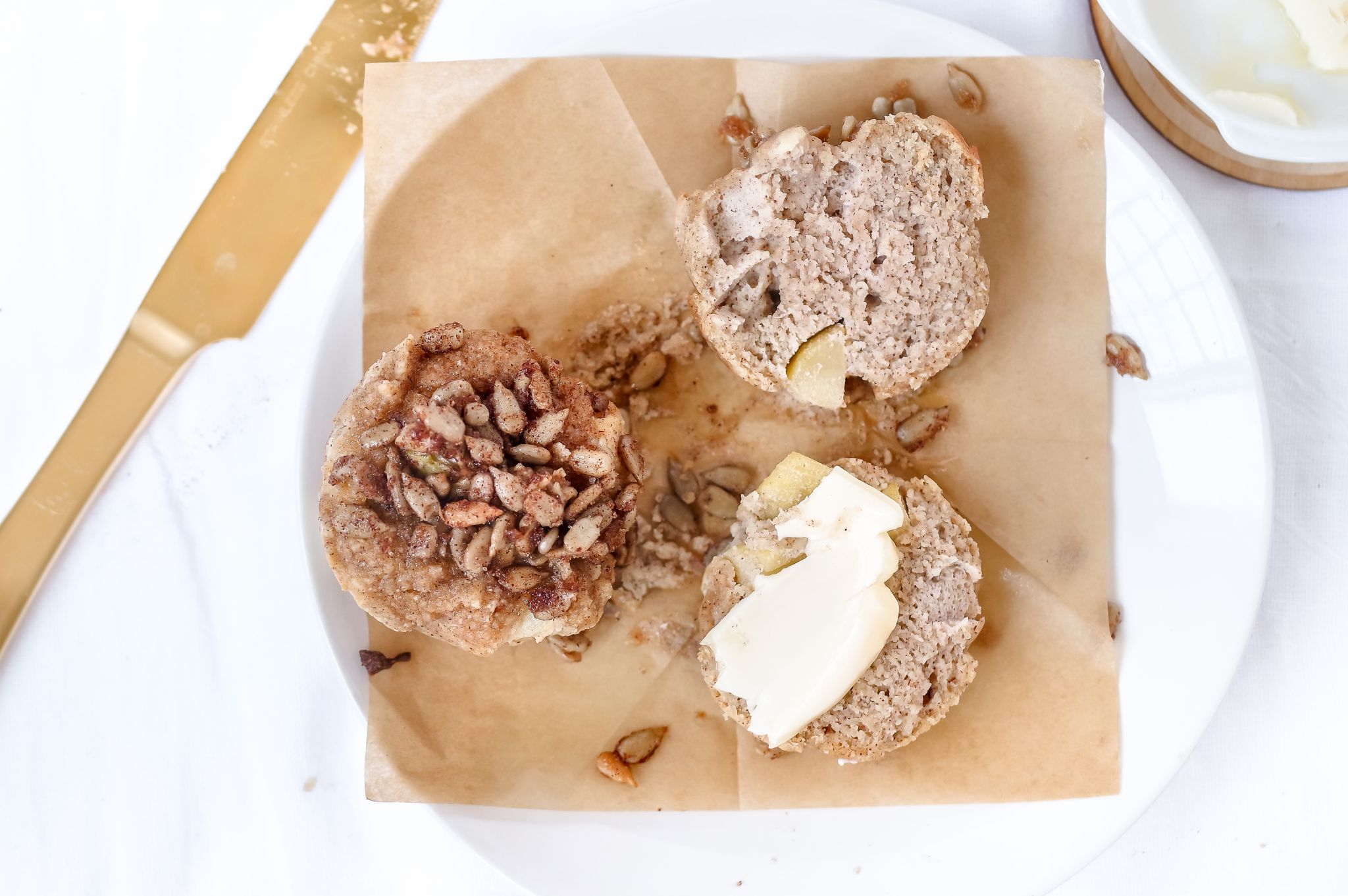 Sometimes lying is bad. The jerk losers who dicked me around during a routine oil change that ended up putting my sweet little Kia into the Car ER? Bad lie. Probably the reason car guys have a lousy rep. All of the lying done by a few bad apples.
Other times, a little lie is super-excellent. Take for instance these muffins! Could be a seemingly harmless breakfast item or a cake in a convenient wrapper.  Who knows?!
…or cares¹
Dense cake without frosting and passed off as breakfast food is some serious stroke of genius-sort of like those Kudos bars that were actually just a candy bar with some granola bits scattered throughout– but what's even more exceptional is that those teensie hunks of white, fleshy fruit are not apple bits but  Z U C C H I N I  B I T S!
∗gasps∗
I know, crazy. A vegetable dressed up like fruit. A zucchini in apple's clothing. A product of dishonesty brought to you by an evil Nutritionist (me) in hopes of breaking the fruit vs vegetable for breakfast battle².
I personally can't get enough of both cake-like breakfast items and zucchini, not to mention all of your home gardens are probably makin' these babies faster than you can zoodle them. Let's not muddle through the last days of summer with boring zucchini breads and half hearted heaps of veggie noodles. We have all winter to be depressed, why start now?
Keto Apple 🍎Cinnamon
Streusel Muffins
How do you like them apples…that are actually zucchini?!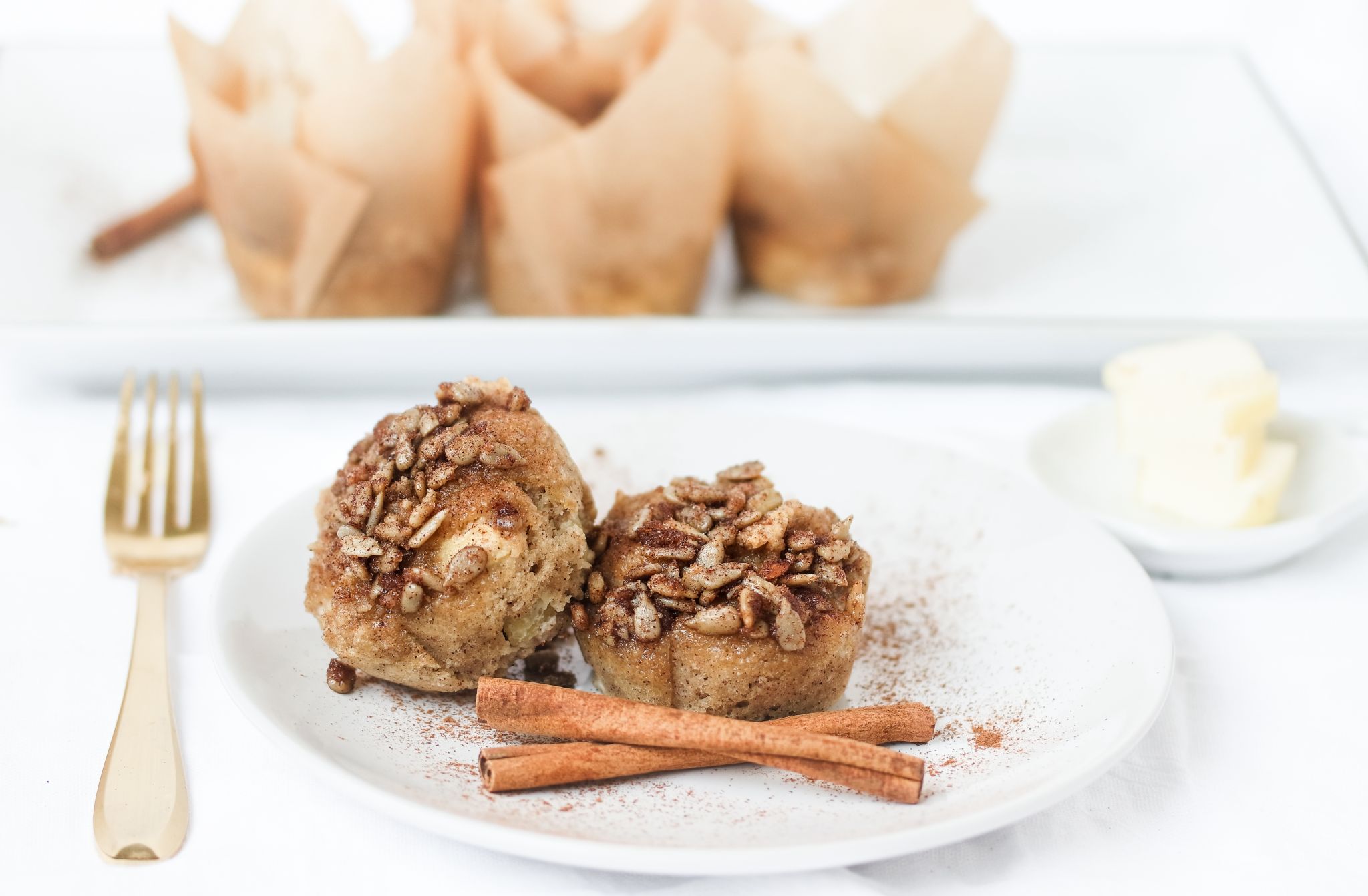 Check out that zucch!
Also, that's what she said.
And now to the final step of the transformation process.
This is when a girl becomes a woman.
This is when a lowly zucchini becomes a health food sensation.
This is when you add butter.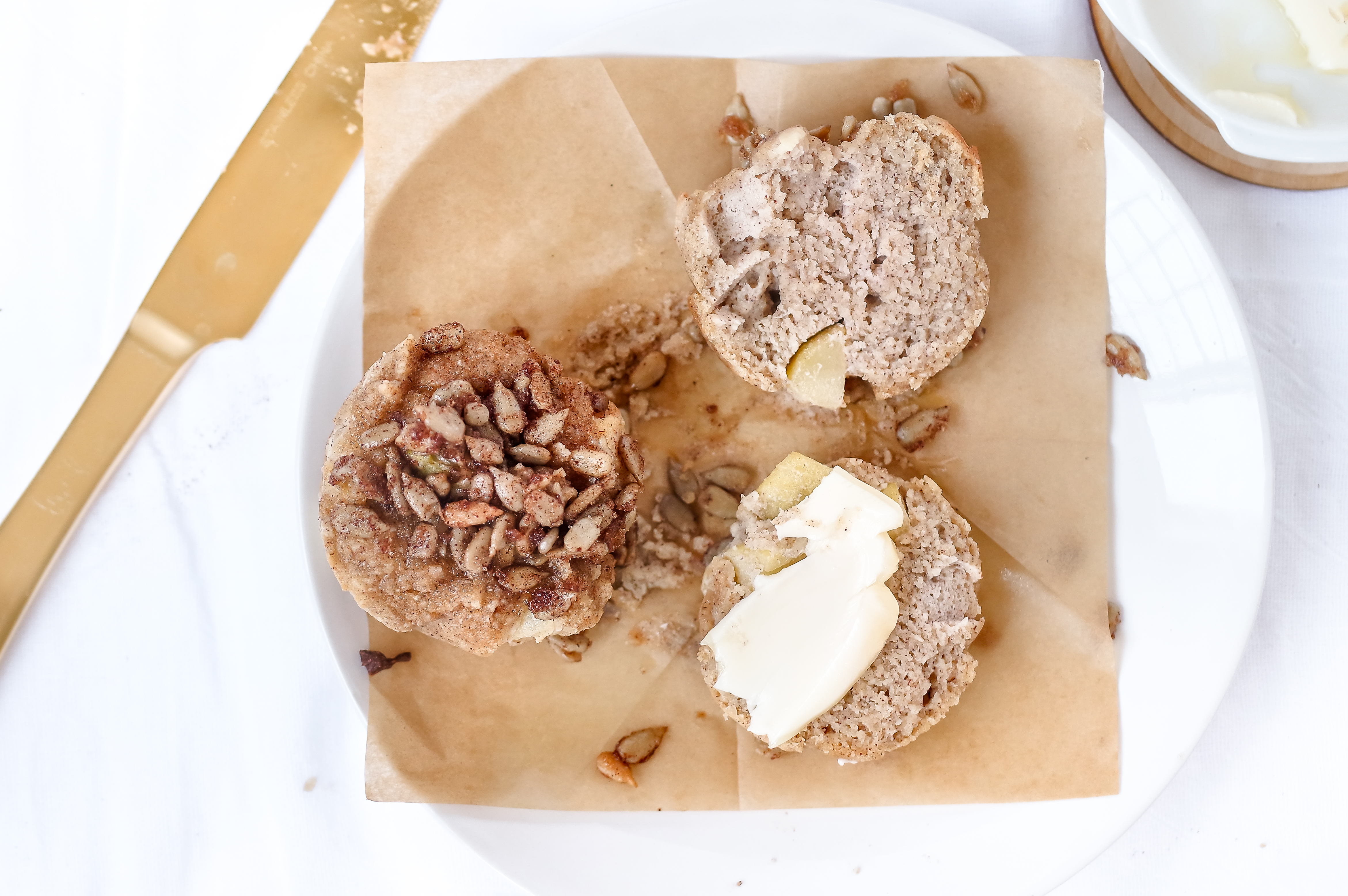 Just in case the substitution of zucchini wasn't healthy enough for you health nuts,
I went ahead and made the streusel portion from sunflower seeds 🌻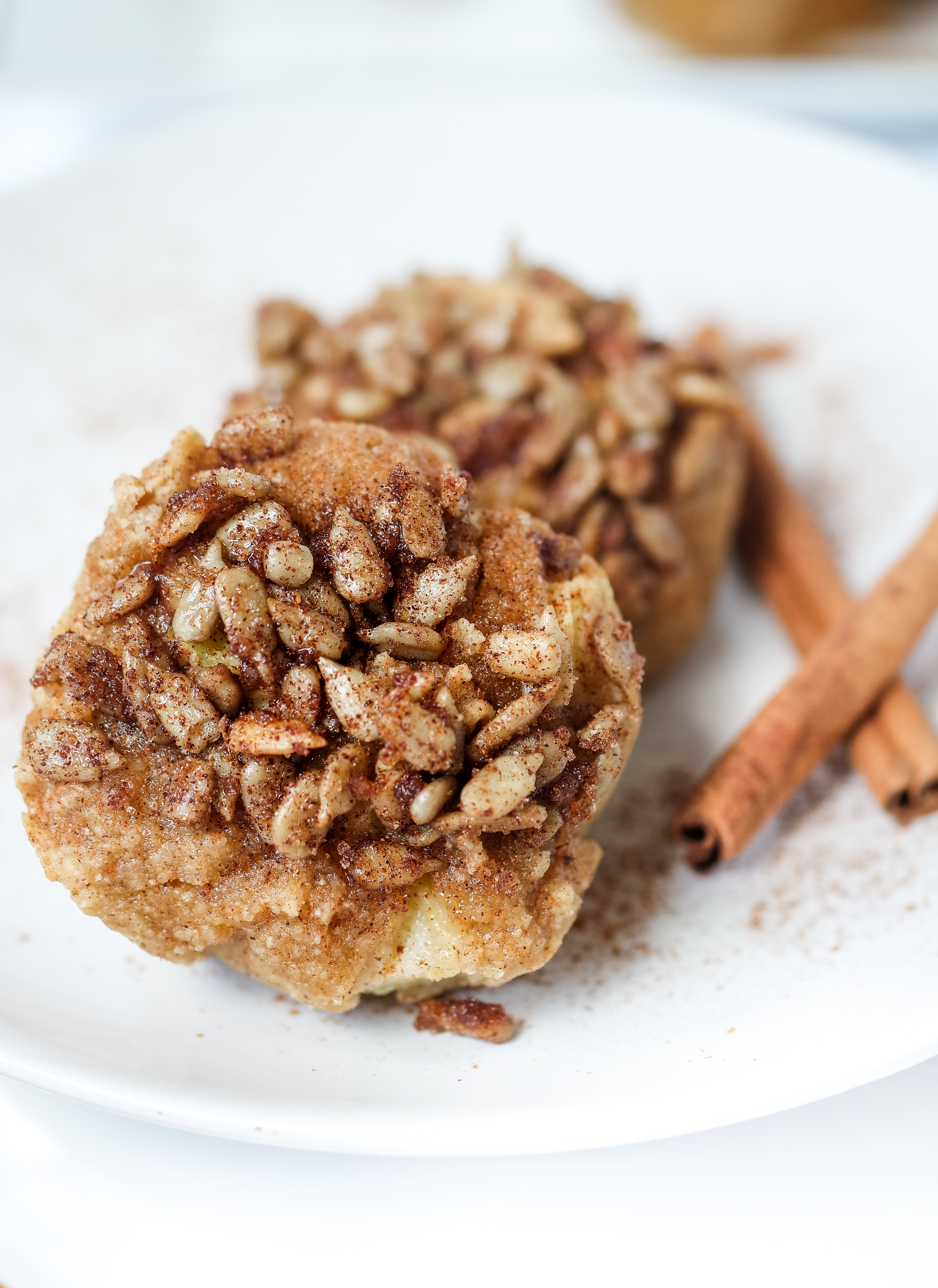 Those vegetable hunks ↑ and ↓ are looking apple AF right now.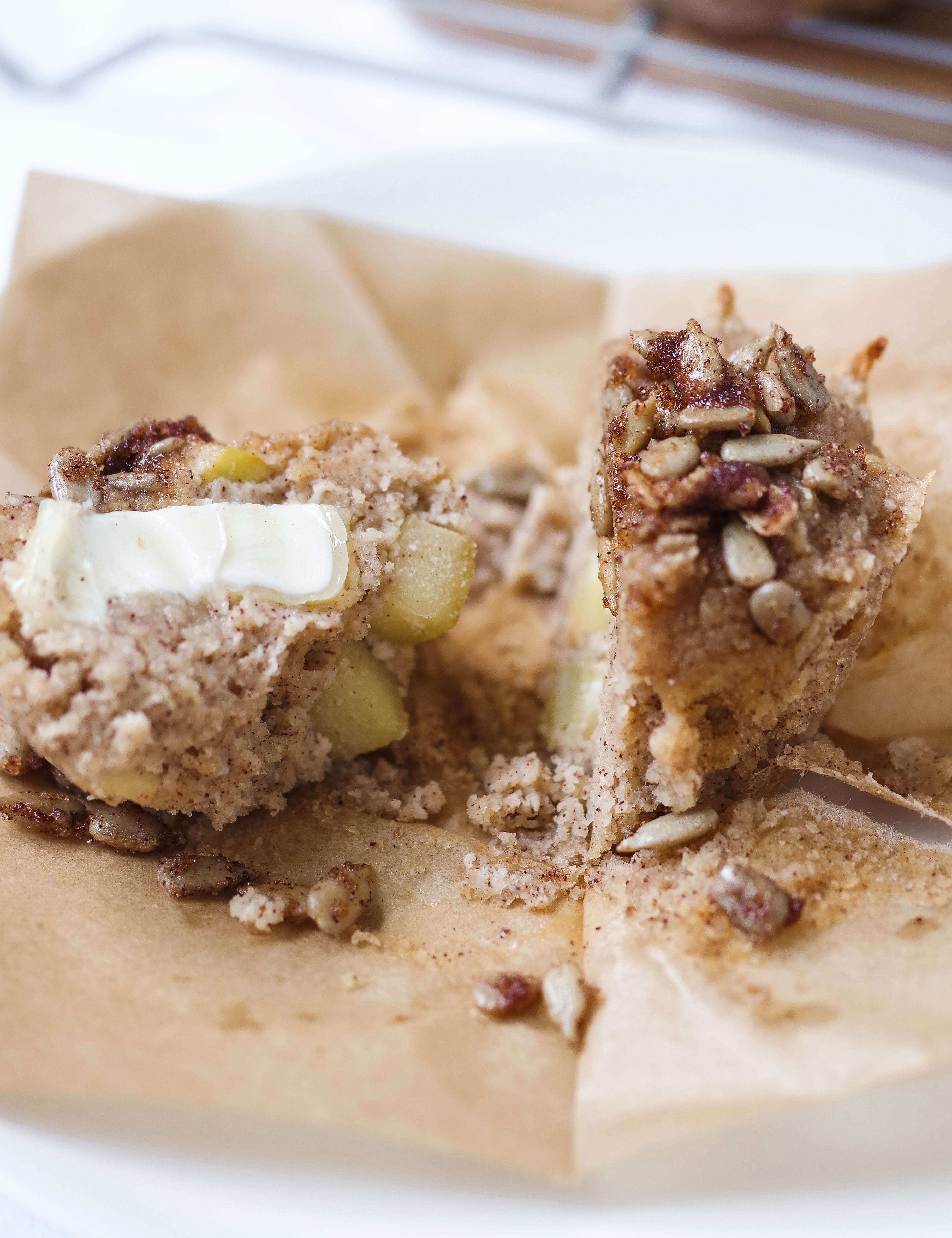 Lie To Me: Faux Apple Cinnamon Streusel Muffins
Ingredients
For the "Apples"
2 c. Zucchini; peeled, diced and seeded
2 tbsp Sweetener (I use Truvia no calorie sweetener)
Juice of one lemon
For the muffin batter
1 1/2 c. Almond Flour
1/4 c. Coconut Flour
1 tbsp Starch - I use tapioca but you could use 1 tsp xanthan gum or even corn starch
1/4 c. Truvia Brown Sugar Blend (Add 2 tbsp if you like them very sweet. I do not.)
1 tsp Baking Powder
1 tsp cinnamon
3 eggs
Streusel topping
1/2 cup chopped nuts or seeds of your choice
1/4 cup brown sugar (truvia blend)
1/2 tsp cinnamon
1 tbsp melted butter
Instructions
Preheat oven to 350° and prepare muffin tins with liners. I also use a non stick spray to make life a little easier.
Combine zucchini, lemon juice, and sweetener in a microwave safe bowl and heat for 2 minutes, stopping to stir every :30 or so. Set aside.
In a large bowl combine flour, starch, brown sugar, cinnamon, and baking powder and mix well. Add eggs. Once the batter begins to form, fold in the zucchini lemon juice mixture. Scoop batter into lined muffin tins and bake for 15 minutes.
Streusel Topping
Mix and sprinkle on baked muffins. Return to oven for 10 minutes or until streusel gets dark brown and caramelish.
Though this step is not required it is highly recommended.
Gosh, we are so healthy. It's almost as if we should eat these EVERY. SINGLE. DAY.
¹ The answer is: no one cares because cake for breakfast without judgement is what makes most of life livable. Eat your muffin cake and can it, haters. 
² Technically it's not a battle but more so a peaceful protest on vegetables being pigeonholed to savory breakfast menu items.