Slathered, stuffed, and roasted to perfection! These simple Keto Greek Stuffed peppers will be your new favorite no-fuss dinner! Not a vegetarian? Serve these alongside your favorite protein!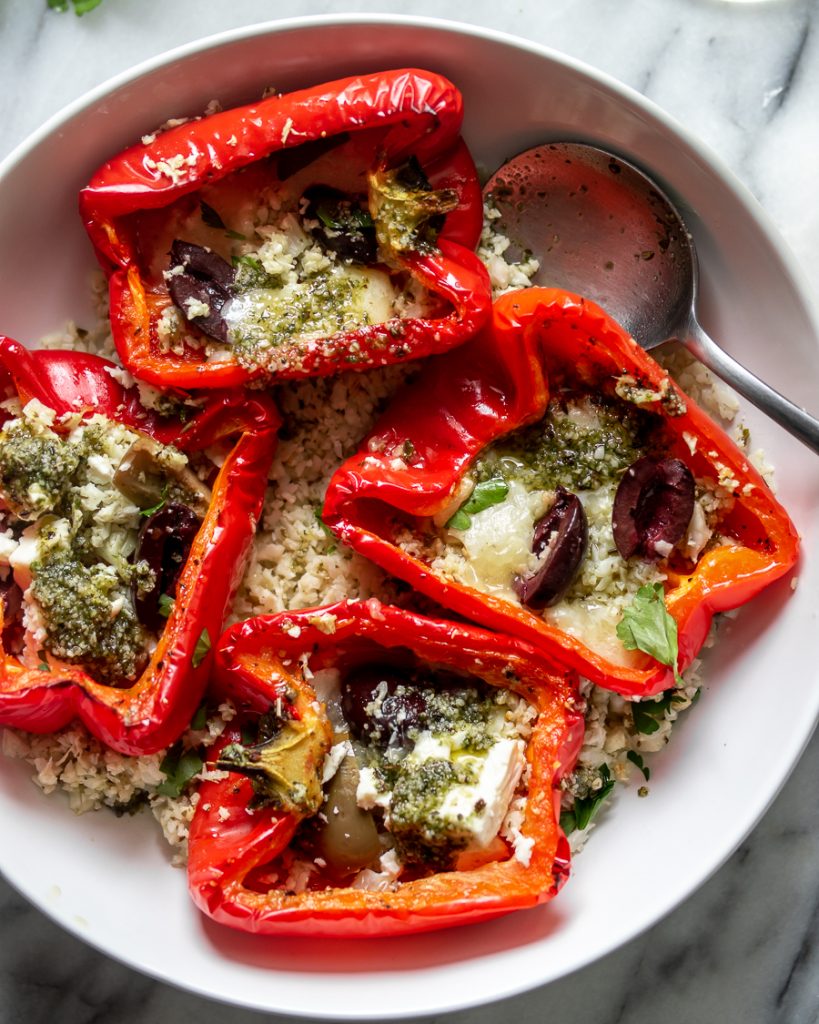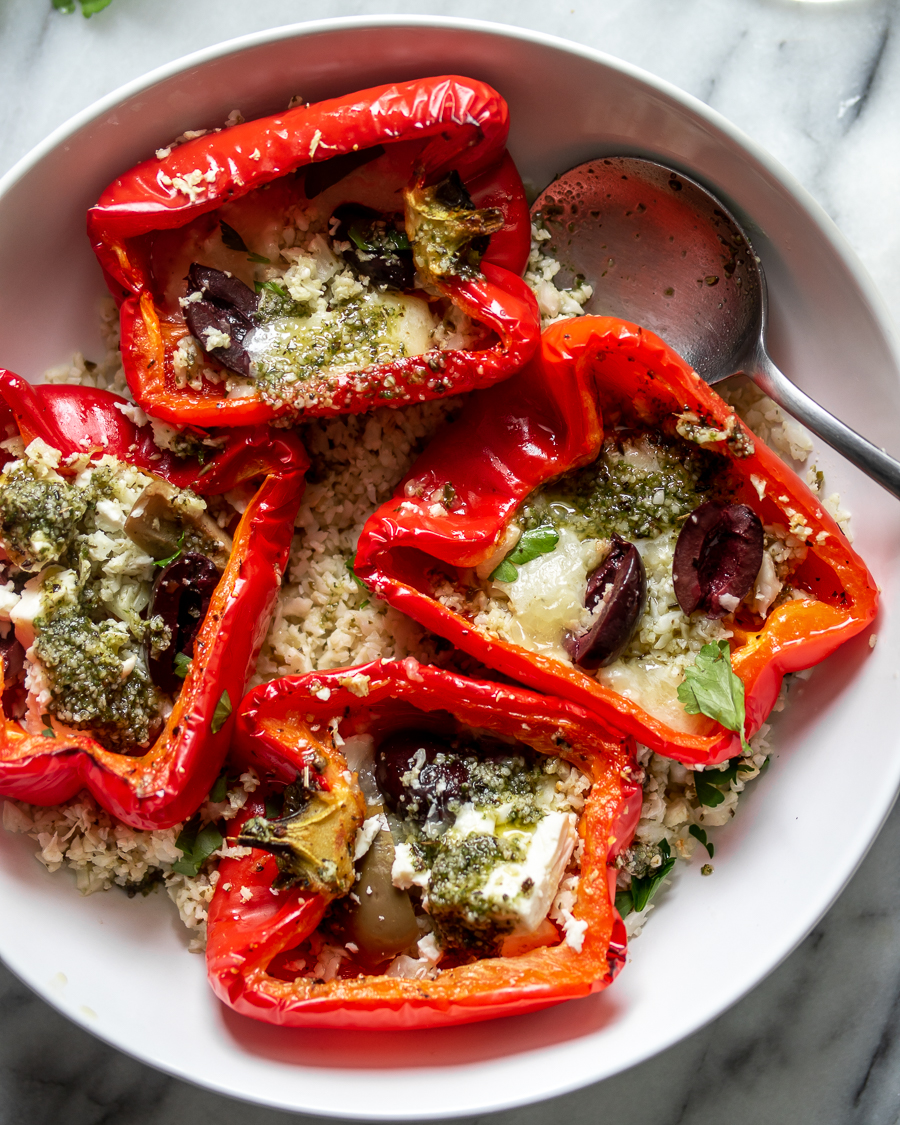 Creatures of Habit
I will be the first to admit that I thrive in a routine. I live for the expected. I love the "known". I have no shame staying firmly planted in my comfort zone. That's where it's comfortable, duh. 
You might be thinking "Hey, Inspector, that's probably not healthy" and you are absolutely right. Never venturing out to try new things means you're likely missing out on an experience, job, food, etc that you could truly love. This was another one of my New Year's Resolutions: get uncomfortable.
Trying new things is a risk, both with life and food, so let's start small with some super flavorful Greek Stuffed Peppers with Hemp Seed Pesto. If that made your brows furrow slightly, good. We are headed in the right direction!
Hemp Seed Pesto
Hemp seeds are the soft and nutty seeds of the hemp plant and are a great source of vitamins, minerals, and omega-3 and omega-6 fatty acids. Hemp seeds, unlike other plant-based proteins, are a complete protein, meaning they contain all 9 of the essential amino acids that our body cannot produce on its own. Basically, non-negotiables.
Hemp seeds taste buttery and nutty and can be sprinkled on basically anything for a nutrient boost. I love them in green smoothies or sprinkled on gluten-free keto cereal! Today, we are blending them with fresh basil, olive oil, and a little Parmesan to make what I like to call "Presto Pesto". It's quick and it blends easier than pine nut pesto! Plus, it's snappy!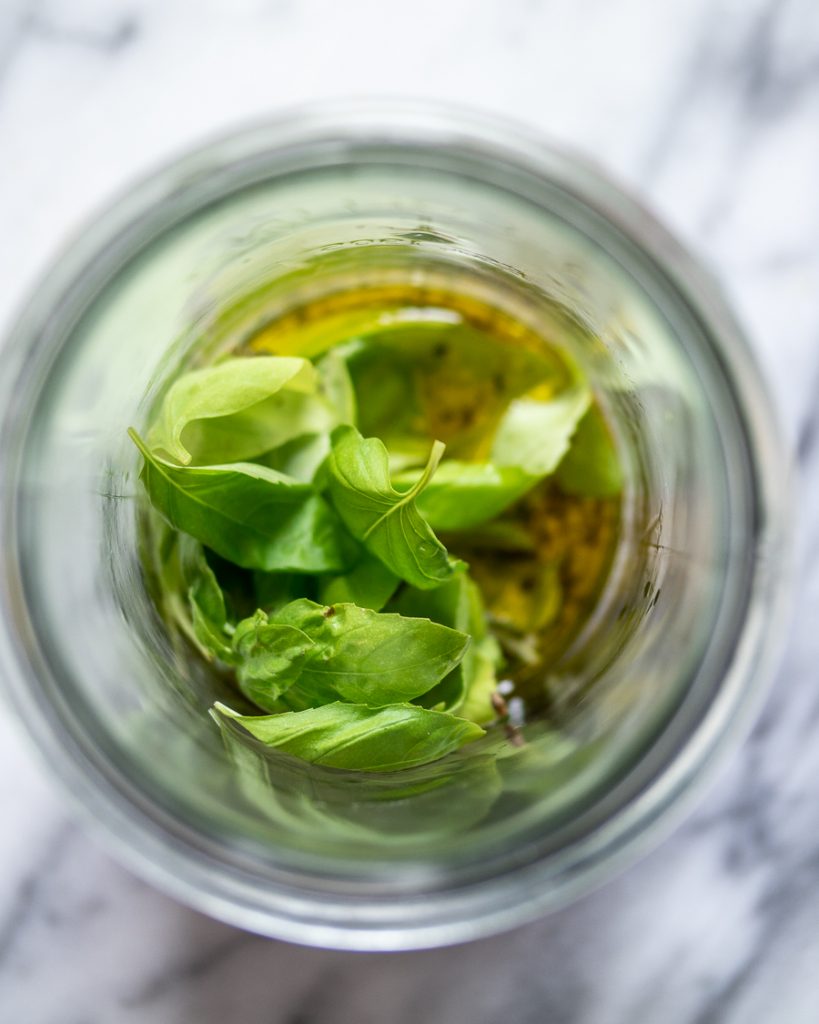 This pesto is very similar in flavor to a traditional pesto but it can be a little thicker and less chunky due to the soft and supple nature of the hemp seed. The important part is that it's AWESOME for vegetarians who need more protein and keto-tarians who are carb conscious.
The Best Cauliflower Rice
When it comes to cauliflower rice, most of the time I am not uh…excited? It's just a means to fill you up with fewer carbs than traditional rice and typically has less flavor. Not this time! I've recently decided to revamp cauliflower rice with a couple of tricks.
Use a good amount of oil and always season it.

Even if it's just a little salt and pepper, this step is crucial to buildable flavor vs seasoning at the end. I read in a cookbook once that you need to season your dish at every step, not just at the end and that resonated with me!

Cook it on high heat in a large skillet.

Give cauliflower the stirfry treatment for great flavor + good texture. I almost never steam my rice unless it's becoming cauliflower mash. I find it too "cauliflowery" if that's a thing.

Roast in the oven.

If you aren't a fan of cauliflower and you don't care that the texture isn't the same as actual rice, roasting is a great method. It has the best flavor and becomes a nice golden color that is great as a side! Just spread it evenly on a sheet pan with some olive oil and roast at 425F until golden.
Stuffing and Roasting Your Peppers
Now that you've prepped your rice and your hemp seed pesto, it's time to prep those peppers!
For the best roasted red peppers, I cut each pepper in half and clean it well. Then using a pastry brush or spoon, cover the interior and exterior of each pepper half in some of the pesto. Slice a lemon in half and put that face down in a roasting pan along with the peppers and bake until they are nice and soft.
Stuff the peppers with the cauliflower rice mixture and add lots of chunked Havarti for a creamy savory flavor, or use feta for a saltier more toothsome texture! I prefer Havarti because of how perfectly it melts into cauliflower rice. Then bake the peppers for a short time to melt everything together and prepare for the best part. Roasted lemon!
The roasted lemon (from the first step) will begin to brown and has a sweet-tart bite that is delicious when drizzled all over these peppers! It's the perfect compliment to these flavors, just like my Roasted Greek Broccoli.
I really think these Keto Greek Stuffed Peppers have something for everyone but if you DO have an olive-hater in your midst *cough* my brother, then you can 100% make a few without olives. Or make them with extra olives, depending on how much you like the person…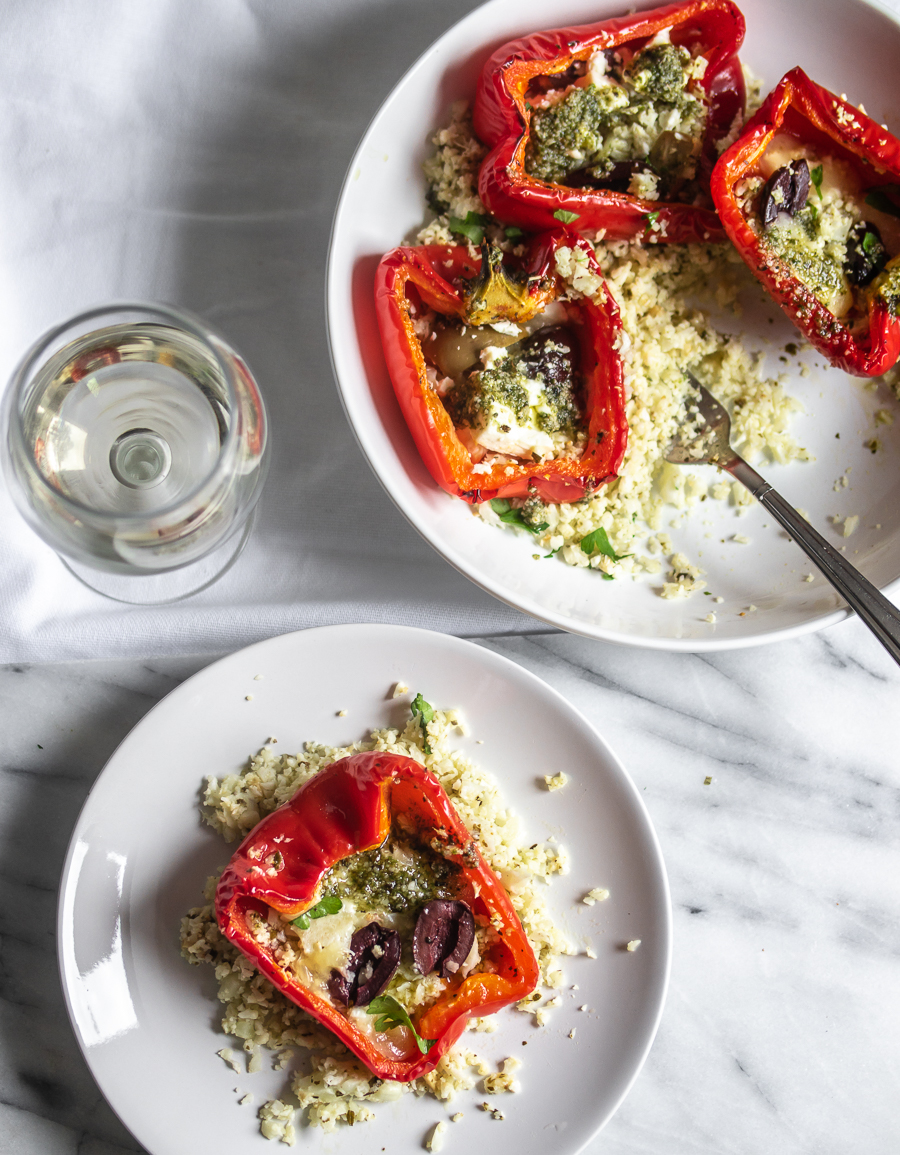 Hungry for more? Try These!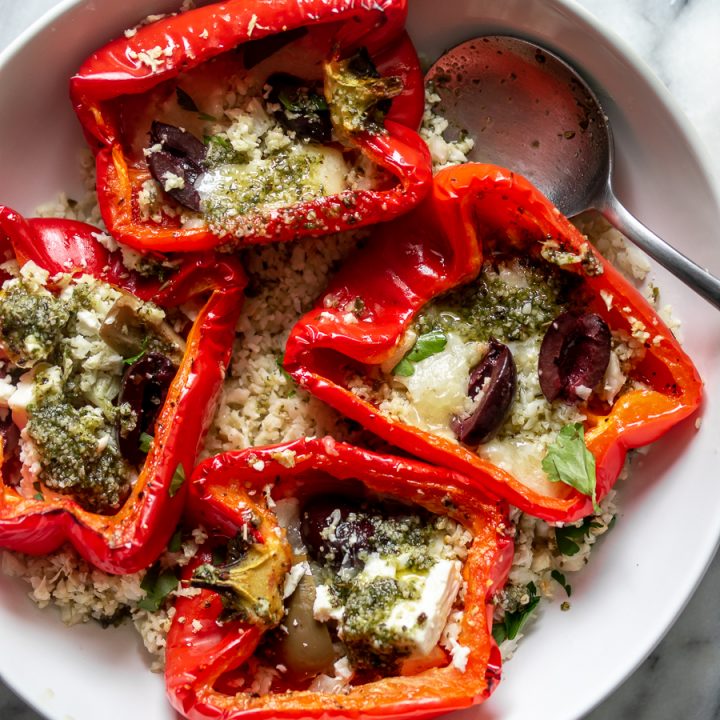 Keto Greek Stuffed Peppers
Deliciously sweet roasted red peppers with all of the greek fixings for keto vegetarians, plus everyone else!
Ingredients
Hemp Seed Pesto
1/2 cup Olive Oil
1 1/2 cups Fresh Basil
2 cloves garlic (for garlic lovas)
1/3 cup Grated Parmesan
2 tbsp Lemon Juice
1/2 tsp Salt, or more to taste
Roasted Red Peppers
3 Red Bell Peppers, halved and seeds removed
3 oz Harvarti, cubed (or sub feta for a saltier cheese)
6-8 Kalamata Olives, sliced
1/2 Fresh Lemon
Instructions
Hemp Seed Pesto
Combine the pesto ingredients in a food processor and pulse until smooth. Add more oil to thin, if necessary. Set aside.
Peppers
Preheat oven to 400°F and line a baking sheet with parchment. Arrange peppers and the 1/2 lemon on a medium baking sheet, skin side down with the lemon cut side down.
Brush the peppers with some of the pesto and roast everything for 30 minutes or until they become soft and the edges begin to darken.
While the peppers are roasting, heat a skillet over medium heat and drizzle in 1 tablespoon of olive oil. Add the riced cauliflower and sliced olives to the skillet and season with a little black pepper. Saute stirring frequently until the rice begins to soften, then remove from the heat and stir in 2 tablespoons of the pesto.
Remove the peppers from the oven and fill them with the cauliflower mixture. cubed cheese, and a squeeze of the roasted lemon. Return to the oven to melt the cheese, about 3-5 minutes.
Serve over the remaining cauliflower rice and drizzle with pesto.
Nutrition Information
Yield

6
Serving Size

1 stuffed pepper
Amount Per Serving
Calories

313
Total Fat

28g
Carbohydrates

6g
Net Carbohydrates

4g
Fiber

2g
Protein

9g