Anyone else get into the thick of winter and just give up cooking? I've been preying on THESE Dr. Praeger's Spinach Littles, conveniently dinosaur shaped, and falling asleep by 8:45 PM. Not ideal unless you're a grizzly bear preparing to hibernate.
Speaking of grizzly…shaving your legs in January is like some sick joke, right? Are other people skipping the razor, or is it just me?
Other non-embarrassing updates include:
-A Recent spending spree that has cost both and arm and a leg but has resulted in a new (and needed) coffee table, winter work attire, and a bunch of fancy pants cooking goodies.
-I finally watched Making A Murderer. Shout out to Netflix for making me sleep with one eye open and cancelling my subscription to Auto Trader. Kidding (sort of)

–Last week I took an extra day off and had a four day weekend. That lead to the shopping splurge, excessive amounts of joy, and real (not frozen) groceries that contributed heavily to the amazing recipe you are about to drool over.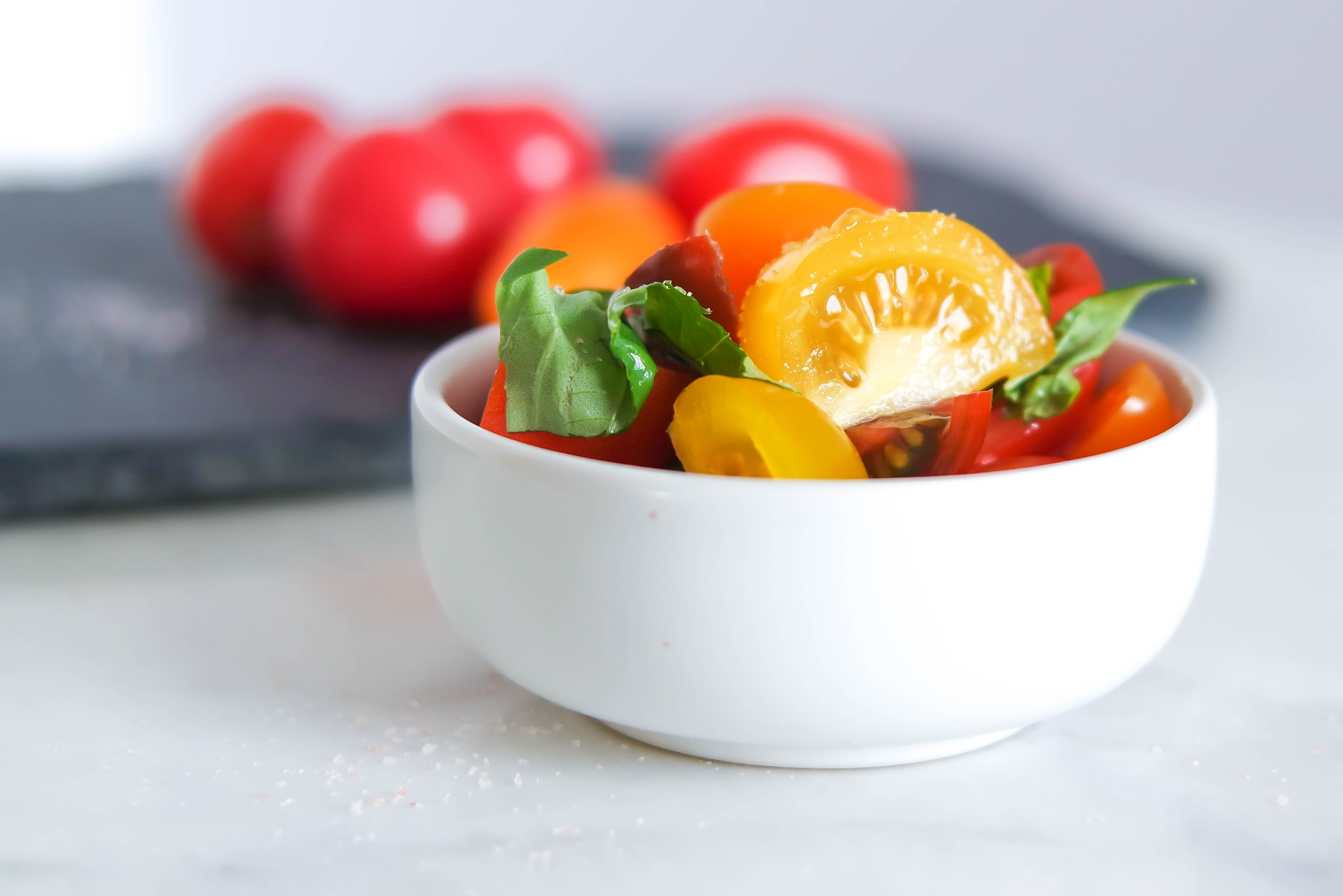 See??? Up there??? The freshness. Have you seen tomatoes this fresh since July? Of course not, this is just great lighting, but goodness were they a nice change of pace. Almost couldn't tell they were from a greenhouse. And fresh basil? Unheard of in my house.
These are the things you can expect from me when I have a day off. Not that making cauliflower "rice" is a difficult task. Put cauliflower in a food processor and pulse. Done. It's more of a challenge to remember the cauliflower is in the fridge before it turns brown and rotten.
Spare the fridge and spoil the pantry I guess.
Now if you could please notice how healthy this is. Real Risotto is heavy in carbs and kcals and this little beaut is heavy on flavor and nutrition. Sometimes I feel like mentioning health benefits is wasted since you all know what I'm about. Basically, it's low carb, grain free, paleo, trendy, blah blah blah.
Let me shut up now and start turning boring cauliflower into Risotto already.
P.S. I ate both of those portions. Wine too because, well, vacation. Look at all of the wonderful things that can happen when you're NOT at work!!!
---
Tomato Basil Cauliflower Risotto
serves 4
1 head Cauliflower, core removed & broken into florets
1/2 medium Onion, chopped
3 cloves Garlic, finely chopped
10-12 Cherry Tomatoes, quartered (I used assorted colors)
1 handful Fresh Basil, coarse chopped
2 tbsp Olive or Coconut Oil
1/4 cup Coconut Cream (you could sub cream cheese or even sour cream)
1/2 cup Vegetable Stock (or chicken)
1/4 cup (plus a splash) Dry White Wine
Optional (as if cheese is an option) 1/2 cup Grated Parmesan or (my fave) Crumbled Feta Plus more to top
Sea Salt to taste
Add cauliflower to food processor and pulse until coarse. It shouldn't be fine bits, a little larger than rice pieces. You can achieve this with a cheese grater too by essentially "shredding" the florets. Set aside.
In a large skillet, heat oil on medium and saute garlic and onion until translucent. Add stock and simmer for about three minutes or until half of the stock has evaporated. Add the dry white wine next and reduce for 1 to 2 minutes.
Add the cauliflower "rice", tomatoes, and basil to the pan to combine. Add coconut cream and optional cheese, mix gently and cover for 2-3 minutes. Cauliflower cooks quickly…Serve immediately.

What is everyone else making these days? How are those dreadful New Year's Resolutions treating ya?
♥ Liz