Back in the early days of my vegetarianism, I didn't care about carbs and I ate falafel by the fistful.
Nowadays? Different story.
I found out the hard way that those pesky "portions" that nutritionists talk about actually carry some value. One is that you cannot consume your body weight in falafel and continue about your day comfortably.
Okay, maybe you can.
Ever heard of rock bottom? I almost broke my skinny jeans during the 2 am falafel incident of 2012. That's pretty close. I knew it was time to reel it in and I hadn't had falafel since then. UNTIL NOW….!!!!
Did you know, if you reduce the number of calories and carbohydrates of a falafel (while keeping fiber) you can eat more? Did you also know you can waffle it? Because you can.
The Fawaffle
Basically, falafel waffled.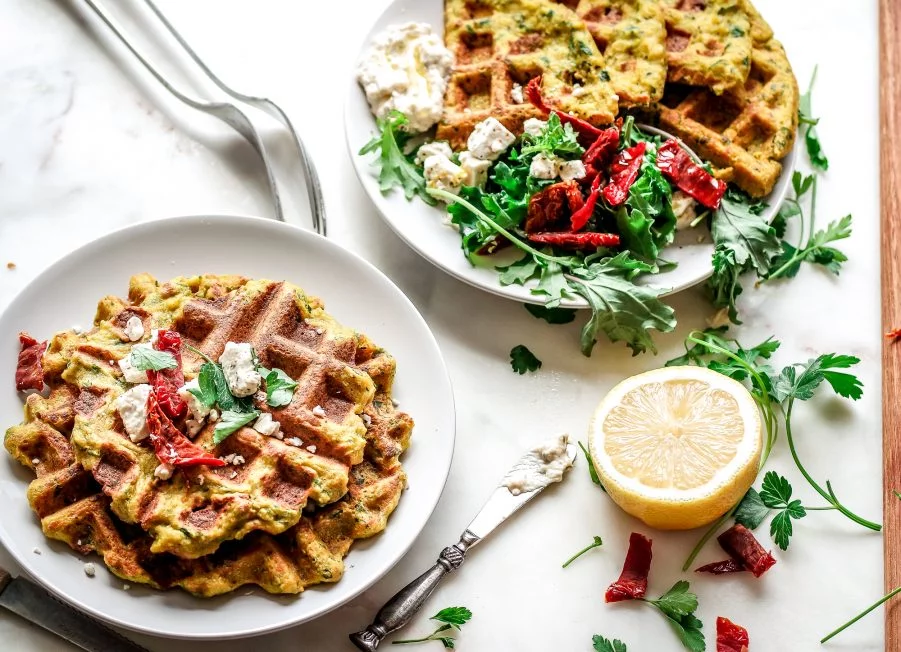 Now I know there will be some diehard falafel lovers out there that call shenanigans on my cauliflower substitutions and to them, I say, "Okay, use my chickpea substitutions then".
At that point, I hope they also say "okay" and then we enjoy our customized Fawaffles together in harmony.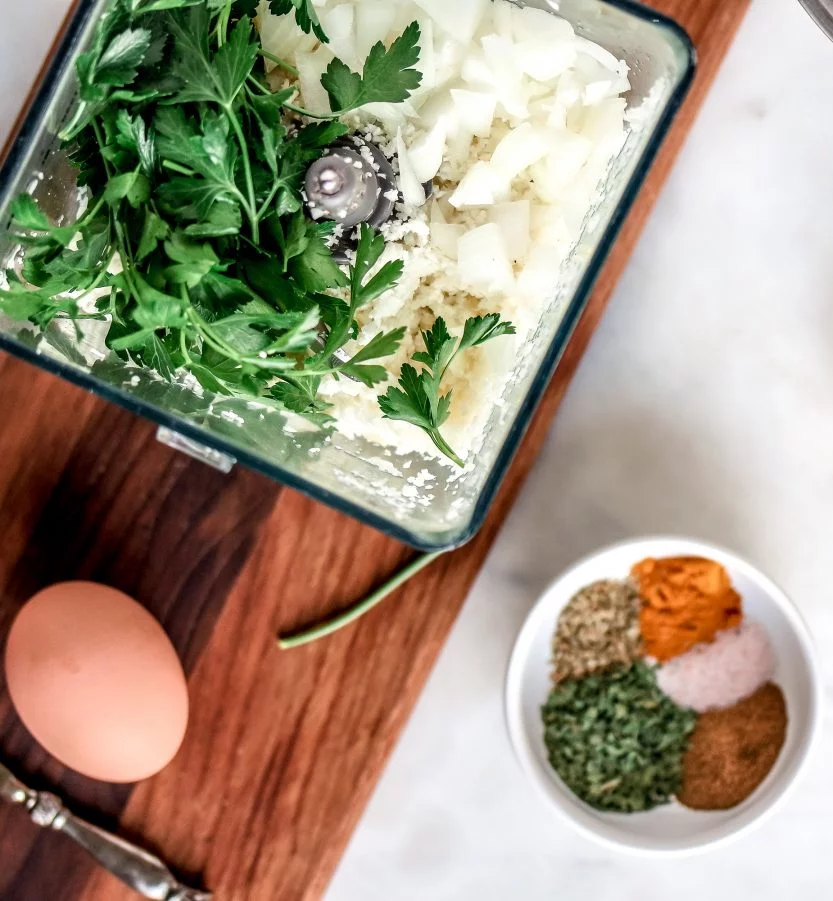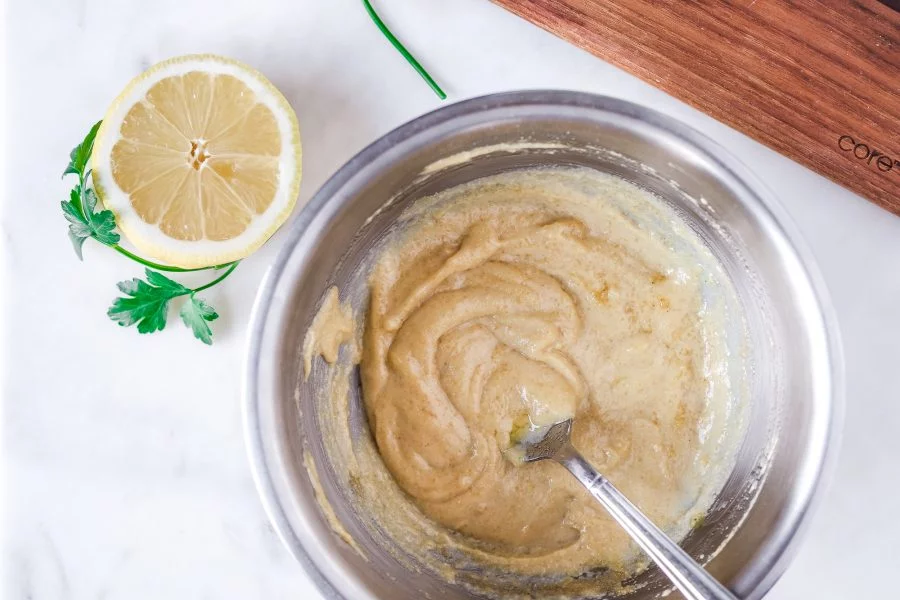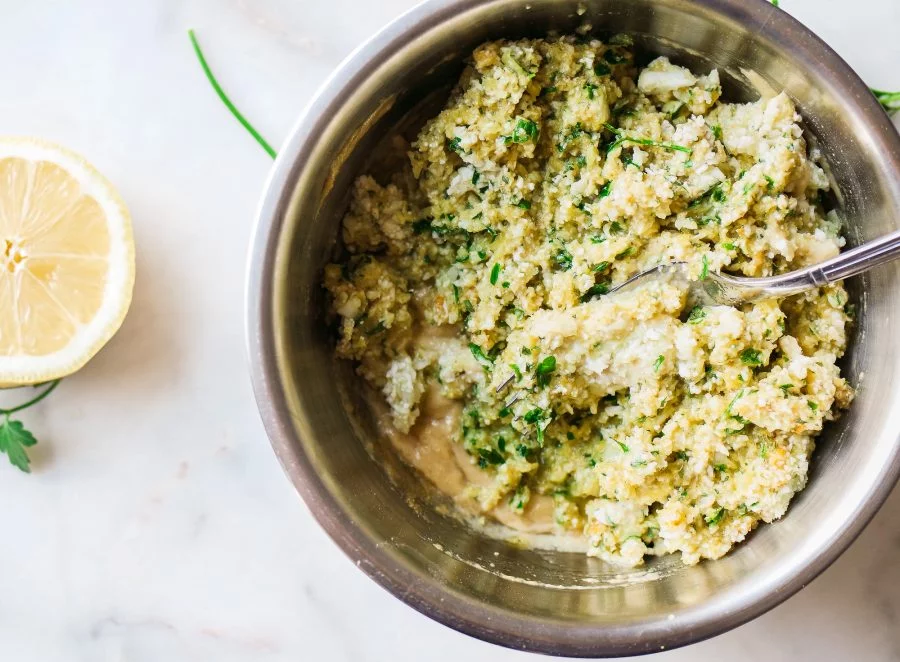 To get a great crisp on these I had to finagle the waffling process.
Try adding a tbsp of oil to the waffle iron before adding the batter, then again on top of the Fawaffle before you close the iron.
To reheat: pop the falafel waffle pices under the broiler on HI for a few minutes to toast them!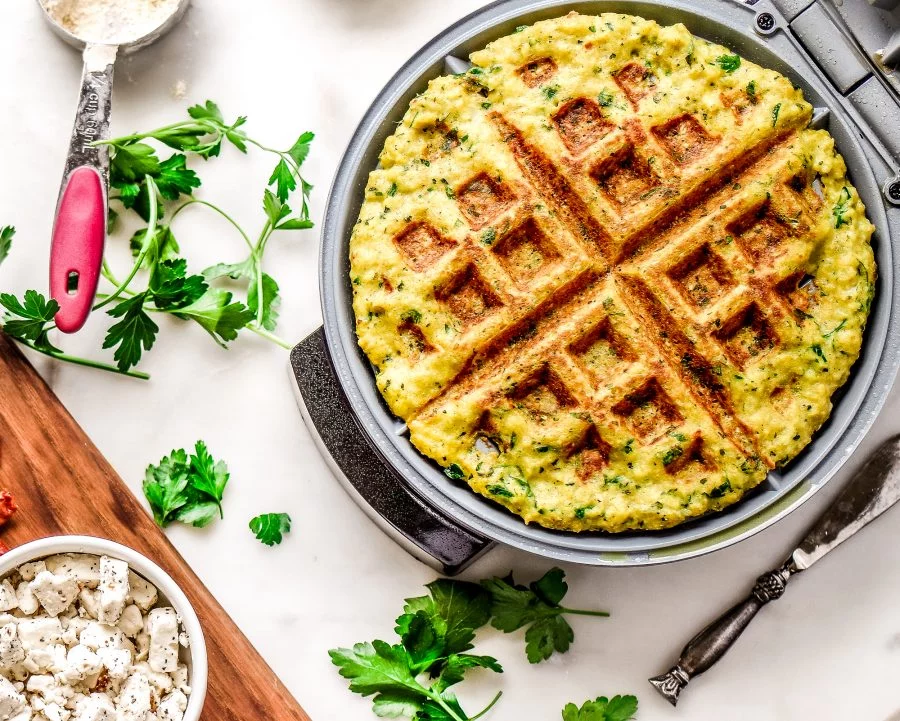 Don't fill the iron too full like the photo above.
Go in about halfway and you'll have a crustier crust and in turn make more servings, which is a bonus.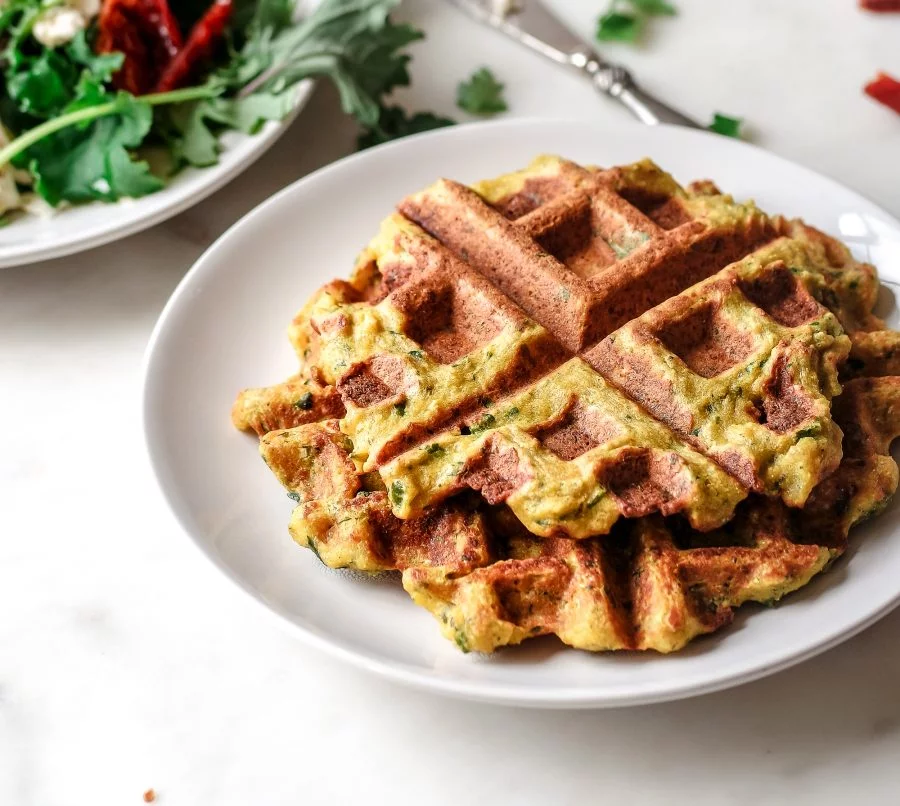 Serve it up with feta or tzatziki and maybe some greens for you health nuts.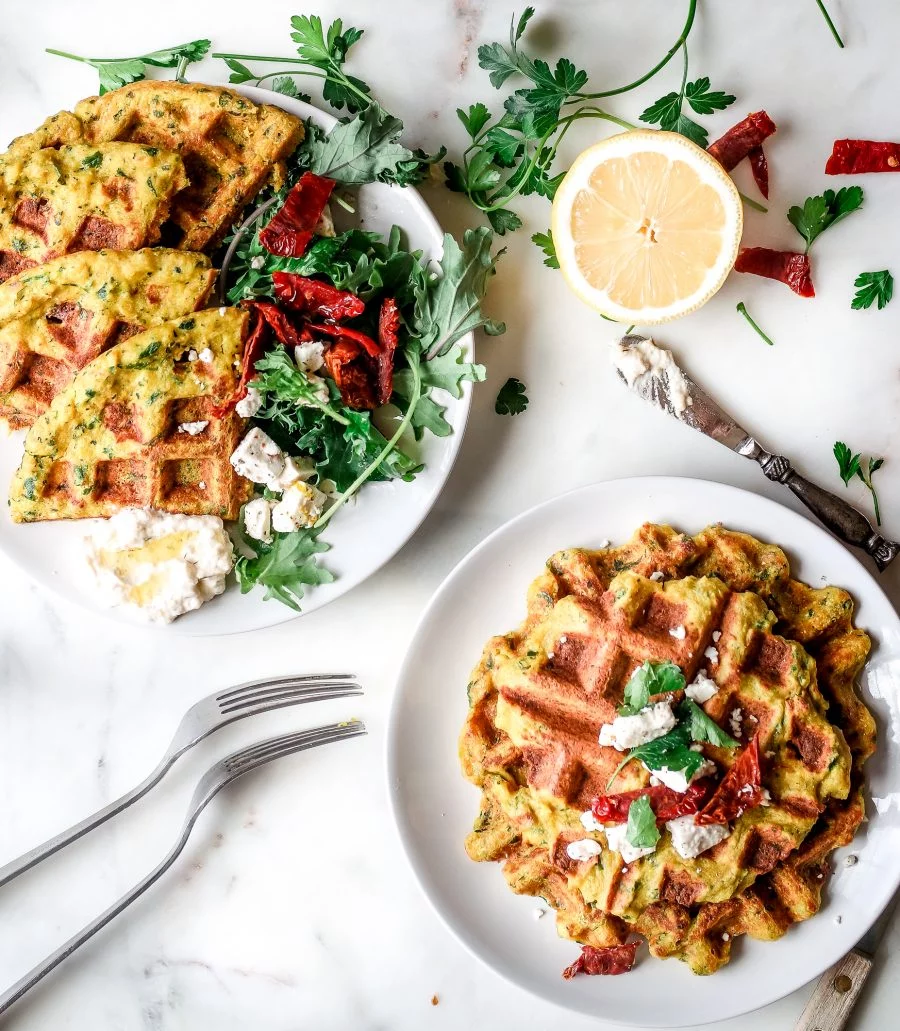 Enough with the pictures. Let's get this falafel waffled!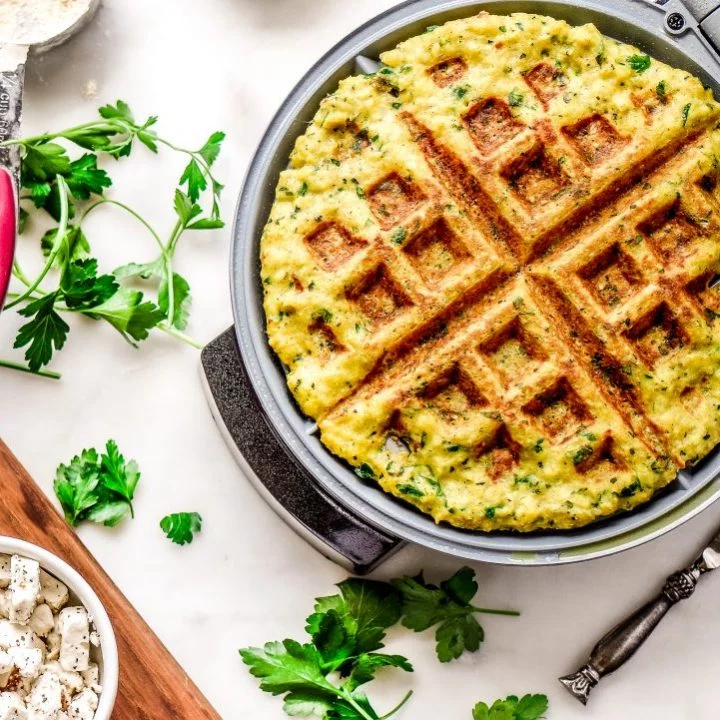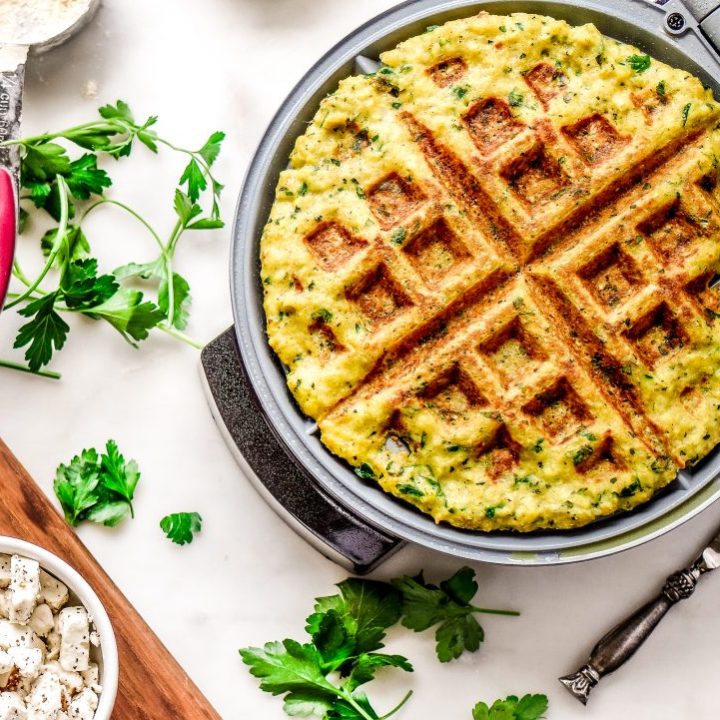 Low Carb Falafel Waffle
Falafel can be waffled if you try hard enough AND it can also be a little healthier! This one is PACKED with cauliflower and fiber!
Ingredients
2 cups Cauliflower Rice (a little less than 1/2 head, pulsed until rice in a food processor)
1 egg
3 cloves Garlic
1/2 White Onion, diced
1/2 c. Parsley, chopped
1/4 c. Cilantro, chopped
1 tsp Cumin
1 tsp Oregano
1/2 tsp Turmeric
1/2 c. Chickpea Flour
1/2 c. Olive Oil
Juice of 1/2 Lemon
Instructions
For a more traditional Falafel (non low carb) see the recipe notes for one easy substitution!
Prepare your chickpea "base" by combining the chickpea flour and oil in medium bowl and reserve for later use in the recipe. The time it takes to prepare the cauliflower should be plenty of time for the base to thicken.
In a food processor, add all other falafel ingredients and pulse until well combined. Transfer to your chickpea flour mixture and fold in until you see the batter coming together. A slightly thick batter is desirable if you want a crispier texture. If you'd like a bread-like waffle, add 1/8 to 1/4 cup of water to thin.
Heat your waffle iron to medium-high and pour a tbsp of olive oil into the bottom well. This helps give you a crisp fried texture!
Spoon a small portion onto the iron and cook for 5-10 minutes or until the desired crisp level is met. Serve with herbed feta, greens, and tzatziki!
Notes
Substitution for a traditional falafel with that crunchy, authentic feel, substitute your cauliflower with 1 can of chickpeas, drained, reserving 1/4 cup of the chickpea liquid. Decrease to 1/4 cup olive oil and 1/4 cup flour for the batter. Add all ingredients except flour and egg to the food processor and pulse until your batter forms, scraping the sides as needed. Add egg and sprinkle in flour. Stir. Waffle that falafel and serve hot!
Nutrition Information
Yield

3 large waffles
Serving Size

1/2 waffle
Amount Per Serving
Calories

221
Total Fat

19g
Saturated Fat

3g
Unsaturated Fat

15g
Carbohydrates

8g
Net Carbohydrates

6g
Fiber

2g
Sugar

1g
Protein

4g