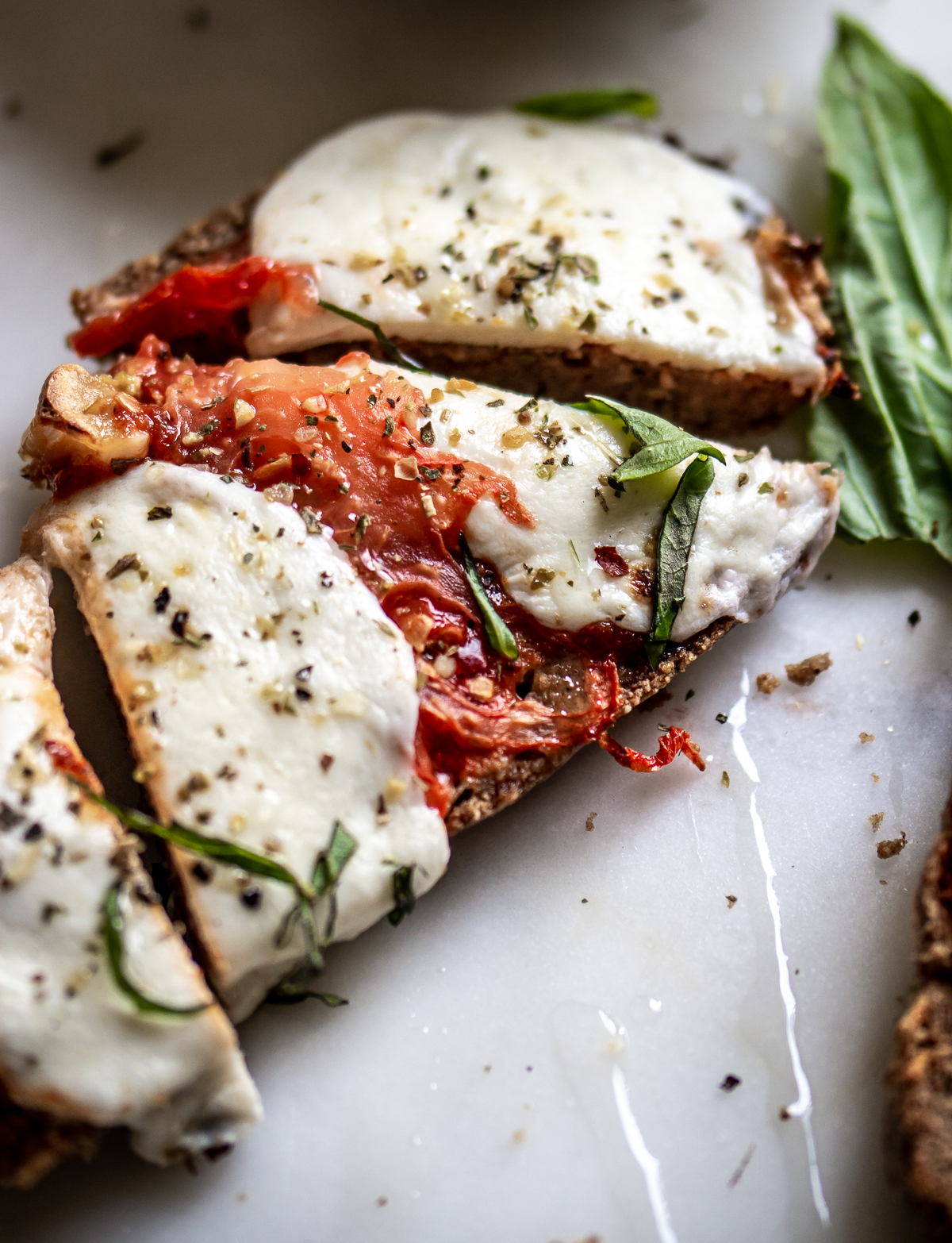 Finally, a real pizza recipe.
And it's got substance!
Okay, so you might remember my cocky attitude when it came to cauliflower crust pizza.
AKA I'm not a gigantic fan.
FYI, still true.
BUT I do like a good fiber-filled pizza crust that is low carb, crispy, garlicky, cheesy, dripping with pesto, (and did I say cheesy???) to really round out a Friday night of Netflix and photo editing.
W I L D Woman, right?
And to make matters better, fiber promotes weight loss which means this pizza promotes weight loss. THIS IS WEIGHT LOSS PIZZA! Kind of.
Fiber and Weight Loss
I'm not going to quote any scientific studies to prove fiber helps weight loss, but it exists. The more fibrous the diet, the fuller you feel (and ideally) the less you eat. WHICH is why I've been loading up on fiber-ful recipes at least three times a week to rid myself of this layer of pudge I've so diligently been adding all winter. By eating pizza. Made with fiber.
Trust me, it's working!
Freaking Addictive 🍕French Bread Pizza
Low carb, high fiber, and it's pizza.
And it all begins with this really pretty photo of pesto…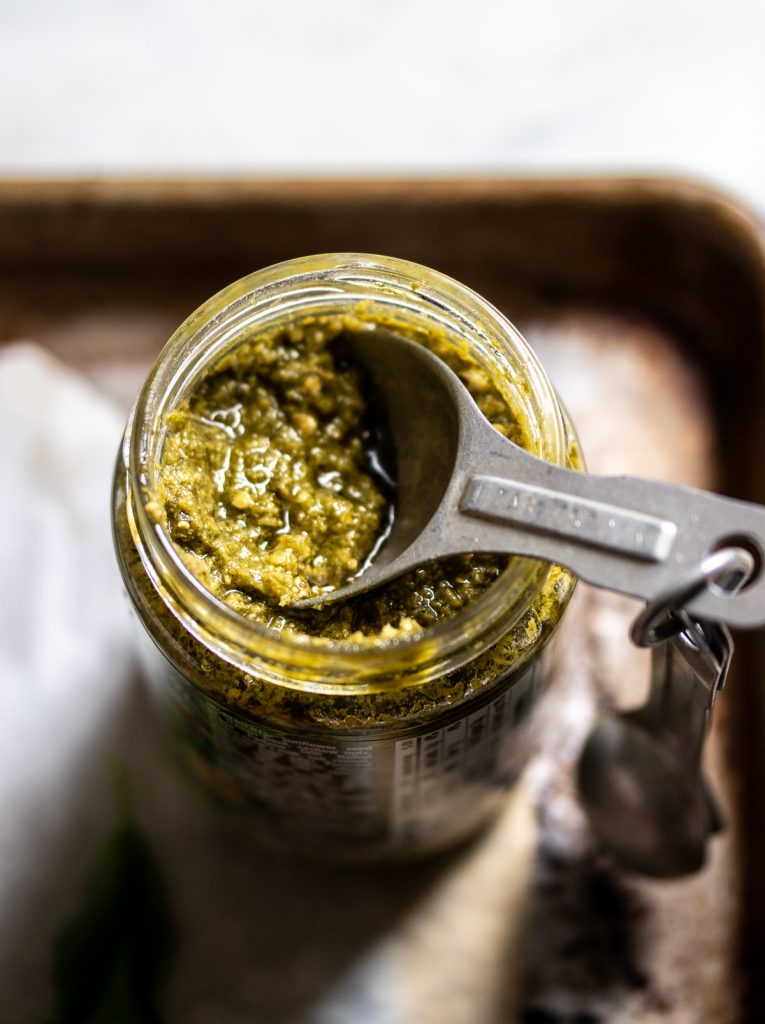 Kidding. It begins with this loaf of Low Carb Fiber French Bread.
It's basically a log of dough that you form into a french bread loaf and bake.
The fiber comes from psyllium husk powder
It's a natural, ground fiber that can also be used as an egg replacer.
It makes our bread "bread like" in this recipe…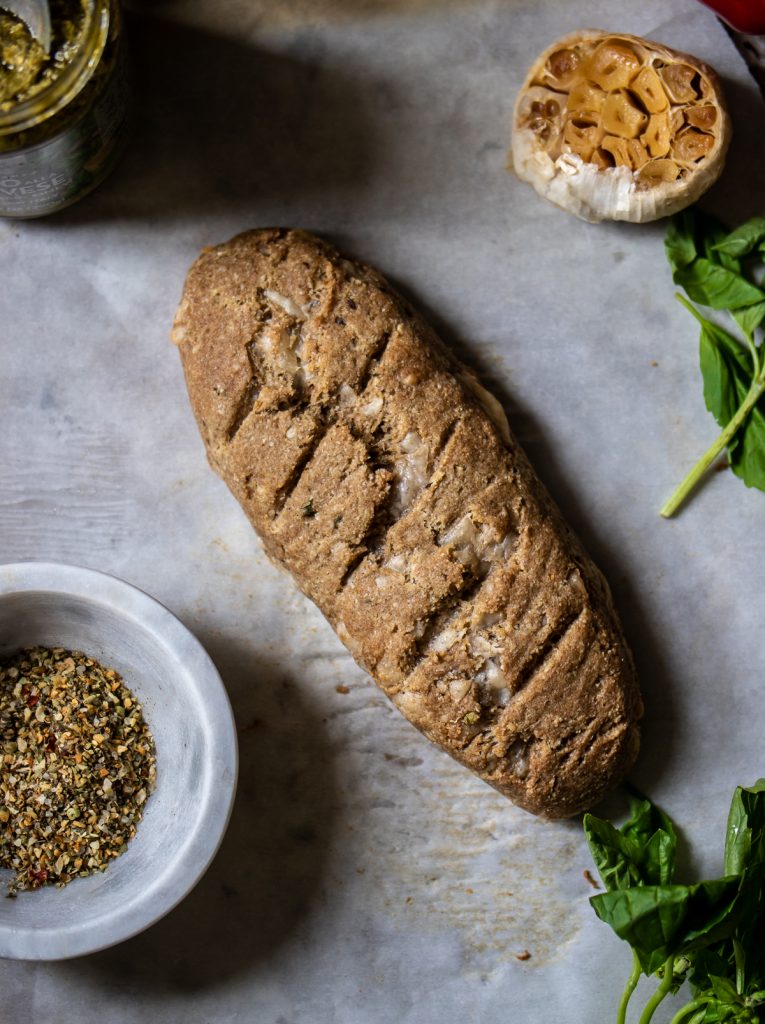 Slice it open to reveal the hunks of Parmesan Cheese I so conveniently
snuck into the dough.
The cheese makes it a little salty, a little crispy, but doesn't add
a butt-ton of calories.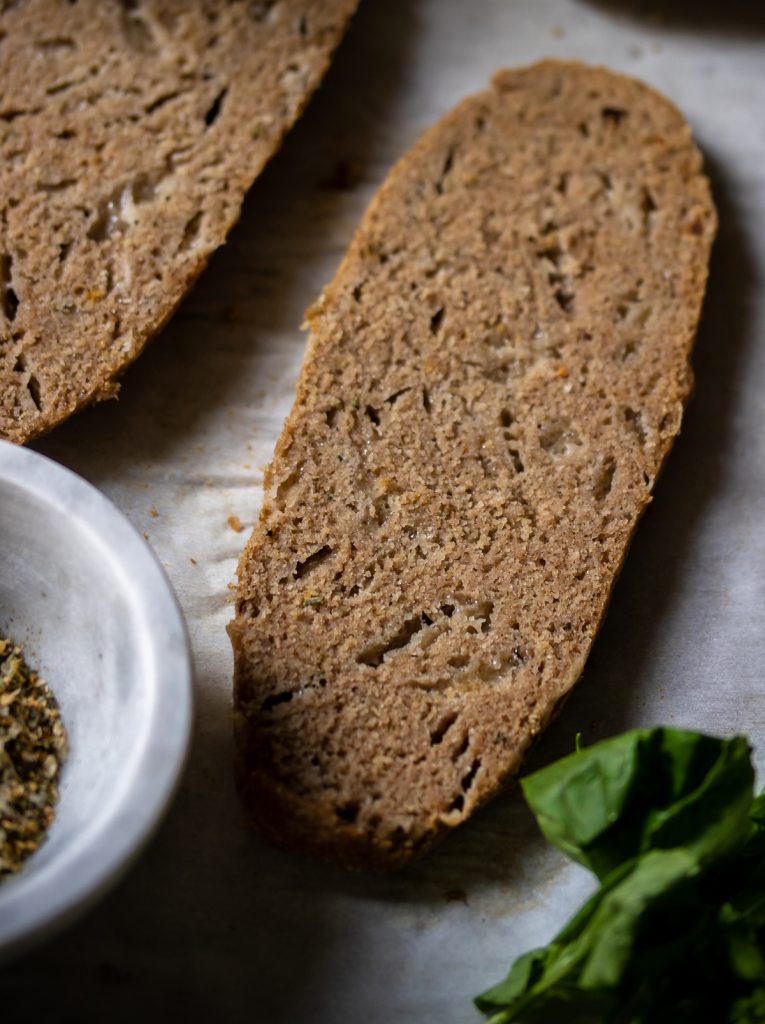 If you've followed this blog for any amount of time, you know how I feel
about pesto.
Pesto as pizza sauce: My Pesto Manifesto
You could use red sauce too though…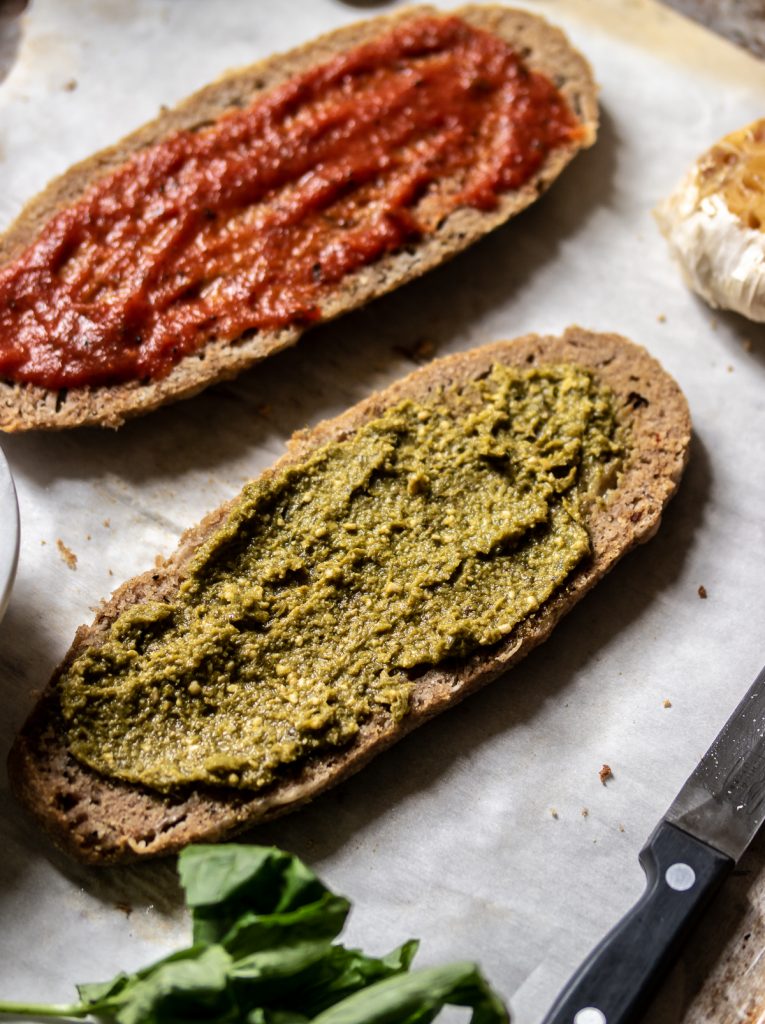 Layer that freaking french bread with any toppings you want,
but just know that simple is sometimes better on the narrow canvas
which is the french bread slice.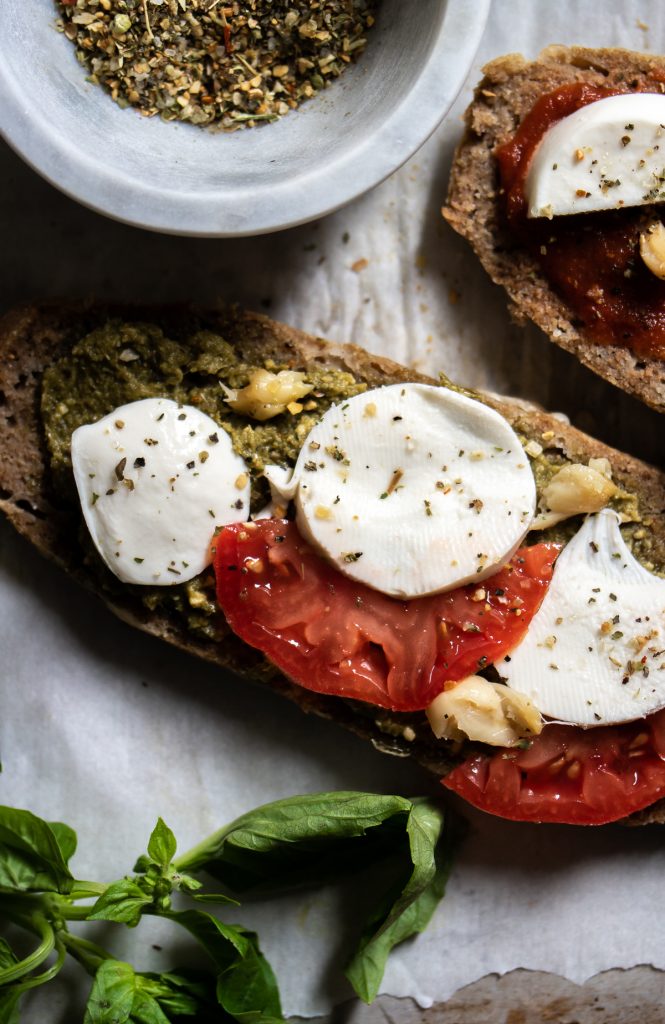 B A K E until the cheese is melted and the edges are crisp.
Shove a sickening amount of basil in any crack or crevice.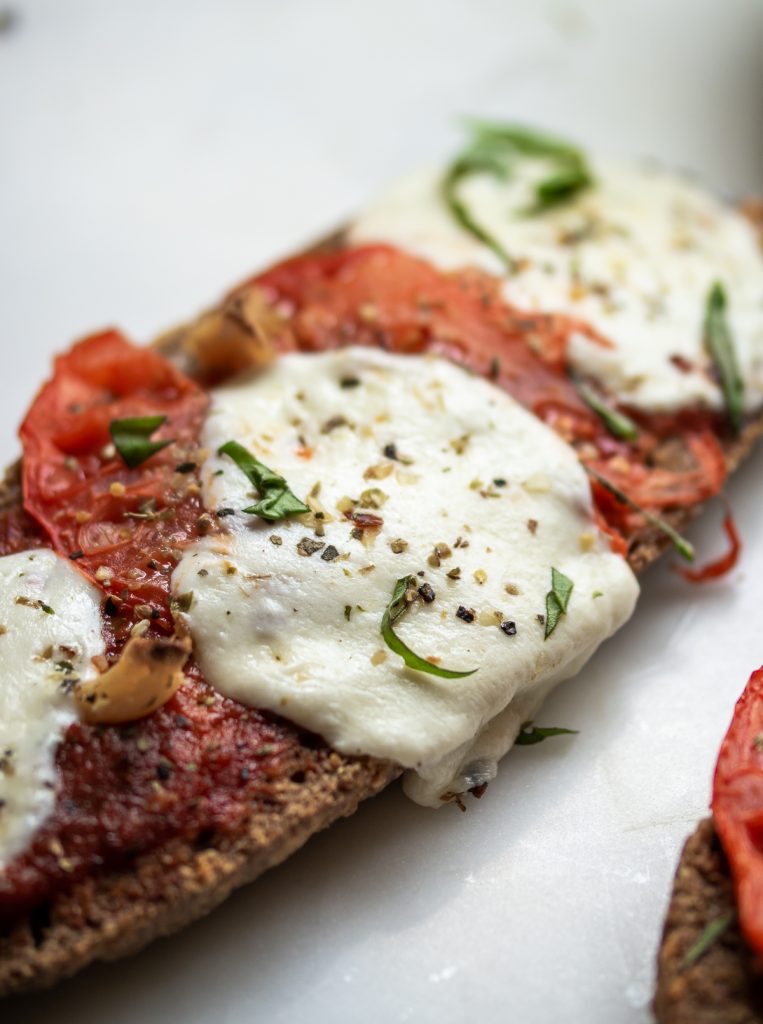 I love sprinkling mediterranean seasoning on EVERYTHING.
Red pepper flakes would be equally as yummy.
Salt is good too.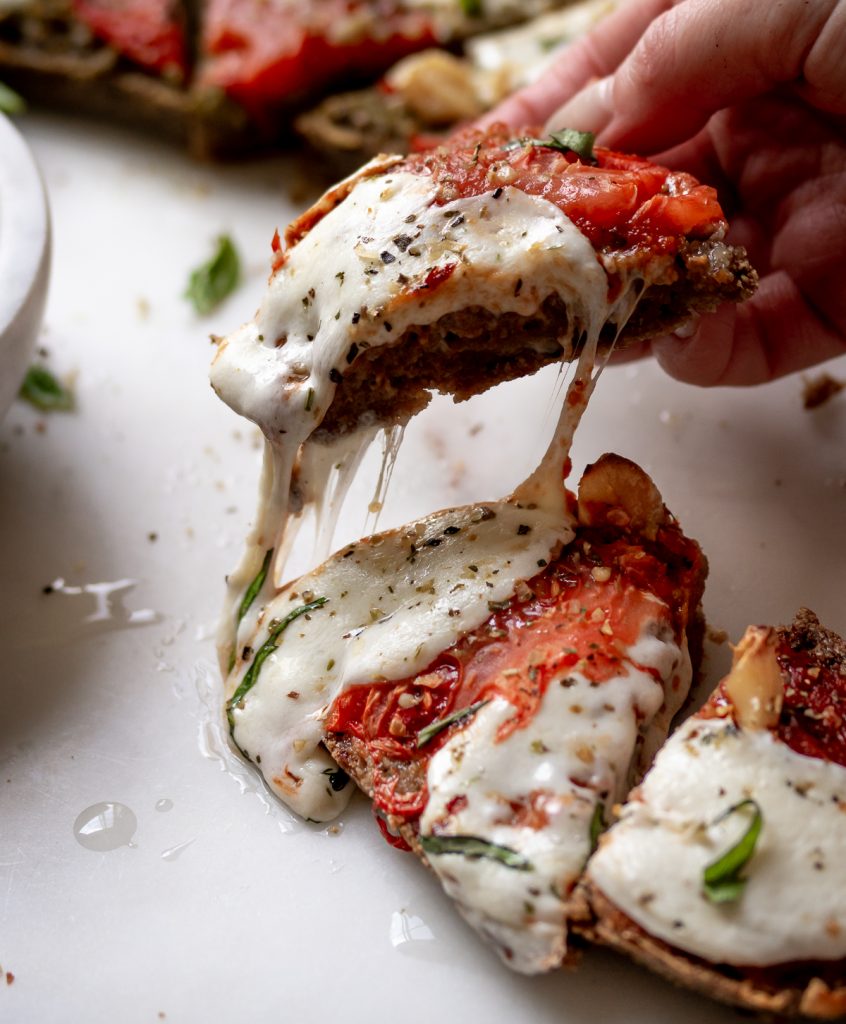 Low Carb Garlic Bread Pizza
Deliciously dense, salty keto french bread topped with fresh mozzarella and sauce!
Ingredients
Low Carb French Bread
1 cup Almond Flour
3 tsp Psyllium Husk Powder
2 tsp Garlic Powder
1/8 cup Parmesan Cheese
1 tsp Baking Powder
1 tsp Baking Soda
2 tbsp Avocado Oil
1 tsp Apple Cider Vinegar
2 Egg Whites, beaten until foamy
Topping Options
1 tbsp legit Pesto
2 tbsp Low Carb Marinara
2 oz Fresh Mozzarella
Thinly Sliced Tomato
Fresh Basil Leaves
Instructions
For the Bread
Mix all of the dry ingredients in a large bowl and whisk to combine.
Add the oil, egg, and apple cider vinegar and mix until a wet dough forms. Really work it to make sure the fiber is evenly distributed.
Place the dough on a baking sheet lined with parchment and form into a loaf resembling french bread.
Cut a few marks on the top to allow expansion while baking, then bake for about 20 minutes at 350 or until the crust is browning at the edge. Set aside to cool.
Once the loaf is cool, slice it lengthways and top with your pizza goodies.
Bake for another 10 minutes.