Two reason to make an ice cream cake bomb:
It's hot as hades out and ice cream is essential.
Ice cream is life
BONUS- I'm giving you an idea for an ice cream cake bomb that you could eat every serving of and not feel guilty because it's basically HEALTHY!
SECOND BONUS-It's cherry season and Arctic Zero has a Cherry Chocolate Chunk ice cream. Coincidence?!
More like fate.
Aside from those two expertly written reasons plus two bonus reasons, I feel like it's time for the cake bomb to come back. It's a giant dome of dessert and it's filled with whatever your heart desires. Why it ever went away is beyond me, but I'm bringing it back y'all.
Low Carb Dark Chocolate Cherry Ice Cream Cake Bomb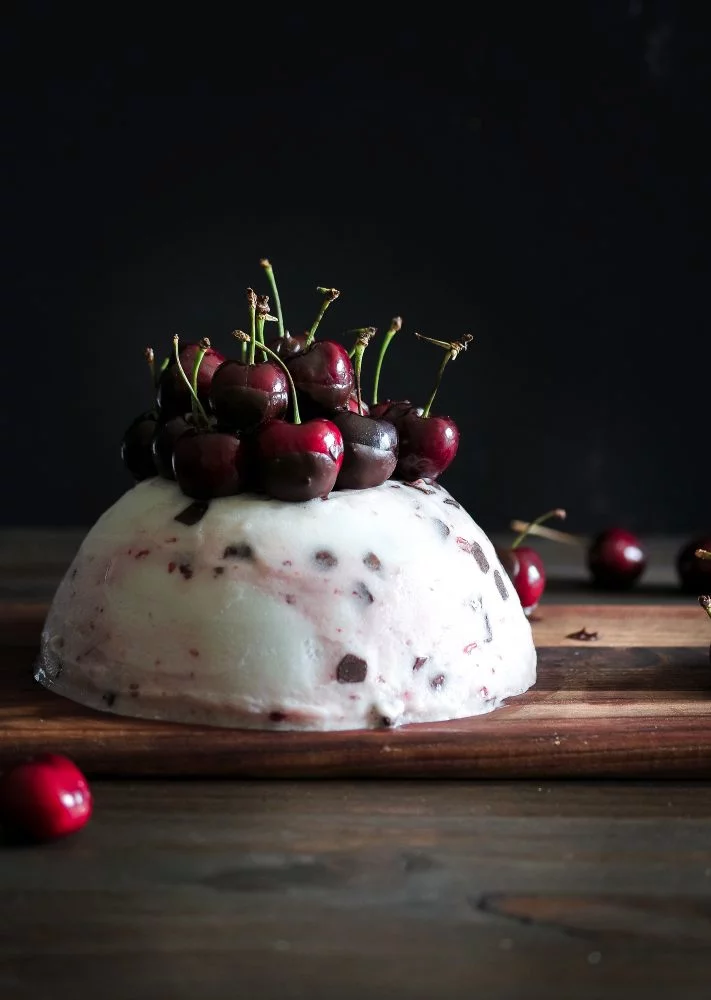 I've laid out the instructions in teeny pictures as to not drive you all mad trying to scroll to the bottom.
The basic idea is to find a large round bowl (I used a small one because I don't need 5 pints worth of ice cream cake bomb just laying around, even if it is low calorie) and layer in ice cream. Between each layer you want to pop it in the freezer to harden before moving on to the next.
My layers are Arctic Zero Cherry Chocolate Chunk followed by a cherry reduction and a final layer of the same Arctic Zero mixed with 1 cup Tru Whip frozen whipped topping. For a bigger bomb, use a bigger bowl and more ice cream…..




After it goes into the freezer for the final cool down, remove it from the bowl by warming the sides with a hot towel or carefully setting the bowl in hot water for a few seconds.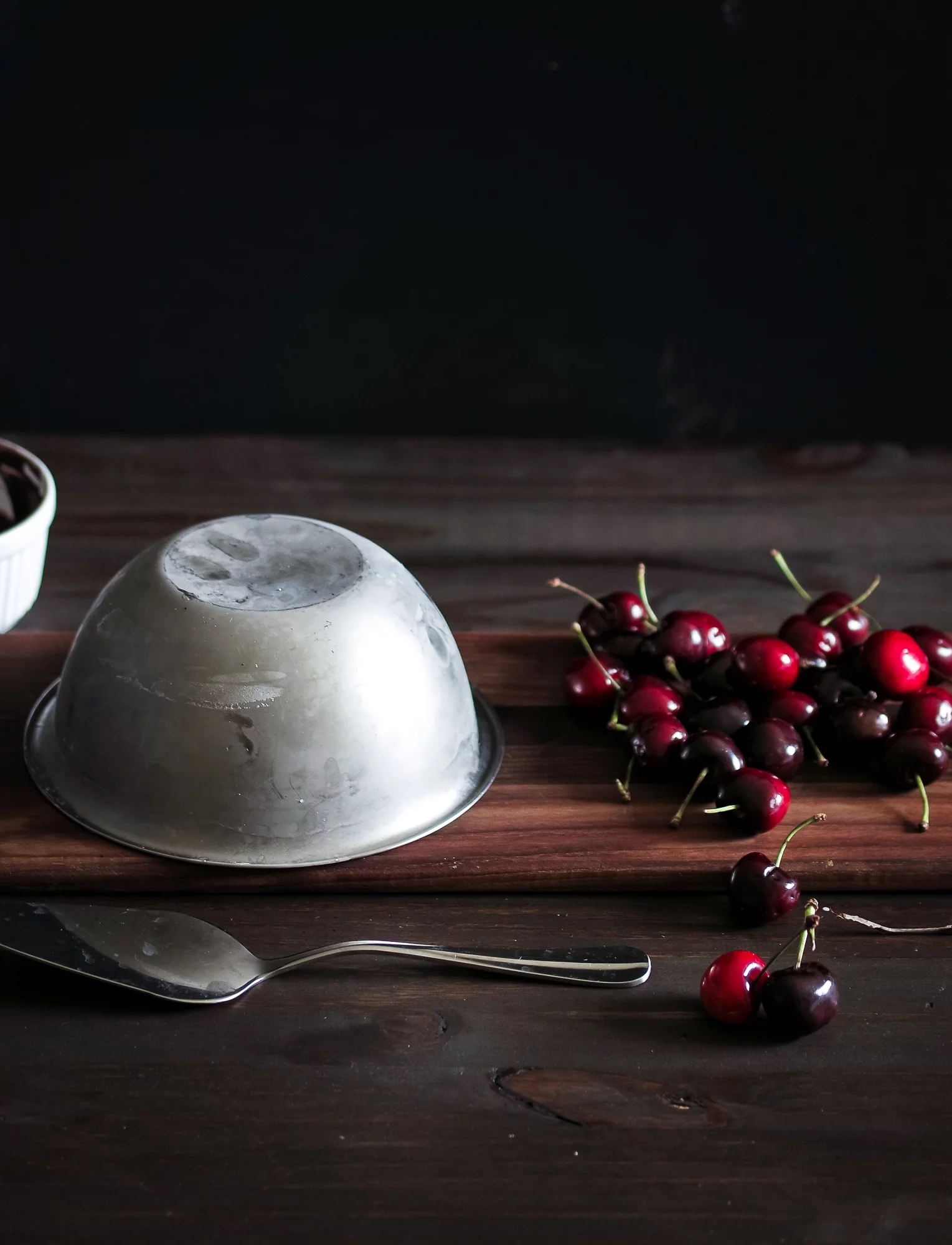 I decided to go all in on this dessert and top it with low carb dark chocolate covered cherries. *Only the chocolate is low carb. Nature doesn't make a low carb version of cherries.*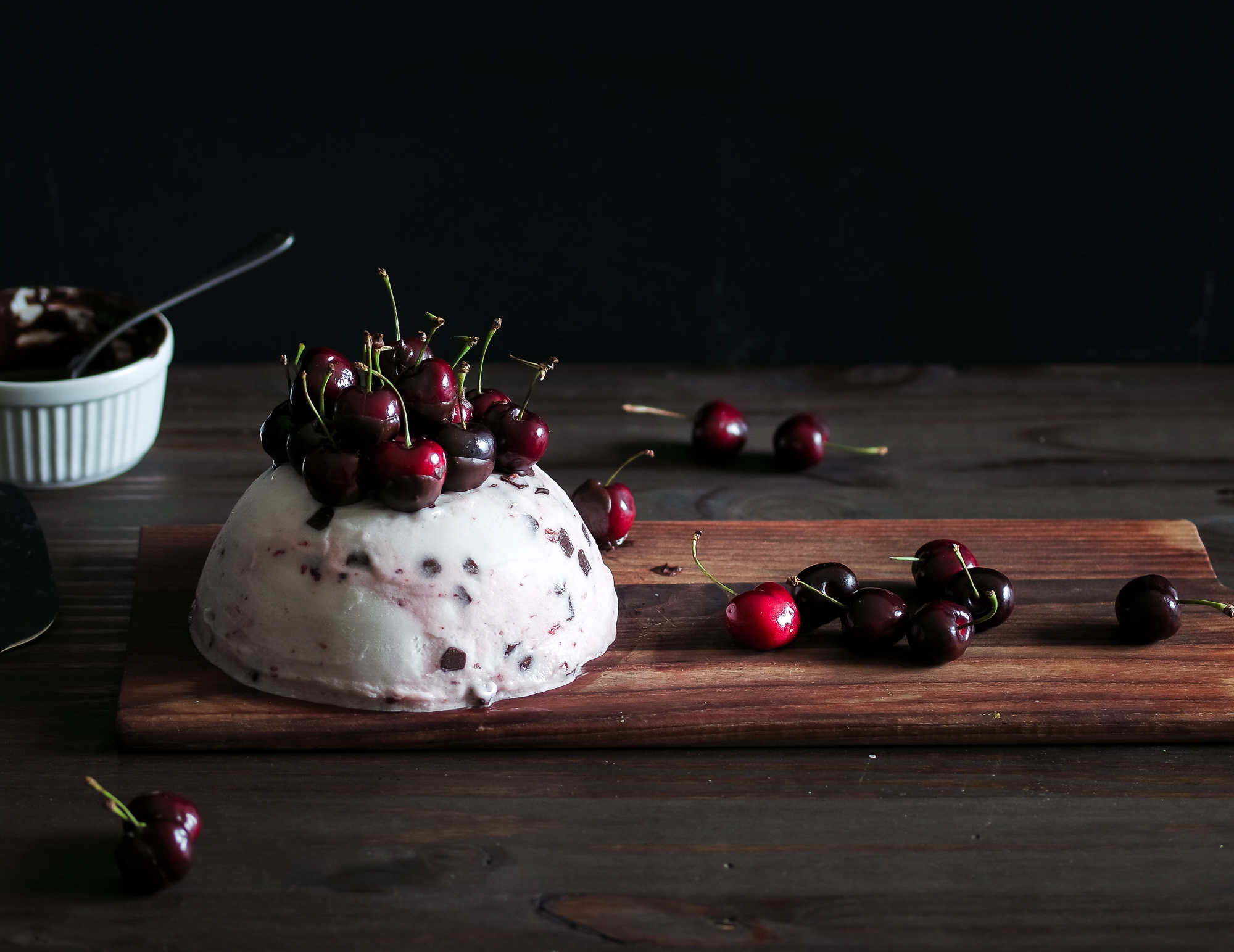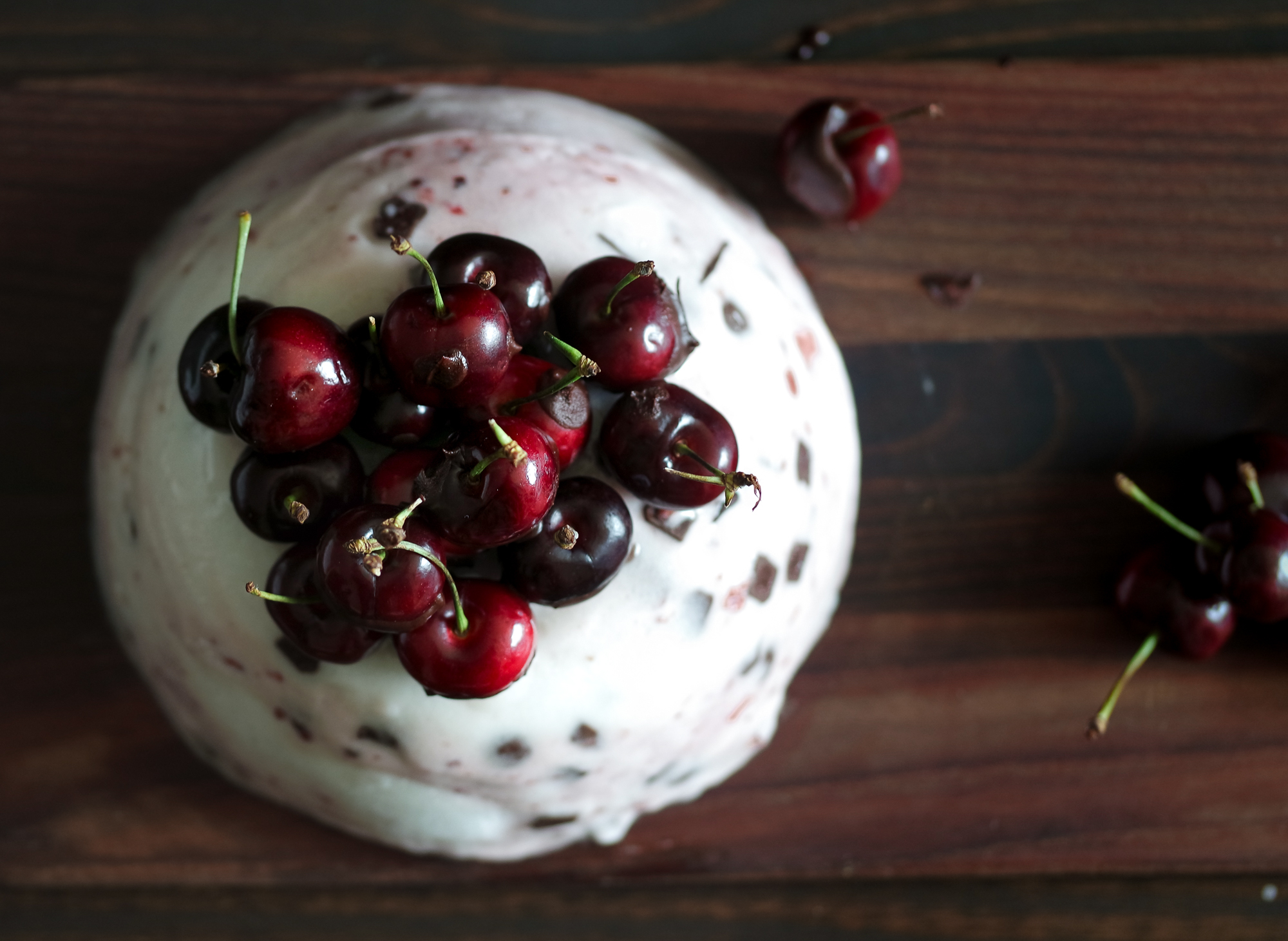 Unfortunately, it's hot and this sucker would not stay frozen long enough for me to take more than a few melty pictures.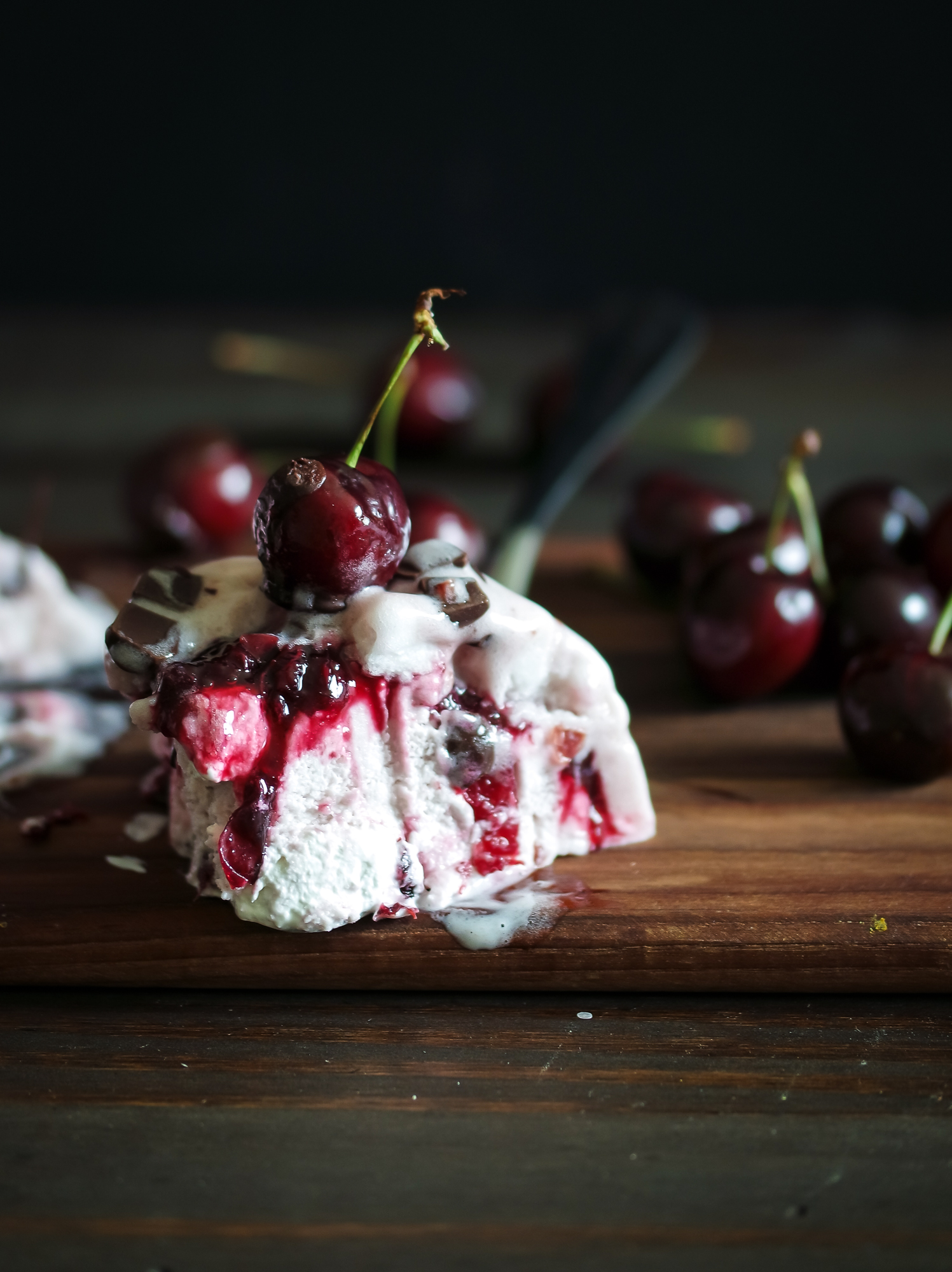 But it was sooooo worth it. Melted ice cream tastes just as good as frozen. I know because I just licked it off of my photo board…
Dark Chocolate Cherry Ice Cream Cake
Ingredients
For a Small Ice Cream Bomb
2 Pints Arctic Zero Ice Cream - or ice cream of choice
2 cups Dark Sweet Cherries, pitted
2 tbsp Granulated Sweetener, truvia or erythritol
1 tbsp Vanilla
6-7 Cherries dipped in chocolate, for garnish
Instructions
For the cherry sauce:
Simmer the pitted cherries, sweetener, and vanilla on medium heat. Using a fork, smash the cherries and stir frequently until most of the liquid has evaporated. Set aside to cool
Ice Cream Cake
Press your first layer of ice cream into the bowl, working it up the sides and smoothing around until the bowl is covered with an equal thickness of ice cream. I find it easiest to mix the ice cream in a separate bowl to soften and then transfer to your bowl that will be your cake mold.
Freeze until firm. About 1-2 hours.
Add the cherry mixture to the ice cream mold and return to freezer to firm.
In a large bowl, mix whipped cream and second pint of ice cream until combined. Scoop the mixture into your cake mold and smooth over the top.
Return to freezer overnight.
Release the ice cream cake by sliding a knife around the edge of the bowl. Dunk the bowl in warm water, then flip over onto a round serving plate.
Top with chocolate and cherries. Serve frozen!