SO I belong to a "Word of the Day" email thing. Yah. It's a thing. If you want to get pretend smart, HERE is how you sign up.
Knock yourselves out.
I started it way back when I was doing scholarship pageants and I needed to round out my vocabulary. "Passionate" and "honestly" can only take you so far in the pageant circuit (and life), not including boob tape and a lot of strategically place aerosol butt glue. I continue to subscribe because now I appreciate knowledge¹ and I'm a damn grown up! I don't even glue my butt anymore. That's progress friends, look it up.
SO one of my recent vocab words was Cantankerous -that's fancy talk for pain in the ass- and I was immediately reminded of my New Year's Resolution of eating more vegetables and thought, "Gee, very cantankerous", because how do you make a big bowl of weeds and vegetation exciting?
AND MAKE IT TREND?!
Since ditching your fresh abstemious lifestyle isn't an option, you add a lot of fancy toppings, call it a Buddha Bowl and ride that high until daylight savings time begins…and that's exactly what I (and every social media outlet) did.
Roasted Eggplant, Garlic, & Tomato Buddha Bowl with Sun-dried Tomato Spread
If you didn't deduce the ingredients from the superfluous title, it includes roasted vegetation.
See photo below.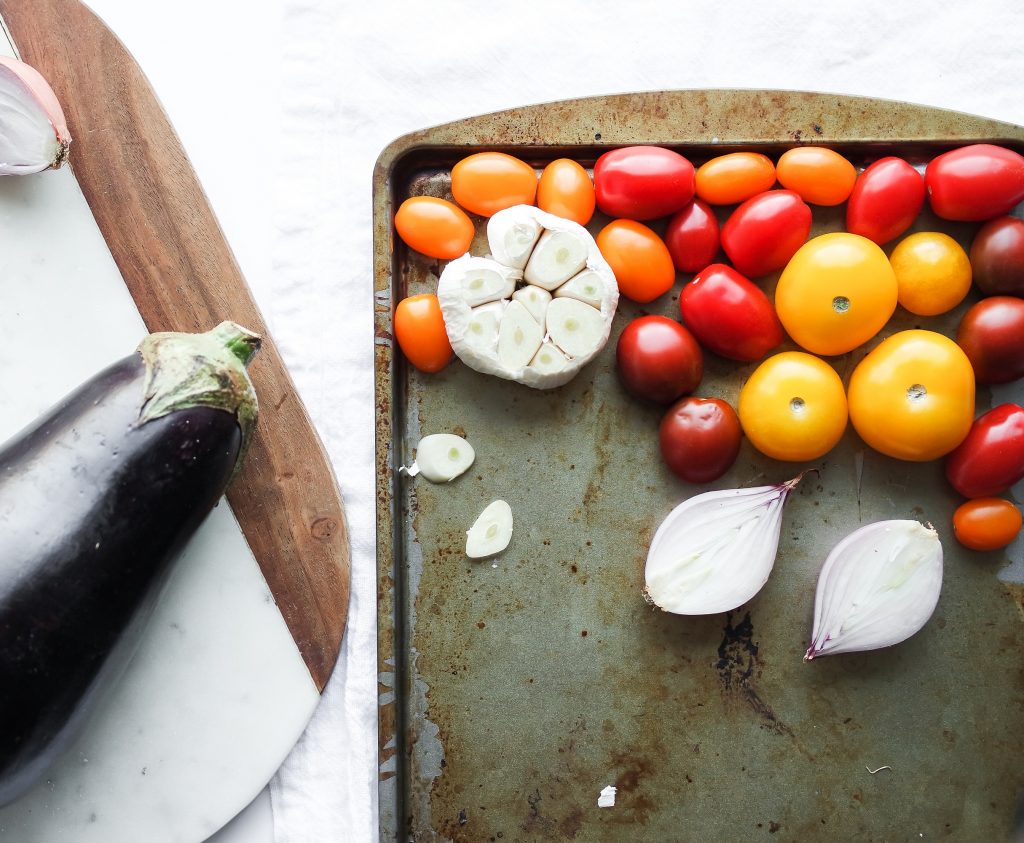 Those were uncooked vegetables. Here are some roasted ones for good measure.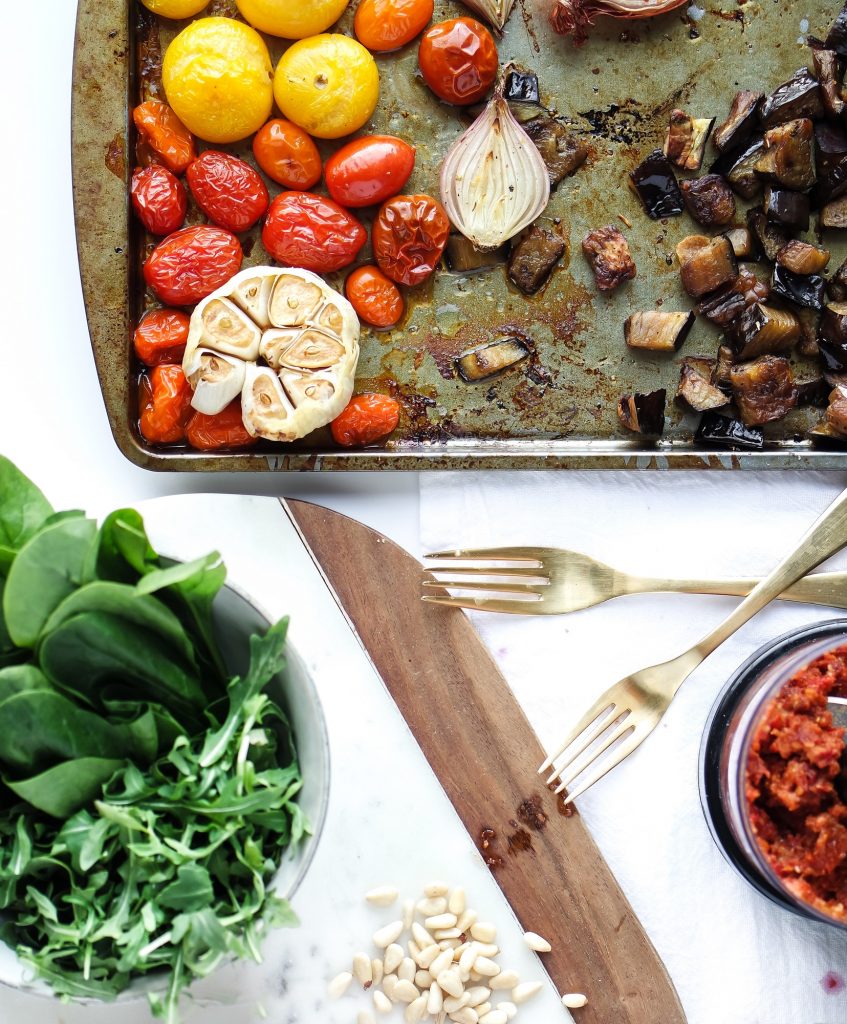 Buddha Bowl construction² is similar to just making a regular salad in that it is exactly the same with no difference soooooooooo. Yeah.
Only this one has a hearty Sun-dried Tomato glob and a lot of flava via Blood Oranges.
I said flava and immediately regretted it.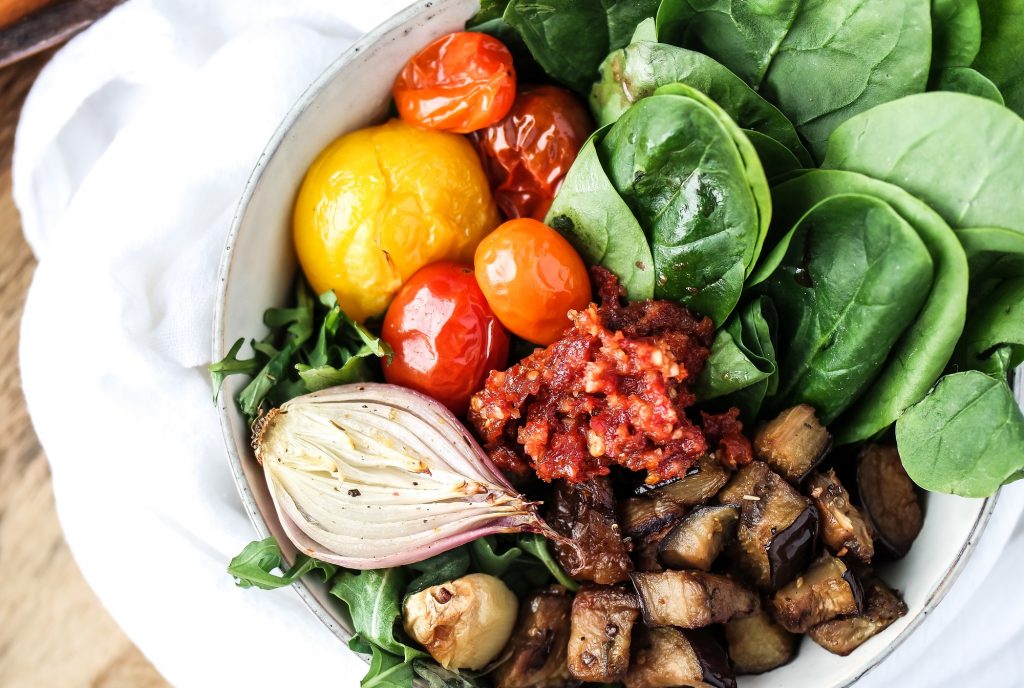 Close up just in case you don't know what vegetables look liiike.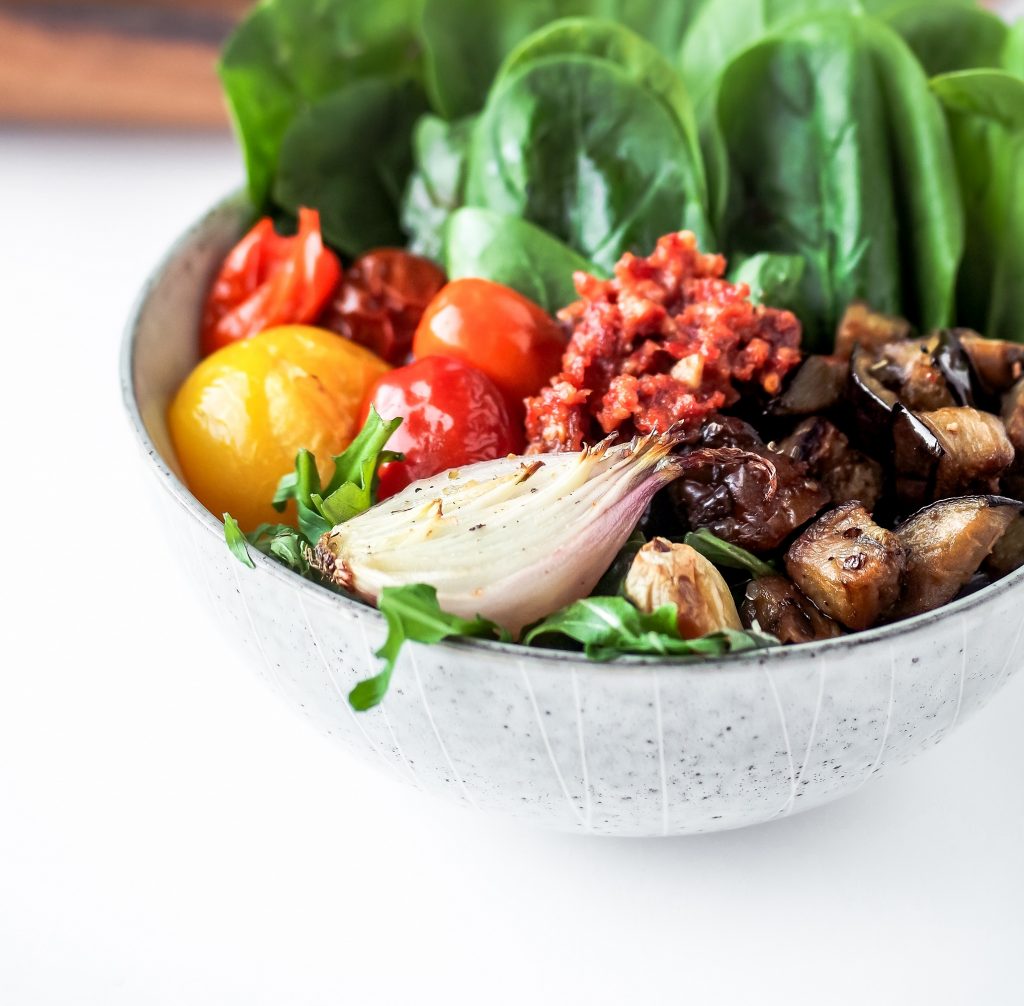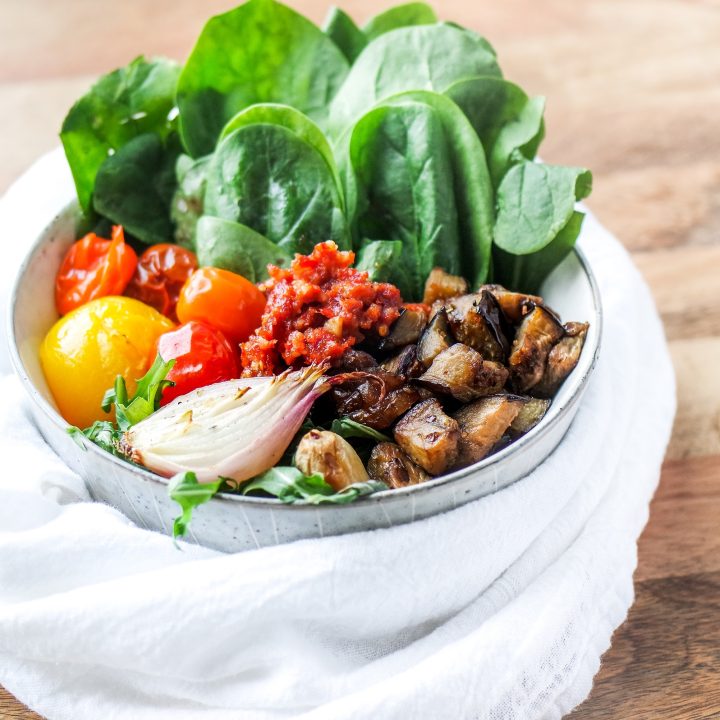 Roasted Veggie Buddha Bowl with Sundried Tomato Sauce
Ingredients
2 c. Baby Spinach
1 c. Baby Arugula
1 Eggplant, diced
2 Shallots, halved
2 c. Grape Tomatoes, assorted colors/sizes
1 Blood Orange (or lemon for juicing)
1 Head Garlic
1/4 c. Olive Oil + 1 tsp for dressing the Garlic
3 oz Sundried Tomatoes
1 tbsp. Pine Nuts, toasted
1 tsp Garlic Powder
3 Basil Leaves, fresh
1-2 tbsp Olive Oil
Sea Salt to taste
Instructions
Preheat oven to 400 degrees.
Using a sharp knife, cut the top of the head of garlic off, exposing the cloves. Drizzle with 1 tbsp Olive Oil.
Prepare a roasting pan with foil or non-stick spray and arrange tomatoes, eggplant, garlic, and shallots in a single layer drizzle with 1/4 c. Olive Oil (approx). Roast for 25-35 minutes, checking frequently until the veggies are dark but not crispy.
For The Sundried Tomato Sauce
In a small food processor, combine sundried tomatoes, pine nuts, garlic powder, basil, and 1-2 tbsp Olive Oil. Pulse until blended. If you would like a "sauce" add water to thin or just leave it thick and spoon it out like the sweet garlicy goodness it is.
Assemble the salad with your fresh greens, roasted veggies, and Sundried Tomato sauce/spread. Dress with the juice of a fresh blood orange (or lemon) and drizzle of Oil.
Dress this or not, it's up to you. I squeezed a blood orange (you could use lemon) and drizzled some EVOO and felt fulfilled in every way a portion of food could fulfill me.
♥ Liz
¹ Not at all because I'm addicted to the taste of pretentious words on my tongue. *Cough Cough*
² Buddha bowls are typically just a salad with a lot of trendy toppings, protein, sauces or dressings, and healthy grains. Again, a salad….just so we are clear.