I almost never complain
That being said, last year I complained a lot.
I'm not sure if it was mother nature or my own fault (it was me) but I didn't get around to snagging blood oranges early enough for my Dark Chocolate Salted Orange Bars so I wrote an entire blog post about how unfair that was.
Where are the greenhouse blood oranges when we need them?
Since I'm aware that no one likes a complainer, I got my ass off of the couch this winter and secured a hefty stash of the winter citrus. Since then I have eaten them like they are going out of style because, well, they probably are.
My current (and favorite) vehicle for blood orange consumption is a twist on a traditional citrus salad with the addition of fresh herbs, blood oranges, and feta.
Blood Orange & Feta Salad
Bright and citrusy to cut those winter doldrums!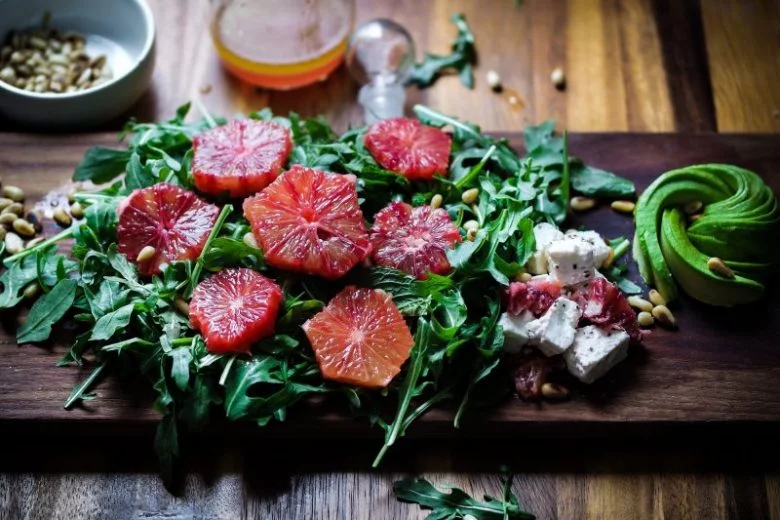 First off, get your mitts on these elusive vitamin c vessels.
It's not as easy as it sounds but your local grocer should have them between the months of January and March. MAYBE.
Jerk mother nature.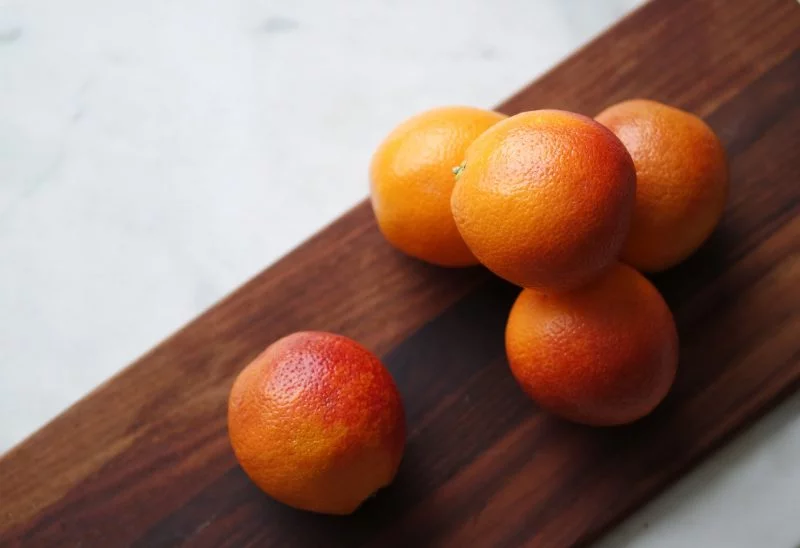 Peel and slice them to reveal their beautiful red center.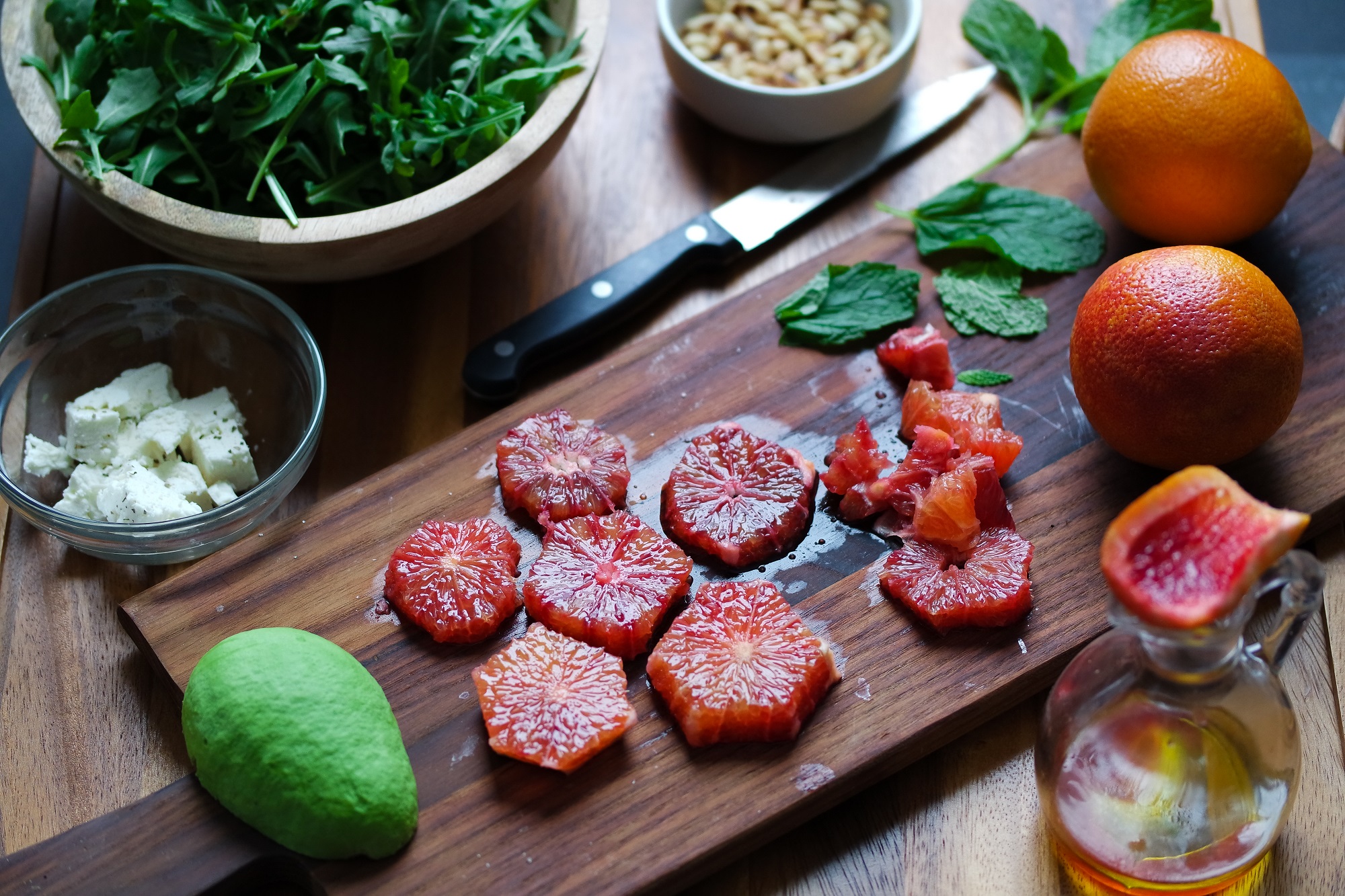 Fact: The juice is worth the squeeze.
It is both messy and time-consuming, but it is the method in which this dressing is
made so it has to be done.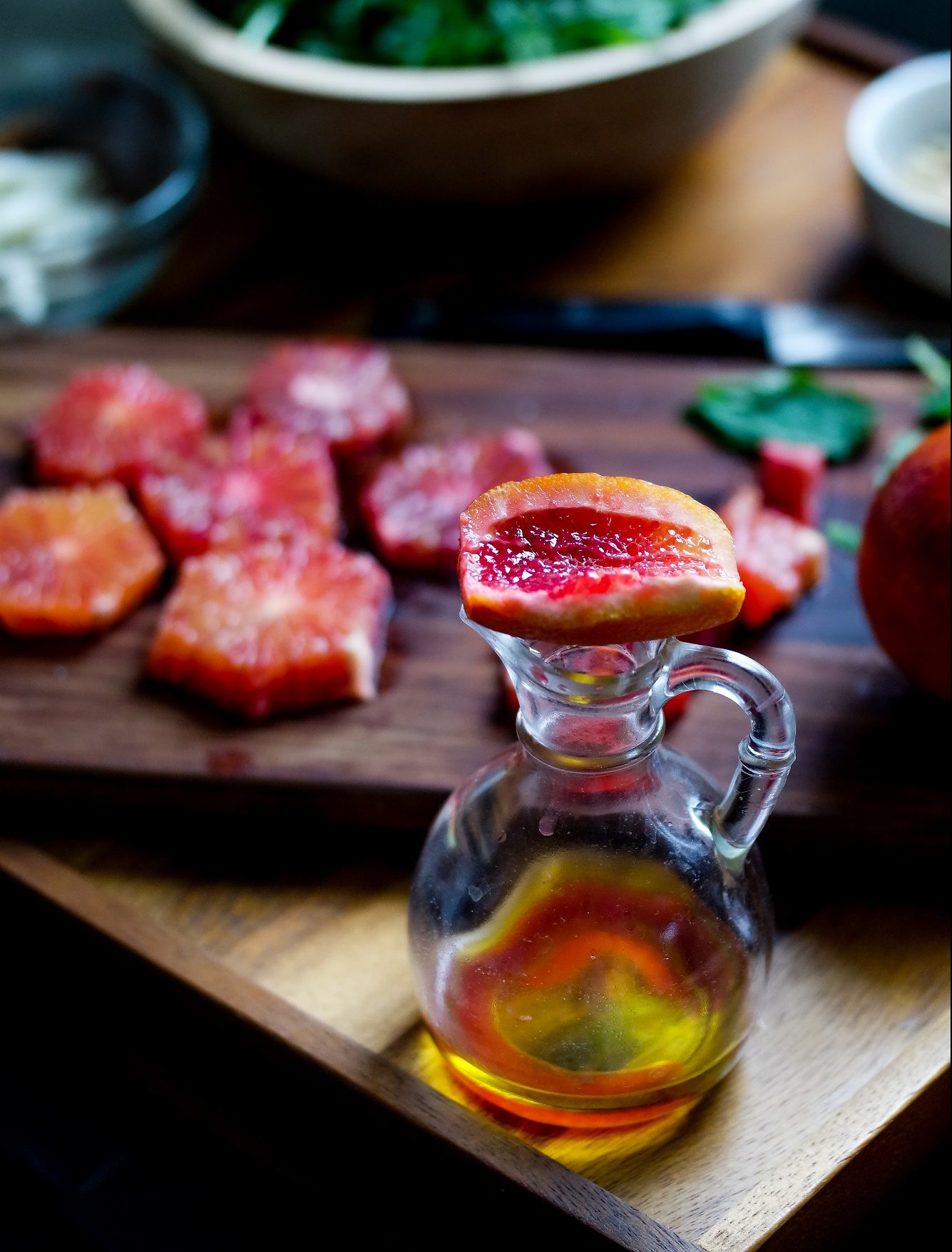 Brace yourself for three consecutive shots of my FIRST ATTEMPT at an Avocado rose.
Would you like to know my secret?
Wine.
It loosens up the old flanges and allows you to move avocado in ways
you've never dreamed possible.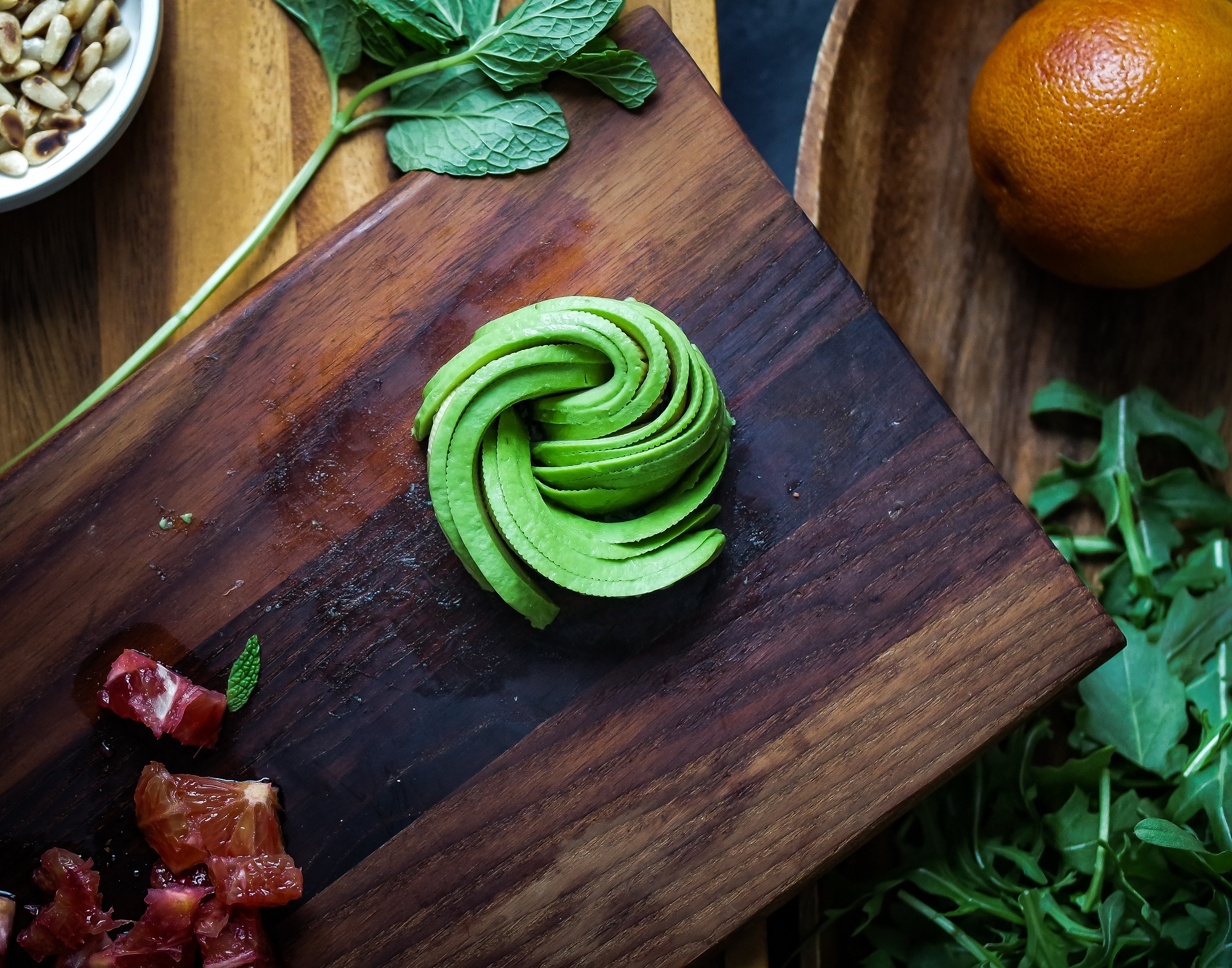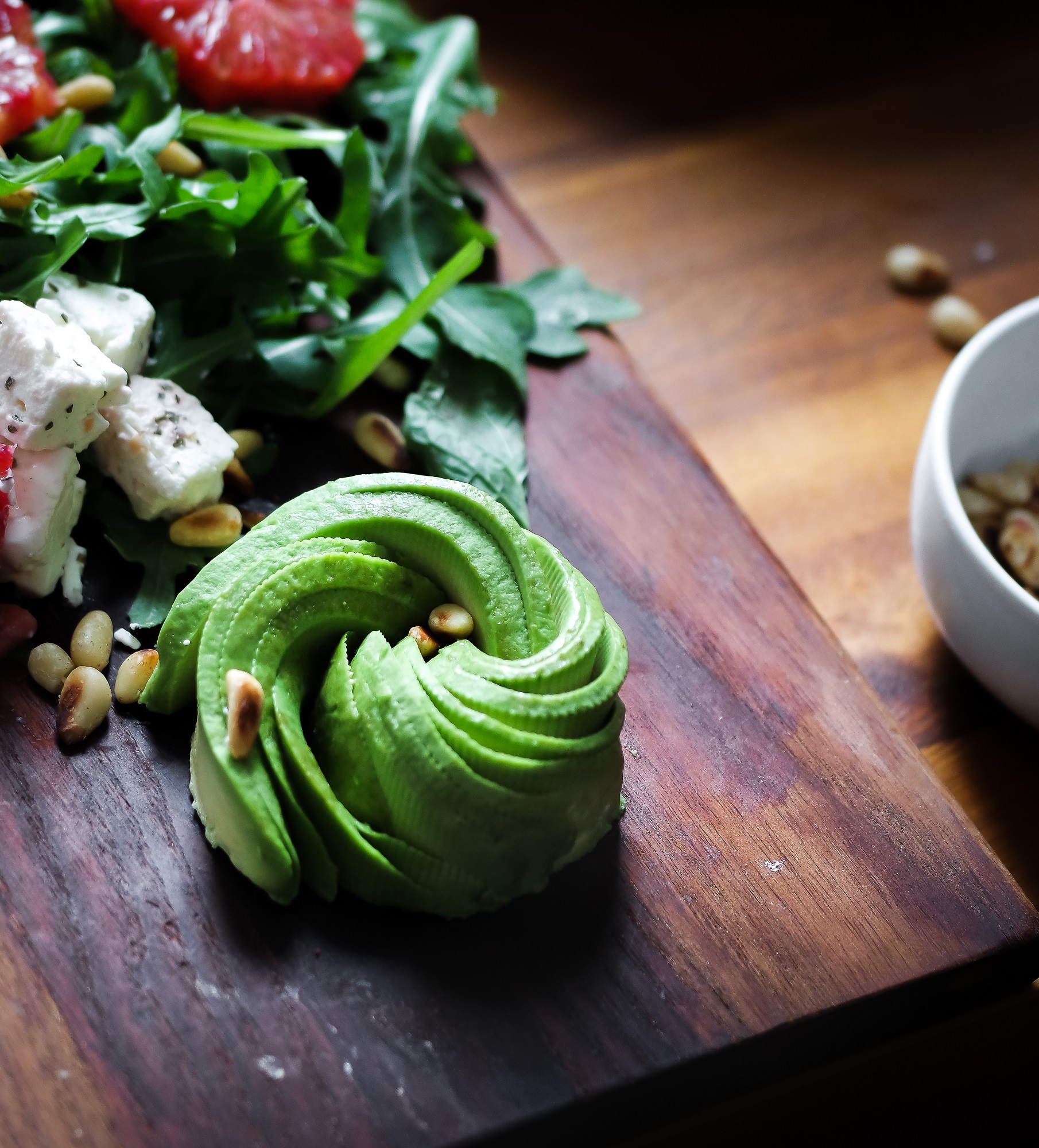 Annnd here's your salad.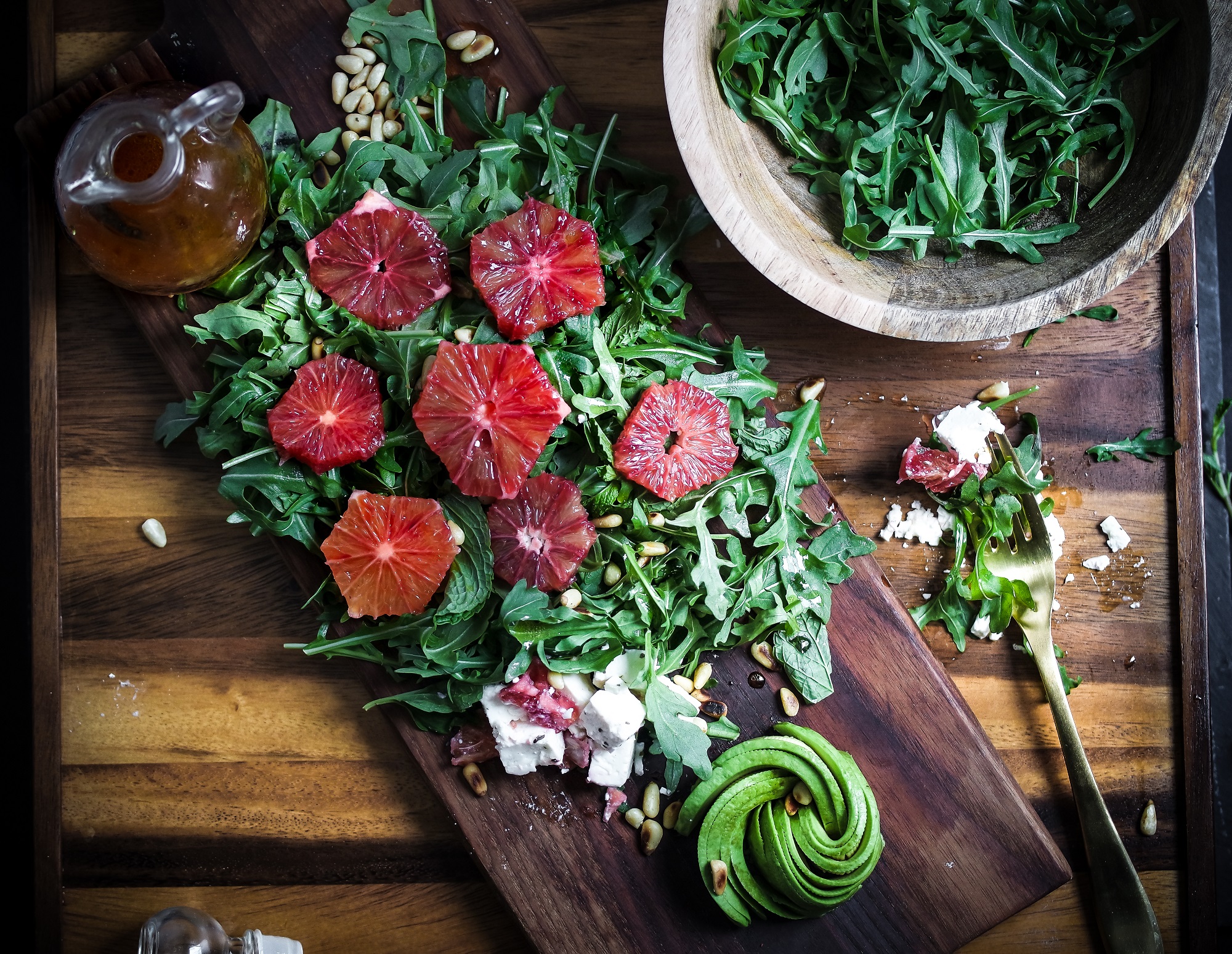 Blood Orange & Arugula Salad
Beautifully sweet and bright blood orange is perfect on a leafy green salad!
Ingredients
2 Blood Oranges, peeled and sliced
1 Avocado, rose'd
8oz Arugula & Baby Greens Mix
1 cup Feta, cubed
1/4 Toasted Pine Nuts
2 tbsp Apple Cider Vinegar
2 tbsp Olive Oil
1/4 cup Blood Orange Juice
Instructions
Pour yourself a fat glass of wine and youtube how to make an avocado rose because words cannot explain that magic.
The Dressing
Whisk together the vinegar, olive oil, and orange juice. Taste and adjust vinegar to juice ratio depending on your preference.
The Salad
Build salad with your greens base, topped with trimmed orange slices, feta chunks and nuts. Additions are encouraged. Drizzle with dressing.
Nutrition Information
Yield

4
Serving Size

1
Amount Per Serving
Calories

354
Total Fat

24g
Saturated Fat

8g
Trans Fat

0g
Unsaturated Fat

15g
Cholesterol

33mg
Sodium

407mg
Carbohydrates

29g
Fiber

8g
Sugar

17g
Protein

10g
Next week I'll be done with salads and back to healthy junk food. You're welcome.
♥ Liz